If you're a divorce attorney looking to advertise on Google Ads, you may be wondering how effective it is and whether or not it AdWords will work for your family law firm.
Does Google AdWords work for family law firms? Google Search Ads (formerly known as AdWords) is a widely used advertising channel that performs extremely well for many types of businesses including family law and divorce attorneys looking to generate new leads and attract more clients.
We've compiled this case study of a family law firm we helped to drum up new business and divorce clients within a matter of weeks. If you're curious about whether Google Ads is the right fit for your law firm and wondering what type of results you can expect from it, then read on to see the results we achieved for this firm.
Problem
2020 was a difficult year for many people and businesses. At the end of March and beginning of April, a family law firm was experiencing a sharp drop in intakes and appointments for new family law and divorce matters at their firm.
A small firm with half a dozen lawyers, they were eager to ensure that new business continued entering their door and were looking to make a change quickly to see results as soon as possible.
The firm had also just finished a migration to their new software systems and law practice management solution, which they had invested in and needed to put to good use and justify the expense with a pipeline of new cases and matters.
Solution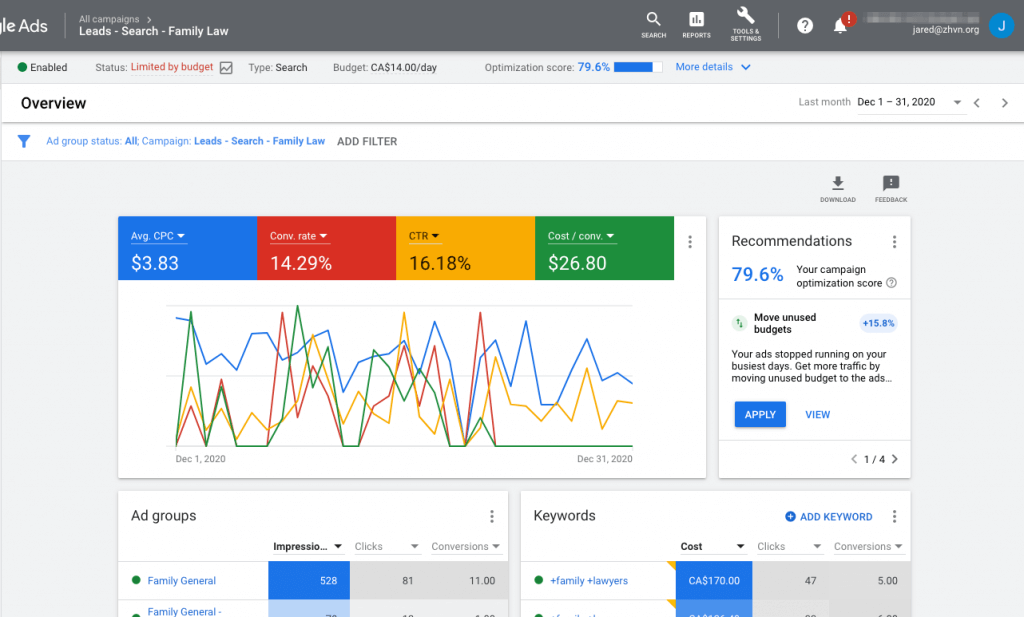 Objectives
The firm wanted to start with a seed budget to gauge the campaign's performance and quickly measure the quality of leads and their projected return on investment from continued ad spend.
They were looking to generate new clients at an approximate cost of $200-300 per new client, which translated to approximately an average cost per lead between $30 and $70 depending on the lead quality.
Methods
Launch a tried and tested campaign template for family lawyers that Zahavian Legal Marketing has previously used, customized to the firm's target geolocations and case types.
After an initial testing period, we would optimize the campaign in stages, locking down keywords and search terms with appropriate negative keywords, finding optimal bid patterns and ad groups as well as optimizing Ad Rank, Quality Score and Landing Pages to increase the conversion rate and lead quality.
Bidding
As with many of our law firm PPC campaigns, we primarily relied on a manual CPC bidding strategy to control our bids with a conservative approach and tweaking bids as needed on an individual keyword and ad group basis.
Bidding was optimized over time based on time of day and week, gender as well as devices which were all more likely to result in more conversions.
Landing Pages & Lead Conversion
After landing pages were customized both in terms of design and with targeted copy to improve Ad Rank and Quality Score, a second phase of Landing Page optimization was applied to improve the conversion rate with copy, headlines and call-to-actions among other on-page elements.
Results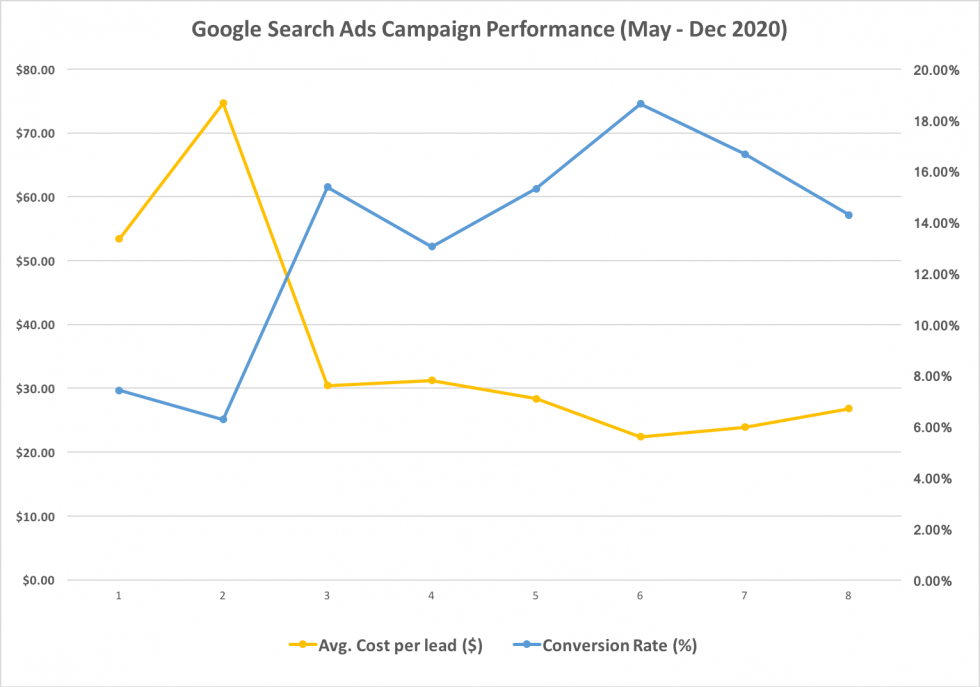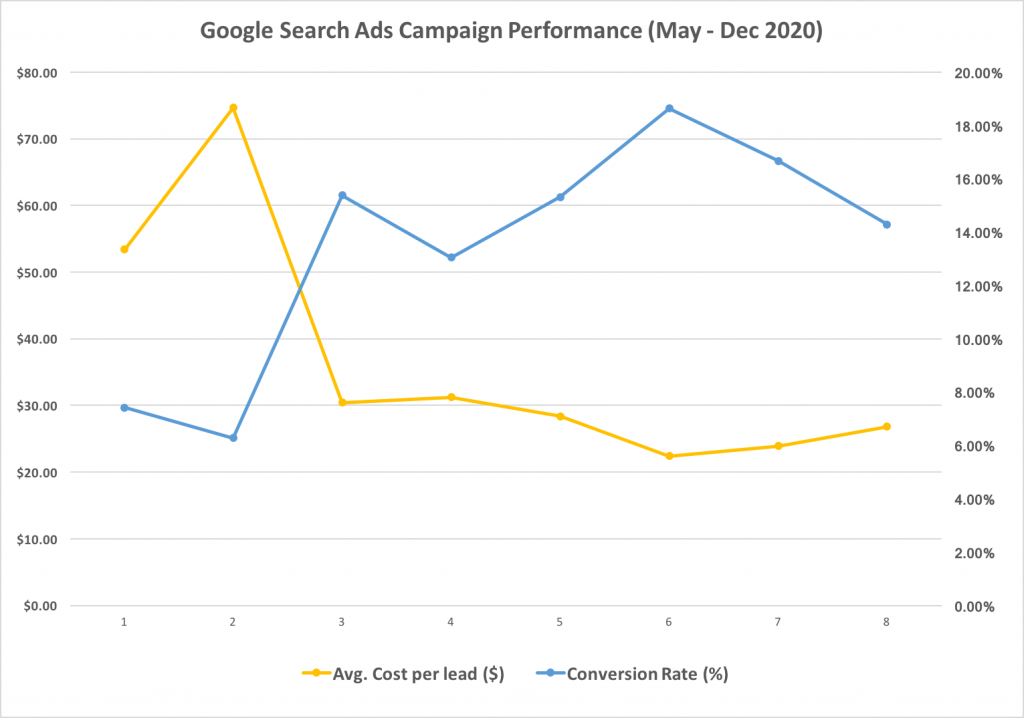 Below are the tabulate results of the Google Ads campaign performance for the family law firm for individual months as well as the average performance across all months.
| | | | | |
| --- | --- | --- | --- | --- |
| Month | Conversion Rate | Avg. Cost per Click | Click-through rate | Avg. Cost per lead |
| 1 | 7.41% | $3.95 | 9.91% | $53.39 |
| 2 | 6.27% | $4.68 | 11.27% | $74.64 |
| 3 | 15.38% | $4.68 | 11.45% | $30.40 |
| 4 | 13.04% | $4.07 | 13.79% | $31.21 |
| 5 | 15.31% | $4.34 | 14.43% | $28.37 |
| 6 | 18.63% | $4.17 | 15.86% | $22.39 |
| 7 | 16.67% | $3.98 | 15.92% | $23.88 |
| 8 | 14.29% | $3.83 | 16.18% | $26.80 |
| Aggregate | 13.38% | $4.21 | 13.60% | $36.39 |
As a result of the campaign's performance, we continue to run this AdWords campaign and other online marketing services for the law firm into 2021 (and hopefully beyond!).
Conclusion
To recap, the firm was struggling to find new business in Q2 of 2020 and engaged our services to help them generate more family law clients. We developed a PPC-only strategy, including a separate website to host their landing pages, Google Ads account and a campaign structured to easily track and measure performance across different types of family law cases and keywords. We had set KPIs for the firm, including generating new leads at a variable cost between $30 to $70 and achieved that objective, with an average CPL of $36.39 across an 8-month period and a conversion rate of 13.38%.
Want to Sign Up More Cases for Your Law Firm?
If you're interested in seeing if we can help your law firm generate similar results with PPC campaigns such as Google Ads or with other online marketing activities, get in touch with us for a free consultation to find out if and how we might be able to help your firm reach new heights.