If your small, local business wants to stay relevant in today's marketplace, then you need to make sure you have a well maintained and polished GMB (Google My Business) profile.
In this article, we're going to discuss everything you need to know about setting up and optimizing your GMB listing – and get it ranking in the local map pack!
We're also going to briefly discuss Google Reviews at the end, because they are also an important factor in ranking in the map pack.
Creating or Claiming your Google My Business Account Listings
This section will go over how to create or claim your GMB listing. If you know you already have this done, then feel free to skip ahead to the next section.
Determine Whether your Listing Already Exists
Many businesses already have a listing on Google, even if they don't know about it. Google scrapes virtually every page on the web and with their powerful algorithms are able to tell which pages (for instance online business directories like YellowPages) are describing local businesses. If they find enough information in enough directories and webpages, their algorithm may decide to automatically create a listing on behalf of your business (gee, thanks uh google for not being creepy and taking so much initiative!).
To find out, simply go to google.com and search for "name of your business" + "city/town" and see if your business shows up in a box like this: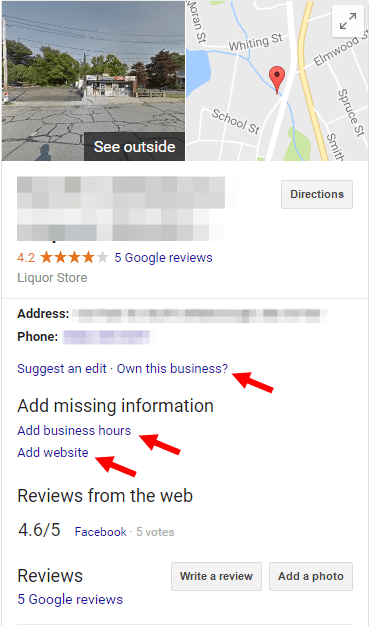 You should see your listing appear similarly to this. You should be able to see that the listing has a link Own this business? which allows you to go through a verification process to claim the listing and ownership. If you don't see this, you may instead see Is this your business? at the bottom of the listing.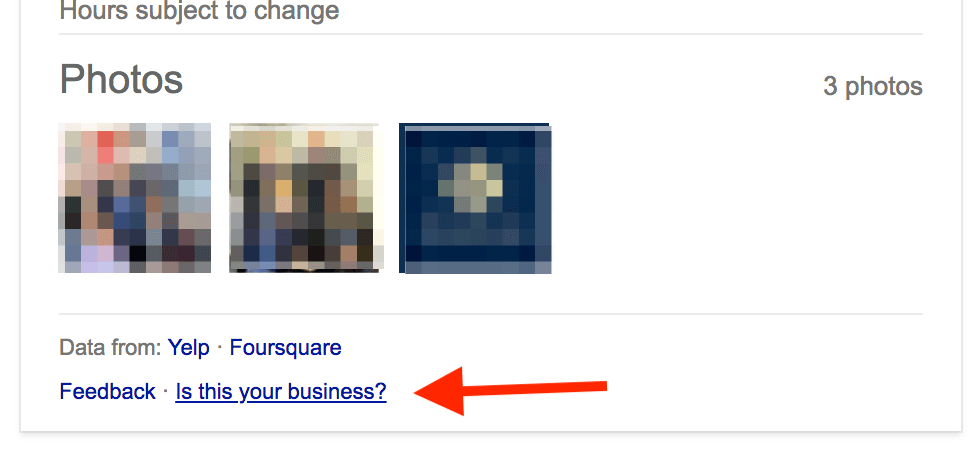 Google will send you a postcard with a verification code to the mailing address, so make sure the physical address is accurate and accepts mail. This is how they verify that you are the owner or a representative of the business. So when you receive this mailer, make sure you go back to your Google My Business listing (which you should link with your gmail account).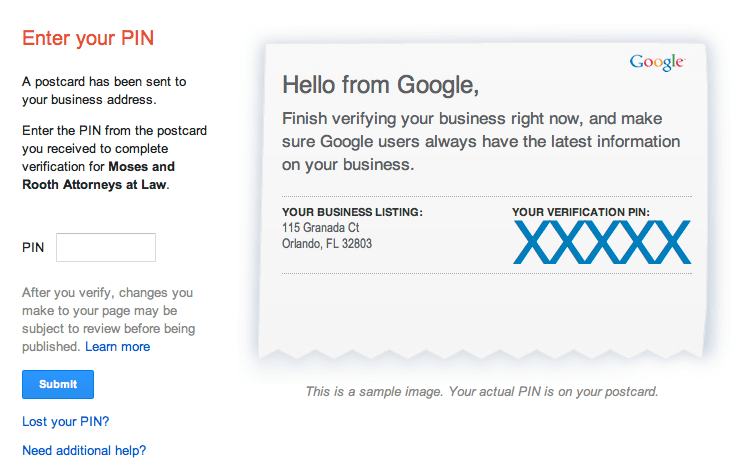 In the case where you see a listing but there's no link to claim ownership, you can follow the instructions in this article:
https://support.google.com/business/answer/4566671?hl=en which will ask you to create a new listing with duplicate information and then verify and merge them so you have ownership.
If you have more than one location or store, you'll have to repeat this process for each location.
Completing your Google My Business listing
You'll be able to setup a listing on google for each of your business's office or store locations. Following the steps below will help you
Enter your NAP information and make sure it's 100% consistent.
Your NAP stands for your business' Name, Address and Phone number. There are lots of ways to organize this from a master excel sheet or word doc, but what's really important if you're going to take local SEO seriously is that you keep a master record of this information and you stick to whatever you choose that to be. The reason being is Google and other search engines will scan your business information across local business directories online such as Yelp and YellowPages.
When they find your listing with consistent and accurate NAP info, it gives Google more confidence in listing your business in the local SERP results. As a matter of fact, the rest of the information we end up going over in this article, should be entered with each location in your master document. Things like site URLs, hours, services, categories, etc.
That's because all of those online directories are different. Each one will ask you to fill out different combinations of the same information. So if you'd like to stay organized, it works great to have this master record to pull your basic but vital local business info from.
Fill out the Details for your business at that location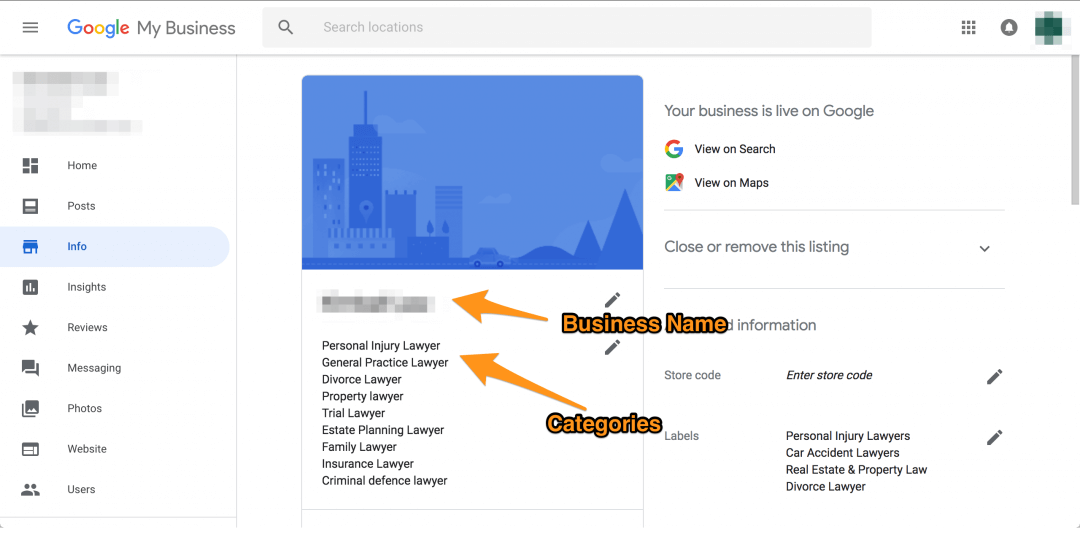 Categories
This is where you can add in the categories of industries or business types you serve. We work with a lot of lawyers, so in the case of law firms we can add a primary category suited to each of our clients' law firms.
We can give our listing a primary category of say personal injury lawyer, and then add other categories for family, divorce, real estate, business etc. There's even a category for general practice law firms.
Service Areas
Service areas is your way to micro target the types of services you provide to adjacent cities and nearby communities. For we'll take the law firm example again. Our clients often offer house calls for people they serve that can't make it into one of their offices for one reason or another. So you can use this as an opportunity to extend your reach to markets where you don't already have a physical location established.
An easier example to illustrate the idea, would be for plumbers. Nobody visits a plumber! The plumber visits all of his customers. And in that instance, the plumber can enter different service areas and mention services provided on an area-specific basis. If you are willing to travel 20 minutes away for all services, but only 30+ minutes away for only one or several services, then this is the best way to let google, bing and other engines know and increase your visibility for highly specific search queries.
Hours of operation
This one is pretty simple. Add your hours of operation so that anyone intended on visiting you can know with more certainty whether your shop is open or not. You can add a by appointment only URL if you don't want to add your hours, in the case of a dentist or a lawyer, this may be a business decision you've decided on. Usually the rule of thumb is: if your office is open from X:00 AM to Y:00 PM, then you state that. If it's a by appointment only office, than say so. Will google and bing punish you in the search results if you happen to be a by appointment only office and that ends up hurting your visibility? Possibly so. After all, google and the rest of them are trying to provide the best user experience possible. They have no allegiance to you or your business.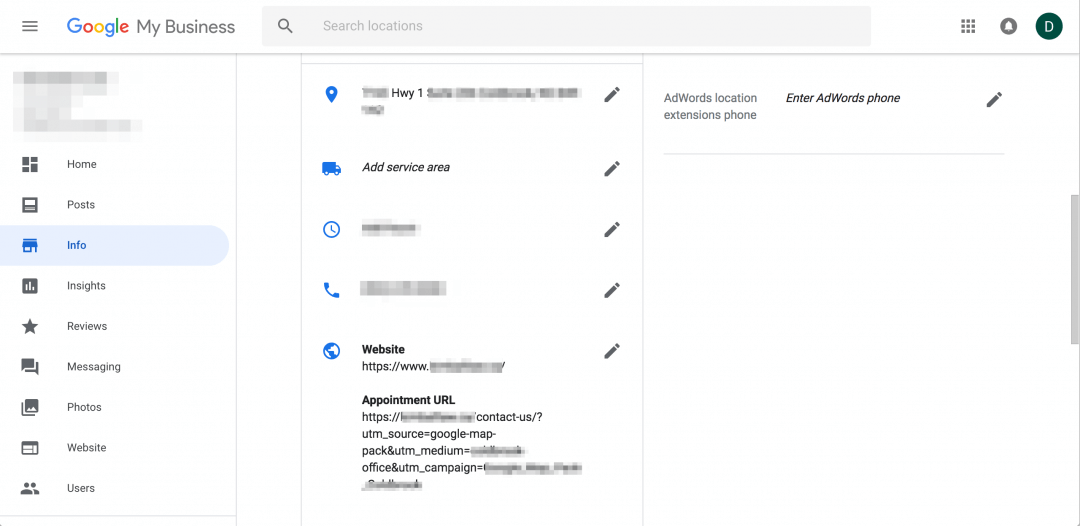 Website and Appointment URLs
The website and appointment URLs are pretty straightforward. For 95% of small businesses your website URL is going to be example.com and your appointment URL will be something like example.com/contact-us or example.com/schedule-appointment. In some cases, like franchises or businesses with many offices, you may change either the website or appointment URL to point to the office or store location page on your website. As I said, 95% of the time, the first example is enough.
Services
This is similar to categories, but allows you the chance to be more specific about the types of services you offer. In the example of a law firm, you may say you're a personal injury or family lawyer, but those can be pretty broad categories alone. Do you practice all types of family law? Alimony (child and spousal support), separation agreements, contested and uncontested divorces? What about wills and estates? Remember, as a professional, whether that be a lawyer or any other niche, you need to educate your prospects on exactly what it is that you do – if you want to attract better leads and the kind of business you're looking for.
Attributes
Here you can fill in things about the location like whether it offers restrooms that your customer or client can use, whether you have wheelchair access. There's not a lot to fill out, but go through the list and you'll have some easy binary yes no options for this one.
Labels
You can enter any custom labels you want. Google says that this is only for internal-use so that companies with numerous locations can help filter them faster. This doesn't do anything for your listing.
Opening date
This can help to tell google and others how long your business has been around (or that location). I've never used it because I don't think it adds a lot of value to me nor my clients to advertise how long 1 of possibly many of their shops have been open. How is it going to affect your visibility in google's algorithm? I don't know the answer to that, nor does anyone have any solid evidence about it. Do what you'd like but I don't think its a big deal.
About / Bio of the Business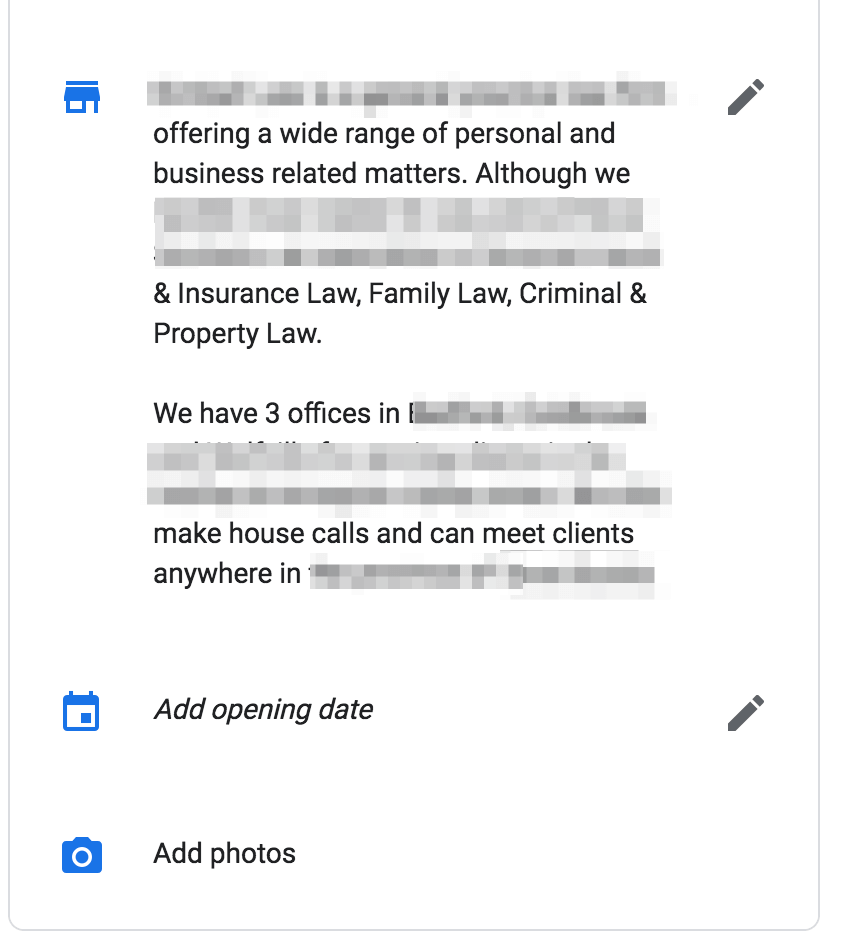 Write a short description or bio about the business. Make sure it's unique. All I mean by unique is make sure it's not copied and pasted from the Website or YellowPages. You can copy an existing or short bio and just spin the content.
Photos
Last but certainly not least. I recommend you add 5 photos to your profile. 5 pictures can help them during distribution to other local directories across the net when they scrape a service like google's local listings to add new listings to their own directories. More importantly however, when you add 5 or more photos, GMB favours it in their algorithm and can help your visibility and rankings in local map pack. Furthermore, it makes your business look nice and professional. Especially when you have pictures of your team and staff. It helps create a personal connection with prospects.
Other considerations
There are a few things we didn't go over, including store code and adwords location phone extension numbers.
Those really are for larger businesses like franchise operations with many stores. For the audience we're writing to, it just really doesn't apply.
What about Reviews?
I had mentioned at the start of this guide that we would talk about Google Reviews. Google My Business has a tab dedicated to view and respond to reviews left on your business listing.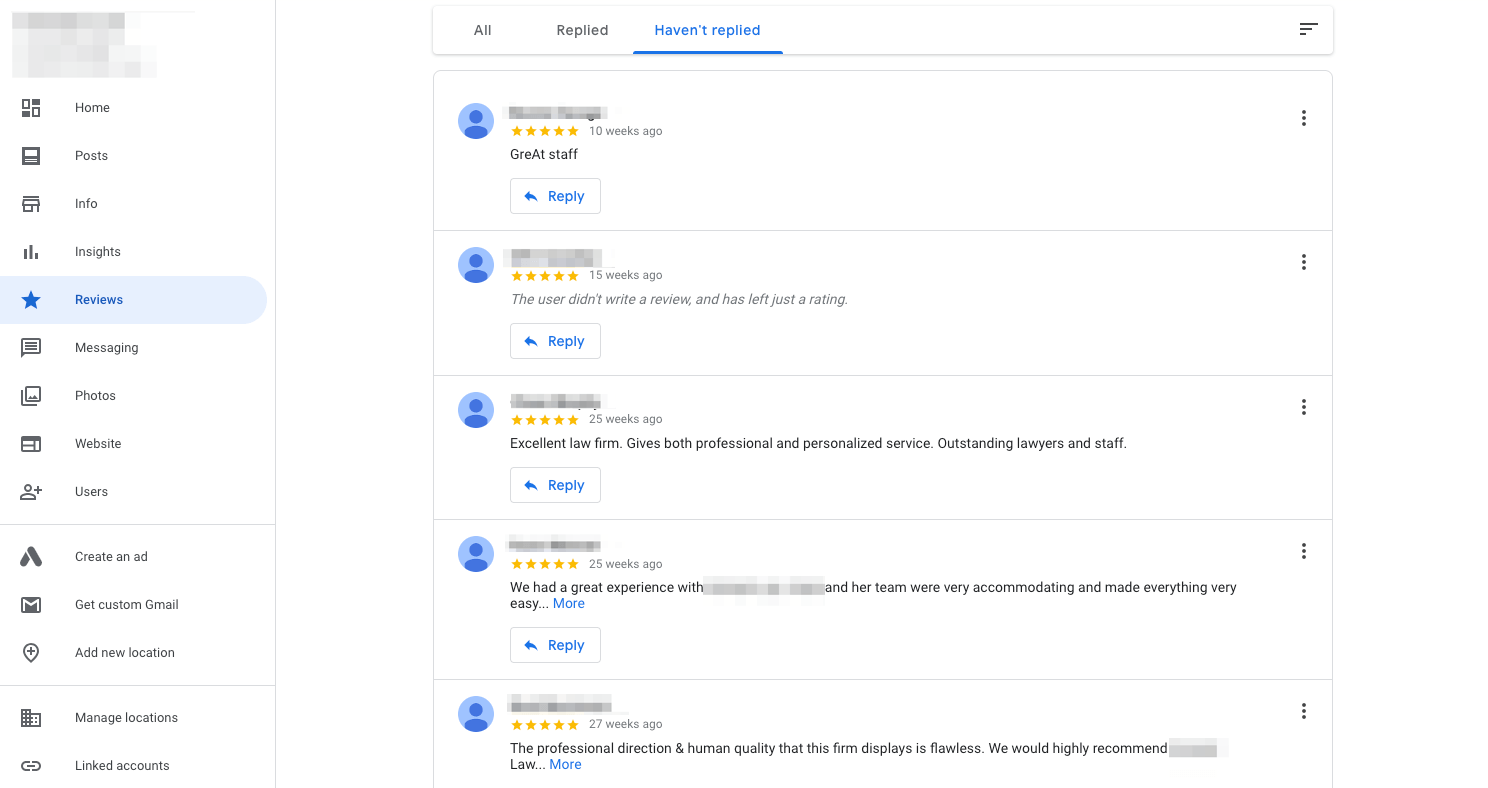 A great way to grow your online reputation and Google review rating is by asking your past clients (or customers) to leave you a review. Historically, we've had great success with growing the number of reviews we get for our clients' local Google My Business listings.
You should invest some effort in getting reviews if you would like your GMB listing to organically rank in the map pack like below.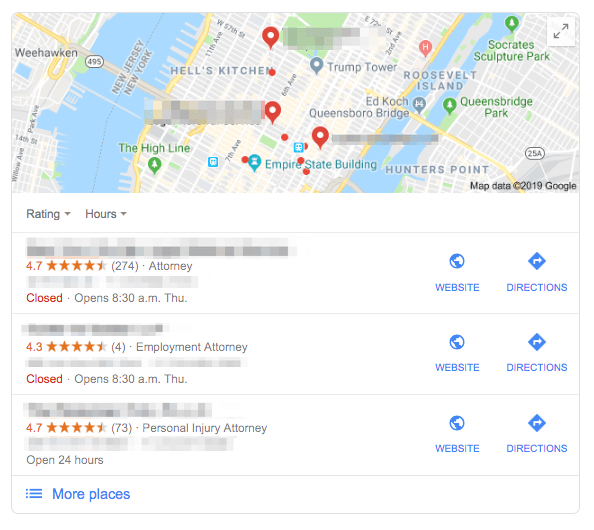 Conclusion
That about covers all the bases that law firms (and small businesses in general) should be concerned with in regards to completing their GMB listings.
Follow these steps, don't worry if you have an error, you always have administrative access to your listing and can edit it anytime.