There are many, highly effective marketing channels that family law and divorce attorneys can use to generate new cases and clients. Social media networks like Facebook can be a great place to advertise and market your firm.
Facebook is the second largest digital advertising platform in the world with over $65 Billion spent on its ads platform in 2019.
So how can divorce lawyers take advantage of Facebook's advertising service and get the most out of it?
In this article, we're going to look at the essentials of promoting your law firm on facebook, including:
How to use facebook to attract new business and sign up cases
The targeting options available to you for target family law
Developing your offer and why it's important
Tips & Caveats of Advertising Your Law Firm on Facebook
How to Use Facebook ads to Generate Divorce & Family Law Cases
Creating ads on Facebook can help you grow your business by getting in front of users at the right time and making them an attractive pitch or initial offer.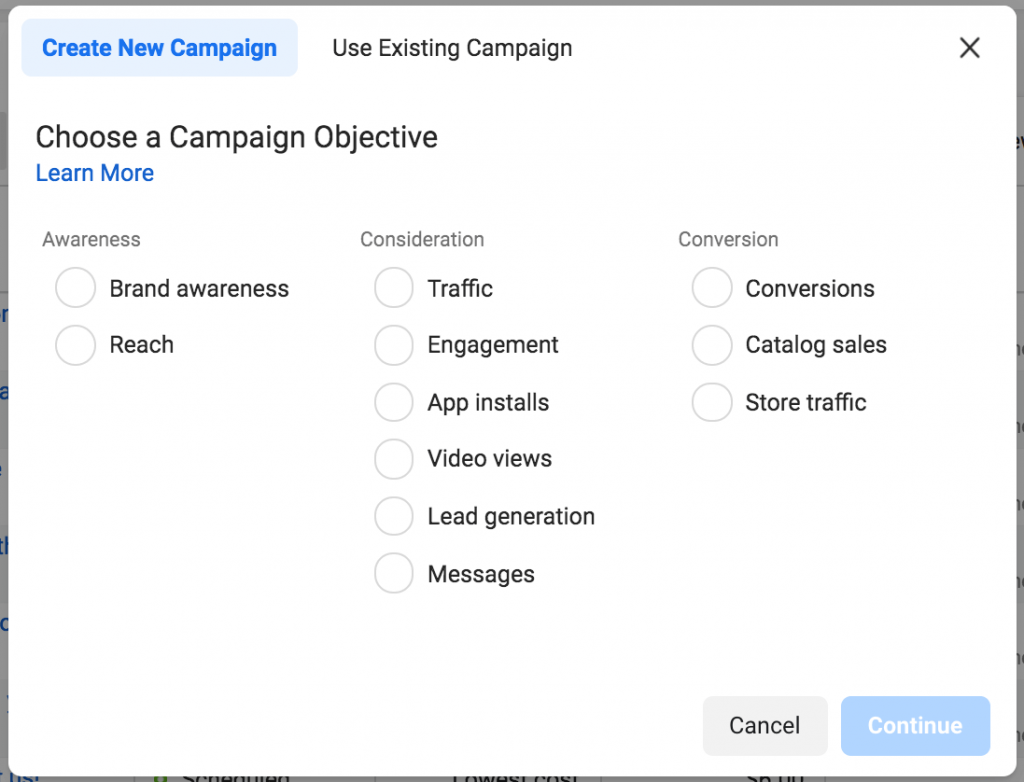 Facebook ads have a number of dials and switches designed to give you a lot of control over how to optimize your campaign to achieve the best results. This allows us to choose a goal, such as generating more leads or conversions for a business. When done correctly, this will yield more phone calls and initial consultations.
Ad Campaigns Structure
Facebook ads have three main components that make up an ad campaign:
This can be thought of like a Russian doll model. Ads belong inside of Ad Sets and Ad Sets reside inside of campaigns.
Campaigns are where you select your high-level budget options, how your budget should be spent across ad sets (either optimized at the campaign or ad set level) and your campaign's primary objective.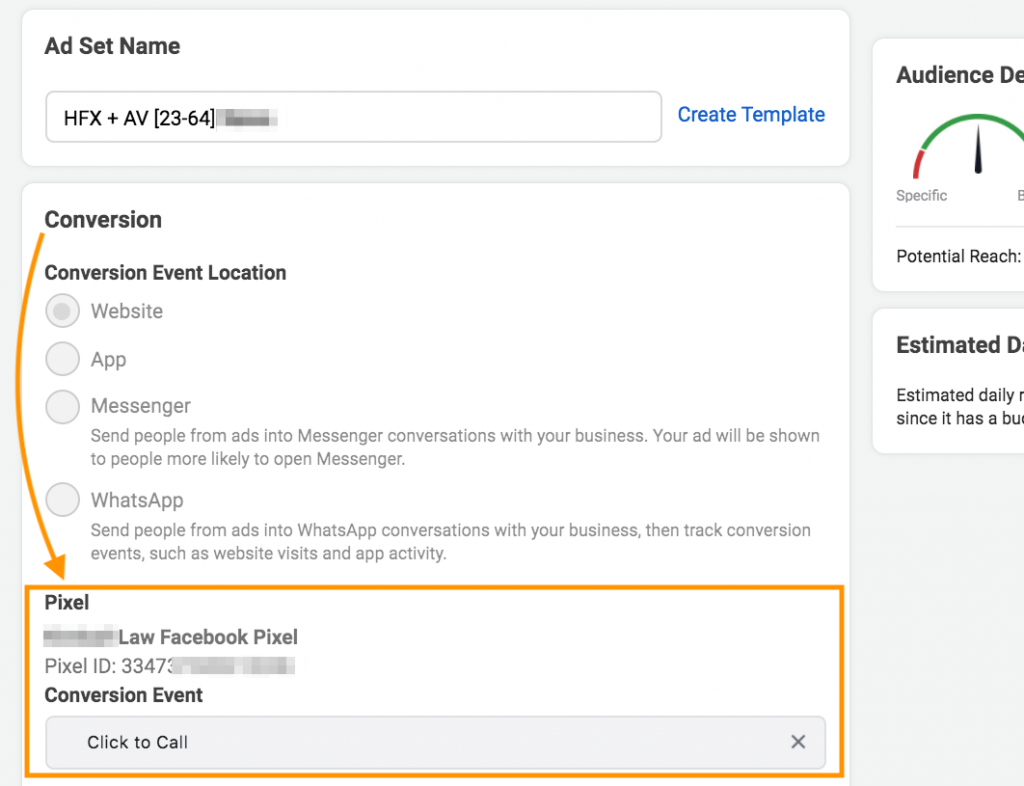 Ad Sets are where you set more specific targeting options such as setting your audience. This is also where you set up what type of conversion event you will track and optimize for as well as how it will source that data (more on that with Facebook pixel later).
Ads are where you will add and launch the creative media (images, videos, etc.), sales copy and call-to-action to be used in the final advertisement.
Targeting Ads for People Interested in Family Law
The targeting options available to advertisers on Facebook are plentiful. There are three main tools in the Facebook Business Manager you can use for creating audiences, adding them to your campaigns as well as analyzing audience segments and forming ideas for new audiences.
Those are:
Audience Insights
Audiences
Ad Set editor in Ads Manager
Audience Insights: An incredible tool that Facebook gives you access to is Audience Insights. Inside this tool, you can drilldown many potential avenues of audience targeting to find the sweet spot that will make your campaign hum. As you add targeting filters and segment your audience, you will receive immediate feedback on your population and demographic metrics. Think of this as an ideation and analysis suite for finding targeting options.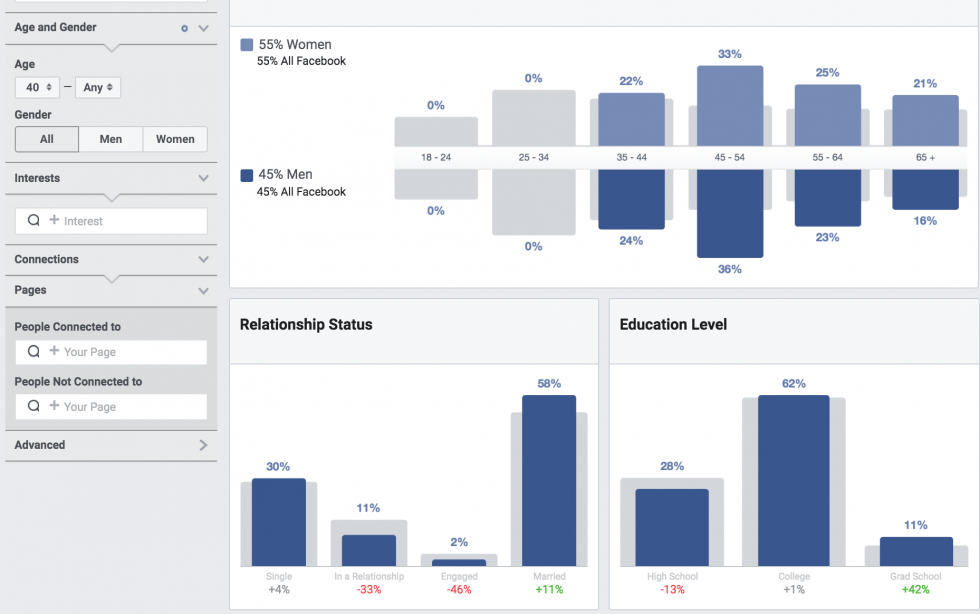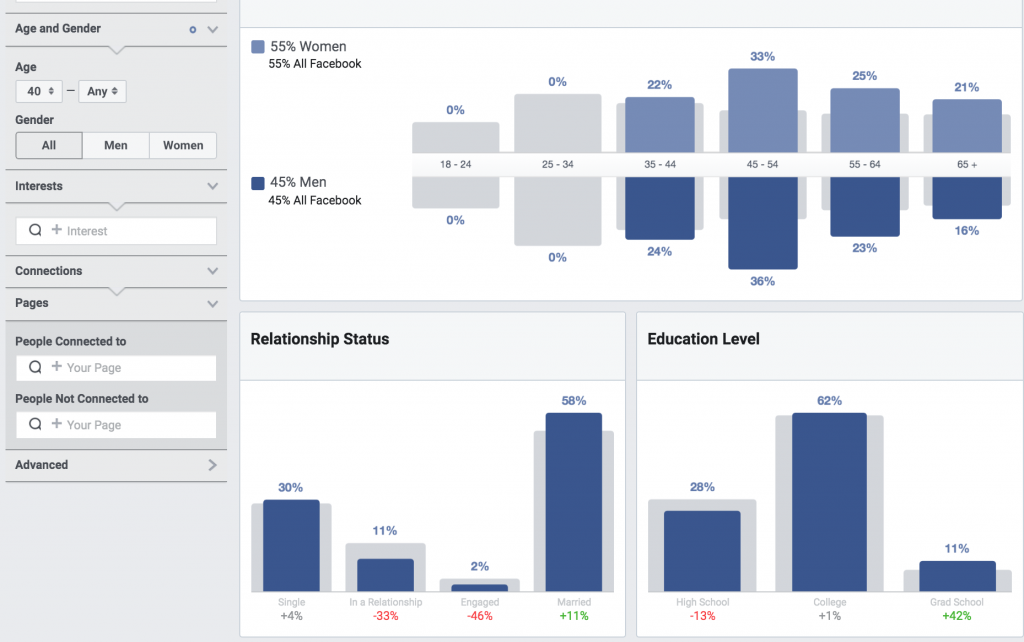 You can see the relationship status you wish to target on Facebook here (ideal for family law lawyers). You can create audiences targeting people who have listed on their profiles are married or single. Combine this with targeting people over a specific age, such as 40 years old.
For higher paying clients, you can specify their level of education (high school, college or graduate school) or job title which can be a strong indicator of income level.
Audiences: Audiences is a Facebook ads tool where you manage, create, edit and review your target audiences.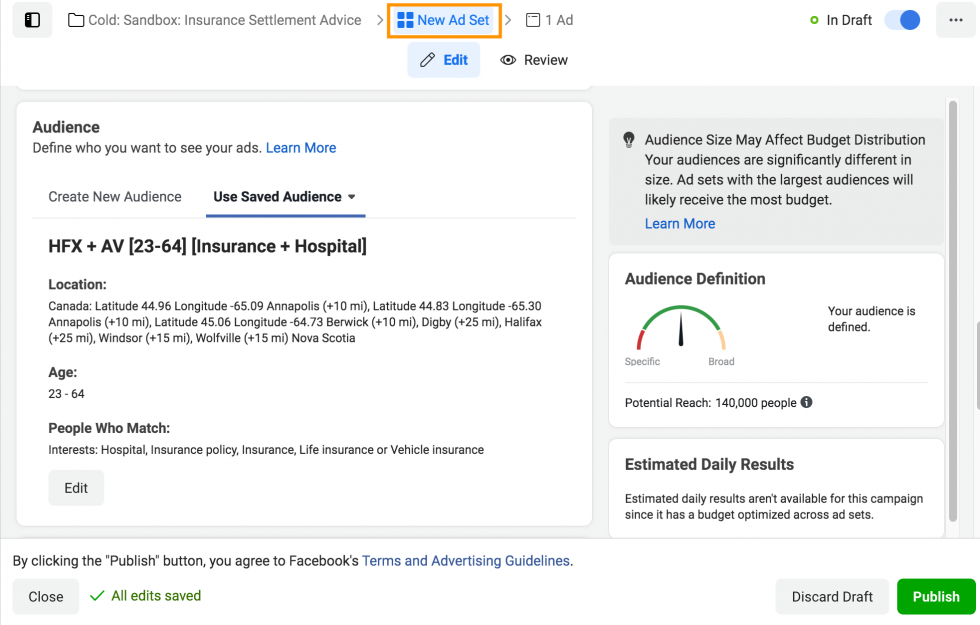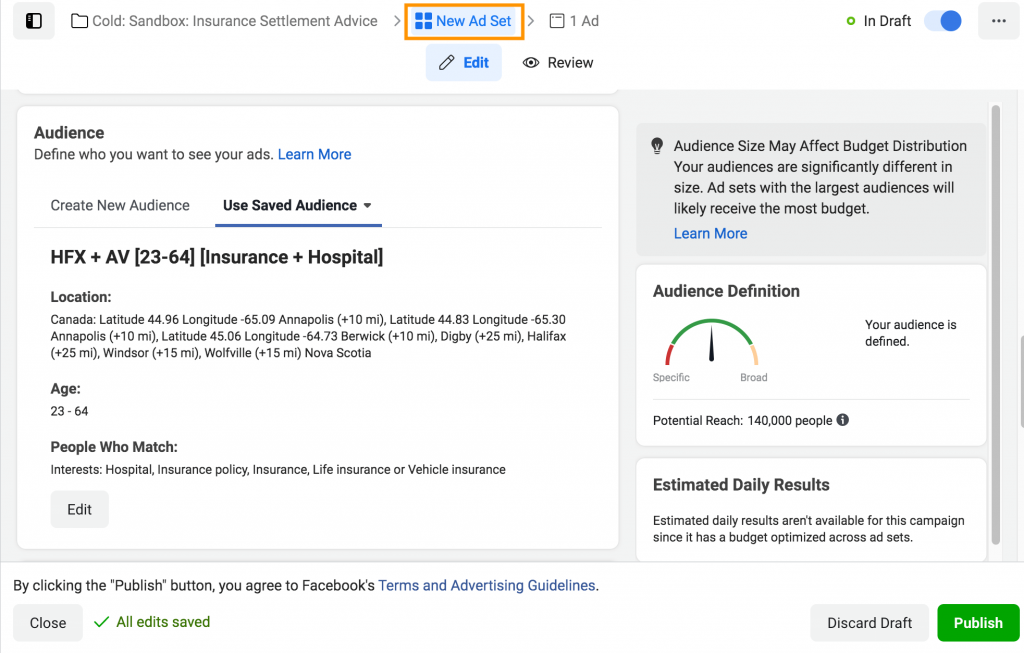 Ad Set editor in Ads Manager: Ad sets are what host your end-advertisements. Sets contains the audience and targeting options for ads. The logic is that you can have 1 ad set that contains multiple ads with different images or copy and hence will target the same audience. You can add the targeting settings you developed to attract divorce and family law clients in the insights tools and saved in audiences to your ad set.
Creating Your Offer
Since you're interested in running facebook ads for your law practice, you've probably spent time looking at other companies' ads and offers while scrolling through your news feed. You may have noticed that there are a gamut of different types of promotions made on Facebook such as discount offers for eCommerce products, to booking an appointment by filling out a contact form or sometimes ads that promote a free eBook or resource you can download for free in exchange for your name and email. Out of these various forms of promotions, there are 3 offers we recommend you could include in an ad:
Promoting an event such as a live webinar
Offering a free lead magnet that family law prospects can download in exchange for joining your email list
Generating a direct lead that calls immediately or contacts your law firm via lead form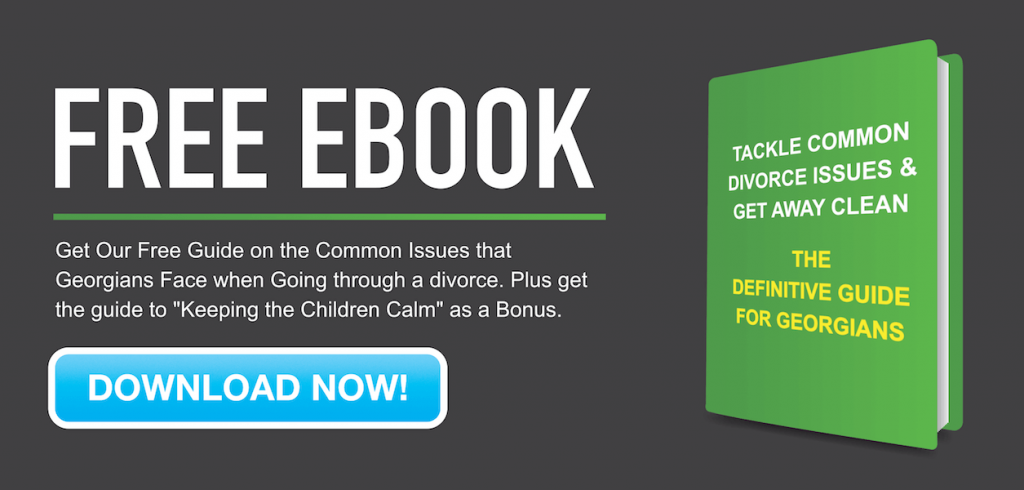 The first two offers require a low level of commitment from your potential clients. They only have to give up a name and email address in exchange for a webinar session or lead magnet that provides free information about their divorce or family legal matters.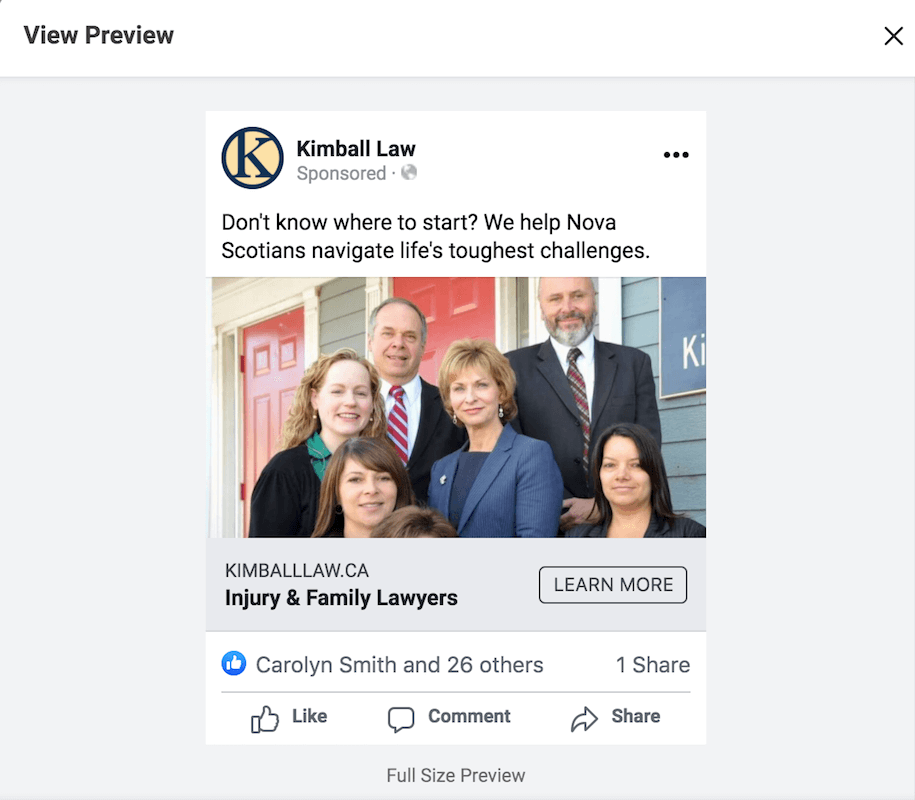 A higher level of commitment intent (i.e. they're much closer to retaining a lawyer) is required for them to call or submit a form. This higher commitment level changes what creative and message you include in your ad copy as well as the cost per result/lead you can expect.
Tips & Caveats to Optimizing Facebook Ads Performance
Give the Algorithm Variety & Room to Work
Many newcomers to advertising on Facebook (and even marketing agencies) think that Facebook ads are wonderful with the vast number of audience targeting options available. In fact, they believe that the power of Facebook ads comes from being able to give the algorithms dozens of highly specific data points and narrow down their prospective audience to a very small group of people. 


Many layer the targeting options one on top of another until they've narrowed down an audience of 5,000 to 10,000 people. However, the Facebook algorithm has a lot more insight and knowledge into running ads successfully than you or I do. Giving it very strict instructions of who to target more often results in backfire than success. Facebook would much rather you start by targeting a larger audience (at least 100,000) and tell it what goal to optimize for (phone calls and form submissions). As the ads begin to attract leads, the algorithm will optimize and narrow down to who it thinks is most likely to need your services next. That's what makes Facebook showing you ads… so spooky… sometimes.
Boost Your Posts as Ads
A simple way to get started with advertising on Facebook without getting tangled in the complexities of the ads manager platform is by boosting your posts on your business page.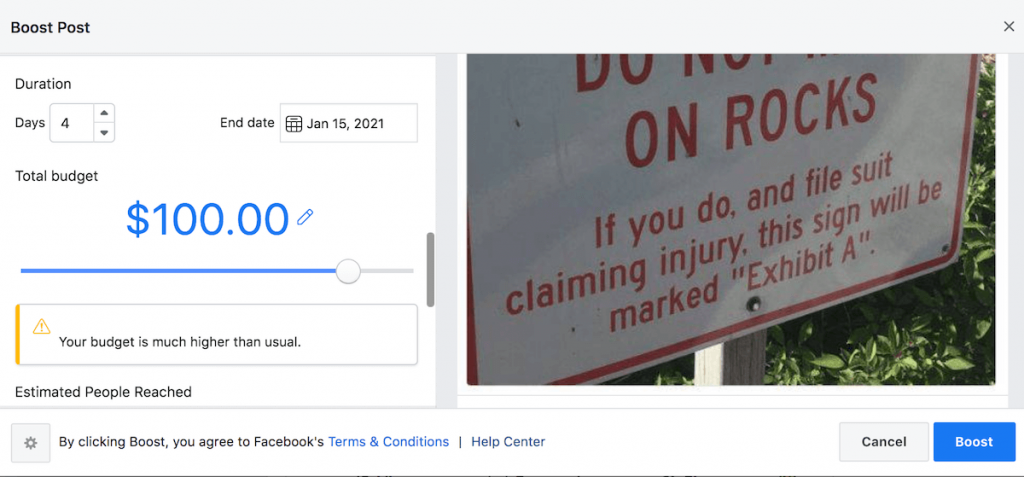 To do this, you can create a regular post on your business page and then click the Boost button to add a small budget to it and target your audience. This is a 2-minute process compared to Ads manager where a carefully planned campaign can take one to several weeks to launch and optimize.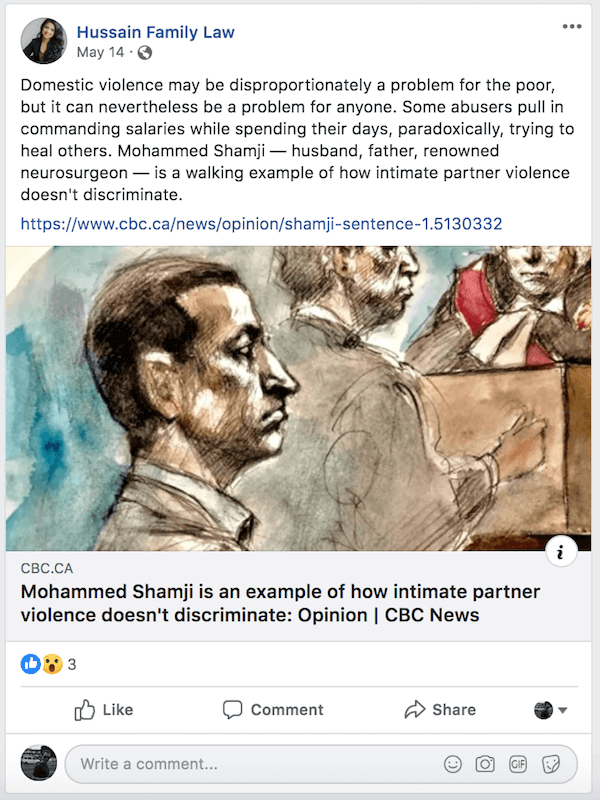 The best content to promote is your own blogs from your website and free content to drive leads first. If you don't have a blog, but want to start one, check out our guide on starting a law firm blog. Alternatively, you can write a mini blog with helpful info in the post body itself and link to your website at the end of the post or in the comments section.
Use Facebook Pixel to Optimize for Conversions and Events on Your Website
Facebook Pixel is a small, tracking script tag that can be embedded onto your site and will send visitor data back to Facebook. This tracking script will feed critical information back to your ad campaigns to update which users clicked on an ad and even optimize your ads to find more users likely to contact or call you after clicking your ads.
Use Retargeting Ads to Make the Most of Your Website's Traffic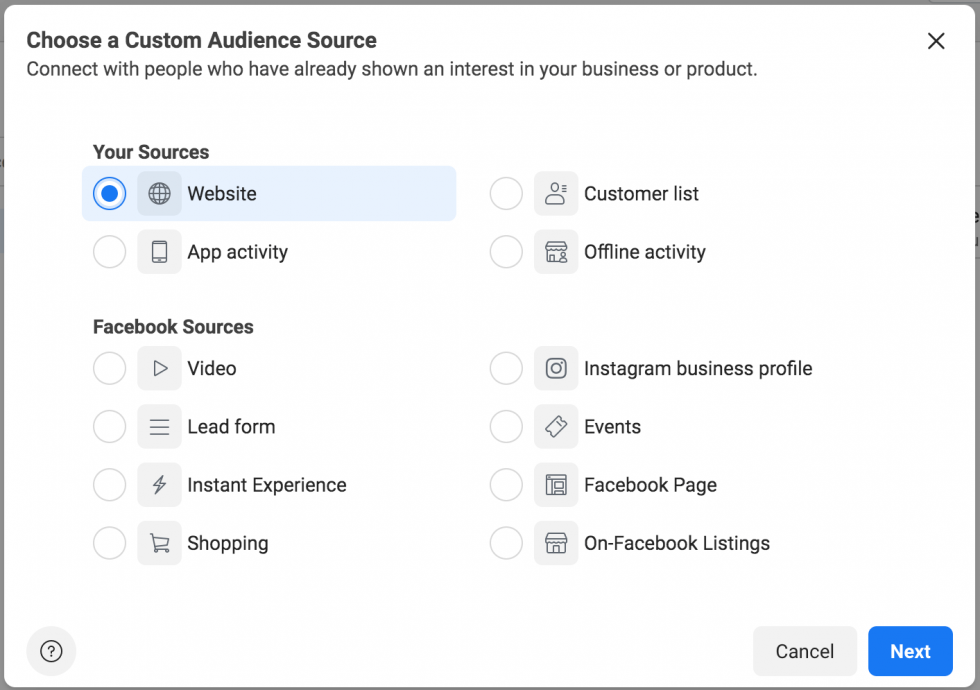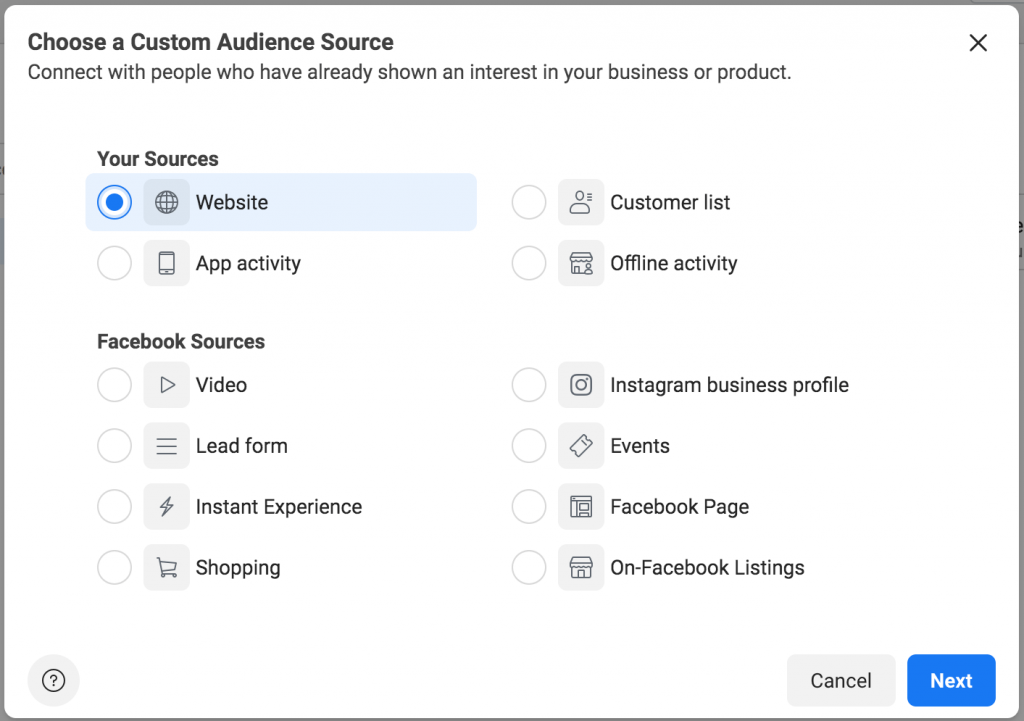 When you're ready to dive into the Ads manager, the best campaign you can first launch to get acclimated with the platform is retargeting ads. By using the data from the Facebook pixel installed on your website, you can target traffic that visited your site directly or found you through another source, such as Google search. You can even choose to target people who did not convert on your website via a phone call or contact form, leaving those who weren't ready to take action then, but potentially are now.