Have you ever wondered how to show up in the coveted Local Map Pack results in Google Search results? Today we're going to investigate how it's done by looking at the top 6 ranking factors for ranking within the top 3 positions in Google Map Pack.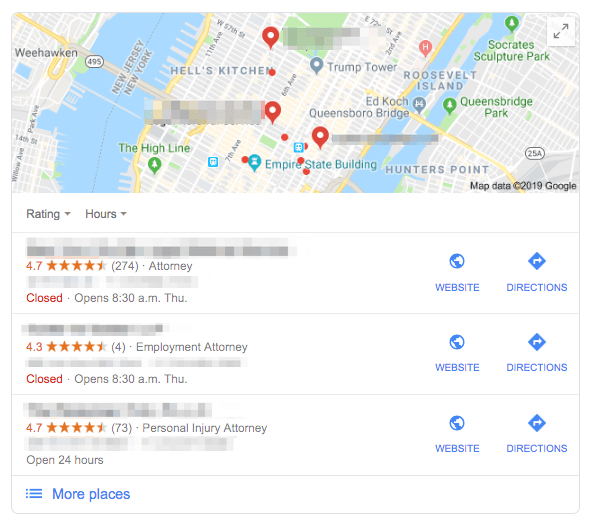 Moz compiled a study for Ranking factors in 2018 that looked at the factors that most affected your rankings in both organic search and map pack results. While there are similarities between having the ability to rank in the top 10 organic search results and the top 3, it is not a guarantee since Google's algorithm handles the rankings differently.
If you haven't checked the Moz report out, I highly recommend you check it out as it shows how much weight each factor bares for the two types of ranking results.
According to the Moz report, these were the most important ranking factors (top = more important) in ranking:
Google My Business
Backlinks
Reviews
On-Page SEO
Citations
Behavioural Signal
In this article, we'll take a look at each of these factors and give you a break down of what you need to do whether it's in order to rank your law firm locally or another type of small, local business.
While their article goes over several hundred factors, in my experience, you have a great shot at ranking for not just a few, but many of your target keywords if you focus on these top 6 factors.
#1 – Create & Optimize a Google My Business Listing
The most important factor for ranking in Google's Map Pack is going to be all of the signals coming from your GMB (Google My Business) listing. Why?
Every single business that is displayed in the Map Pack has a GMB listing. This listing may have been created by you or someone that works for your firm. It's also possible that Google had created it on its own.
This happens when Google scans the web and finds citations (yes, like the kind we'll discuss later) about your business. If it finds enough citations with similar are consistent info about your business like your website, address, name, and phone number, Google will have enough confidence to take this info and compile it into a listing.
In this case, you may google the name of your business and find that it has a listing like the following: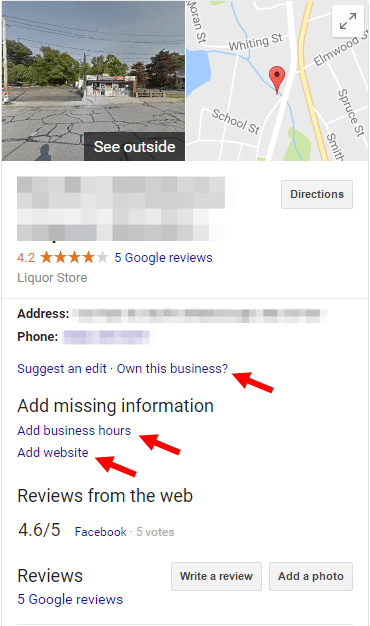 That button that says "Own this business?" will take you through a short process where you can claim the listing upon verifying it through a mailer you'll receive at the address listed on your GMB profile. So if you verify this listing, make sure you have access to the mailbox at that location.
If you don't have a GMB listing, just check out our article on creating and optimizing your listing.
The most important factors on your GMB listing that will affect your performance is:
Consistent NAP
Proximity from search location (or location being searched)
Categories & Services
Check out this article to learn everything important in your GMB listing that will contribute to your local ranking factors.
#2 – Get High Quality Backlinks
When it comes to ranking in the organic results, the most important factor is definitely your link signals. How many and how high quality are they? If you're a small business or a law firm working in a small area, then you'll have to do some link building, but not nearly as much as the mega firms.
We're talking 1 or 2 orders of magnitude in difference in link abundance. However, what's really important is the quality of your links. If you don't know a lot about links and want to read more about them, check out this article all about links that every lawyer and law firm should have.
There are 2 main sources of links to focus on:
Local Business Directories
Law & Society Links
We're going to talk about the local directory links when we talk about citations. As for the law and society links, these include Law & Society websites, legal directories and law blogs. I wrote about the types of sites where you can find backlink opportunities for those types of links.
If you have a small business in another professional services niche, you're likely to find directories specifically for your type of business.
It's great to show up in the listings to give Google more confidence about the relevance of your business and the products and services you offer. The more confident Google is, the more likely it is to place your business in one of the top 3 positions on the map pack.
#3 – Ask for Reviews
The 3rd most important item on the list is your Reviews signals. Reviews are becoming increasingly important as it offers social proof for the end users who are searching and doing their due diligence in researching the right business partner. The other is that the algorithms love it because it gives a highly human-backed for them to rely on.
While there are still bots that leave reviews and fake reviews bought and sold for distasteful marketing purposes, Google, Bing, and Facebook are getting better at detecting which reviews are real and which are fake. They're only going to get better with time. Therefore, this will play a vital role in currently ranking and I believe it's going to have an even more significant impact in the future.
What makes a good Review?
Obviously a glowing 5 star review. However, more importantly than that is a lengthy review body. 90% of online customers read business and product reviews.
Google even tends to sort your reviews by word count. The longer reviews on top. It allows prospects to read not based the date published, or the start rating, but based on the customer's story and experience.
It's good for customers and it also helps Google to associate a review quality score, which is used to determine the probability of the review being from a real person and not a bot.
Clients that were thrilled by your customer service skills and quality of work on their legal matters will definitely bring you a diversity of reviews. Some shorter and to the point, but some are going to be people who really appreciate how much you cared about getting them out of that pickle of a situation.
Don't get all your reviews all at once
Another factor that Google is going to look at is Review velocity. This is how quickly and consistently your clients are reviewing you. If you're getting reviews all at once, Google may interpret this as suspicious behavior. I wouldn't worry about this too much though if you're playing by the rules.
The best way to do this is to build a client review email list and spread them out over time. Going off our 30% conversion rate, meaning that 3 in every 10 clients ask will review us, we would suggest that you send out 3-4 emails per week for every review you wanted to acquire.
How should I build my email list?
Usually what we do is compile a list of clients we would like to ask for reviews. So that we don't break client confidentiality, we send our clients an excel template they can use to track their list. It includes fields for the client's name, email, date contacted, which type of review we asked them for, and a date for which they reviewed us.
How do I get Reviews for my business?
There are many websites and services online that collect reviews for local businesses. However, I would suggest you care about and focus on: Google, Facebook, and Yelp. I'm also going to discuss how to get past clients to review you.
Google Reviews
Google is going to be the most important since these are the reviews that will show up first and natively in your GMB listing. Getting people to review may seem daunting, but it's actually pretty easy. We work with law firms to help them accumulate more reviews from their clients. Essentially we give them an email template that we ask them to customize or personalize for each client they email asking for a review.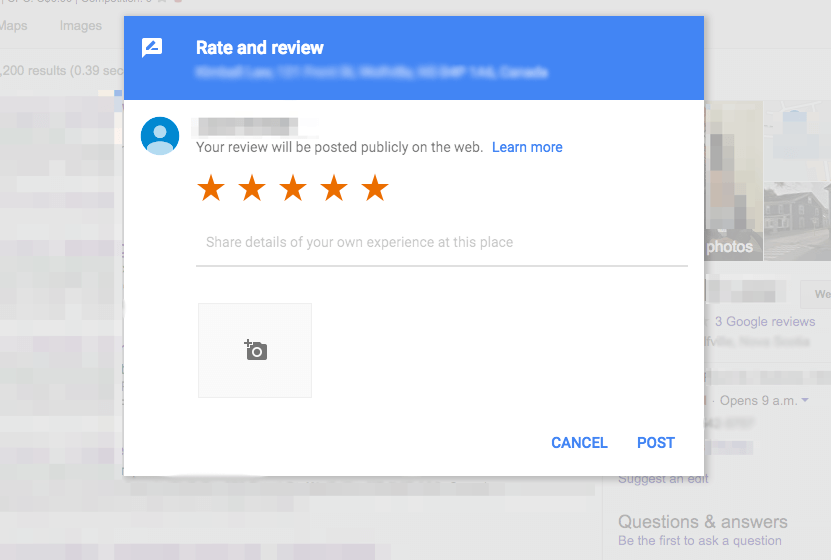 Within the email, the template is a link their clients can click on that will take them directly to a screen like this that allows a super convenient method to get them to leave a review. It's not difficult to generate a link for your own Google My Business listing. Check out Google's support article on it.
In my experience, if a lawyer is doing a good job for their clients, then you can expect a fresh batch of fresh glowing reviews from your clients. The only thing they'll need is a Gmail account to leave the review with. This is so Google can validate the authenticity of reviews left on their platform. While you may think that this could be a prohibitive force, well that is true, but we've typically found that our lawyers get a 30% conversion rate in reviews when they email their clients asking them to review them on google. The trick is to be personal and insert a link to make it as frictionless as possible.
Facebook Reviews
Facebook Reviews are important, don't get me wrong and do not underestimate them. But they are a distant second in terms of the direct impact they'll have on your map pack ranking compared to Google's reviews. We actually found that our law firms' rankings increased entirely with Google reviews. However, Facebook and Yelp reviews are still important as a ranking factor, but also because of the social proof they lend to prospective clients. It also does show up on your Google listing under the heading Reviews from the web.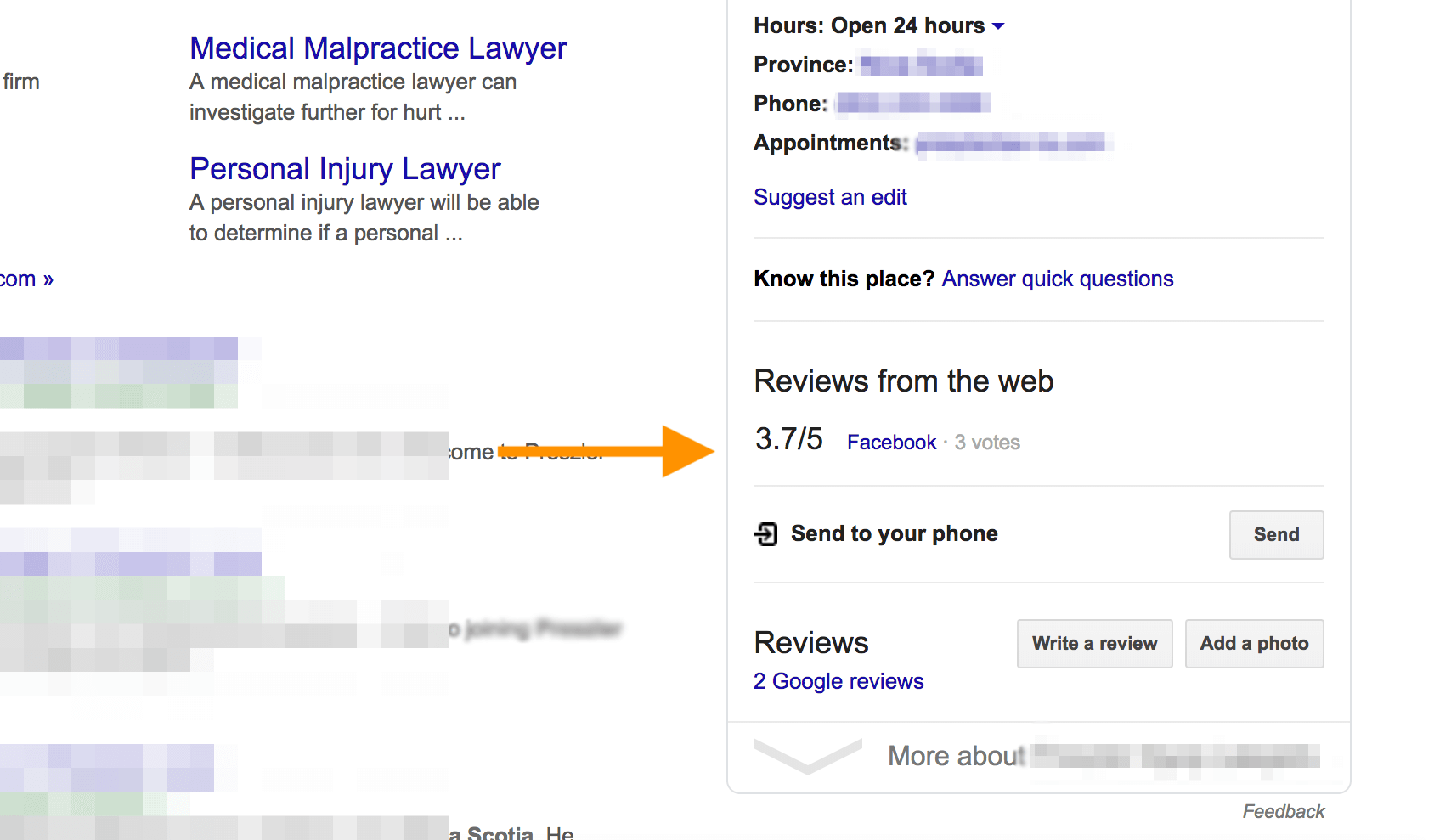 The advantage of asking past clients for Facebook reviews is that they don't need a Gmail account or anything special. Chances are they're already on Facebook. What we usually do is have our clients email their clients with a link to: facebook.com/pg/BusinessName/reviews
That will allow them to leave a review immediately if they're already logged into Facebook on the device they open the email from.
**Note: This article was written around the time that Facebook decided to change Reviews to Recommendations. So keep in mind that the URL pattern we mention above may be subject to change by the time you read this.
Yelp Reviews
As for Yelp Reviews, these are also read in as a trusted source by Google's algorithm so it does count. Aside from map pack ranking factors, it can certainly help to have good reviews on Yelp, especially since these are used as the primary source of reviews on Bing's Business listing (the Bing equivalent of Google My Business) as well as Apple Maps.
You can use the above info to try and get more clients to review you on Yelp. However, there are 2 caveats. The first being that they will need a Yelp user account, which not everyone has.
Secondly, Yelp has their own algorithm for filtering reviews. This can end up ignoring or boring a bunch of reviews for your business' listing. This could have a dramatic effect on the overall rating associated with your business.
#4 – On-Page SEO
Your site is going to be linked to your GMB listing and so it's easy for Google to check out your site and see how well it matches your listing. You need to make sure that your site is up to date with the following items:
NAP (Name, Address, Phone)
On-Page Keywords
Schema & Structured Data
Name, Address and Phone Number
Make sure your NAP is on your site. This includes the legal name of your business or the way it's presented for marketing (i.e. your company may be called ABC Inc., but you just refer to it as ABC on your site and in your GMB listing). You also need to list your office address and phone number. You can also add your business hours or specify if it's a by-appointment-only office. It's optional, but considered a best practice in user experience.
If this info is not on your site, then add it. The most common places to place your NAP info are either in your site's footer. That way it will appear on every page, or on an inner page like your 'contact us' or locations page. At the minimum, you need to make sure it's on your site and that it is consistent with your GMB listing.
On-Page Keywords
Your on-page keywords are the same as the keywords you want to target on Google. I'm not suggesting you keyword stuff, but make sure that they or some variation of them appear on the page. You want to have these keywords appear naturally within your site's title tag, meta tag, heading tags and body in general. Put it where it's needed. The keywords you want to focus on most are the ones that match the categories you fill out in your My Business listing.
If you filled out your business' categories correctly, you'll likely have one inner page on your site specifically for that category (e.g. family law, personal injury law, criminal law, property law, etc.). While it helps to have these inner pages for your On-Page SEO in general, it's important to align your GMB categories with these service pages.
Create and add your Schema Markup to your Site
Creating Schema markup, or structured data, is just a technical process.
It's essentially a templated set of information about an organization. It allows for highly specific information that relates to almost any business across any industry. That template, when entered with your business' information, gives search engines a very rich set of data they can use to determine what your site does, what it should be ranking for and where it should be ranking (both position in SERPs and geo-location).
Check out Schema.org for more information on creating your law firm website's schema. There are two that relate to Lawyers and Law firms: LegalService and Attorney. Schema.org states that Attorney is now deprecated. You should rely on LegalService as it is "more inclusive and less ambiguous". If you use Attorney, it will still work, but you should change it when you or your webmaster can.
#5 – A Healthy Number of Citations
The next thing you need to do is make sure that you have a good number of citations in online directories for your business. If you're not sure what I citation is in this context, it's essentially a listing for your business. Citations, or listings, are very similar to your GMB listing, but on third-party sites.
A good example of some citations is yelp and the yellow pages online directory. Google regularly scans the sites and network sites to see what the state of their information about other websites are.
Citations and listings are even going to contain the same or very similar information about your business. So you may have guessed it by now, but it's important for this information to be consistent. Most importantly, your NAP should be identical.
#6 – Optimize for User Experience and Measure Behavioural Signals
The last major ranking factor for google search's local map pack is Behavioural signals. By that, we mean how users behave when they see and interact with your listing, site and its content. The top 3 behavioral signals are going to be:
Click Through Rate
Mobile Clicks to Call
Bounce Rate
Click Through Rate & Mobile Clicks to Call
Click Through Rate (CTR) is measured as a percentage of traffic that clicks on your link/listing. For example, if 1 in every 10 searchers that see your listing click on your link, your CTR is 10%.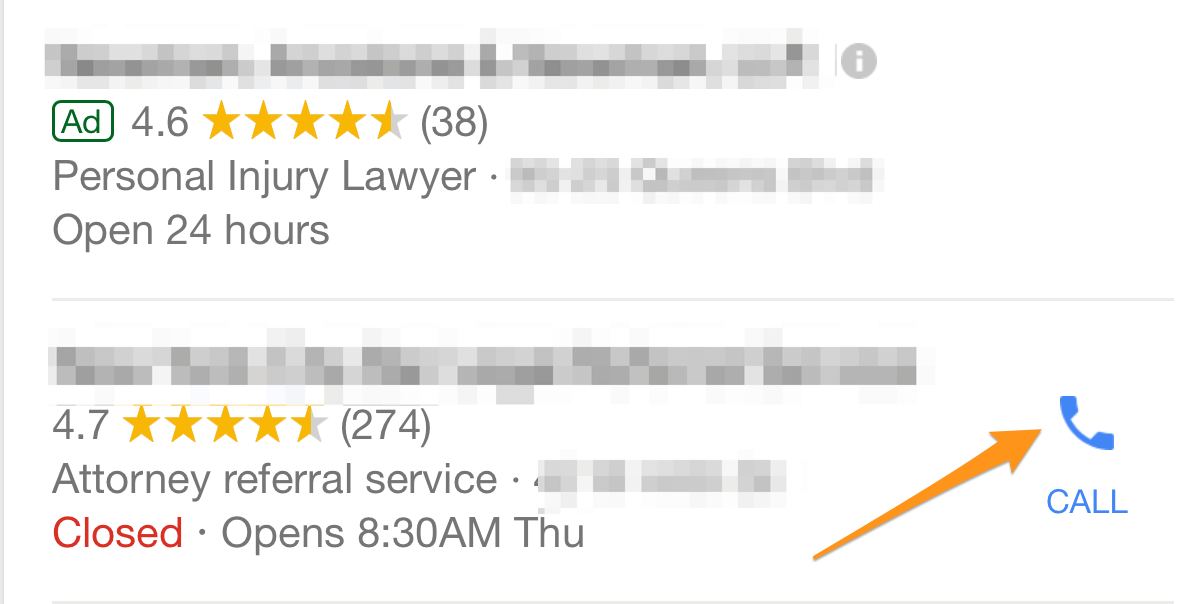 Mobile Clicks to Call is the number of times calls users clicked on your listing to call your firm.
Generally, the top factors that will affect your mobile click to calls and CTR are the listing title (blurred out in the screenshots above, but this is the name of your business), whether or not the business is open when the user performs the search and the review rating. While you can't control the listing title, as it is the name of your business, your firm's advertising and reputation will have an effect on the CTR and number of mobile clicks to calls.
Bounce Rate
Bounce rate refers to the number of users who visit your site and leave without interacting with it. This number indicates to Google and other search engines how relevant your site is.
In other words, when people visit your site are they finding what they are looking for?
The lower the bounce rate, the better. In the above images, you can see that there is an inverse correlation between the average session duration and the bounce rate. If your website's bounce rate is high, you should look into investigating why.
Conclusion
Now you know the top 6 ranking signals that Google is going to take into account when deciding how and who to rank. Since the algorithm is real-time, you can start improving these 6 factors and see results fairly quickly. Usually, we see rankings start to improve within a week of addressing several of these. When all 6 have been fully addressed – and handling things like link building and reviews on a regular basis – we start ranking in the map pack for 90% of our target keywords within 4-6 weeks.