Google My Business (now renamed to Google Business Profile) is a free tool that allows attorneys to list their law firm's information on Google Search and Maps. In other words, Google My Business can help lawyers to promote their services in their target area.
Since it has a big impact on your law firm's local SEO strategy, in this guide, I'll teach you everything you need to know about Google Business Profile. The topics we'll cover include:
Note: GMB is short for Google My Business. Although this is how many people know this tool, Google recently changed its name to Google Business Profile. I'm going to use these terms interchangeably in this article.
Benefits of Google My Business for Lawyers
Google Business Profile has one main objective: to show users the most relevant businesses in their location. On top of helping to maximize your firm's local presence, there are other ways that Google Business Profile can benefit your law firm. Some of them include:
Provides helpful information about your law firm: a Google Business Profile contains business information that your potential clients may want to know. This includes opening hours, phone numbers, directions to your law firm, links to your website and posts about your services.
Shows what working with your firm is like: former clients can share their experiences with your services by leaving a review on your law firm's GMB. For potential new clients, Google reviews are a great opportunity to learn more about the quality of your services. So, if your reviews are good, they're more likely to reach you out.
Increases the number of local leads: GMB profiles only display local results that are relevant to the user's location. That means the leads coming from your law firm's Google My Business profile are likely to be highly relevant for your firm, too.
Helps your law firm's SEO campaign: your law firm's SEO is meant to grow your online presence and get you more cases. If your GMB listing is in the top 3 results, not only may your organic site traffic increase but you'll also get more phone calls and inquiries.
Pro Tip: There are different factors that influence your Google Business Profile rankings. Some of them, you easier to control (like getting more reviews and improving your organic rankings). But others will require you to make tactical or strategic decisions (like where your office is situated relevant to a user's location). Proximity is a huge Local SEO factor.
How To Create your Law Firm's Google My Business Profile
Before diving into the instructions, make sure you have a Google account since it will be linked to your Google Business Profiles. If you already claimed or have your profiles in place, feel free to skip ahead to the next section.
Determine if your listing already exists
Once you have your account ready, you need to determine if your listing already exists. Oftentimes, lawyers find that their practice is already listed in Google even though they didn't create the profile.
This happens because either a person suggested the place or Google itself created it based on the information that they scrape from the web. To check this, go to Google My Business Profile Manager and look for your law firm.
If you find it on the list, click on it.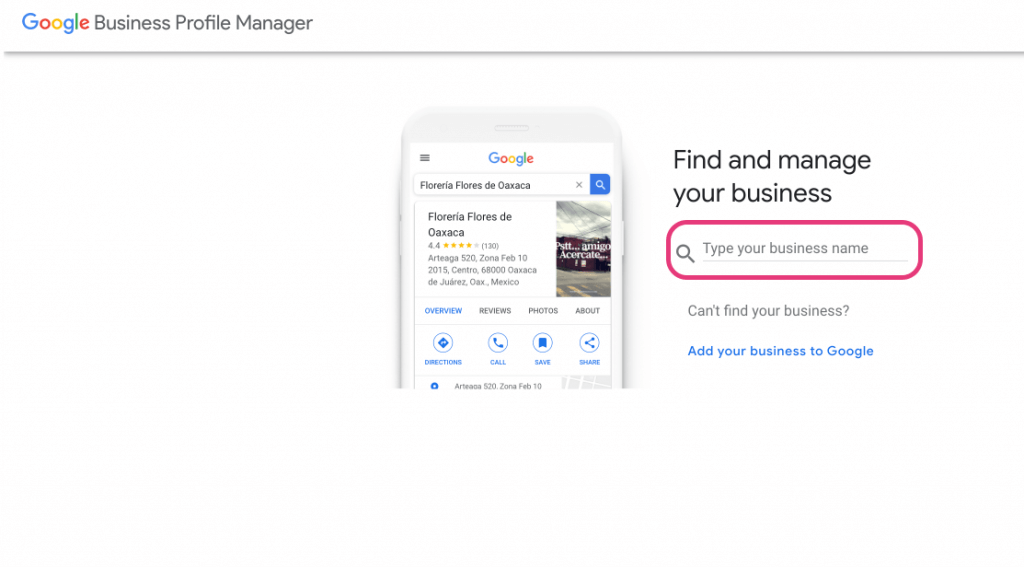 If the listing hasn't been claimed, you'll be asked to review and, if needed, update your law firm's information. Make sure that your address is correct because you'll need it for the verification process.
If you can't find your business, click on 'add your business to Google' and skip ahead to the next section in this article.
Pro Tip: If the listing has been already claimed by another person, you'll need to request ownership of the profile.
Create your law firm's Google Business Profile
If your law firm is not being listed on Google, you'll need to create a profile for your office. To do so, fill in the requested fields. The information you'll need to provide includes:
Business Name: enter your law firm's name.
Business Category: type and choose the primary category for your law firm's areas of practice.
Show location: choose 'Yes' to display your address on the listing.
Business address: register your law firm's address. Double-check that the information is correct. If you have multiple locations, focus on one office at a time.
Phone number and website URL: enter the corresponding phone number for this office and a link to your website.
Once this information is complete, you'll need to verify that you're actually the owner of this law firm.
Pro Tip: If you have different web pages for each one of your offices, each GMB profile should link to their corresponding page.
Verify your listing
To display your profile, Google will want to verify that your law firm and information you registered is accurate. This is just a simple verification process. Although there are different ways to do this, based on your location and business type, Google will only show you the options you're eligible for.
The most common method to verify your law firm is by receiving a Google postcard with a PIN number. This postcard will be sent to the address you registered. Once you receive it, you'll need to enter this number into your profile.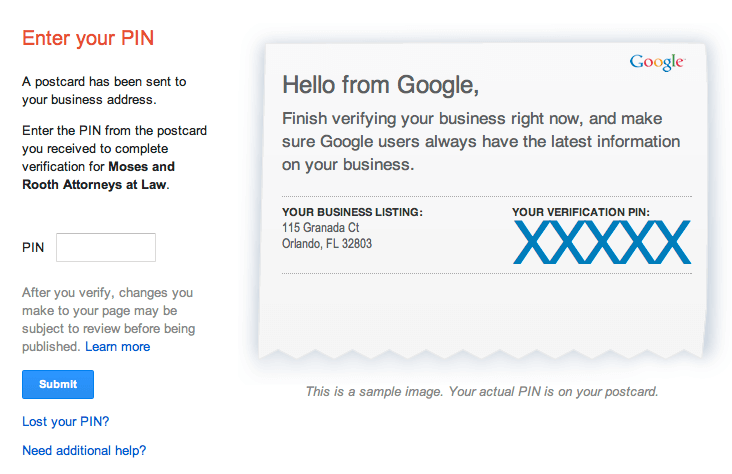 Even though this method is the slowest, it's also the most common.
Sometimes, Google may offer you the option to do the verification process through the phone or email account. Just a warning: if you choose to verify through phone, make sure you're actually able to receive the call or text because Google will use these channels to send your PIN number.
Pro Tip: Google determines the verification methods for which your business is eligible. In some cases, you may have multiple options. In others, you may only be able to receive a postcard. Don't change any of your profile's information while you wait for your listing's verification.
Once you have full control of your law firm's Google My Business listing, it's time to optimize to make the most out of it!
9 Tips for Optimizing Your Law Firm's Google My Business Profile
Either if you just claimed a brand new listing or your law firm already has an existing profile, there are some actions that you can take to optimize it. Here are the tips I'm going to share with you to boost your law firm's Google My Business performance:
Implementing these tips will not only help you have a more attractive profile for your visitors, but they can also boost your online presence.
1. Build out your categories
One of the most important parts of your law firm's Google Business Profile is the category. After all, this is what Google and people use to understand the services you provide. So, in short, the primary category of your profile has a big weight on its rankings.
Google has already defined these categories for you. So, you just need to choose the one that best fits your practice. Your main primary keyword should match your main area of practice.
Some examples of primary categories include:
Personal injury attorney
Criminal justice attorney
Family law attorney
General practice attorney
Bankruptcy attorney
Once you identify your primary category, you can add secondary categories to give more context about the services you provide. For example, secondary categories for a family lawyer include 'divorce attorney', 'legal services', 'trial attorney', etc.
Secondary categories are not displayed on your profile. They work in the background, providing Google with more contextual information about your practice.
If you're not sure about what categories you should use, this tool can help you find primary and related categories.
2. Get more relevant reviews
According to an SEO study, Google reviews are a strong factor that can affect your rankings. Reviews are useful feedback for your practice, while they let Google and potential clients know what your former clients think about your services.
Take a look at the number of reviews these top 3 ranking law firms receive versus the bottom 7. There are some swings and discrepancies, it's not a perfectly consistent trend (there are other Local SEO ranking factors to account for), but there is a pattern. After #5 especially, you can see a dropoff in the number of reviews in most profiles.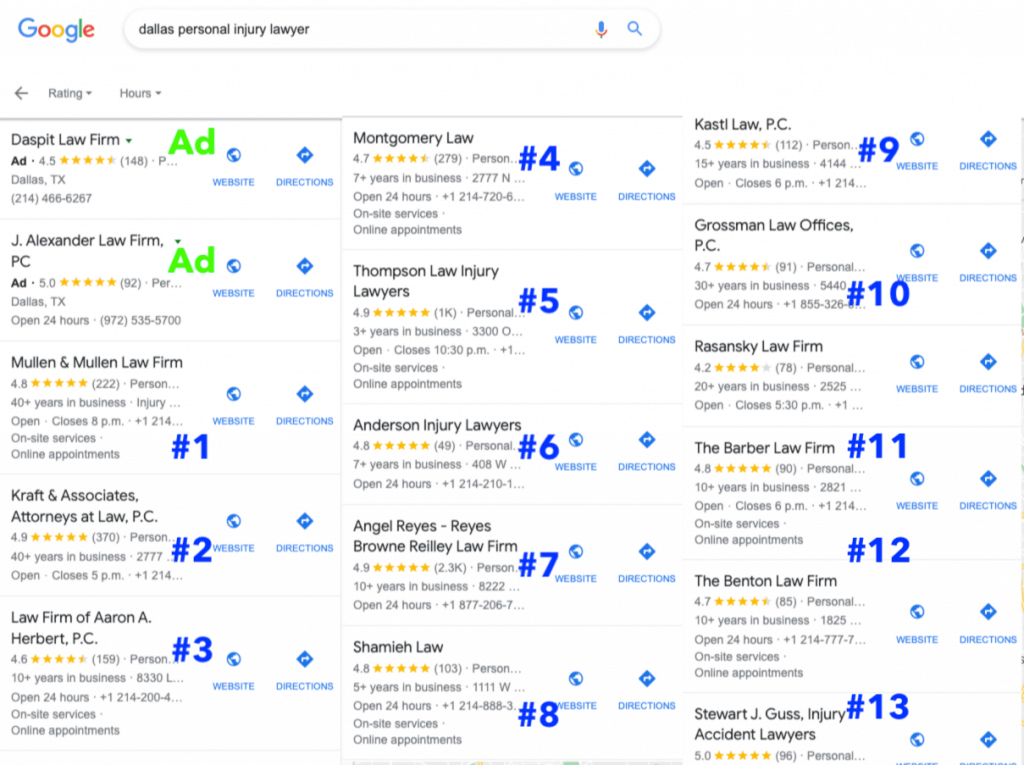 So, to keep it short, you and your team should develop a strategy to collect more Google reviews for your law firm. Now, getting reviews is not only about volume. You also need to aim for quality and quantity.
What I mean is that, since this feedback is going to be highly relevant for Google and new leads, you should focus on collecting reviews from actual clients.
If you're serious about optimizing your GMB profile and SEO for lawyers (as it's very competitive), working on your reviews is critical.
3. Write an optimized description
Over the years, I have seen Google My Business profiles with poor descriptions full of keywords, but little information about the business. Your law firm's description is an excellent opportunity to tell your potential clients who you are and what you do to help them.
This small description (maximum of 750 characters) should be as compelling as possible. If you have troubles coming up with it, ask yourself:
What do potential clients need to know about my law firm?
What do we do to help them solve their problems?
What sets us apart from the competition?
As a tip, make sure to mention your primary keyword at the top of your description. Keywords are good as long as you don't overuse them.
4. Respond to reviews
Everytime your firm gets a review on its GMB profile, you'll receive an email notification. Make sure to respond to it. All you have to do is leave a quick note thanking them for their feedback and something that shows you read their review. Google even lists it as one of the factors they use for ranking your Google Business Profile in the maps and search results.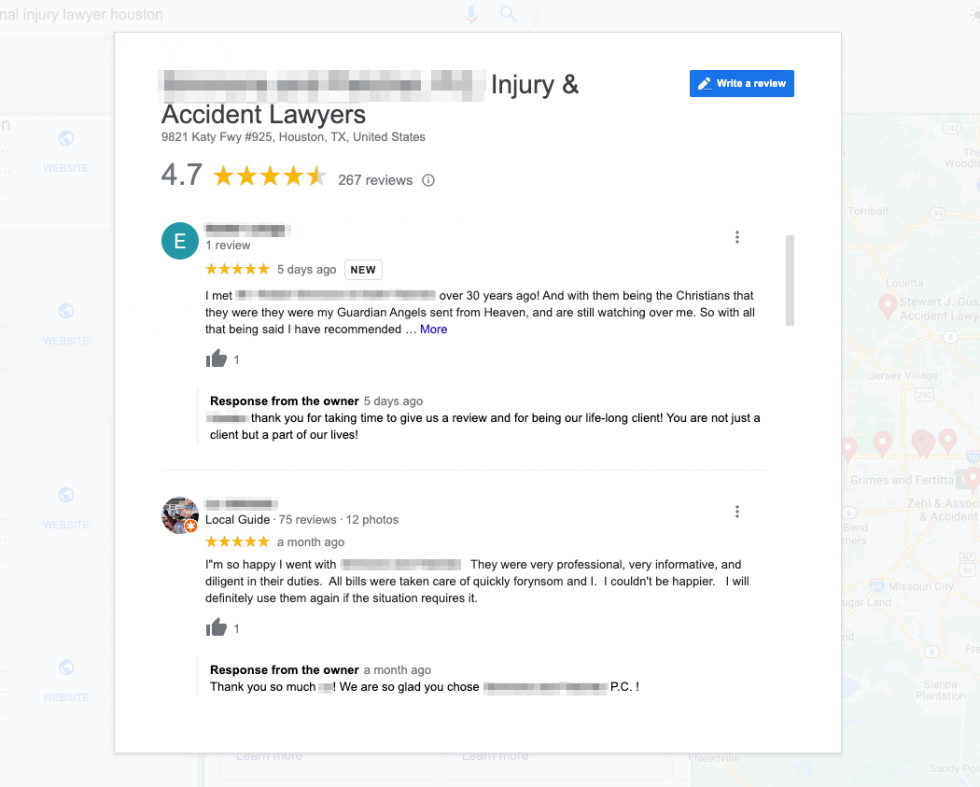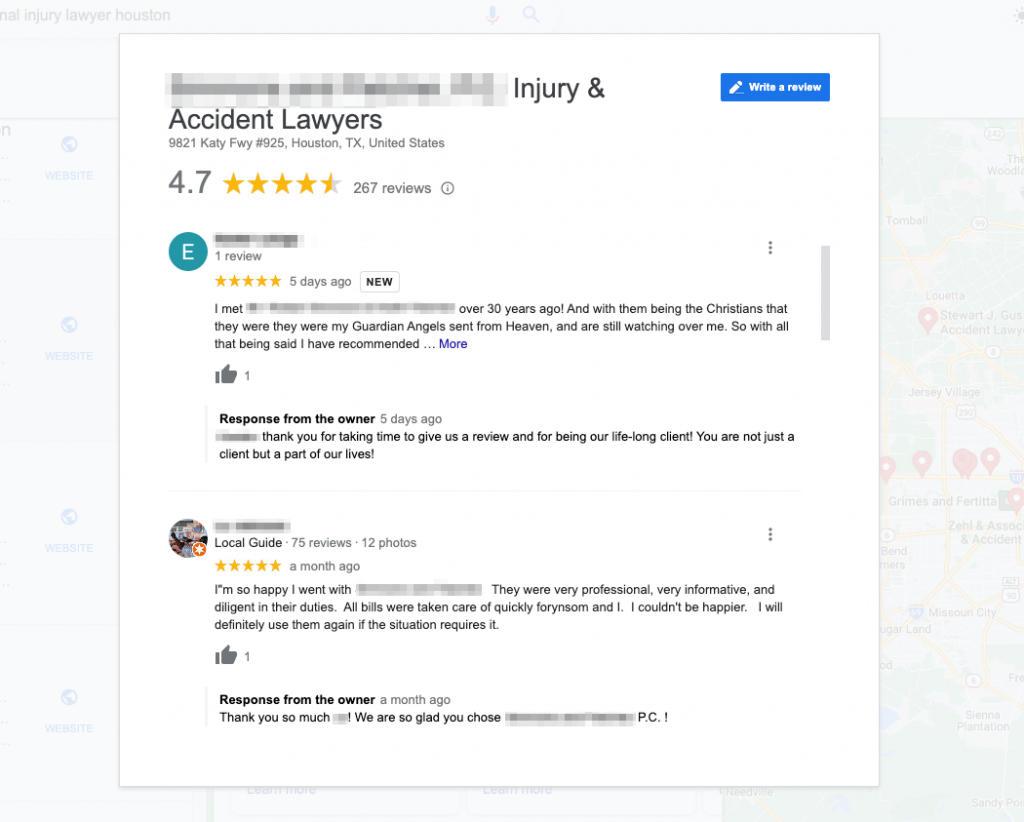 Respond to all reviews, rain or shine, whether a review is positive or negative. Taking this approach shows that your business engages with all clients, not just the happy ones or disgruntled clients. We've seen firms that only respond to negative reviews, some that only respond to positive ones and others that reply to none at all! The lawyers that perform, rank and are perceived the best, respond to all reviews.
5. Update your Google posts and services
One of the many features that Google Business Profiles offers is the ability to post and write descriptions for the services you offer. Unlike a law firm's content marketing strategy, GMB posts don't have a measurable impact on your local rankings.
However, adding posts and descriptions for your services is a good way to inform your clients about what you do and it gives your listings an edge in terms of ranking factors. The more comprehensive, complete and active an attorney's GMB profile is, the better. This content is displayed in your law firm's GMB, so it could also help you increase your listing's engagement and visibility.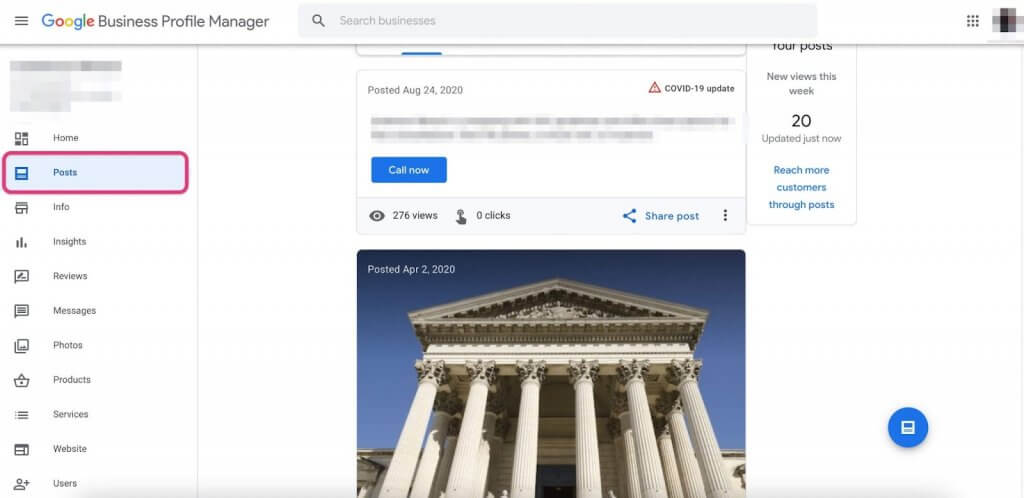 Some ideas about what you could write include, but are not limited to:
Business updates
Notorious cases
Law updates
Information about a popular legal matter
When writing the description of your services and potential posts, don't hesitate to include relevant keywords. This would provide Google with more context about what you do. If relevant, Google will pull some words from your services and will add them to your profile: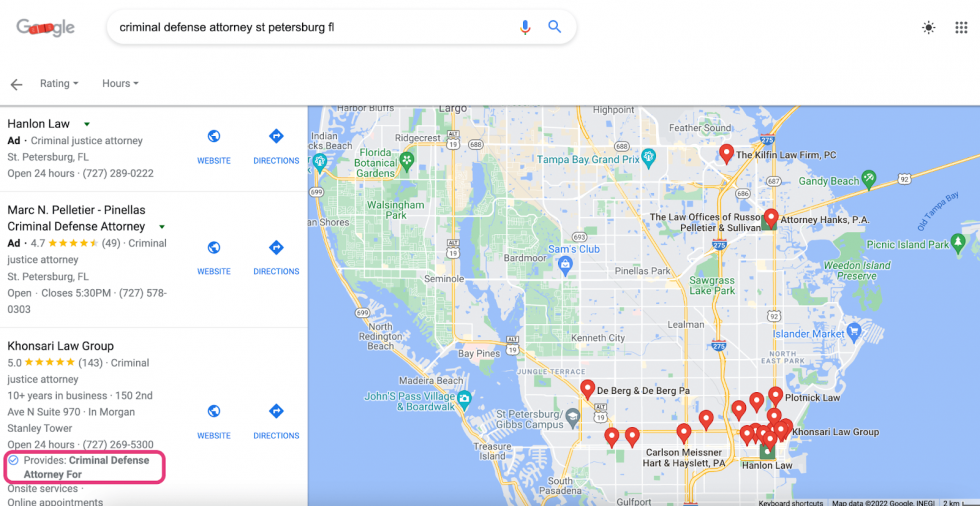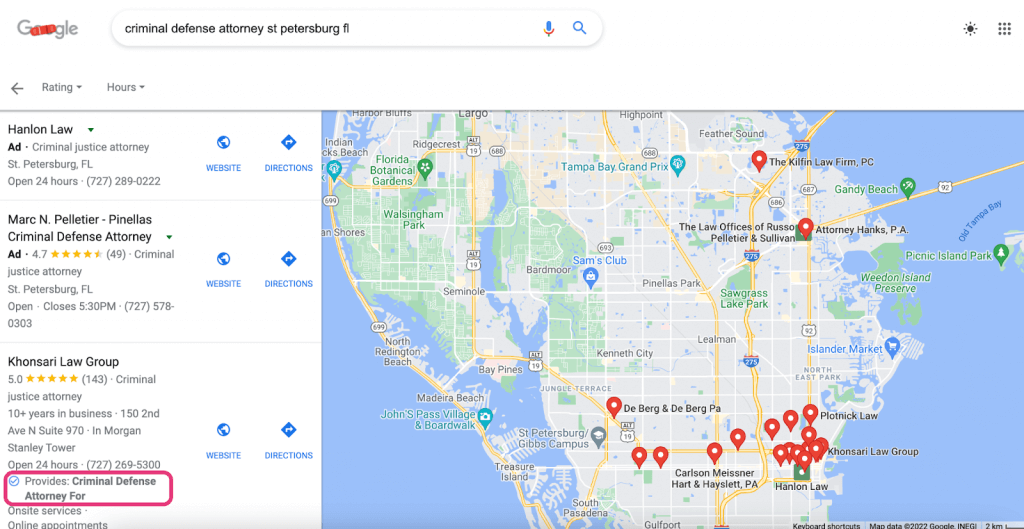 Pro Tip: Justifications are small bolded snippets of information that Google displays on GMB profiles. Justifications show people an important feature of your law firm that is closely related to their search.
6. Be consistent with your NAP
In local SEO, NAP is an acronym for Name, Address and Phone number. And the rules of the game are simple: keep these 3 elements consistent across the web, starting with your law firm's website and Google Business Profile.
When completing your GMB, you need to make sure that your profiles have the correct information and that it's consistent with the information that you have displayed on your website and other online listings.
Let me give you a simple example of why this is important. A potential client finds ABC Personal Injury Lawyers' website, and he's interested in what they offer. But when he goes to maps to ask for directions, he sees a profile that says ABC & D Personal Injury Lawyers.
The phone number and address seem to be the same as the ones he saw on the website. But the name is not exactly the same. This small confusion may lead him to question if he's dealing with the same law firm.
It might look like something irrelevant, but when NAP is not consistent, your local rankings may suffer because Google is not entirely confident about the legitimacy or current status of your business information. So, try to keep your information as consistent as possible.
Pro Tip: In the past, if you were using a call-system tracking number, you could set it as your primary phone number and add your office number as secondary. Nowadays, Google has a feature that allows you to track your calls inside of your Google My Business account.
7. Upload high quality photos and videos
When it comes to business, people feel better knowing who they're working with, especially if it's something as sensitive as a legal matter. An easy way to resolve this is by uploading photos or videos of your team to your law firm's Google My Business page.
Having some high-quality images makes your listing more attractive to potential clients. In fact, a study showed that 60% of people gave more attention to profiles with images.
If people click on your law firm's GMB, not only do your chances of getting leads increase, but this also shows Google that your profile is highly relevant for this search. Overall, you want to use professional pictures of your team, logo and your law firm's interior.
You may not be excited about getting in front of the camera, but trust me, having images on your profiles can make a big difference.
8. Create Google My Business practitioner listings for individual attorneys
As we already established, the primary category of your law firm's Google My Business is very important. But what happens with it if, for example, your practice focuses on both personal injury and family law matters?
The answer is GMB practitioner listings.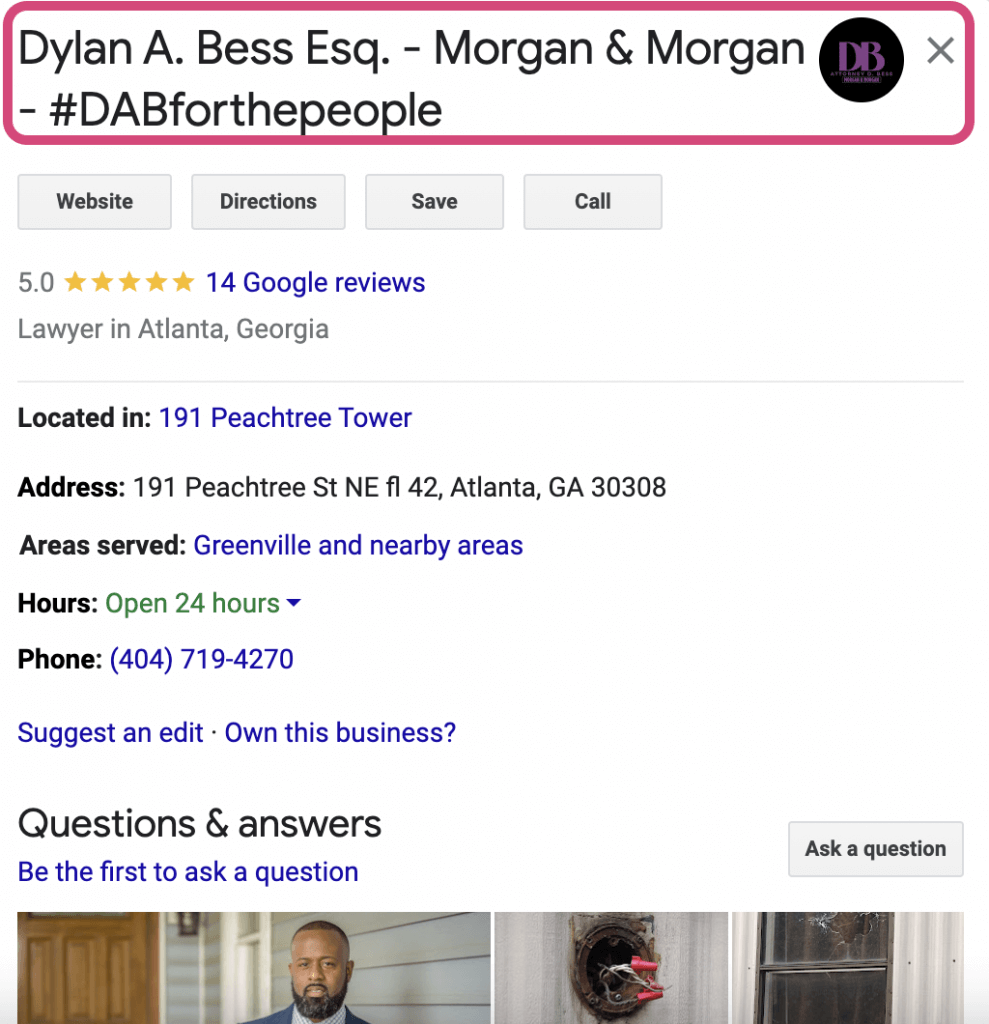 In broad terms, a practitioner listing is an individual Google My Business profile for lawyers. This allows attorneys in your law firm to set the primary category that best describes what they do, which may not be the same as the law firm's primary area of practice.
So, carrying on with our example, if you decide that 'personal injury attorney' would be the primary category of your law firm's GMB, your family lawyers can create their own practitioner listing and set 'family law attorney' as their primary category.
Having Google My Business practitioner listings will allow you to rank for keywords on your location. However, it also means that each attorney will need to work to improve their GMB profile.
Finally, I recommend this strategy if your firm is diversified in multiple practice areas and lawyers practicing outside of the firm's core focus want to open files in those alternative practice areas. Otherwise, it usually makes more sense to focus on listings for each office location instead if the business only focuses on one area of law.
9. Change or open another office location
This is a more drastic tip. One that will certainly raise some eyebrows, but let me explain. There are 3 primary factors Google uses to determine a law firm's Google My Business rankings in maps and local search:
Relevance
Distance
Prominence
Your office location is used to calculate the distance between your office and the person searching for a lawyer. The shorter the distance between the two points, the higher the ranking factor.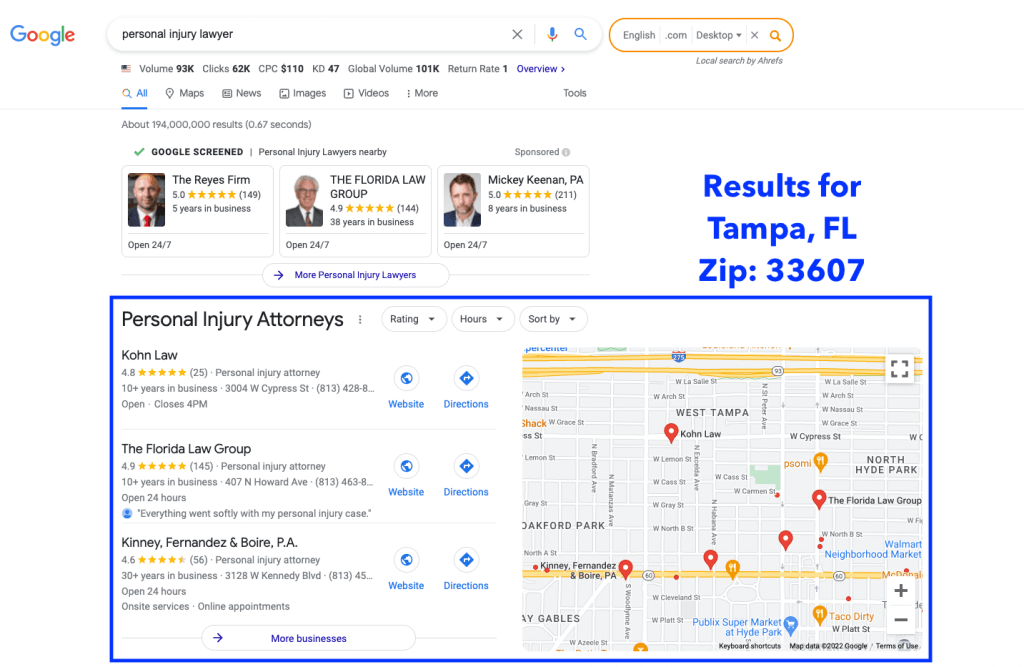 If we perform the same search from two different zip codes (either end of a city), we will get different results simply based on my distance from the nearby law firms. I'm using an SEO tool that allows me to change my browser's zip code for Google.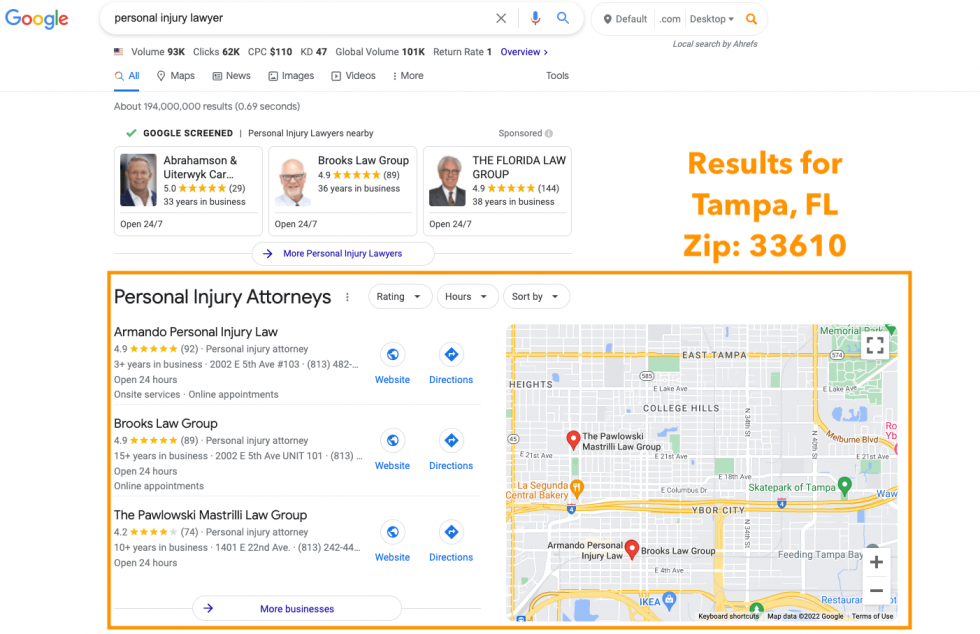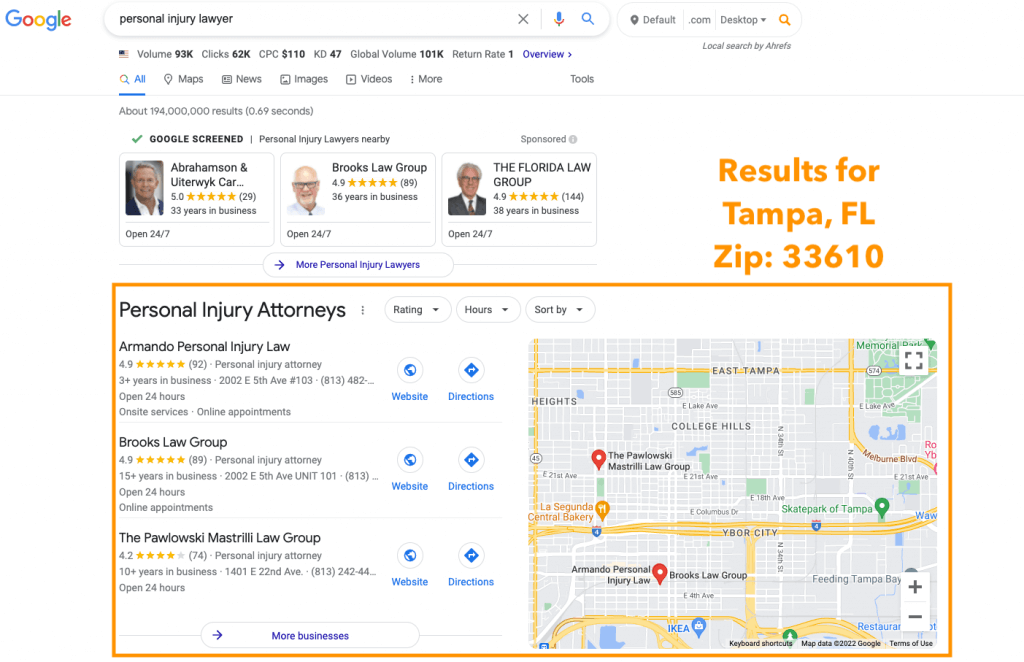 So just as the saying goes in the world of brick and mortar business: location, location, location!
If you perform a search for your primary keyword from outside of your target city (preferably somewhere further away) you'll see what we call the "default" boundaries for which Google wants to show results. Take a look at the pins on the map representing your competitors. If you're committed to truly dominating attorney SEO in your target market, you should consider locating your office within these bounds.
Conclusions
Google My Business is an important tool for lawyers that want to increase their online visibility in a specific location. Creating or claiming your listing is the first step. If you want to explore the best strategies for your law firm's local SEO strategy, book a consultation with me.