Your website is an important part of your law firm's marketing strategy and professional image. Legal sites come in many shapes and forms, serving a myriad of purposes. So having your firm's website designed and developed, many attorneys wonder about the timeline and process.
How long does it take to design a law firm website?
Designing a law firm website can take as little as 3 to 4 weeks to design and launch a small law firm website. Larger legal websites with more requirements, content and lawyers can take between 6 and 8 months. The average law firm can expect a timeline of 1 to 3 months.
While these are reasonable expectations of how long the design and development process takes for law firm and attorney websites, each designer or agency will have a different process. Additionally, law firms will want to have different levels of involvement in the project. Depending on these variables, the project could take more or less time.
Factors that Impact Website Design Timeline
Continue reading to learn more about what your firm's design process and timeline will look like, based on your website's needs.
Which Factors Change the Timeline and Process?
Law Firm Size
The larger the law firm, the more time it will take to design your firm's site and ensure that all considerations are taken into account. Usually, the larger the firm, the more complex the project is and the more moving parts there are.
Marketing Requirements
If your firm invests into digital marketing, then your site will most likely need to be developed to integrate with and support these functions. It's important to ensure proper time and care are taken to migrate from your old site design to your new one, if your site uses SEO to generate leads and clients. If not, you could lose rankings quickly, which will impact your top and bottom line. If you don't, but plan to optimize your site for search engines, then this too will add more time to the project.
Designing for your Brand, Image & Preferences
Some lawyers have a well-defined brand already, while others are looking for this to get updated during this process. In any case, integrating your brand with your web design will take time. You also have your own aesthetic taste and preferences. The more input and feedback you give on the proposed web design, the more revisions and time it will take to finish the design and launch your new site.
Communication & Collaboration
We are all busy. That's understood and expected. So, keep in mind that if you're particularly busy at a time when your designers or developers are waiting for your feedback or deliverables from you (such as content if you decide to write it yourself), then these factors will prolong your law firm's website design time.
Technology
There are many different website management solutions available (aka CMS – Content Management Systems) on the market. Most lawyers will use WordPress or Squarespace for their site. If your designer starts with a theme template, then the design and development cycle could take less time. Custom websites and solutions (i.e. ReactJS front-end with WordPress API, or a custom-built CMS) will take more time to implement. Additionally, law firms are innovating and finding new ways to leverage their website to systematize operations. The more that a lawyer demands from their website, the longer it will take.
Website Design Process
Below are the essential steps in designing, developing and launching your law firm's website.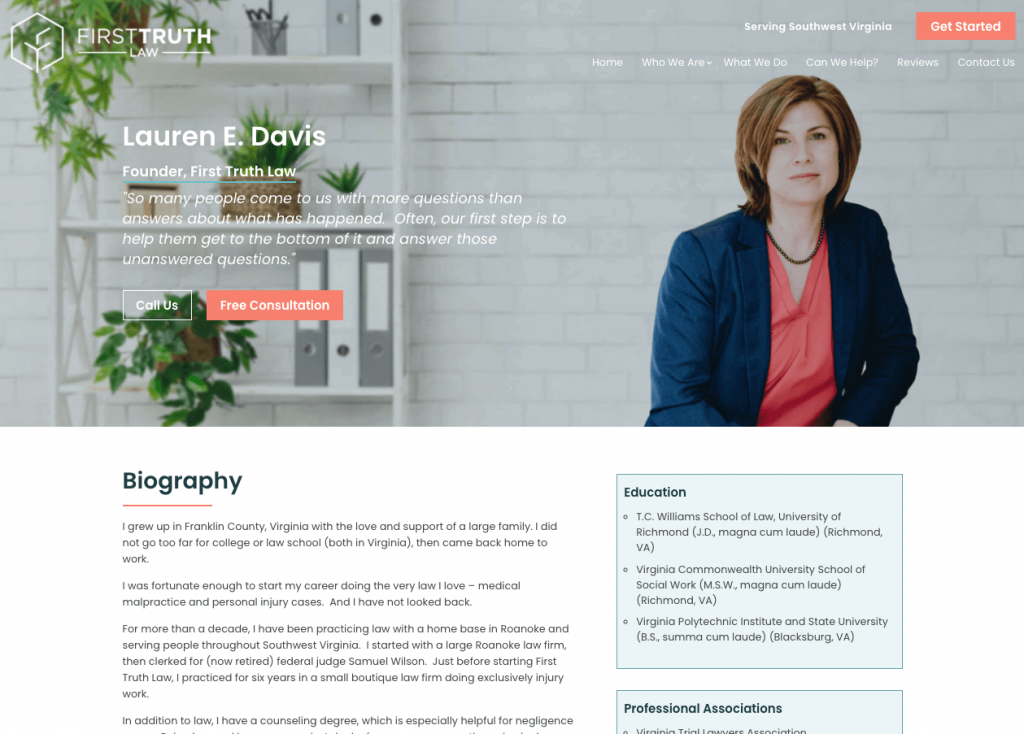 1. Discovery Process
During this phase, there are a number of points and checklists that need to be gone through. Just as you need to understand your clients' legal issues and requirements before working on their matter, your web designer needs to understand your objectives and expected outcomes for the website.
Functionality: There's virtually no limit to what you can design and build into a modern website. Your site can include features such as appointment booking integration, contact forms, FTP/file upload capabilities, embedded video, blogging, dynamic content, a backend intranet, wiki/knowledge base and more.
Content: Content is the backbone of your website. Before thinking about the design and layout of your site, your designer needs to know what purposes it will fulfill.
Is your site going to be a hub for lots of content for site visitors to learn about you and the services you offer? Or do you just need a single page site to produce a simple online presence for your firm and give prospective clients and others some basic contact information.
Marketing Requirements: How will your legal website support your marketing activities and campaigns? If your practice mainly acquires clients through referrals, then you may not care or need much in the way of additional features. However, if you're marketing on social media or using another form of online marketing such as pay-per-click ads or SEO, then these are things that your web developer should know from the outset. These aspects affect the subsequent design, development and deployment stages of the project.
2. Design & Selection
Once your designer or agency has a solid understanding of the project and the purposes your site will serve, the next step is to start determining what your site should look like.
Things like your firm's logo, colors and brand assets are all important to what your site will look like. Your new site should integrate and blend well with your branding and aesthetic preferences.
Design Draft & Mockups
The first part in the design process is ideation. In this phase, mockups and design drafts of your new site will be presented. Typically, you will receive anywhere from 1-3 mockups of your site's homepage – depending on how much your law firm website costs. This allows both you and your designer to get an idea of the big picture and macro aesthetics of the site's design.
Once you've selected a design you prefer, additional mockups are produced for the different page templates of your site. This could include a standard web page, a lawyer's profile page and a practice area page. Through this you'll be able to better understand how the final product will look and feel.
At this point, it becomes a back and forth between you and the designer to tweak and tune the design of the site until it's perfected.
3. Website Development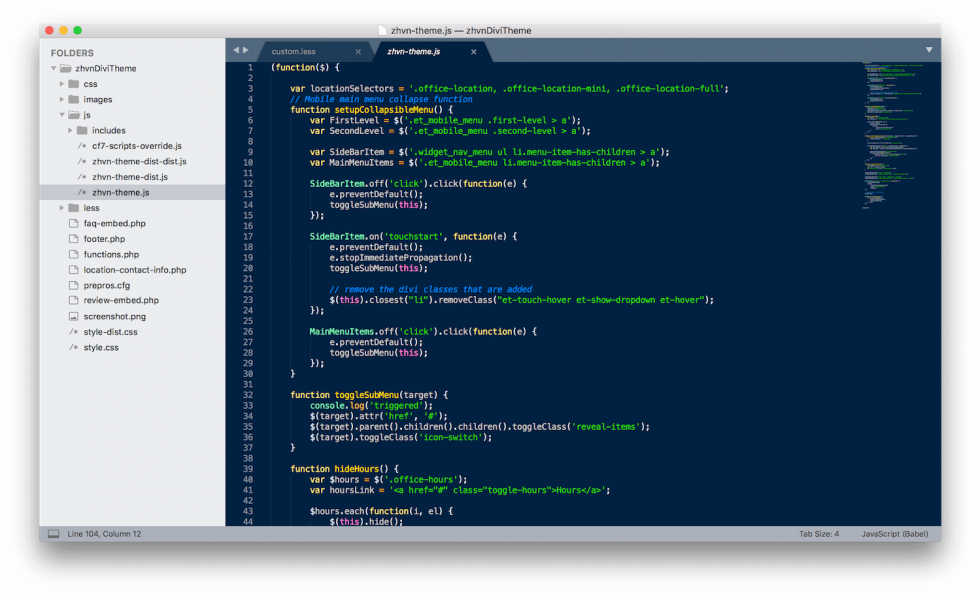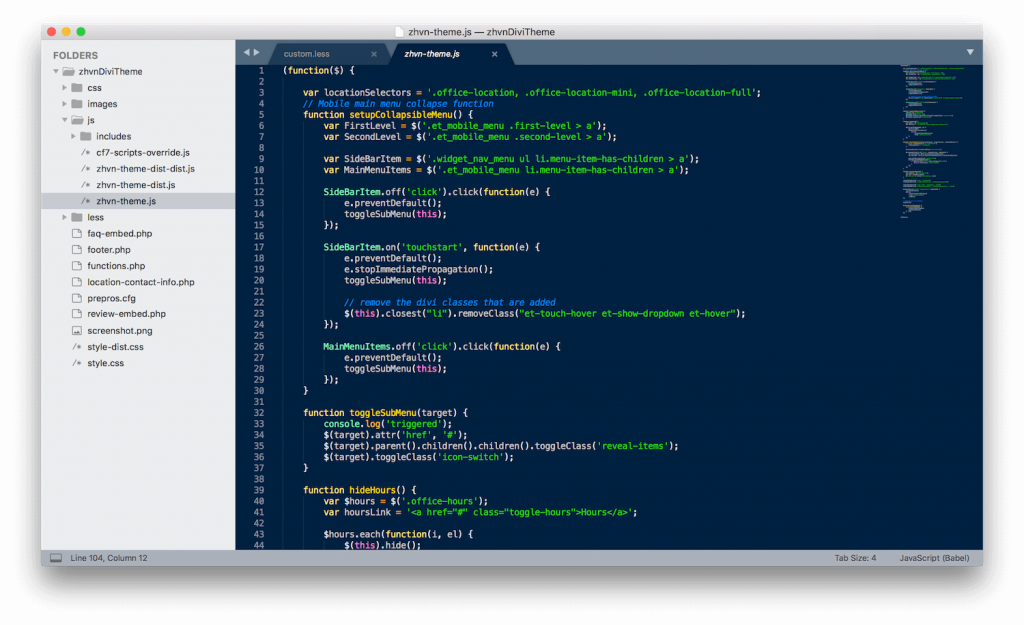 Once the mocks have been turned into the final designs, developers will begin converting the designs into your law firm's new website.
As progress is made, testing and tweaks are expected to be made to get the desired fit and finish, as well as address any bugs and unforeseen issues.
Depending on the agency or designer you choose, you might have access to the site throughout its development. This allows the lawyer, designers and developers to review and communicate about the site more effectively throughout the project's lifecycle.
At our attorney website design agency, we develop our clients' websites through a CI/CD (continuous integration continuous delivery). In other words, this means that we develop it in the cloud where it's accessible to clients – at a private URL or on their new domain if they choose – throughout the development process.
4. Review & Pre-Launch Checks
Many agencies don't address this, but it's crucial to many legal sites that they are properly reviewed before they are launched. This is especially important if you have an existing website and are redesigning it.
If your website drives a lot of traffic through marketing campaigns, such as paid traffic, search engine optimization or social media, it's important to make sure that launching the new site will not negatively impact any of your current marketing activities. If this isn't performed properly and you depend on those types of marketing channels, it could cost your law firm a lot of business.
5. Launch & Deployment
Finally, the site will be pushed live. At this stage, your developer or agency might have to perform some technical tasks behind the curtains to ensure that your site performs well on an array of devices, make sure that your marketing efforts aren't negatively affected and that all infrastructure dependencies are fully functioning (i.e. automatic website backups, CDN properly functioning, integrations are error-free, etc.).