If you're serious about SEO and ranking in Google for keywords that will drive more valuable traffic and leads, then you likely know that building backlinks that point to your law firm's website is an essential element of your search engine optimization strategy.
What is Link Building?
Link building is the activity of acquiring links from other websites that point back to the website for which you're trying to build links. All website on the internet are built with HTML and a link is represented by the HTML anchor tag. In the context of SEO, they are often referred to as backlinks.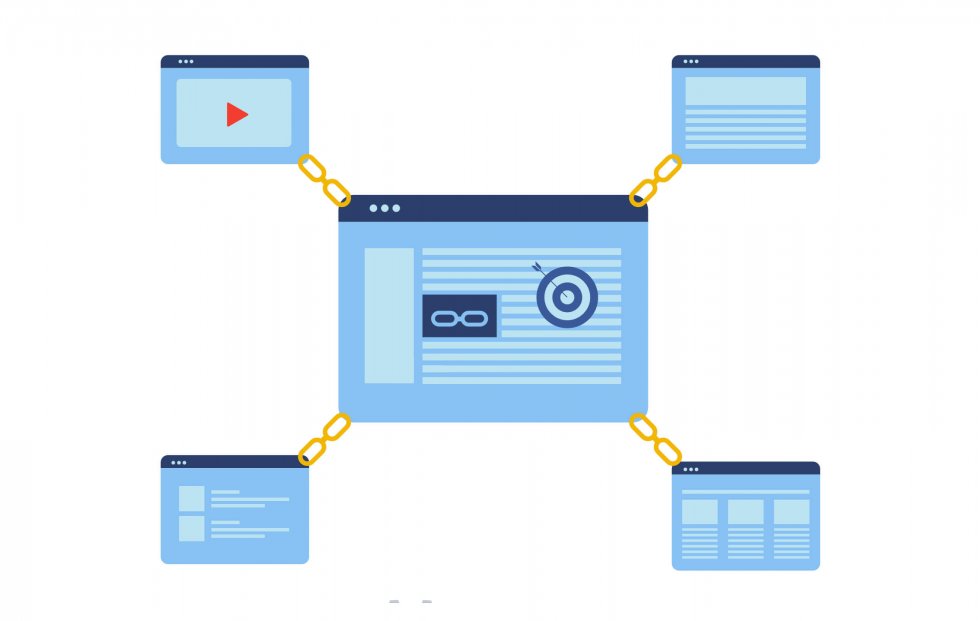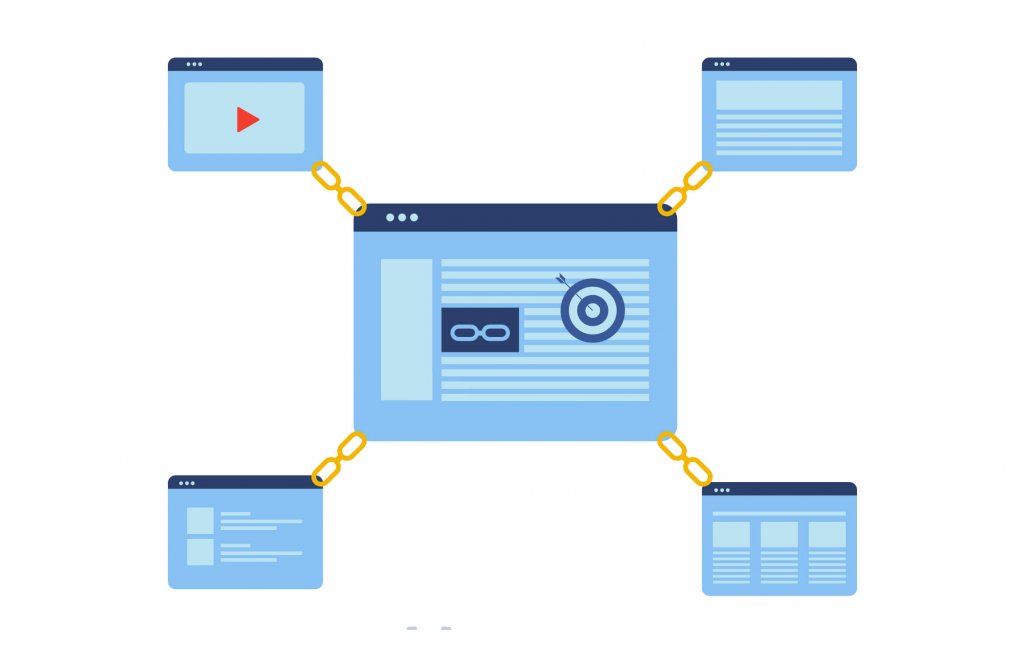 Links or hyperlinks as they're formally known, exist naturally on all websites in different places from the navigational links found in main menus, footers and sidebars to links embedded within a webpage's content. Links are used for a number purposes, from purely navigational to give site visitors guidance and direction around a website's different resources, to citing or referencing an external resource or authoritative website.
Why Is Link Building Important?
Ever since the advent of Google's search engine, backlinks have been a critical component to determining which pages to rank and in what order for a given search.
Google implemented a patented algorithm called page PageRank which used links pointing from external sites to a target website to measure its importance and relevance. You can think of each unique link from an external website like a vote for the target website.
We often conduct studies at our law firm marketing agency to understand the impacts of particular SEO factors and signals on organic search rankings. In our latest study of law firm websites organically ranking in Google, we found that links are still one of the most important ranking factors for a website. Here are some of the plotted results.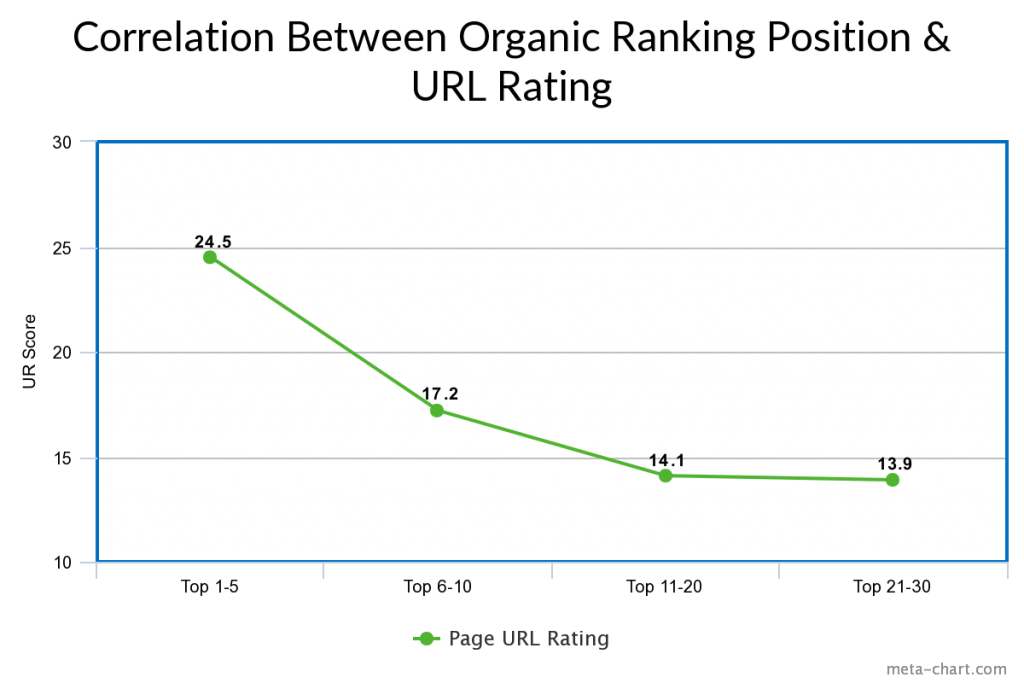 We used data from Ahrefs and Google search to collect the data used in this chart above. While outside sources don't have direct access to Google's PageRank that it keeps for all websites in its index, Ahrefs and other SEO tools have developed their own proprietary algorithms for estimating and approximating the PageRank for a give webpage. This is referred to here as URL Rating (UR). As we can see, there is a strong and direct correlation between the organic ranking position of webpages in Google's search results and their URL Rating.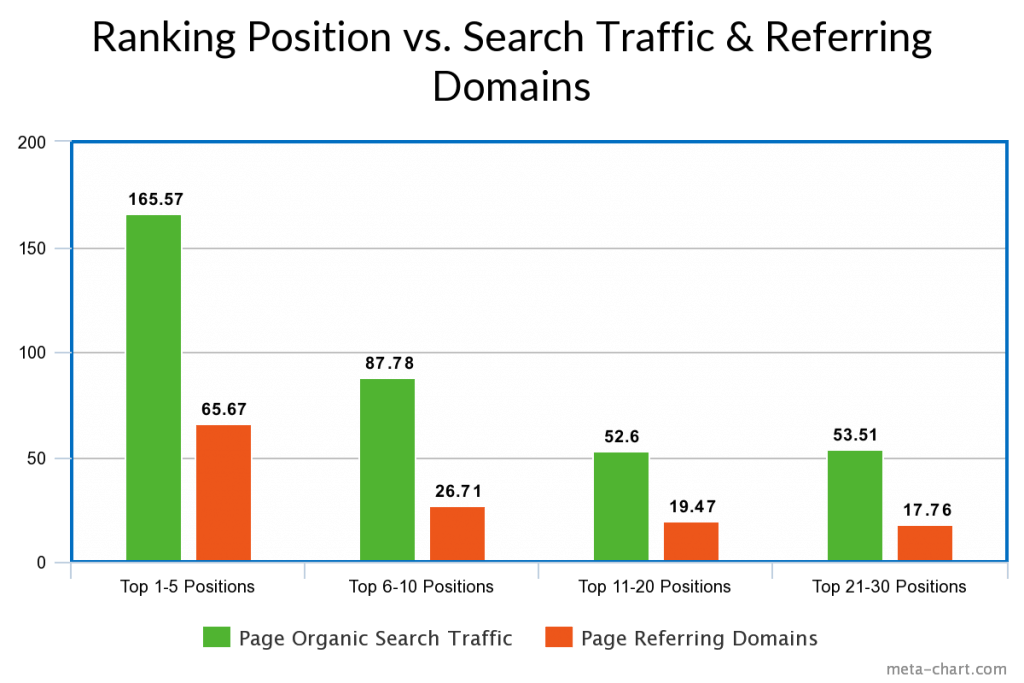 | | | | |
| --- | --- | --- | --- |
| | Est. Organic Search Traffic | Referring Domains | URL Rating (UR) |
| Top 1-5 | 165.6 | 65.7 | 24.5 |
| Top 6-10 | 87.8 | 26.7 | 17.2 |
| Top 11-20 | 52.6 | 19.5 | 14.1 |
| Top 21-30 | 53.5 | 17.8 | 13.9 |
Looking at a more generic metric used to measure the number of unique links, we can also observe this effect. This chart compares the number of Referring Domains with organic search traffic against their ranking position for the keywords we measured. Measuring the average values for webpages in our study, more referring domains corresponded to higher rankings for the keywords studied, as well as overall higher search traffic for those pages.
How to Build Backlinks for Lawyers
Acquiring and earning backlinks take a lot of time and energy. In addition to being one of the most important SEO ranking factors, it's arguably the most challenging. When it comes to building links for your law firm's website, there are specific categories of links on which you will want to focus. We break them down into 6 categories:
Links from Pages and Articles that are Topical & Relevant
Legal websites with links pointing to your website
Local websites with a write-up or listing of your firm and a link to the website
Websites that build and demonstrate Trust, such as a local chamber of commerce or the BBB, for instance
Authority websites which include editorial site, media sites like newspapers and news stations, industry-specific websites that are seen as authoritative sources in their niche
Citations & Directories which include websites such as Yelp and YellowPages.
Many of the backlink opportunities you find, including the ones we discuss below, will fall into multiple categories. For instance earning a link from a law blog or legal news website would qualify as both legal website and an authoritative website.
So the question becomes, what links should you be building for your law firm's site?
We're going to go over 7 categories of links you should be scavenging for and approaches you can use to get them. These link categories are going to range in difficulty from simple links that you can start acquiring as a beginner and then go into the more difficult, highly coveted types of links.
7 Law Firm Link Building Sources
In all, here are the different sources for building backlinks that we will look at:
Local Directories
Legal Directories
Guest Post Blogs
Law Blog Aggregators
Law & Society Websites
News & Journalist Websites
Local Blogs & Websites
Law Firm Blogs
Local Business Directories
Local business directories are by far the easiest citations and links to create for your practice. These include sites like YellowPages, 411 and Yelp. It's important to remember the NAP rule when filling out or updating your listings on these sites.
NAP stands for Name, Address and Phone Number. NAP information is usually contained within citations for your business. Some citations allow you to enter your website's URL (e.g. a link). It's important to make sure that your business NAP is consistent with your website's info and your Google My Business profile.
If you find listings for your firm online that have obsolete information, then update it. The less consistent your info is across these directory listings, the less confident Google and other search engines will be about displaying information and links to your website in the search results.
Creating Listings for Multiple Locations
If your firm has multiple locations, then you should fill out a listing for each location. In the case where you have multiple offices, you may also have the option to fill in a specific URL to that office's page on your website (provided you have such pages). For instance, if you have 2 locations in Brooklyn and Westchester, NY and you have pages for each office, example.com/brooklyn and example.com/westchester, then you could add these links to the respective listings.
Why should I add Office / Location specific Links?
In the case that you have pages on your site for your multiple locations, you want to give these the best chance possible for ranking for keywords in their respective vicinities when users are searching for them. When a user searches for "lawyer westchester", you want either your home page or westchester office page to show up in that user's search results.
Many backlinks simply point to a law firm's home page. By spreading around the link "juice" received from a backlink, that page's authority or ability to rank, increases.
Legal Directories
The next level up in link building for law firms, and the one where you're likely to yield some fruit from your labour is in creating citations and listings on Legal directory websites.
If you're not sure where to look, this list should help you get started.
https://my.local-attorneys.com
https://www.lawserver.com
https://www.lawyernetwork.ca
http://findlocallawyers.ca
https://www.hg.org
https://www.nalpcanada.com
https://canadalawyerlist.com
https://www.flatlaws.com
http://legalink.org
https://www.juridipedia.com
https://lawyers.justia.com
https://www.leadcounsel.org

https://www.morelaw.com

https://www.lawguru.com

https://www.legalinfo.org

https://lawsonline.com

http://www.lawlink.com
https://www.lawyerlegion.com

http://www.judged.com

https://www.attorneys.org

https://www.lawcrossing.com/

http://personalinjurywarriors.com

https://www.canadianlawlist.com/

https://lawyers.findlaw.ca/

https://www.legallylawyers.ca/business

http://www.canadalegal.com/contact.asp

http://gaylawnet.com/

https://www.lawcrossing.com/
You'll notice there is a mix of Canadian legal websites in there.
If you have ever spent anytime building backlinks for law firms, you'd know it's a lot easier for a US-based law firm, than a Canadian one. After all, with 10-11x the population, there's just more demand for these types of listings.
Demand takes us to our next point on legal directories… demand!
Paid vs Free Legal Directories
As you start going through the list, you will notice that some of the directories are free, but many are not. Some offer a listing for a one-time fee, operate on a monthly or annual fee.
Tread carefully when considering whether to invest in paid legal directories. Here are a few things to do before paying for any links.
Google may Penalize your site for Buying Links
Ever since the dawn of the search engine, Google has always dealt with spam in the search results. You probably remember that Google used to be just okay, while today 9/10 times you can find what you're looking for on page 1 of the results.
Like many commercialized and popular technological innovations, new markets and economies are created as by-products and compliments surrounding the core technology. Of the many created with Google, there is one that Google not only frowns upon, but invests serious money and talent resources into destroying: the backlink blackmarket.
Law firms are notorious for having SEOs that perform link-building that google considers "black-hat". That's because it's quite difficult for an SEO to build high quality backlinks. Because lawyers make a lot of money and there is no shortage of demand for law firms to rank on Google, the blackmarket for buying and selling backlinks to law firms is alive and well.
With that said, there is no doubt that with continuous improvements in Google's algorithms, that eventually, all black-hat SEOs and their clients will be caught and penalized (or the link's value – a.k.a."link juice" – will be demoted / negated at the very least).
Every link is a digital footprint from one site to another. Google is continuously collecting these and is storing a history of them.
Stay Safe and follow Google's Guidelines
We recommend that you play it safe and follow Google's Webmaster Guidelines to the tee.
This link contains their policies regarding the purchase and participation of link schemes.
Here is our general rule of thumb on paid directories:
Google has the right to penalize you for buying links.
Don't just purchase a listing for a link, invest in your firm's advertising. If you think your firm will benefit from the directories advertising or law firm promotional offerings, then this is something worth considering. However, not all directories are created equally. You may only be paying for the backlink value that the directory has to offer. In this case, you should steer clear. However, do your homework, ask if any of your colleagues or friendly competitors have used the directory in question before. If you want to get technical with it, you should see if the site actually gets any actual traffic (e.g. people visiting it, looking for a lawyer or an article on a legal issue). You can use tools like Ahrefs, Moz or SEMRush. Otherwise, shoot us an email and we'll happily give you the directory's metrics.
Understand how much you are prepared to budget for such activities. After all, it's important to know how much money you're likely to spend by the end of building X number of links across Y number of directories for Z dollars.
Law & Society Websites
The more obvious ones will be from websites that focus on law and society topics. These are highly relevant to your site since they're in your industry and hence search engines like google will take note of that. Having a link from a site like FindLaw, Lawyerist, Justia, HG and fit this criteria.
Guest Posting on Legal Blogs
If you're looking to put in the work of writing for a service, in return for a backlink, then you can consider getting links from law and legal blogs that accept something called a guest post. A guest post is a post written by a guest author, that being someone who doesn't normally write for that site / blog or doesn't work for the blog. This can be a great way to put in some sweat in exchange for some link juice form their site.
Make sure to read all guidelines on submitting a guest post to their site in order to maximize the chances of it being accepted and published. Many of them have rules on what you can and can't talk about, word count maximum and minimums as well as strict rules about back-linking. Every site is different so read them through.
Law Blog Aggregators
This is a simple one. Just like there are local business and legal directories, there are even directories for blogs (aka aggregators). This is great for getting blogs exposure to a network of other blogs. The directories and aggregators sometimes will take the most popular or top posts from a number of blogs listed on the aggregators and re-syndicate the top articles and posts on their on sites and pages.
You can perform a google search for "law blog directories" or "legal blog directories" to find a list of them. You can get more specific by refining your search to more specific areas of law, too.
These blogs are likely to have rules and guidelines about submitting your law firm's blog, ranging from a minimum age (e.g. the blog must be at least a year old) or the blog must have been actively posting for the last 3-6 months. Make sure to look for the blog directories guidelines page.
News & Journalism Websites
If local journalists are writing a story or series of stories on a topic related to your area of law, than this could be a great opportunity for you to help out the journalist and get a backlink in return.
It's getting harder to accomplish this though, as more journalist and news organizations are catching on to the SEO value in back-linking to lawyers and other industries. However, here are a few strategies you can use to earn links from a journalism outlet.
Be Diligent, Post Often
When it comes to connecting with journalists, you have to ask yourself, as a lawyer, what can you and the news outlet connect on. You could be posting about accidents that are public knowledge and had happen recently.
Give your educated opinion on the matter.
Be the first (or one of the first) to mention it
Post frequently; every opportunity you have to contribute your thoughts to a story
Don't give up. A journalist isn't going to pick you up right away – and it's important to understand that your post shouldn't just be focused on getting a journalist's attention. Produce valuable insights to share with your community.
Choose a medium and stick with it. If you want to post about it on Facebook, great. Twitter, fine! You can even write an article on your site and then syndicate it on these social media platforms.
Let them Know you're an Authority on their Matter
Lawyers contribute to news articles and write op-ed pieces all the time. Reach out to people at the columns whenever you see that they have recently written a story on a particular subject. Columnists and journalists not only publish articles, but like to keep it updated if they find mistakes, if information has since changed, or they have something of value to add to their piece.
If you have something that may be of interest to them, then let them know and offer to go on the record or provide help or a contribution in a follow-up article. This may not win you a link on your first try, but all the same, you're developing a valuable relationship that could open more doors for content collaborations in the future where a link back to your site makes more sense.

Make sure you have something of value for them to link to.
Nothing is worse than to have someone ask you for a link and they have nothing of value to provide their readers with. Linking is useful for building online references. It's also great if you, as an author want to stay on track with your article, but want to allow the readers to check out more on a specific term or topic mentioned in your article, without digressing.
I recently went through a list of past articles that lawyers at one of our client law firms had contributed to over the years. There were some excellent opportunities to get the some very valuable backlinks. In fact, another law firm that was quoted and sourced in the same article received a backlink from the very same article.
We knew there was a good chance to get a link from author if we asked, however, the problem was is that our client had nothing to link to. The other law firm had a wonderful, 3000-word article on their website discussing divorce proceedings and our client's website had less than 300 words.
The author was happy to link out to the 3000-word article because it did the job of thoroughly explaining divorce proceedings to his readers, while our client's page did not.
Look for Articles already Published about You
Sometimes their cases have been featured on the news or on a court's website. Now, not all of these are going to be appropriate opportunities for you to receive a link from, but that won't stop you from reaching out and prospecting the contact or journalist in-charge of the article or content.
You can start gaining some powerful backlinks, just by following these steps:
Google "lawyer name + news" to find a list of articles (opportunities). Repeat this with your colleagues names to really grow your prospecting list. Lastly, use the name of your law firm in the search query with "news" to get anything you might have missed about your firm being mentioned.
Find the author or contact in-charge of the article. If you wrote the article as an op-ed, then reach out to your contact. Ask if its appropriate to have them add a link to your site.
Do the work for them. After you have asked if they would be willing to add a link, say to your author profile page on their site, send them the HTML link pre-formatted. If you know how to do this with Microsoft Word, Apple Notes or WordPress, then it makes it convenient for them to insert it and send it to them, properly formatted to save them the work.
Check If They Have a Local Directory
Many newspapers that have an online platform tend to have a Local directory. Sometimes you can email them and request to be added to their directory. In other cases, they only list businesses that have advertised with them in the past.
Local Blogs & Websites
Believe it or not, there are many local bloggers that are looking to get pitched to write articles all the time.
The best way to approach this is to connect with them on issues they're concerned with and events and issues in their (and your) local community. Consider finding people that blog through some networking groups or events that you or others at your firm attend.
Blogs on other Law Firms' Site
This is a great opportunity for both parties involved. Now you likely won't be posting to a competitors' site, but there are many more opportunities than competitors.
Talk to friendly colleagues at other firms that are either in your area or other areas where you can contribute articles and posts that complement their blogs.
For instance, if you work in family law and the other firm focuses on real estate law, then there is a good opportunity to work on some intersectional content that you may be able to provide value from, given your specialties and past experience dealing with cases or matters related to the topic. Another idea is that you can work within your same field of expertise, but differently regions. Maybe you enjoy blogging about these topics and the lawyers at the other firm simply don't have time to keep up with their posting schedule. In this case, you can fill in for them so that they can still be posting regularly.
Exchange Value with Them
Look for win-win opportunities, where they enjoy the additional site traffic thanks to your blogging contributions and you get the credit for your firm in the form of a link to your site or profile page as the author of that post. You can exchange posts as well, but be careful with this. Don't do it simply to get the links, because this is against Google's policy. Again, as I mentioned, look for win-win and complementary opportunities, where cross-contributions actually provide value to each other's target audiences looking for answers to their legal questions.
Well that wraps it up. Hopefully you've learned a handful of new techniques (or at least one) to acquire more backlinks for your law practice. Remember to follow Google's guidelines, play clean and be patient. Link building is one of the hardest, most time intensive (but among the most valuable) SEO activities you can be doing for your firm's online presence and search visibility.