If you're looking to upgrade, refresh or launch a new website for your law firm, then we have compiled a list of the best legal and attorney-focused website designs available. We have split the list into 3 main categories, free templates and themes, whether WordPress or crafted HTML files, Premium WordPress themes and then finally premium HTML themes. Whether you're going to use a theme and insert your content or hire a specialist law firm web designer, this list should motivate and inspire your ultimate decisions and help define your business website's goals.
Best Free Law Firm Website Templates & WP Themes
Neve Lawyers
Type
WordPress
Visual Builder
Elementor (Premium only)

Download

Price
Free – $99
Author / Developer
Themeisle

Demo

Themeisle offers this download 100% free. All that's required to get your free download of their Lawyers theme is to enter your email to receive a download link. They do offer premium plans for this as well, starting from $39 and going up to $99 at the time of writing this. Premium packages offer custom layouts, Elementor, which is a visual builder, 1 year worth of updates, support and more.
Lawfirm
Type
HTML
Visual Builder
N/A

Download

Price
Free – $99
Author / Developer
Aigars Silkalns / Colorlib

Demo

The Lawfirm site template by Aigars Silkalns is available from Colorlib. This template offers a clean design with all the necessities built-in for small law firms. It has contact forms, and call-to-actions well placed in the menu and above the fold. It also features some simple animations that give your firm's website a professional look without being overly distracting. If you're seeking to go with a basic HTML website, then this is a solid, free theme. Colorlib does offer upgraded plans for $21 and $99 which allow you to remove the credit link in the footer and use this template on up to 5 different websites or unlimited, respectively. However, this is completely optional and if it's only for your domain and you don't mind the credit link, then you don't have to spend a cent on this template.
Lawful
Type
HTML
Visual Builder
N/A

Download

Price
Free – $99
Author / Developer
Joefrey Mahusay / Colorlib

Demo

Another great HTML theme from Colorlib, the Lawful template offers out-of-the-box light and dark color schemes, depending on which best suits your practice's brand. This allows you to go through apply minimal changes to the styles of your website. Just like other templates from Colorlib, you can get access to this theme entirely free or pay to use without footer credits and on multiple websites. This theme has all the essentials for a startup law firm for a solo attorney or several practitioners, including great use of fonts, images, and call to actions.
Bootstrap 4 Law Template
Type
HTML
Visual Builder
N/A

Download

Price
Free – $59
Author / Developer
UICookies

Demo

This theme offers a very clean single-page design for your law office. It has been styled using sans-serif fonts, giving it a modern, unobtrusive look so that your message isn't lost on visitors when they land on your website. UICookies' Law theme template is built using popular Bootstrap front-end framework, originally developed by Twitter. This is a big benefit if you choose to hire a freelancer to customize and setup your website for you, since it's easy for them to create multiple pages and customize the look and feel of this template even further. You can remove the author credits for just $15 dollars or on all UICookies templates for just $59. Otherwise, enter your email and enjoy this theme for free.
PrimeLaw
Type
HTML
Visual Builder
N/A

Download

Price
Free – $99
Author / Developer
Colorlib

Demo

I must say, Primelaw is one of my top, free picks from Colorlib. It has a very modern design, is well-suited for small or startup law firms and offers a number of useful page templates to make the development of your website quick and streamlined. For some law firms that are adapting their business models to offer online products, this theme has a pricing page that could come in handy.
EightLaw Lite
Type
WordPress
Visual Builder
Live Customizer

Download

Price
Free
Author / Developer
JustFreeThemes

Demo

EightLaw Lite is a free, feature-rich WordPress theme offering a visual builder, which is rare for a non-paid theme and a lot of extras that give you the flexibility to add just about whatever you can imagine to your firm's website on a free WP theme. It adds a level of sophistication over other free options available with its components, use of icons, images and templates. Page templates are built to support one, two or no sidebars on inner pages, grid and list layouts and so much more. For lawyers that want to take advantage of marketing benefits such as showcasing testimonials, you can make use of the pre-built testimonial pages and custom post types.
Judicial
Type
HTML
Visual Builder
N/A

Download

Price
Free – $99
Author / Developer
Joefrey Mahusay / Colorlib

Demo

Despite the name and stock image of a lawyer / judge (jury's still out on that one!), this theme is beautiful and makes a great impression with a modern, flat UI design. With testimonial sliders, dropdown FAQ widgets and some sleek, minimalist animations, this HTML law firm web kit is perfect for anyone that wants to fill in their practice's unique content, set it and forget it. Like other Colorlib templates, this download is free provided you leave the licence credits in the footer or pay from $21 to remove it.
Ariclaw
Type
HTML
Visual Builder
N/A

Download

Price
Free – $99
Author / Developer
Joefrey Mahusay / Colorlib

Demo

This free website template is based on the Bootstrap framework, making it easy for developers to customize quickly. Out of the box, this theme offers a nice combination of both serif and sans-serif fonts that make headings pop to get your message across when promoting your legal services and main benefits.
The theme features all the essential page templates for your legal blog, service pages and attorney profiles. Additionally, it offers a fixed main menu, call to actions, components to feature reviews and testimonials from your clients as well as contact forms built-in. This template is well-opinionated in design and functionality so that you don't have to worry about customizing the look and feel, just fill in your content and get back to working on cases.
Phlox Lawyer
Type
WordPress
Visual Builder
Elementor

Download

Price
Free
Author / Developer
JustFreeThemes

Demo

In our opinion, this is the most sophisticated-looking, free WordPress theme. As far as free themes go in this article, Phlox is beautiful and jam-packed with features including over a dozen page templates included, a touch-responsive image slider and compatibility with the Elementor visual builder. It also is ready to pair with WooCommerce if your firm plans on accepting credit cards for online payments or selling consultations and custom products through your website.
Whisper
Type
HTML
Visual Builder
N/A

Download

Price
Free – $99
Author / Developer
Colorlib

Demo

The Whisper theme offers a beautiful design with components including video, benefit widgets, statistics and many icons to spruce up the look of your law firm's website. It's also filled with animations and parallax effects to make your webpages pop when visitors browse your site. As far as making a professional, first-impression on potential clients, the Whisper template will do the job. Since it's based on the Bootstrap UI framework, this theme is easy for HTML newbies and web designers alike to customize to your brand and content requirements.
Premium WordPress Law Firm Themes
Barristar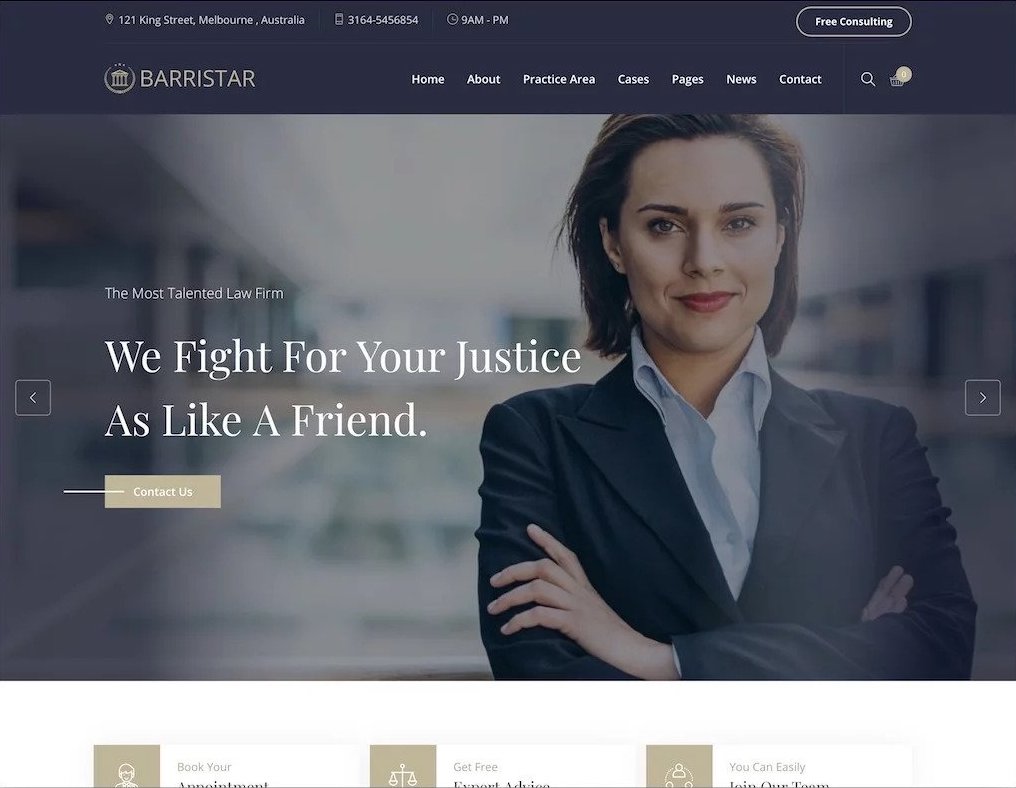 The Barristar WordPress theme is bound to give your law firm a serious and established web presence. This bundle from WPOceans offers all the necessary page templates your firm is likely to need and excellent component styles for HTML elements such as blockquotes, list styles and more. This is also one of the few themes in our list that uses a page pre-loader, which is very useful for improving user experience on pages with large media files (i.e. images, audio and video). By far one of our top picks in this list.
Lawyer by Osetin
We can confidently testify that the WordPress Lawyer theme by Osetin is excellent and packed with features. As an agency that has used this theme first-hand, it's full of useful components that help optimize for conversions and customize the site to your desired specifications. With multiple menu options, WooCommerce compatibility, hundreds of fonts and icons built-in, this theme offers a sweet spot between opinionated design and being a swiss-army knife. Use the demo import function to get your site up and running quickly, and swap out the copy and images for your own. Using the included Visual Composer, you can build custom elements to full-page templates that you can save inside of WordPress and deploy as new pages at any time.
While no single theme or site template is perfect and each has its glitches and drawbacks, you can't go wrong with this template. It's also been purchased over 700 times and is updated every few months, so it has a great track-record for support.
Lawyer + Kallyas
Kallyas is not just a theme, but a visual builder itself. It comes packed with tons of different themes, which it calls "demos" built into it – including this sleek Lawyer theme. This allows you to start with the law firm Kallyas template and start editing the design and aesthetics to your firm's brand colors, content, and images. The visual builder offers a simple, minimalist front-end build that keeps many of the bulk editor tools in other composers out of the way so you can see your edits and changes as they should appear to your final audience. The pre-built lawyer theme is a beautiful, well thought out design that will certainly give your firm a sophisticated and professional look.
Hook
The Hook theme is a jack of all trades with many pre-built themes, including a consultancy/law firm theme provided with the purchases. However, don't jump to conclusions thinking this is a master of none. The out-of-the-box attorney theme is gorgeous, with a modern, full-screen image slider and custom-styled Google maps skin, beautiful graphs, charts, icons and stats included, this theme not only has everything you need to make a serious impression on prospective clients but also showcases some of the less conventional things you can do with a law office's website.
AttorCo
AttorCo is a premium WordPress attorney and firm theme by themeStek. The theme makes excellent use of elements that some larger law firms use on their website, while still putting an emphasis on turning visitors into potential clients. One of the main navigation options (shown in the image above) is brilliantly designed to establish a strong presence about the law firm through its size, while being split into two parts, showcasing a large logo with contact information and call to actions to be among the first thing a user sees upon visiting your site. The theme comes packed with over 50 pre-design section layouts and a handful of useful page templates for lawyers to implement into their new site immediately. It makes use of the WPBakery composer for drag & drop building as well as being compatible with plugins such as Contact Form 7, WPML and Google Fonts integration.
Fexa
By far one of the most eye-catching themes featured here is Fexa. This visually rich WordPress template is one of the most beautiful and while makes heavy use of colors and photos, does so in a way that doesn't interrupt your attention from the copy or key messages you want visitors to see – rather it supports it. At $29, it's a reasonably priced theme, considering it offers a visual builder and all the essential pages and elements most attorneys need to be included in this bundle. Additionally, it offers support for Elementor page builder if you prefer using that, but includes a copy of VC in the download. Unlike other themes that limit theme updates to 6 months or a year, Fexa offers lifetime updates. The one thing we would recommend to proceed with caution is that the images really market this theme well. However, if you want to use your own lawyers' images with this style of images, that's not built into the theme and you'll have to get a designer to create these graphics for you.
Lawsight
Lawsight is a purpose-built theme for law firms with a lot of goodies included in the price. It offers modern and legacy browser support (IE 10 and 11), which means that your site will look great on a wide range of devices that your audience may be using to view your website. The one-click demo option allows you to import sample content and fill all of the page templates so that you don't need to worry about design, simply replace the demo content with your unique writing and images.
Like many other of the themes here, you'll get access to animations and other useful page templates and components specifically for lawyers, but let's look at several differentiators. Lawsight is compatible with WPML, a multilingual site plugin for legal professionals that want to have content written for Spanish, French or other markets with different languages. It's also eCommerce-ready, built to integrate with WooCommerce, which means if you want to sell legal info products via your site or accept bill payments through your website, you can.
Attorney by Divi Space
The Attorney services theme by DiviSpace is a sleek child theme that will certainly make your law firm make a professional first-impression when people land on it. Its design is conversion-first, with its large header displaying the contact info and contact form. This is really important for small law firms that desire to squeeze the most potential and business out of their traffic. The inner service pages are well-designed with excellent call to actions on the sidebar and bottom of the page, as well as a very clean and prominent side navigation and dropdown accordions for FAQs. With some simple tweaks to match your business' brand, this will definitely produce a strong return on investment by generating more contacts for your office.
Justicia
The Justicia theme definitely makes the list of our top 5 favorite themes in terms of style, features and effects. If you're impressed by the look and feel of the site, then it's definitely worth spending the $75 for the theme. Going with a more visually appealing theme like this, we would still recommend you work with a website developer or designer to implement it to your specifications. Justicia has tons of page templates pre-designed, the top-rated WPBakery visual builder, extensive animations, advanced shortcode functionality, and Mega Menu support. Be aware though, if you purchase this theme and get the most out of it, it requires a lot of images and probably some photoshop work by a graphics designer to customize it to the look and feel you want to promote for your law firm.
DP Lawyer & Attorney Divi Child Theme
Divi Professional's law theme is one of the most feature-rich Divi child themes available specifically for solicitors and litigators. The use of Divi's primary and secondary menus is on-point, putting your firm's contact info and call to actions at the very-top while conserving space and making the primary menu the dominant navigation feature. The demo's use of contrasting colors also lends ideas on how you can use your brand colors to make your site pop. The theme includes 2 versions of nearly all the page templates, so there is lots of selection built-in when you purchase it. It makes great use of animations and other Divi goodies. However, one thing we're not crazy about is the use of margins and negative space. That shouldn't deter you though, that can be easily fixed with a couple of lines of CSS and all in all, it still made our list of the best legal website themes.
Avada
Avada by ThemeFusion offers a lot of pre-built themes, including one for law firms and attorneys. While some theme developers are still catching up, Avada supports all the native features of WordPress 5.0 including the Gutenberg editor. While the demo may look basic, you can spice it up with tons of components and import any Fonts you wish from Google Fonts or custom fonts you choose to purchase from third-party vendors. It's tough to go wrong with this option, as it offers support for Contact Form 7 or Gravity forms, multilingual support via your choice of WPML or Polylang, as well as WooCommerce compatibility. If you're a developer or marketing agency seeking to choose to build a legal website for a client, it also offers full support for building your own child themes to pair with it.
Anwalt
The Anwalt theme is packaged with a load of extras and features. For starters, you have Mega Menu support, 3 different home page layouts pre-built and included to choose from, 7 different sets of icons to match your website's design as well as your firm's brand, Google Fonts built-in, custom shortcodes for testimonials, videos and team sections, tons of pre-designed page templates and so much more. It really is difficult to go over every you get with this templated legal theme, but it's well worth the $69.
Law Firm Layout Pack for Divi
The Law Firm Layout pack included as a part of Divi is a simple, minimalistic, yet very modern design for small law firms and solo practitioners. While the demo may not portray it to its full potential, the Divi theme by ElegantThemes offers a lot in the way of customizability and functionality. Divi is an all-in-one theme and visual builder, where individual themes (like this legal theme) is part of a much larger collection of packs. Divi comes with lots of extras, including Google Fonts, hundreds of icons, one of the best page builders around and much more.
While we don't use this layout pack, at Zahavian we're huge fans of Divi and ElegantThemes. Our clients love using it as it's responsive, intuitive and easy to onboard with. The price of $89 is on an annual basis for the entire ElegantThemes setup of themes and plugins (it's a good collection to have). You don't have to renew after a year, but you'll want to if you wish to receive theme updates and continued support.
Ekko
The Ekko theme offers pre-built websites for many different types of businesses out of the box, including a law office website. Although you may use it solely for your practice, you can take inspiration (and even copy & paste) elements from other site templates into your firm's site. Like other themes, you can come to expect animations and effects with Ekko, but they are much more subtle than some other contenders here. We like this because, while it's professional, it's not overly distracting to your visitors (which is good for converting phone calls and new leads). Checking out the demo, you'll have instant access to dozens of different page layouts, elements, and sections within seconds.
Divi Attorney
The Divi Attorney theme by Elegant Marketplace has all the essentials a solo or small practice needs to successfully implement and launch their office's website for DIYers. The theme is well-opinionated, giving its customers good guidance through its simple, sleek design while letting them take advantage of the Divi builder. If you're searching for a theme that is professional but not over the top with bells and whistles, consider this a good fit. The only thing to know is that this a child theme specifically for Divi. This means you'll have to purchase it for $49 in addition to the $89 annual subscription to Elegant Themes.
Lawyer & Attorney
Despite its boilerplate name, the Lawyer & Attorney WordPress theme by VamTam is smooth as molasses. As soon as you load the page, you're greeted with elegant fade-in text animations. Start scrolling as see other animations bring the page and key elements to life. The default sticky navigation is a must for better conversion rates, as you scroll up, it reveals the phone number and consultation call to actions at the top (although we recommend making these stand out more). It's built with Visual Composer, which is a strong, reliable page builder we can stamp our seal on. Feature-wise, this theme includes support for both Contact Form7 and Gravity Forms, WPML for multilingual sites, WordFence security, over 1200 icons included and DIY video tutorials to help you build a highly professional website. This is definitely a website theme to shortlist for your legal practice.
Divi Law
Price-reduced from $150 to $49, the Divi Law theme is professional, well-designed at quite the bargain. This child theme does require a membership with Elegant Themes, however, it offers 12 unique page templates, testimonial and brand sliders as well as a customized Google maps module to customize the map colors to your firm's branding. Many Divi child themes typically have a trace of Elegant Theme's styling, but you won't find that in this design. The primary and secondary menus have been completely customized to look unique and showcase and all other elements make it difficult to tell this is related whatsoever to a vanilla Divi website.
HumanRights
The HumanRights theme, like many WordPress law templates, has an interesting name (I find them to be a bit of an after-thought). That aside, this theme is excellent for copy and messages. It has many of the bells and whistles that other themes have, but additionally packs in MegaMenu support (a full-width main menu) and support for images in menus. Unlike other WordPress legal themes, it also showcases some of its built-in shortcodes for tab sections, charts, accordions, and toggles.
One of the biggest concerns you have to watch out for with some themes is the underlying code and how well that bodes for your on-page SEO. After inspection, we can say that this lawyer theme does a solid job of handling critical on-page SEO elements.
While other themes give you near-limitless flexibility in customization, this theme strikes a healthy balance between customization and opinionated design – better for lawyers who want to go the DIY website design route.
The Practice
Sometimes a simpler, more minimalist design is what you're looking for. If that's the case, then The Practice nails it. We put this law firm WordPress theme on the list as it provides all the necessities and creature comforts an attorney needs, without any of the fancy bells and whistles. Unlike many other legal themes and templates featured in this list, The Practice isn't image or graphics-rich. For lawyers that don't have a massive collection of photos and media to showcase, these templates are better-suited for practices like that. The theme allows you to cut straight to the point with your content without overwhelming your site or visitors with animations and special effects. Make no mistake though, while simple, it will still offer a professional look. For those that do want to use this theme, but customize it, it does offer a built-in visual page builder.
Liberis
Liberis includes over a dozen page templates, including 4 areas of practice layouts, 4 blog/article layouts and 4 lawyer profile page options. The theme doesn't have a visual builder included but does come with a child theme, so that you can hand this off to a web developer who can further customize this site to your liking. Several key selling points include full compatibility with WordPress 5.0 and later, the Gutenberg editor, Contact Form 7, Google Fonts Integration and 100% SEO validated by W3C.
Hakim
Hakim, by Themes Awesome implements a sleek and modern design with a selection of animations to match the aesthetics and multiple sliders with various styles. You can include your office's contact info in the header, which is great for boosting conversions. Hakim bundles all of the essential page templates, including attorney profiles, case results, areas of practices, FAQs, testimonials, blog articles and more. Out of all the law firm website templates available, our favorite contact page style is included in the Hakim theme. It uses a beautiful UI that makes it easy for prospects to contact you by their preferred method. It's a serious must-see for the contact page alone. As a bonus, when you download it, you'll get Contact Form 7 ready to go.
Premium HTML-Based Law Firm Website Templates (Under $35)
Lovells
The Lovells legal website templates offer a beautiful and professional look for a law firm that wishes to host a simple HTML website or have it converted into a custom WordPress theme (if you hire a developer). This style is well-suited for small to medium-sized law firms and is ready for hi-resolution and retina screens for an additional professional touch. The theme has been reduced in price from $29 to just $12, so it's a great value, seeing that it includes 2 homepage versions, an about us page template, practice areas and services, case results, blog, and contact pages. When you purchase this theme, you get to choose between using icons from Flaticon or FontAwesome.
Lawyers
The Lawyers HTML templates from Match Themes is a truly stunning, modern design. When we compare this to other themes available (both WordPress and straight HTML templates), we find that this offers the best balance between content and images. Many other contenders tend to lean heavier to one of the other, but this theme splits the difference down the middle – offering great flexibility if you want to add images in the future, but don't have media assets immediately. This bundle includes 5 homepage template designs, 3 headers and main menu styles, 3 contact page layouts, 3 blog styles, a team and lawyer profiles page, areas of practice, case results and a gallery page template. When you purchase, you'll also receive the PSD (photoshop) file, FontAwesome icons and Google Fonts integration as well as access to future updates.
Legal Power
The Legal Power templates by Design Arc offer great functionality and some very cool features including a full-screen image slider that displays a thumbnail preview of the next slide, so well-positioned call to action sections with excellent designs to capture your visitors attention. It offers a variety of page layout options for attorney profiles and areas of practice and all the essential templates you'll need for a law firm's website. It also offers some components like counters and graphs that we don't see many lawyers making use of, but are nice to have if you find an appropriate use for them. Design Arc offers access to future updates when you purchase the theme and seems fairly popular with over 240 purchases so far.
Miako Legal
Miako is another great set of site templates for small and boutique law firms to consider. It offers 13 different page templates with 4 homepage versions. It's created from the Bootstrap 3 framework, integrated with Google Fonts, FontAwesome, and the Nivo image slider. It has a contact form ready to go, that will send you prospect and contact info. All you need to do is insert your email and subject line. The theme makes excellent use of negative space, call out and CTA areas to convert visitors into leads and really nice animations to capture your users' attention. You also have the option of choosing sidebar placement on left, right or neither. With high customer ratings and feedback and over 200 purchases, the Miako legal theme seems well-received by buyers and well-supported.
Barristar
One of our favorite WordPress themes was Barristar. If you were sold on it (#11 on our list), but weren't planning on using WP as a CMS, then you can opt to purchase the HTML templates rather than the WordPress theme. This theme was developed for legal professionals that have practices ranging from several lawyers to a full team. It simply commands a respect and establishes a powerful presence as soon as you load it in your browser. The theme comes bundled with over a dozen page templates and 3 home page layout styles. Unlike many other themes, it also uses a CSS page preloader which is important if your page is a little slow due to large media files and buffering. Anyone visiting your website using this layout will never guess you paid $14 for it.
Lawyer Single Page
Perhaps you don't want a large or even simple multi-page website. Maybe you think you can get away with putting all your content on a single page. There are merits to that and if that's the way you wish to go, check out the Lawyer templates by Webvillee. For just $18, you get access to 10 different home page layouts, different color schemes in dark and light themes and everything you need to succeed with a single-page site for your law firm. While you only get a single-pager, the bundle has over 20 HTML template files in the download and access to 13 header styles, 10 footer layouts and 10 slider configurations. Like many other contenders, it's integrated with Font Awesome and Google Fonts.
Rely
The Rely legal HTML template uses a unique layout entirely different from every other theme here on our list. This website operates within a window, which scrolls (you have to try the demo to truly understand). The menu navigation seems to have some issues, but if you disable it, we love the rest of this theme. It makes excellent use of slider styles and tabular toggle sections that many other template developers don't even imagine incorporating. It's a rather unconventional site design compared to others, but we really like it and encourage you to preview it to see if its the right fit for your practice.
Regulations
The Regulations HTML theme uses some of the most creative design elements we've seen in the bunch, including double-paned overlays, multi-item sliders, interesting quarter-panel callouts and others unique to these templates. If you're looking to give your website a different look, while still following conventional browsing habits, this is definitely a bundle to consider. If you purchase this template, it includes 3 header styles and 3 homepage versions, fixed menu capabilities, CSS animations and effects, Google Fonts, and integrates with either Flaticon or FontAwesome.