Personal injury law firms are always looking for new ways to market their services. Many of them wonder how to market themselves and their law firm. The good news is there's no shortage of ways to promote your law firm and attract new clients.
In this article, we've rounded up a dozen of the top ways to expand your business's marketing efforts and build new campaigns.
Here are 12 Marketing Ideas for Personal Injury Lawyers:
12 Marketing Ideas for Personal Injury Attorneys
1. Use PPC Ads to Generate Clients Fast
Pay-Per-Click advertising comes in a number of forms and from different companies. The most common and highly effective form is using Google Search Ads (formerly AdWords).
A huge advantage of PPC is its ability to start working quickly. Once you've set up your target personal injury keywords, written your ads, set up your geo-targeting, landing pages and tracking, you can flip the switch and start seeing paid traffic the same day. Check out our Google Ads for Lawyers article for tips and tactics to optimize your PPC campaigns.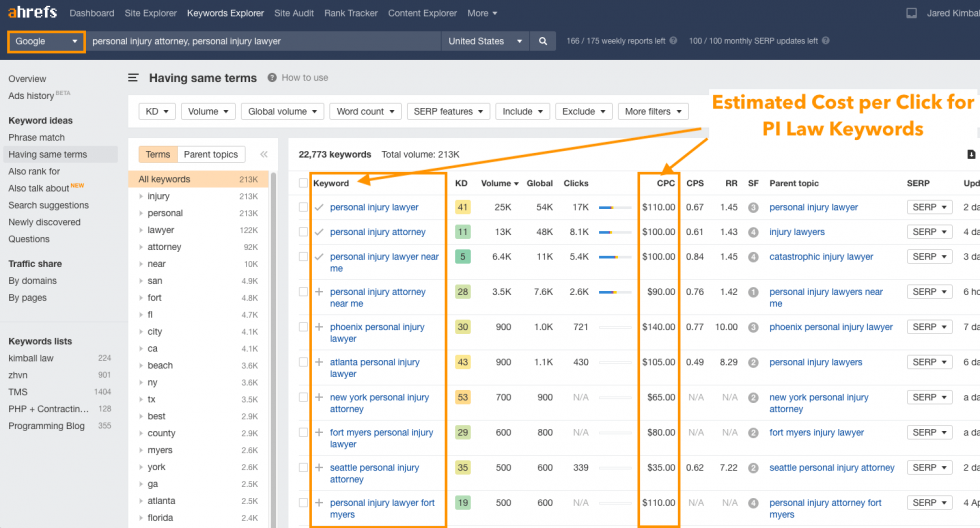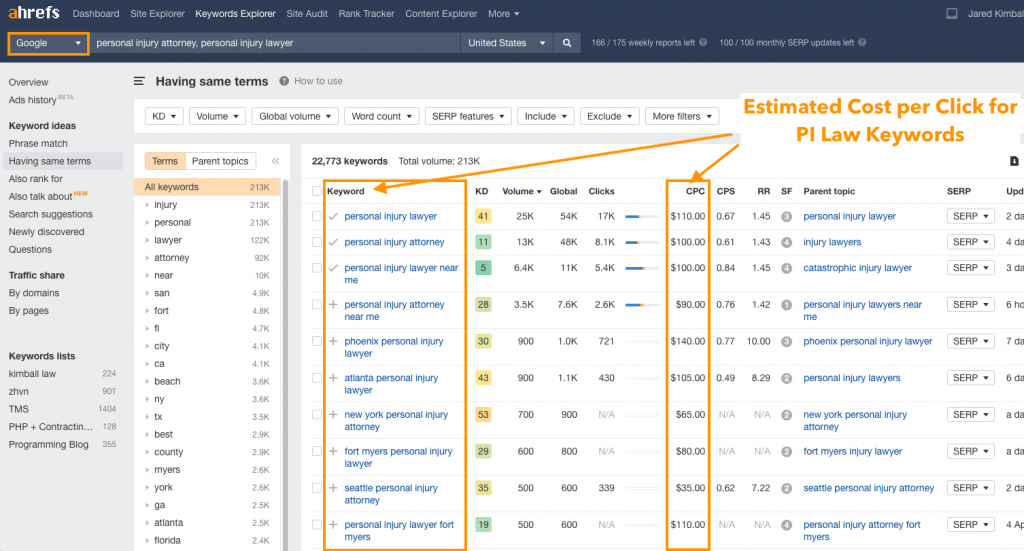 Once your campaign is a well-optimized machine that generates new leads with decent quality, the next thing to consider working on is controlling the high CPC (cost per click) rates. You're not alone. Personal injury law is extremely competitive, especially when it comes to Google Ads where you can spend hundreds of dollars for a single click.
There are a few things you can do to help lower your cost per click. For starters, look at working on your Quality Score. This will enable you to lower your CPC while maintaining the same Ad Rank in bid auctions.
Once you've squeezed as much potential out of Quality Score and Ad Rank, you can turn to lower your costs further through Microsoft Ads in Bing's Search Engine.
Microsoft makes it convenient to export and import all of your Google ads campaign settings into their platform. All ads, keywords and settings. Talk about sweet!
Yes, in 2021, Bing only accounts for less than 6% of search engine share in the US. However, while Google is by far the dominant search tool, its market share comes in at 88%, meaning that you've got 6% more exposure then you had before. Furthermore, your CPCs for the exact same keywords with Bing search ads is going to be a fraction of what you'll pay on Google. 
Depending on your firm's size and which areas you serve, Bing might be a complementary PPC platform or could entirely supplant your need for Google ads and dramatically bring down your case acquisition costs.
2. Buy Personal Injury Case Leads
If you're looking for a laissez-faire approach to your client acquisition strategy, then working with one or several lead generation vendors or services might be the best option for you.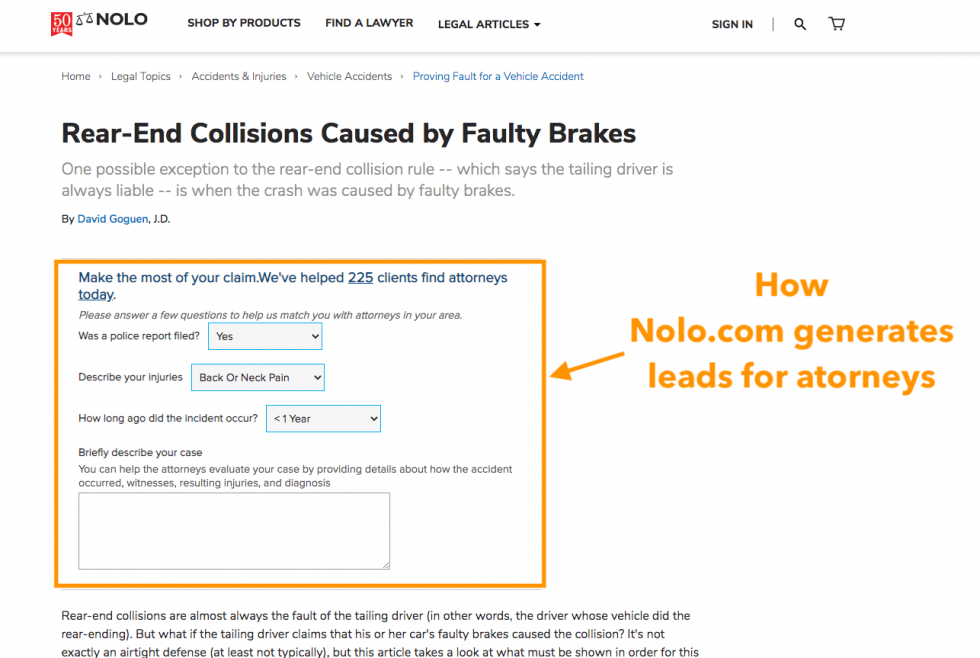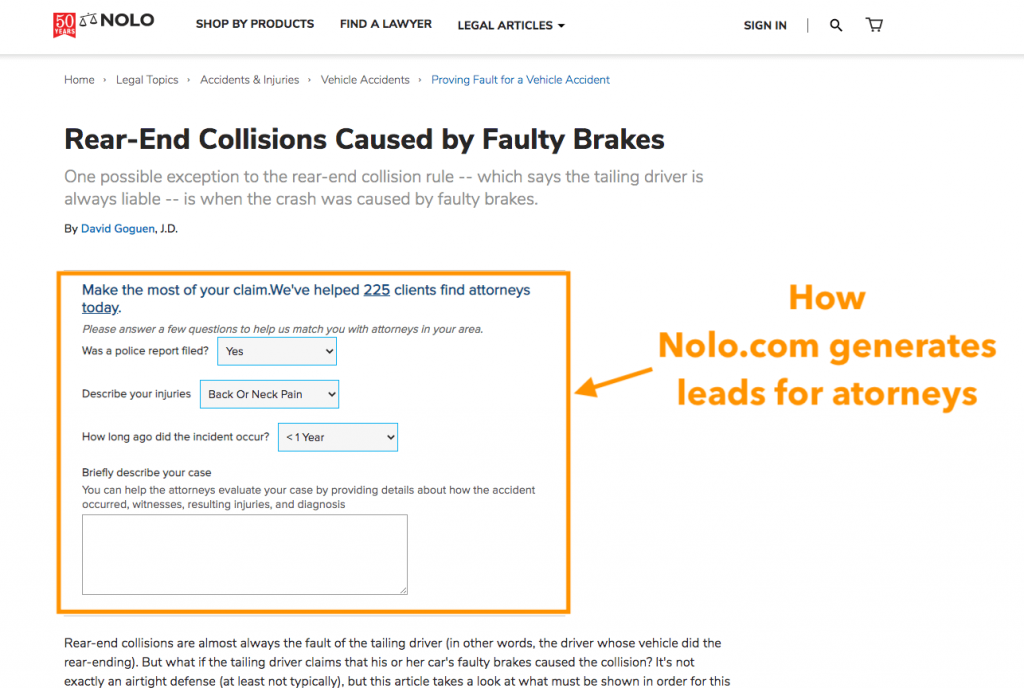 Nolo has a lead generation program, since their site generates a lot of relevant traffic and they've optimized their site to convert visitors into leads. They can then sell you that captured data and let you work on signing that client up yourself.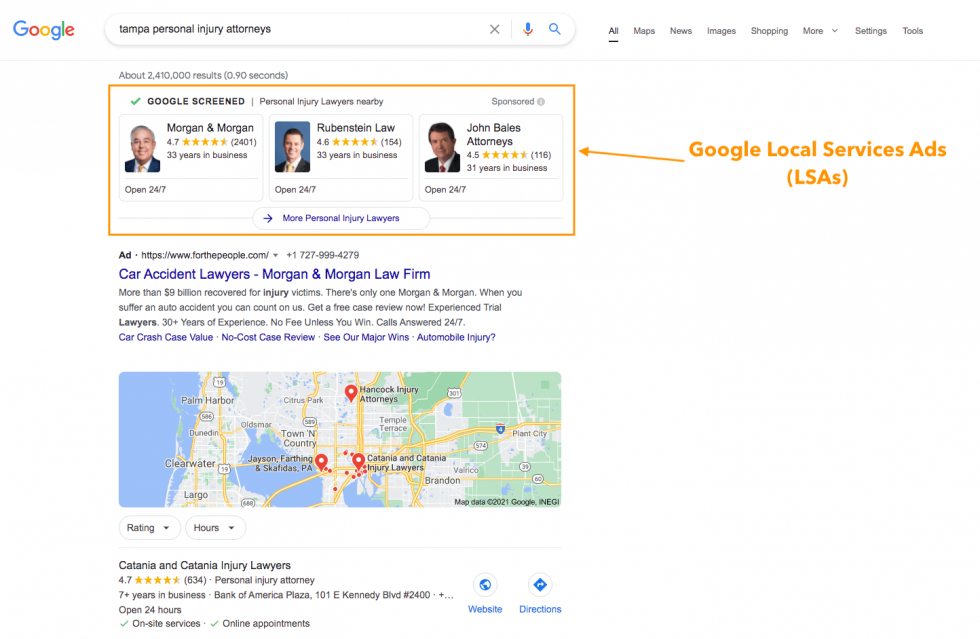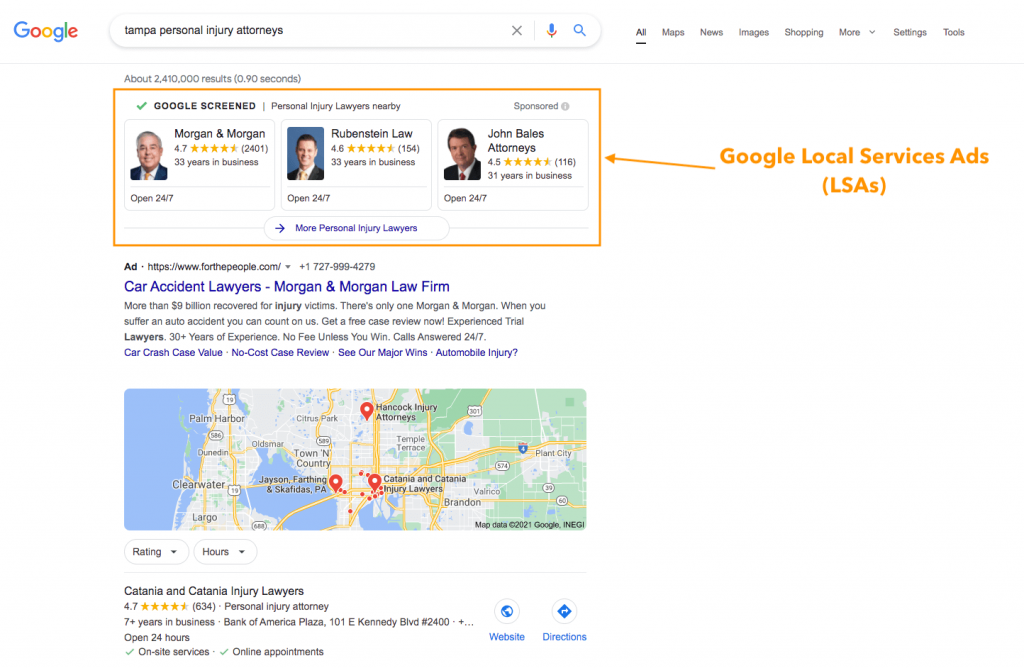 Google has also launched a pay-per-lead advertising product, called Local Services Ads. Instead of paying for clicks, you pay for leads and calls.
Keep in mind that in both cases, you will still receive a lot of disqualified leads and your staff will still have to work to get in touch with the lead and sign them up. Some lead generation services even sell leads to multiple law firms in the same area. In those cases, it's a race to see who can get in touch with the lead first.
3. Optimize Website Conversion Rates
Whether you do a lot of offline or online marketing, many people who are seeking your services and interested in hiring a lawyer will visit your website before contacting you. This is true whether you're running TV ads, they're a referral, you've invested in SEO or you're running search ad campaigns.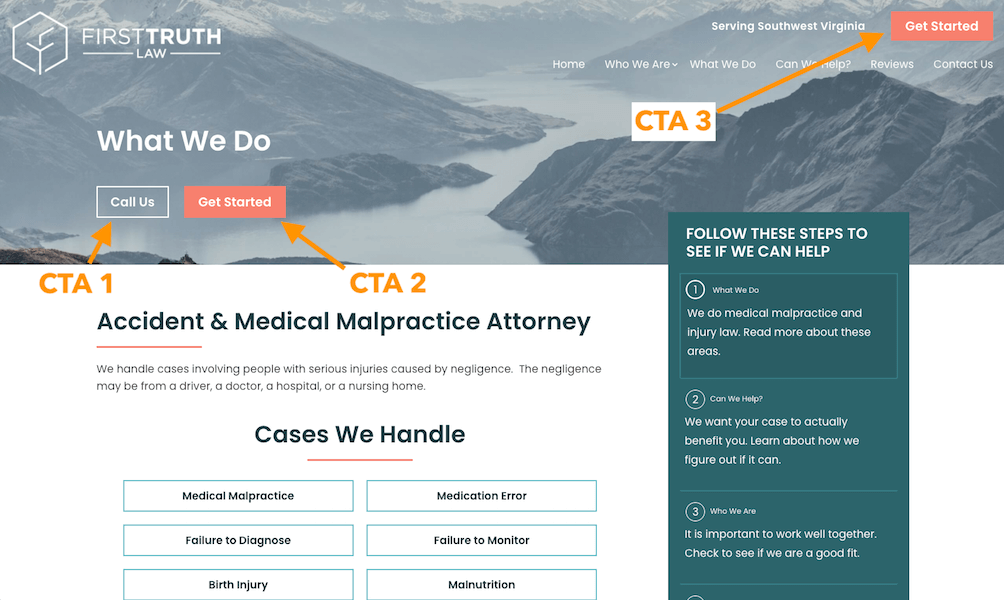 Get your law firm's website optimized to convert more visitors into calls and inquiries through CRO (conversion rate optimization). Simple things like having call to action elements intelligently placed through each page of your website will boost conversions.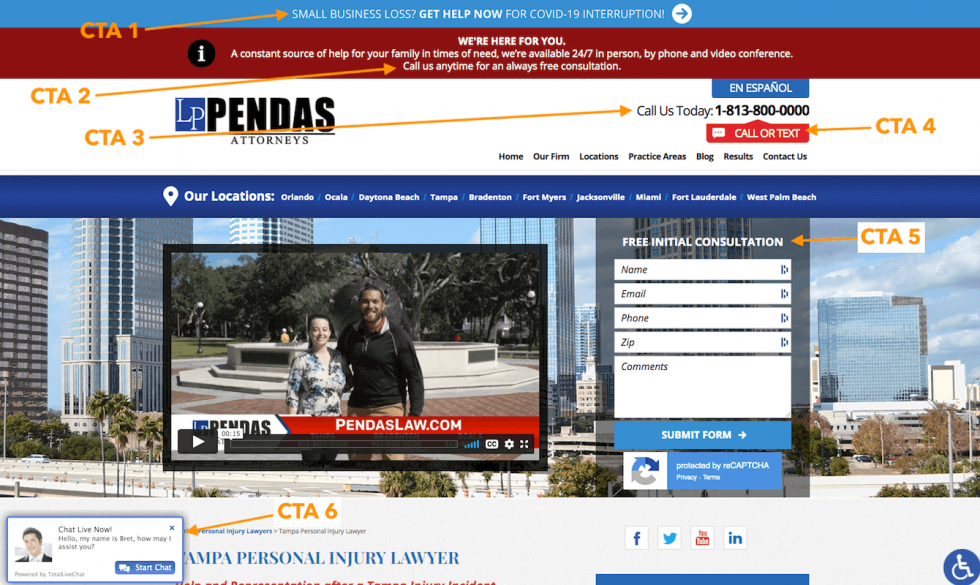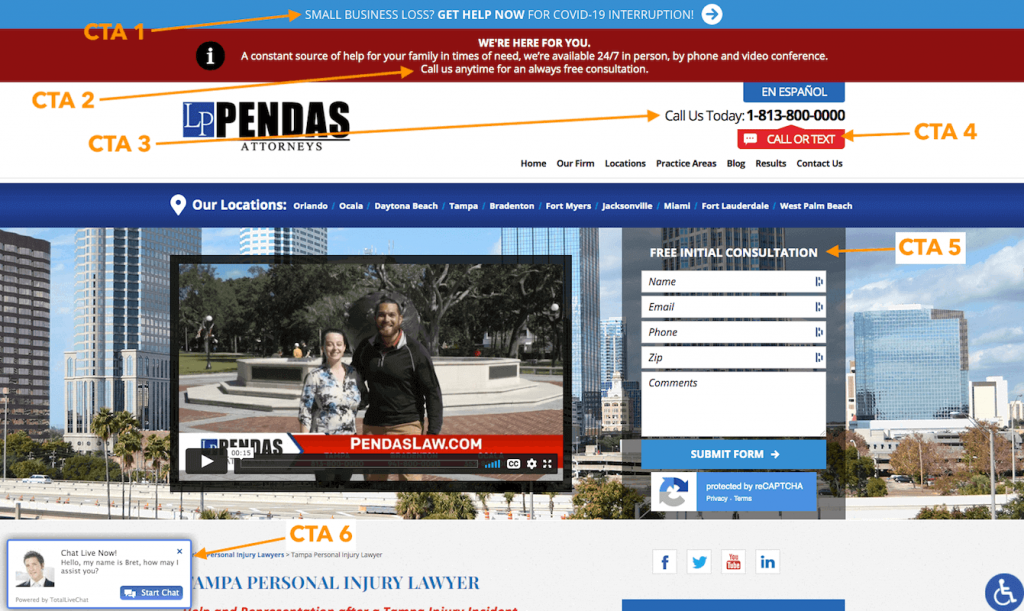 Some firms bombard their users with too many calls to action and pop-ups too soon. This is better than doing nothing, but don't get trigger happy. Too much will confuse and distract visitors. Too little and they won't know what action to take.
Offer a few different calls to action on your site, including a phone number, a contact/send message button and perhaps install a live chat feature on your site.
You can also re-use these CTAs in multiple locations on the same page. You can place a contact form on the page's sidebar and a phone number in the top-right corner.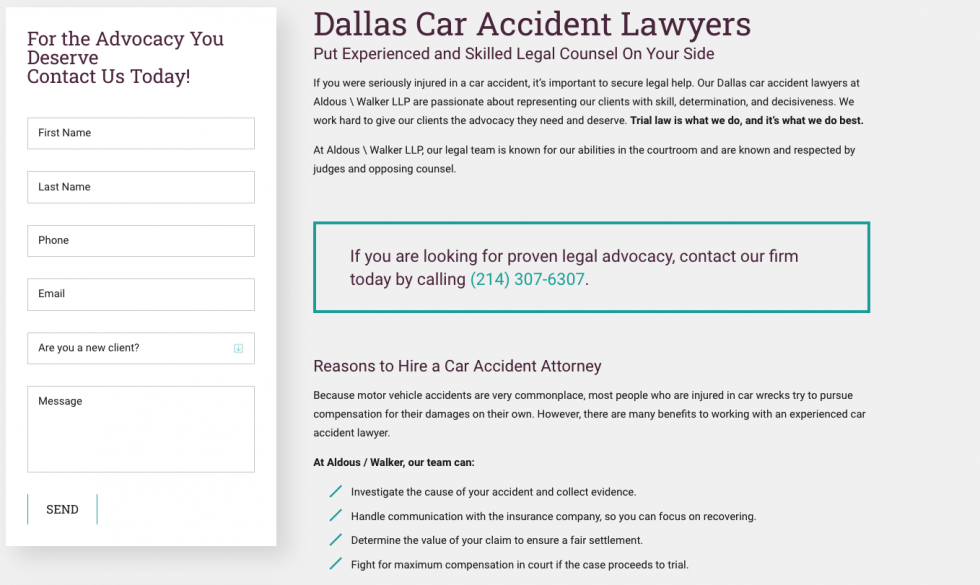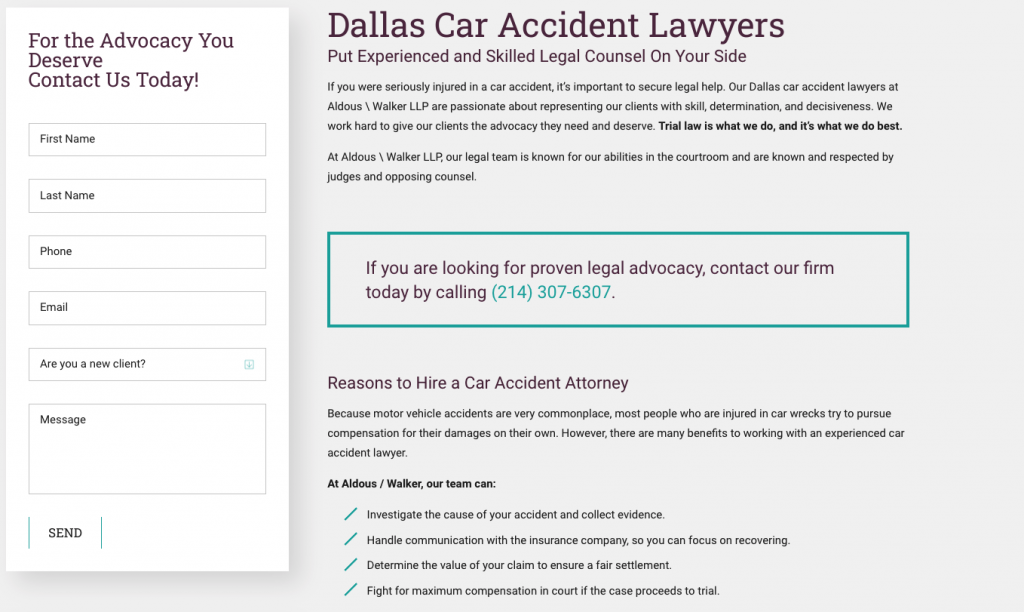 Also consider embedding a CTA in the middle of the page content. When a user clicks on it, it can take them to a contact form that they can fill out or initiate a phone call if they're browsing on their smartphone.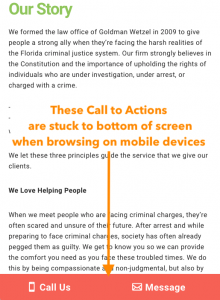 Finally, we install call-to-action buttons on law firm mobile sites that are fixed on their screen as they scroll through page content. They are just a tap away from sending an email, text or calling our clients' firms directly.
4. Use Search Engine Optimization
SEO is one of the most powerful marketing channels for generating more leads and cases for personal injury lawyers. It's very competitive and is not for the faint of heart. Personal Injury SEO takes time, energy and a significant investment.
However, the rewards are substantial. Few other marketing channels can produce as many new cases and scale as well as SEO, while resulting in far lower cost per case acquisition. In fact, it might be your lead and case acquisition source with the highest ROI.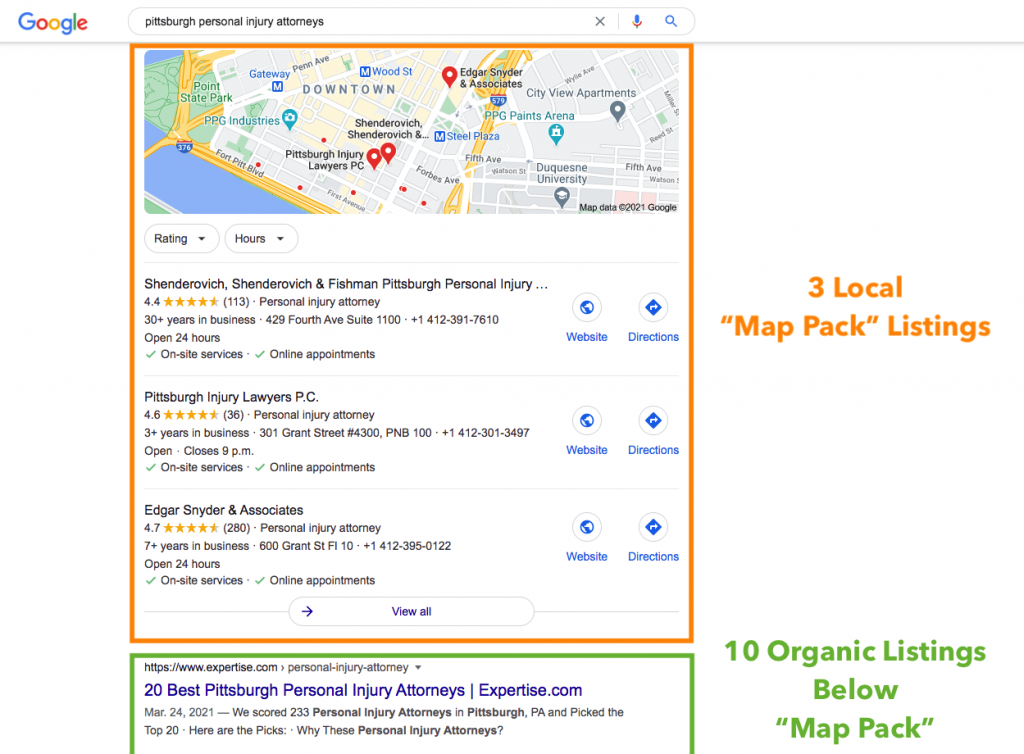 Both organic and local SEO for lawyers should be implemented in a strong search engine optimization strategy. SEO is very competitive and thus it's a full time job that requires a lot of experience.
I recommend SEO for personal injury law firms that want to become one of the top firms in their market. If you're only looking to generate a handful of cases per month, then look at alternative strategies to get clients.
For firm owners that believe organic search is right for them, your best bet is to find an agency that specializes in legal marketing. Seek out an agency that's going to be a long-term partner in your success, not just a marketing services provider or vendor.
Related: 12 SEO Tips for Personal Injury Law Firms
5. Networking and Business Development
There are bountiful opportunities in networking and business development. Here are a couple specific ideas and examples:
Networking Groups – You can join some local business networks, such as participating in local chamber of commerce activities or joining a niche network, like a women's business network or a local network of black-owned businesses.
Sponsor Local Causes – Schools, Scholarships, Sports programs and more. There are many great local causes in your city or county that make sense to sponsor. You could have a banner or panel at a local sports arena, like a hockey rink. When it comes to deciding what to sponsor, take into consideration the presence and visibility your sponsored ad will receive.
Local Events and Seminars – You can hold seminars with other lawyers to discuss some of your best negotiating skills, litigation strategies and more. Perhaps you have a special ability when it comes to management skills like controlling your business' finances or delegation. You can hold events for local business owners that would be interested in learning how to improve their own businesses. Reciprocation is a powerful phenomenon – receiving is commonly a byproduct of giving.
Local Law Firms – Look for law firms in your market that work in different practice areas. Whenever a past client, friend or someone in your network is looking for a lawyer that handles a different area of law, send them to one of your referral partners. Build healthy relationships with peers by creating mutually beneficial business relationships.
6. Set up Referral Systems
Take your Networking and Business Development strategy further by incentivizing your referral partners by paying for every new case you sign up through clients they refer to you. Look at the average case value, your margins and determine what makes sense to pay other lawyers to send new business your way.
Here's a different approach to the same idea:
Not all lawyers have the same objectives. Some want to be builders and managers of law firms. Many attorneys want to be the best practitioners they can be and earn an admirable living while helping their clients through difficult times and legal challenges. If you're the latter, then consider working with other firms in your market. This way you can focus on keeping your practice simple and concentrate your energy on the casework.
7. Promote from Other Practice Areas
Many law firms are boutique and focus on a single practice area. However, many firms are not and either practice several areas of law or are general, full-service firms.
If your firm has multiple practice areas, leverage those to promote your personal injury practice. This is sometimes called cross-promotion.
You can use simple tactics including:
a call hold message that describes your law firm and the different areas of law your firm practices
Incorporate a tagline in your brand and display it prominently on large signage inside and outside your office, on letterhead and printed materials
Make it clear on your website the practice areas you serve so that your visitors can't miss it
Incorporate it into your newsletters, social media and other marketing channels
8. Publish Blogs and Evergreen Content
Every personal injury law firm has its own business model and strategy. For those that accept cases and clients statewide, but aren't looking to scale their firms or a flood of new cases, then blogging and content marketing is an excellent alternative to an intensive SEO strategy.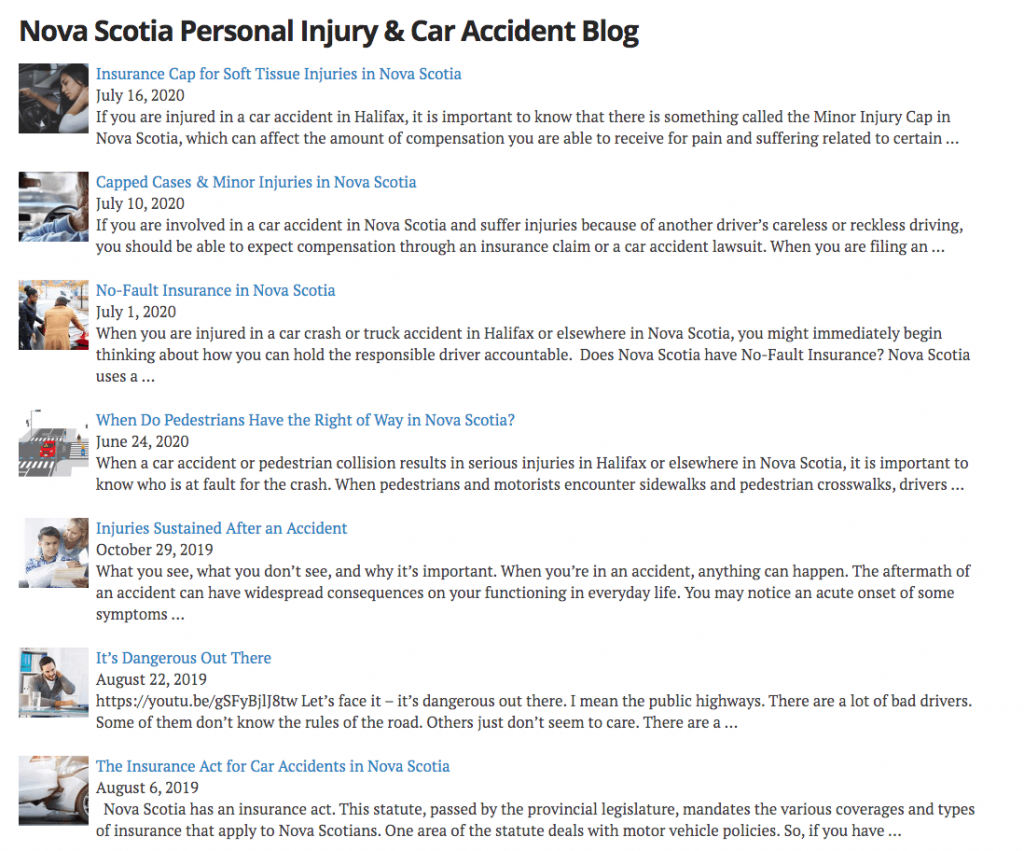 [insert blog image]
Focus on writing posts that will organically build your website's traffic over time and evergreen content packed with rich, helpful information as well as answers to the questions that many injury victims have about the claims process.
To get started, you can get ideas on the types of content to publish with these personal injury blog topics and car accident blog topics.
9. Start an Email Marketing Campaign
Email marketing is as old as internet marketing itself and continues to be a great way to build a following, nurture prospects and stay top of mind with referral sources and clients.
There are many different strategies and tactics for email marketing, including newsletters, email drip campaigns, digest courses and more. You can build an email list through leveraging your existing database of contacts as well as creating a lead magnet. I wrote a brief guide to email marketing for lawyers for that exact purpose.
10. Use Video to Build Trust and Rapport
Create videos that introduce your law firm and what you do, provide legal info and answer legal questions.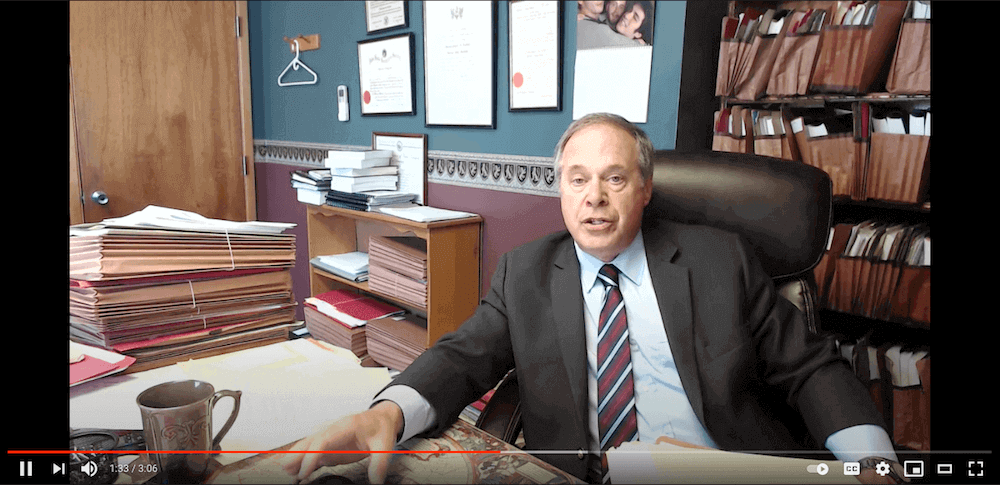 The power of video rests in its ability to develop deeper connections with your prospective clients. There is no limit to the number of videos you can record and publish. Lawyers that use video as part of their marketing strategy range in production quality from using their smartphone or their computer's webcam to record video to using professional video service companies to film, edit and deliver highly polished videos.
11. Share Better Content on Social Media
There's a diverse range of social media strategies that I see law firms implementing. One of the strategies we recommend is to focus on building trust and rapport through your firm's journey and results.
Here are a few tips to maximize your results on social media networks:
Success stories – post about the success stories and victories you've accomplished for your clients. You can talk about results as well as how their settlement or victory has transformed their lives.
Testimonials – When you receive a review on Google, Avvo, BBB or a written testimonial via email, post and share it on your social networks. You can add your own commentary along with it, expressing your gratitude for their kind words or excitement that you were able to help yet another wrongfully injured client.
Optimize for reach – One of the keys to social media is exposure. It won't matter what you post or how often you post to your social networks if no one ever sees it. Reach is the term used by Facebook and some other social sites that describes how many people (unique users) saw your post. There are two ways to maximize your reach.
You can either:

use your personal profile to post content
boost your posts with an ad budget if you decide to use your firm's business page
12. Advertise on Vehicles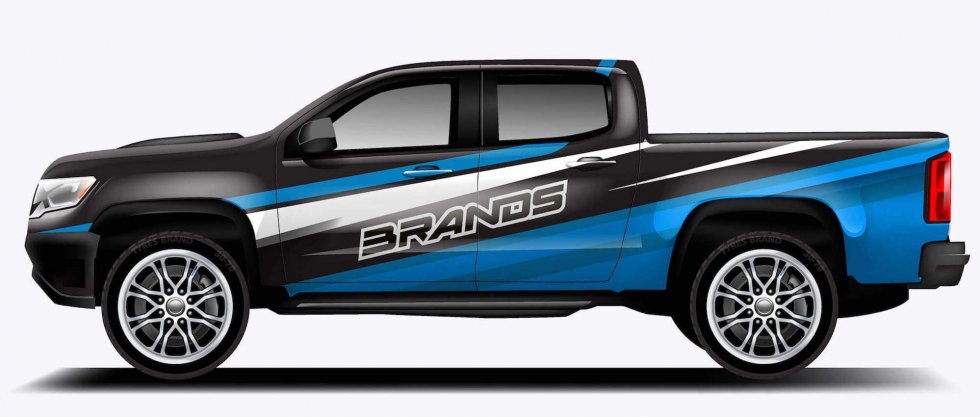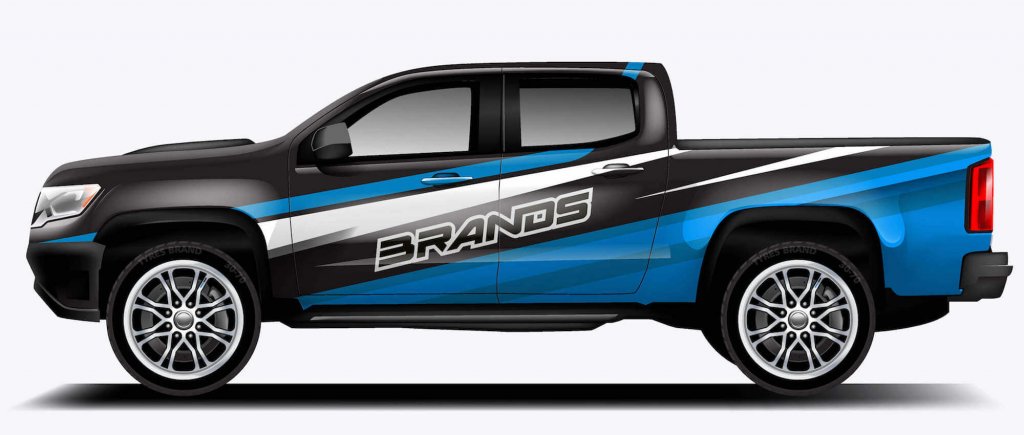 Magnets and car-wraps can be an excellent way to locally advertise your personal injury law firm. The low-cost option is to use large magnets, but if you can and have the money to do so, you can have a company professionally wrap your entire vehicle.
Opting for a complete advertisement auto wrap for your firm, you will want to make sure that the car is out on the road frequently – not in your office parking lot. As a result, it might be a staff member or a lawyer or your firm who frequently travels that's best suited to use the vehicle.
There are several options to make this as economically feasible as possible:
Consider it the "office" car. Instead of employees racking up and recording miles on their personal vehicles every time they run a business errand, they can take the "billboard on 4 wheels" instead.
Wrap your associates' cars if they make frequent housecalls.
Pay someone else to wrap their car. Uber and delivery drivers are often looking for extra cash. Provided you can find someone you trust to represent your brand, you can pay them a monthly or weekly fee to wrap their car for advertising purposes. It's a win-win, since they earn extra income and you're assured their vehicle will see many miles on the road in your local market every day.