Today, we're going to discuss one tip that will help you in the long term game with your social media marketing efforts. This focuses around an important one: brand visibility and awareness.
So you've got a social media strategy that's finally getting some real traction. You're getting a few messages, you have wicked engagement through posts like this.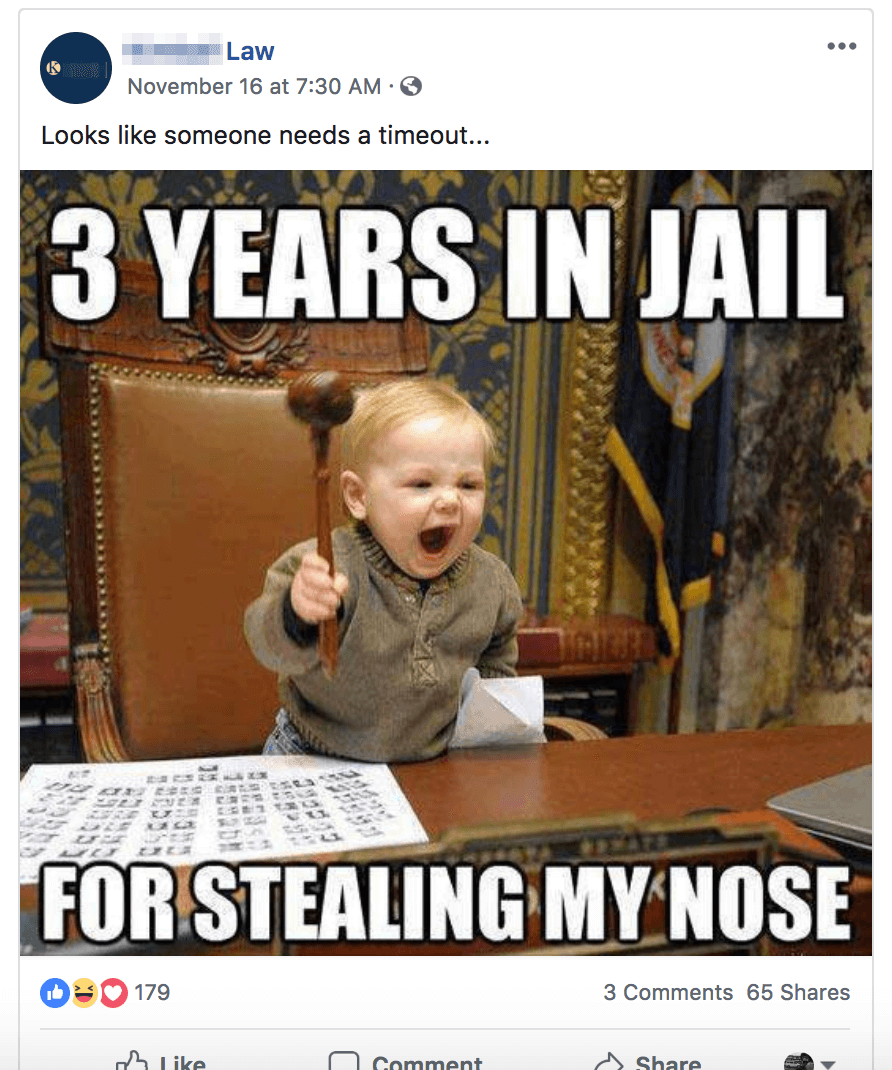 And then one day you realize that your brand building campaign efforts weren't working nearly as well as you thought it could. Take a look at this subtle, but detrimental travesty. You will notice that your business should be gaining that awesome brand awareness on social media. However, your brand is unrecognizable!
This post received a good amount of attention and the law firm that posted it had received a lot of "credit" from both engagements and reach.
The Branding Problem
The problem is that the logo thumbnail is so small you can't identify it. Therefore, cannot capitalize on people being able to recall or recognize it later. Going back to the problem about the importance of brand visibility and awareness, the problem is that the logo is being displayed in the long-form branding logo and the name.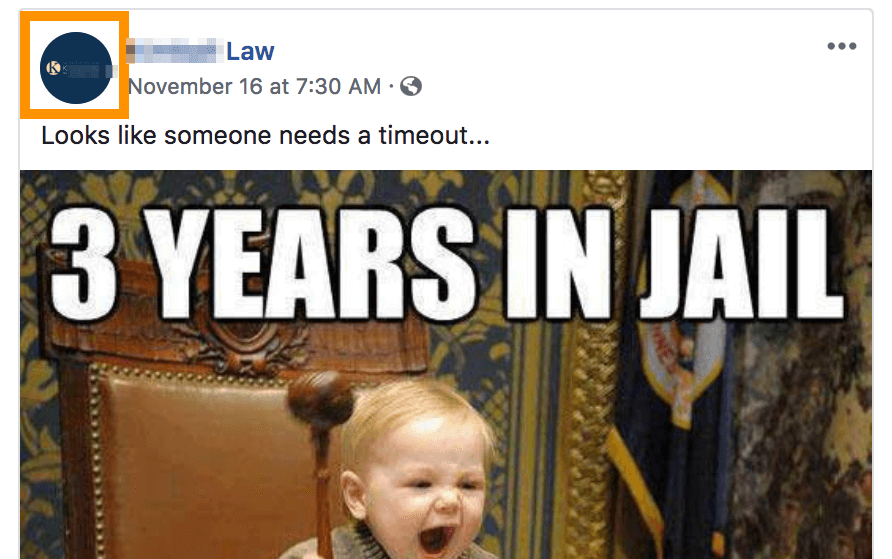 You may be thinking that it's important to display the full brand with the business name and logo in the profile photo and thumbnail. I recommend you not get caught up in this, since your facebook page name (which should be your proper business name) will be displayed next to the profile picture, which houses your logo thumbnail.

Remember, we're operating with a successful social media strategy that is focused on engagement and awareness. So people are viewing and engaging with our content in their Facebook and Instagram news feeds. Most people that our content is reaching, is far less likely to visit our page as they are to engage with our content for 5 – 15 seconds. So we need to take advantage of the screen real estate by effectively marketing our brand.
Take a look at this side by side comparison of the branding. It really is night and day.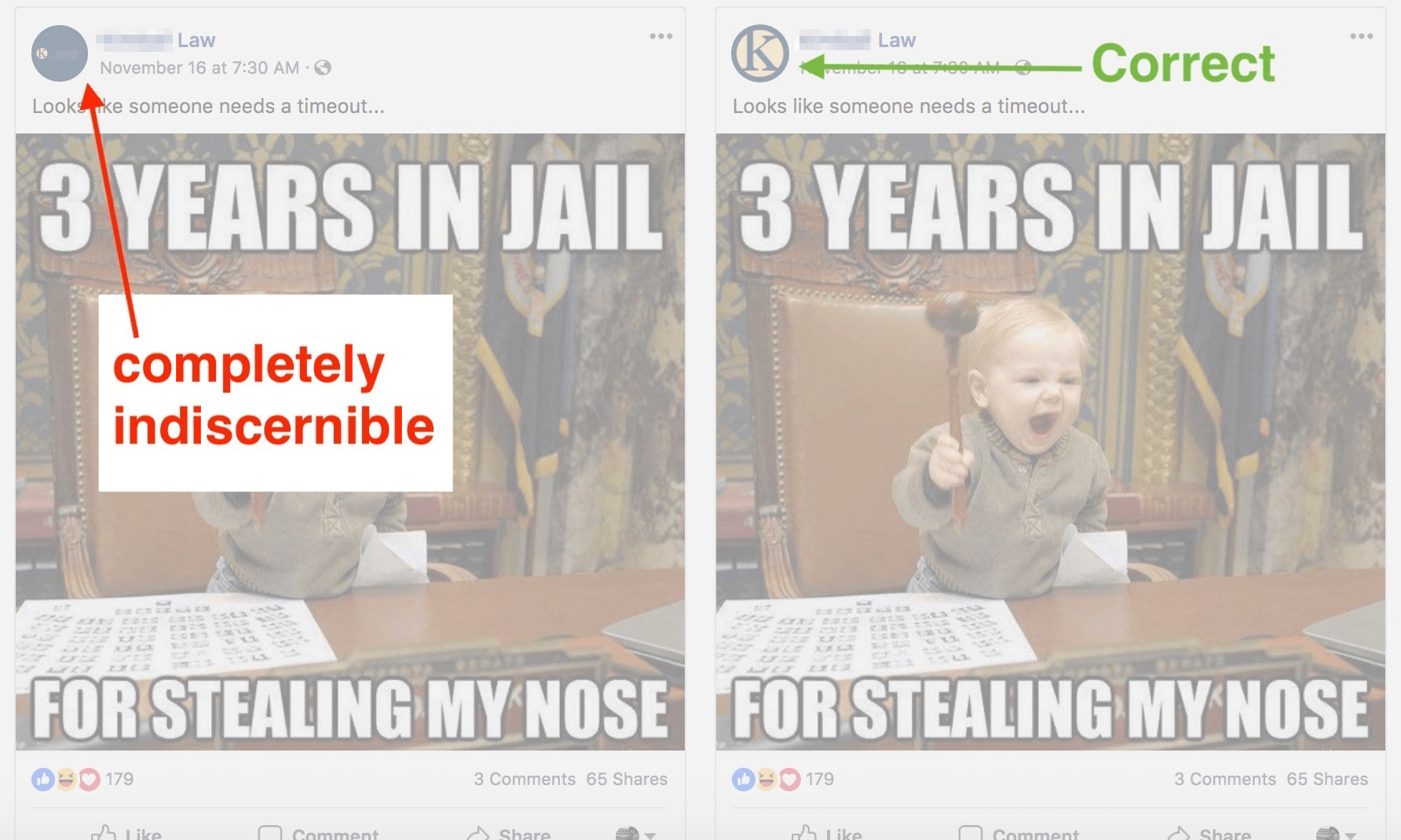 Facebook give us a built-in way to modify the look of our thumbnail for posts like this one, while keeping the original logo in tact when people see it on our business page.
How to Crop your Profile Photo Thumbnail for Optimal Brand Visibility in the News Feed
First, go to your business's page on Facebook. Hover over the camera icon in the bottom right corner of your page's profile photo. Then, when it displays the "Change Picture" overlay, click anywhere in the profile photo overlay. And finally, click "Choose From Photos".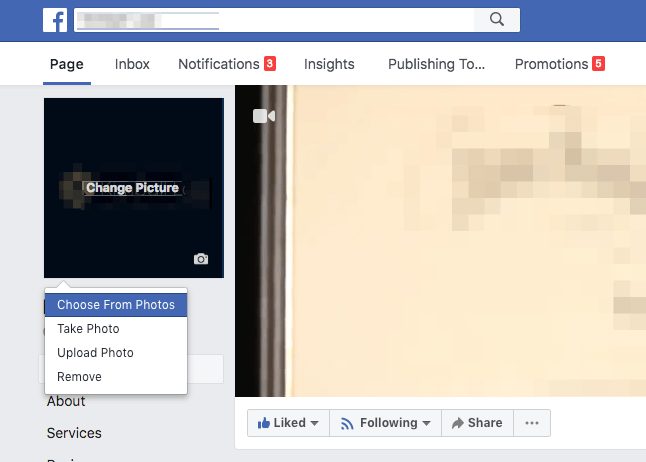 Click on the album called "Profile Pictures". Within the Profile Pictures album, if you're working with the same version of Facebook as me at the time of writing, you may experience the problem where it doesn't show your current profile photo. This is because we don't want to change the photo. We just want to resize the thumbnail that is displayed on posts. So in the case that you have this issue, set it to your old photo first. Then, repeat this procedure so you can set the correct photo.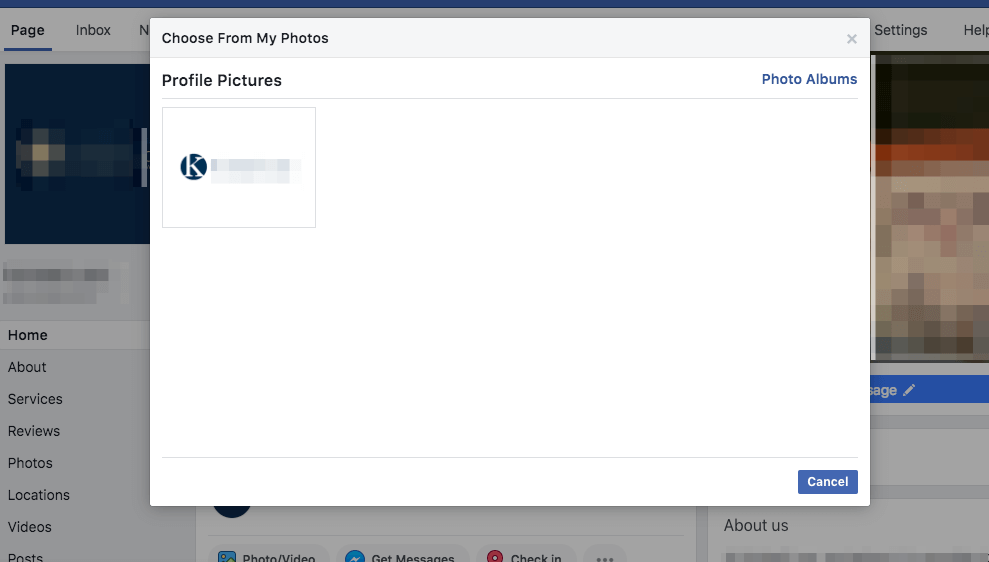 As we were putting this tutorial together, we ran into another issue, whereby we had maxed out the thumbnail zoom function to crop the part of the photo we wanted to use in our thumbnail. If this happens to you, you'll have to play with the dimensions and aspect ratio of the photo to properly crop it.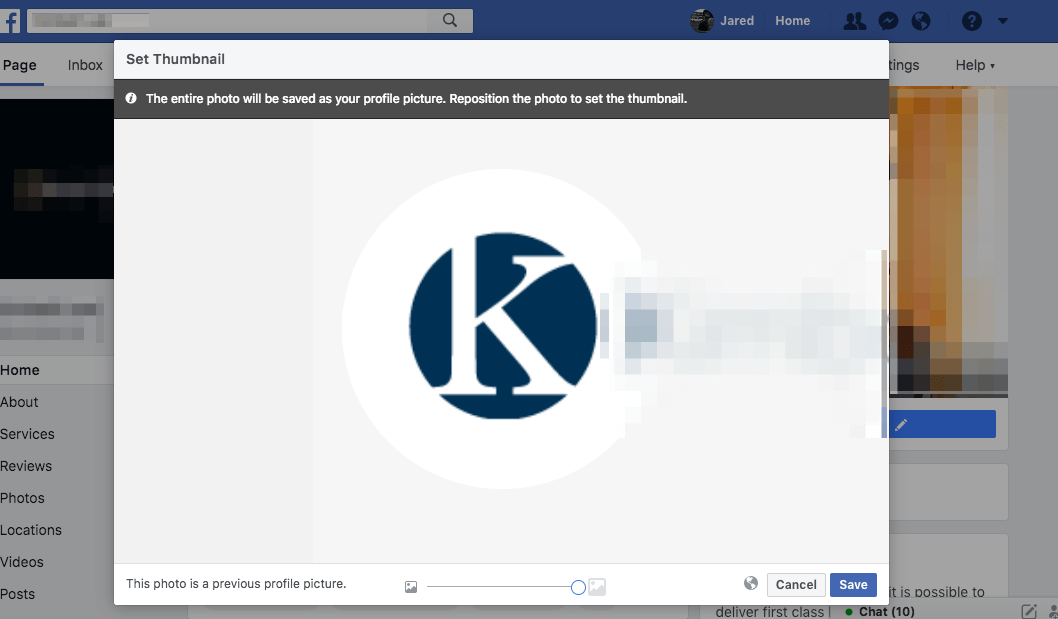 As you can see, while this was a problem for our previous logo, we didn't experience that issue with our hi-res, dark version of the logo.
And there you have it, making every post really count by changing business page's profile thumbnail and taking advantage of the small, but important branding real estate facebook gives us.
Going Beyond Facebook
This post just focuses on the problem you'll run into on Facebook. But if you're diligent about maximizing your brand image and visibility, then you'll start to see that it exists in many other places.
The Facebook example does a good job illustrating the problem. However, you may encounter the same issue in your other marketing materials. Your website, for instance, may use the full logo on the desktop version. But the mobile site may have to resort to using the thumbnail like in the facebook post problem.
The same applies to other online profiles like Yelp, Google My Business, Bing and YellowPages. Maximize your brand recognition and choose which version of your logo to use carefully. Do a review of all your marketing and advertising materials and see what needs to be reviewed.
If you're interested in learning more about building brand visibility and awareness, check out this article I wrote about it!