In this guide, we will explore the 3 most popular types of Search Engine Ads for lawyers: Google Search Ads (formerly known as AdWords), Bing Ads and Yelp Ads. Google and Bing search ads are very closely related in nature – like siblings. But Yelp is quite different in many regards, but still within the SEM family.
Google Search Ads (AdWords)
The most within the list is by far Google AdWords (now known as Google Search Ads). When you search for "family law attorney in toronto" or "injury lawyer in dallas", the first thing that the user is going to see on the results page is a set of ads. Typically between 2-4 ads, followed by a local map and listings as well as organic listings below that.
However, since Google monetizes its search engine through ads, the first thing a user is likely to see on a page when looking for a local business – and searches for lawyers or law firms no doubt – is a set of ads.
Why it's Great for Lawyers & Law Firms
Google Ads & AdWords are very powerful marketing tools as it displays ads based on high intent since the user has requested highly specific information from Google through performing a search query. It allows you to advertise specifically to people who type in very specific search terms. And you can be very specific in the areas and regions you want your ads to be displayed.
For instance you can advertise whenever someone in your area types in "divorce lawyer".
Top Mistakes to Avoid with Google Search Ads & AdWords
Mistake 1: Beware of Setting up your Ad Account with Google
Usually, when you get started with AdWords for the first time, a Representative from Google will call you. And they will help you set up your campaigns, build your ads and list of keywords.
Be very careful with this. It's okay to let them guide you through the technical setup process if you have never used the ad management tools before. But take extreme caution if they make recommendations on which keywords to use or types of keywords.
They may encourage you to set up ads to reach more people and "increase" your odds of landing new traffic and leads. They may suggest that you implement a broad match or modified broad match type for your keyword match type.
Mistake 2: Understand and Take Caution with Keyword Match Types
Keyword Match Types
Broad Match
Broad match keyword types gives Google flexibility in displaying your ads to what it believes to be synonymous or related search queries.
This basically means that if you have "personal injury lawyer" as your broad keyword, then Google will display your ad to a swath of other search queries that users type such as "types of personal injury cases", "personal injury claim definition" or even "should i hire a personal injury lawyer".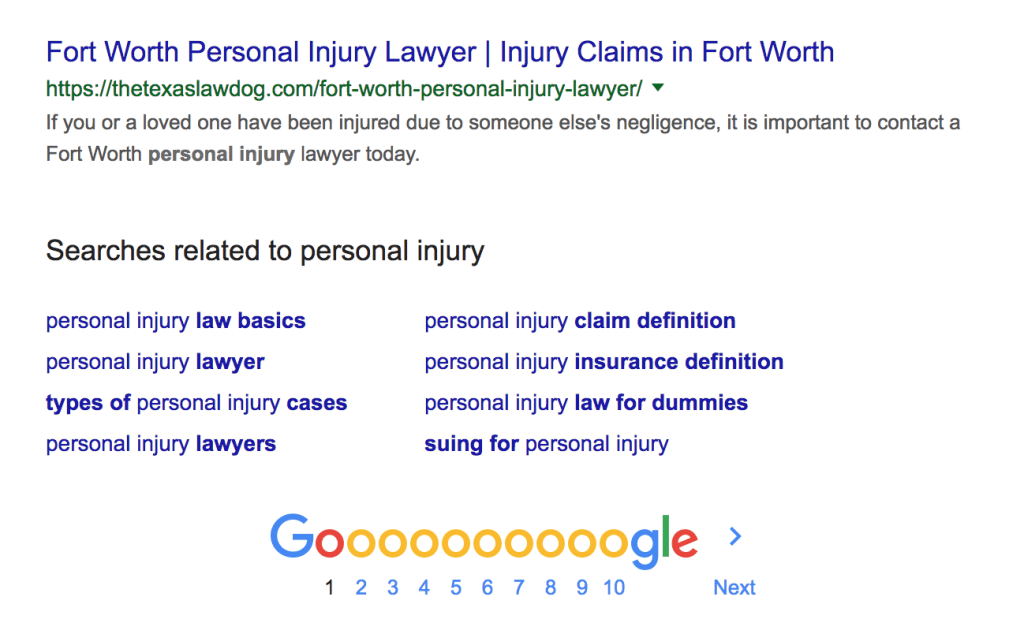 For reference, I typed in "personal injury" and these were the related searches (aka keywords) that Google may have displayed an ad to if we were running a broad match keyword type for our personal injury lawyer campaign, it could have been very detrimental to see money being spent on similar, but unrelated or non-target queries like these.
These keywords would definitely make good ideas for blog posts or articles. But would make less than ideal search terms for people you are trying to convert into a lead or contact immediately.
If you're interested in learning more about the technicalities of keyword match types, look no further then this article.
There's too much leeway in broad match. So it's recommended to steer clear of this and focus on modified broad match, phrase match and exact. Exact match and phrase match are best. But in any case, you need to make sure that your negative keywords are in place to prevent these from rendering yet more wasted spend.
Modified Broad Match
This type of match is a little more specific than broad match. But can still yield poor or too broad of a set of search terms. The image below shows an example with Gel Batteries. In the Keyword column, the "+" prepended to the word directly right of it is the word that must show up in the search queries.

As you can see from the above example, modified broad match still requires attention and consideration when planning your potential matches and queries.
For instance, if you were to use "+personal +injury +lawyer" as a modified broad match type, then all three words would have to appear in the search result, but not necessarily in that order. The potential matches can also contain other words within the search query. An example of this potential match for "+personal +injury +lawyer" might be "can a lawyer practice only personal injury law". It contains all 3 words, but not necessarily in that order.
Phrase Match
If you still want flexibility in Google displaying your ad in search results, but want to ensure that a user types in "personal injury lawyer" in that exact order, then phrase match is an excellent use case for this. With phrase match, new keywords can be prepended or appended by users searching for the subject. But in order for your ad to appear, the phrase you specify must appear in the exact order you specify. This offers much greater control over which search queries your ads will appear in compared to the broad and modified broad types.
In this case, using a phrase match term such as "personal injury lawyer", some potential matches may include "personal injury lawyer near me", "personal injury lawyer my city", "my city personal injury lawyer", "best personal injury lawyer" or "personal injury lawyer for car accident".
While phrase match offers leagues of difference in precision, there are still some caveats to using this match type. It requires you to still forecast and plan for queries that do not match your audience's intended search queries. Let's stick with the example of "personal injury lawyer". One could type in "how to hire a personal injury lawyer" or "should i hire a personal injury lawyer". These still satisfy the phrase match criteria. And while you can create a list of negative keywords, it may require some up-close monitoring of your ad campaigns to find new negative keywords and prevent those same or similar queries in the future costing you precious ad spend.
Exact Match
The exact match type provides the greatest level of control. It used to be that whatever you specify as your keywords, Google will ensure that your ads only display for those queries. However, Google has recently changed this and allowed for variation within the search queries, provided that query's intent matches. Here is an example of the update affects exact match keyword types.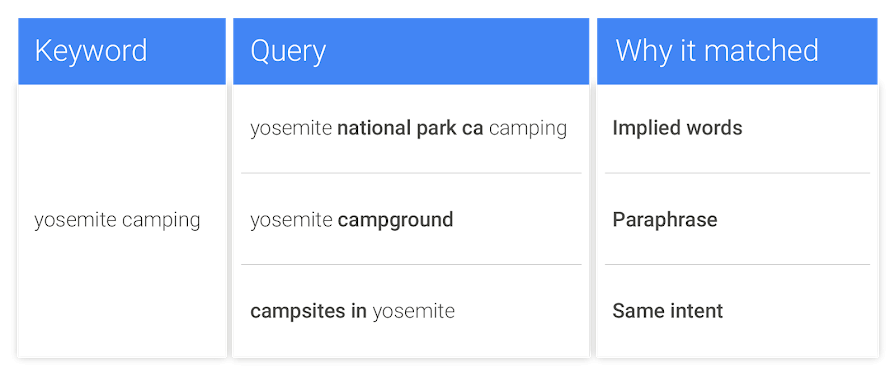 Google made this update in large part to increase the search volume for exact match keywords. This is due to large limitations on the potential search traffic and volume advertisers could be missing out on due to only using exact match terms. Because Google is getting smarter and more complex, users are typing in longer and more specific search phrases, relying on Google search by specifying exactly what they're looking for in order to return a more refined set of results.
If you want to learn more about the changes to exact match types, check out this article.
Mistake 3: Do NOT use AdWords Express
Google AdWords has an ads management tool called Adwords Express. The idea is as the title implies, a quicker, streamlined version of the AdWords manager for the DIY advertisers and newcomers. This tool is a sure-fire way to waste your ad spend on Google. If you have tried Google AdWords or Search Ads before yourself and were disappointed with the results or felt like you received no return from your Google Ads campaigns, you likely used AdWords Express.
Mistake 4: Not Taking Advantage of Negative Keywords
Use negative keywords to control what searches your budget is spent on. This is a list of words that when combined with your target keywords, will prevent your ads from being displayed. Negative keywords are a great way to protect your ad budget being spent on things that seem very similar to your target keywords, but would result in complete waste of your budget.
For example, you wouldn't want to display your ads to people looking for employment opportunities. So if someone types in "divorce lawyer jobs toronto", you can add "jobs" to your list of negative keywords. This way your ads won't be displayed for that (and similar) queries.
Another good example of negative keywords for lawyers is when you focus say on a subset of cases within an area of law. So if you are a litigation lawyer that works with clients that have been injured in car accidents and on disability, but do not practice product liability or medical malpractice cases. Adding negative keywords will help you efficiently tune your budget spend.
Which Law Firms and Practice Areas perform Better on AdWords?
If you're considering using Google AdWords for your firm and are wondering if your firm and the services it provides is a good fit for this type of advertising, then we will answer this in this section.
The short answer is B2C areas of law and practice tend to be the best fit for AdWords. When you as a lawyer are dealing with individuals or families, rather than companies, AdWords is likely a platform to promote your firm on. This means practices that focus on areas of law such as:
Family Law
Personal Injury & Insurance Law
Immigration Law
Employment Law (e.g. not representing the employer, but the employee. In cases like wrongful dismissal or termination, harassment, discrimination, etc)
Residential Property & Real Estate
Estate Planning, Probates
Family Trusts
Business, Corporate and Commercial law or commercial real estate law are examples of AoPs that do not perform nearly as well on AdWords and Search as these personal legal areas do.
Ad Budgets on Google AdWords for Lawyers and Specific Areas of Practice
While the practice areas that are consumer-facing – that are personal or individual-centric – as listed above, tend to perform much better on Google AdWords, there is a wide range in budget for the CPC (Cost-per-Click).
All else being equal and your marketing / ads funnel is optimized, meaning that your:
ad copy is in good order
landing page is optimized for mobile, desktop and to convert traffic and visitors into leads
keywords, match types and negative keywords are optimized
You need to ensure that you are setting an appropriate budget that is aligned with the number of leads / new case sign-ups you want to achieve. When considering this, the budget will be heavily influenced by the types of law you practice and desire to attract more clients for.
For instance, family law probably has the richest return on investment. The cost per click is low, but the cost per lead is much lower than other areas of law. Assuming all parts of the funnel and AdWords are optimized, a firm spending $1,000 per month will see a handsome return of about 10 new consultations.
On the other hand, to see similar results in an area of law like personal injury, you can expect to 5x your budget on whatever you may spend to acquire the same number of clients in family law. Personal injury cases, because of their nature being contingency-based and a much more competitive landscape among firms fighting for these coveted cases, the CPC for personal injury cases can be anywhere between $20 – $120 per click.
Who sets the price?
Yes, the prices of search ads for lawyers are very competitive. In order to understand why, you need to understand how CPC pricing on PPC platforms, including Google AdWords works.
Google doesn't set the price. Instead, you are bidding in an auction with every other lawyer and law firm that is advertising in your area. So higher demand for the ad space drives up the cost.
Because the larger, high-volume firms have a strong grasp and understanding of their marketing and metrics, such as average case value, cost per client acquisition, conversion rates and so on, they know exactly how much they are willing to spend to acquire a new client, how much traffic they need to acquire X new clients and can bid accordingly and with deep enough pockets to stay on top of the search ads.
Bing Ads
Bing, which is Microsoft's search engine, also offers ads on its platform the same as Google AdWords.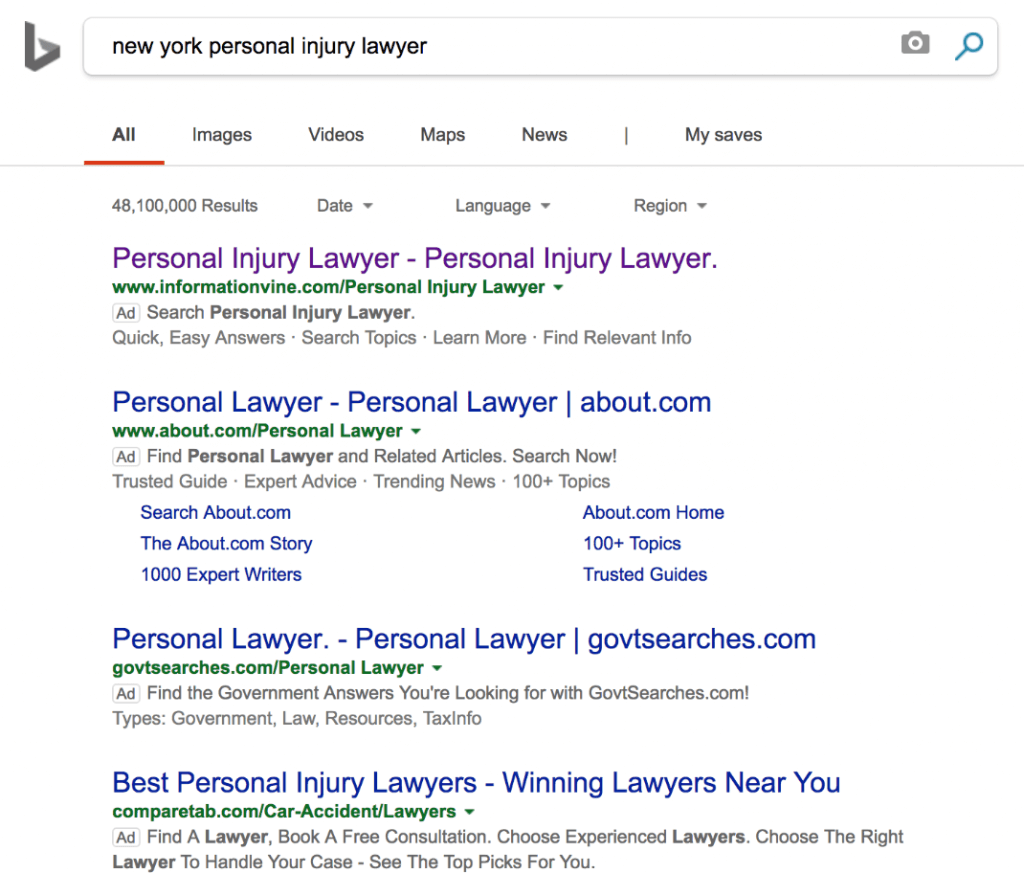 This section won't go into great detail about Bing. But it will highlight the differences between Google and Bing Search Ads.
Search Volume
Bing's Search Volume is much lower than Google's. According to StatCounter, Google is still the dominant Search Engine with just under 87% of the US market share in Search. Bing is the second largest, but only with 6.67% of search traffic in the US.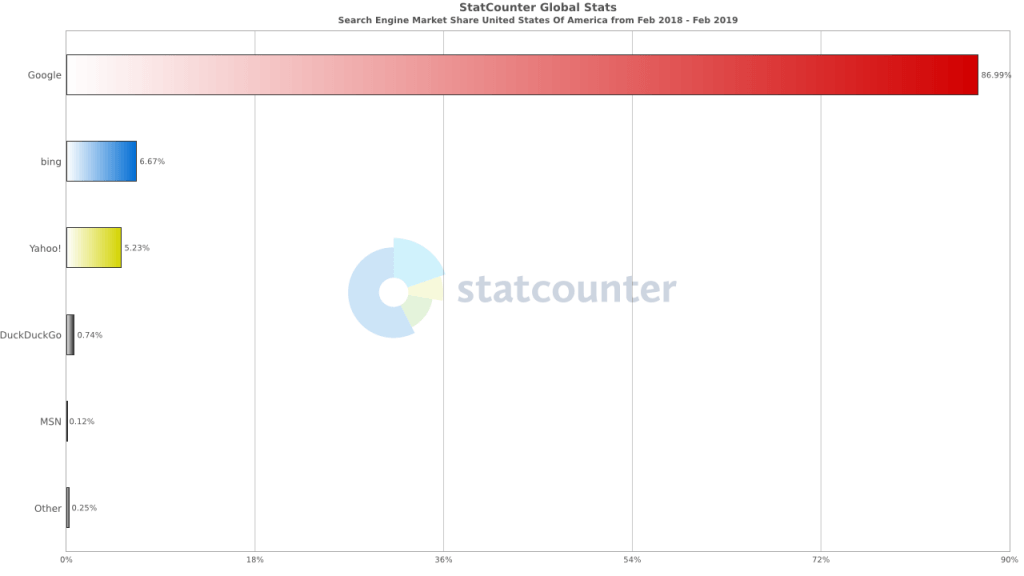 Bing has an even smaller share in Canada, with only 4.85% of search traffic as of Feb 2019, whereas Google has an even larger share than in the US with 91.65%.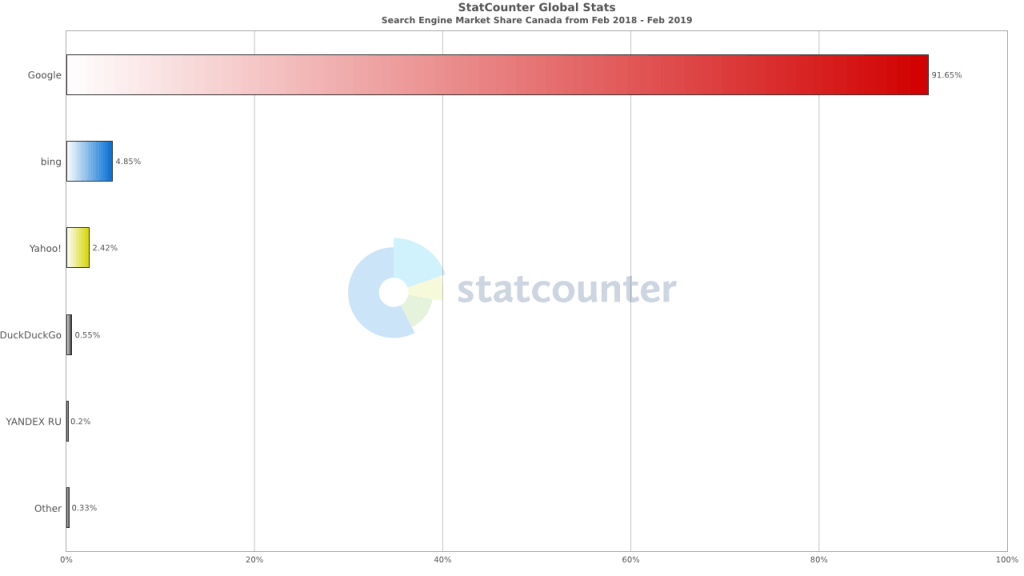 This means that with only a small fraction of the potential search traffic you could see from Google, Bing will produce folds fewer in ad clicks from campaigning on its platform.
Cost per Click
Having less search traffic however, does have a sweet upside to it. Because there is much less traffic on Bing than Google, the demand ads on Bing is much lower on Google. As a result, you will see a much cheaper CPC on Bing. Because search engine ads are displayed through automatic auction, based on what other firms and advertisers are bidding and there are fewer participants within the auctions, this helps keep demand and prices relatively low.
Keyword Match Types
Bing has the 3 different keyword match types:
Exact Match
Broad Match
Phrase Match
All 3 of these exist within Google AdWords. The only one that Bing is missing from Google's options is modified broad match. Bing's platform is very similar to Google in many respects. However due to the lower traffic and less maturity, is not as sophisticated as Google's system.
When it comes to exact match keywords, Bing has not followed in Google's footsteps with the recent updates. Meaning that a user still must type in the exact keyword you specify in order for your ad to show up. So if you prefer a system that doesn't take more liberties with semantically equivalent search queries, then Bing may be more appealing to you.
Accuracy in Serving & Running Ads
In the past, there have been difficulties in having Bing actually run ads and displaying them in the target areas. To illustrate my point, take a look at the following image with a search results page in Bing for the query "new york personal injury lawyer".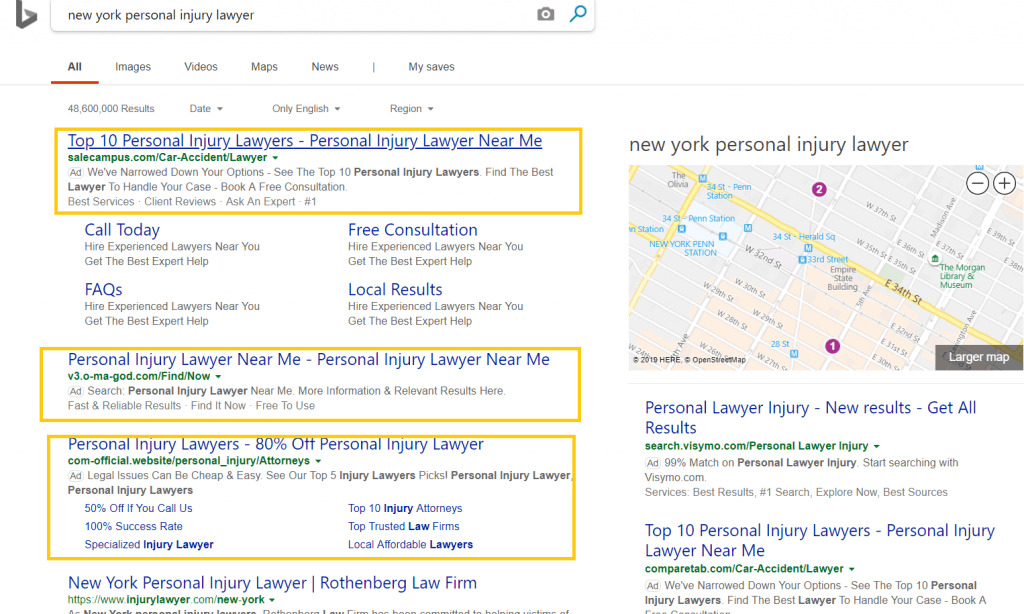 The results display 3 ads before the local and organic listings. What you may notice is not one of the four ads are for an actual New York lawyer, nor a law firm anywhere at the least. They are mostly just ads to 2nd and 3rd tier search engines and lawyer comparison pages.
So, the moral of this story is: don't be surprised if you have trouble getting your ads in front of your audience. If you do have this issue, it tends to be an issue with the amount you are bidding on your keywords within Bing Ads Manager.
The bid for your keywords is shown in the above image. You can change the bids by increasing or decreasing them as you wish, either individually or in bulk.
Yelp Ads
If you're unfamiliar with the platform, Yelp is the modern equivalent of YellowPages.com where users of the platform can review other businesses. It's most popular for B2C businesses like retail stores and restaurants, however they rank have incredible SEO rankings. That means even if someone isn't searching for a business (e.g. lawyer or law firm) in Yelp, it gets a lot of traffic from Google. Even as people perform searches for a lawyer on Google or Bing, Yelp has a high probability of being among the top listings on the first page of search results.
Beginner-Friendly Local Advertising
Yelp has a much simpler advertising platform than the others. This is probably it's most attractive feature. It's beginner-friendly and geared towards the DIY marketer.
Location Targeting
After you create your business listings in Yelp, you will be able to start advertising almost immediately. If you have multiple business or office locations, you get to choose which locations to advertise in Yelp. This is very helpful if your strategy is getting more cases in a particular area or promoting specific locations.
No Keywords: Just Category Targeting
There isn't exactly keyword targeting on Yelp's ad platform. It essentially places your ad in front of people searching for your type of business.
Keep your listing profile specific to the types of cases you want to attract. It's important that the categories you list for your firm are narrowed down to the areas of law you want to advertise for. If you're seeking to advertise for family law clients but you've included wills & estates in your listing's categories, then some of your ad spend may be spent on attracting wills & estate clients instead of family law and divorce clients. The margin on these lower ticket services and leads will be eaten up by your ad spend.
Ad Placements
When you advertise on Yelp, your listing will show above the rest as a sponsored listing. This is ideal if there are 10 pages of lawyers and law firms in your area's Yelp search results. Another unique placement to yelp is appearing on other competitors' profiles. Even if someone decides to click on one of the organic results, your firm's name, primary offering and image will appear on the competitors listing as users check them out.
An optional add-on is paying a daily fee to have your competitors' ads removed from your listing.
Cost per Click
The advertising cost on Yelp isn't very transparent. They have suggested daily budgets. But they do not specify how many clicks or visits your daily budget will yield as the bidding is dynamic and changes day-to-day. The more competition there is for a certain category and location on a given day, the higher the cost per click. However, it claims that like most PPC auctions, you will pay the minimum amount required to get the highest placement position in the sponsored listings. This doesn't instill confidence in estimating results. I can say that with confidence we have seen positive ROI's for our Yelp campaigns. Probably the best part about it is it requires low to no management or maintenance.
I do however find that my advertising bills from Yelp are never less than the daily budget we set. It makes one wonder how budgets are spent on days that there is little to no activity.
How Yelp Generates Leads and their Quality
Yelp generates leads for our law firms in several capacities:
Direct Message on platform
Phone calls from Yelp
Phone calls & Contact form submissions on our firm's website
All else being equal, the most valuable types of leads will always be those who decide to call our law firm. It's easier to set an appointment over the phone on the first direct point of contact and avoid back and forth through messaging. The second most valuable type of conversion will be a contact form submission through the website. This way we can capture critical lead information including their full name, email and phone number. This allows you to have multiple ways to get in touch with the lead.
When leads reach out via Yelp's direct messaging system, you'll receive a notification email from yelp containing the message and the person who messaged. This is far from ideal for a few reasons.
The first is that Yelp is the middle man. In order to respond to the lead, you must respond via their messaging system. Second, you don't get to collect their full name, email or phone number. Yelp only requires that they fill in their first name. Usually you can't give any legal information or guidance over a yelp message without more details from the lead. It requires a phone call or a follow-up off the Yelp platform. The biggest issue with this is the drop-off in leads. You will usually respond to a Yelp lead telling them to call your firm and include your phone number in the message. Then it's a matter of waiting on whether or not the lead decides to even call. You can expect roughly a 50% drop-off in leads at this point.
Conclusion on Yelp
If you're looking for a cost-effective, no-maintenance alternative to YellowPages online advertising, then Yelp is a good choice. It offers a set it and forget it advertising method. It is extremely simple for even beginner or DIY advertisers to set up. And it gives you time to focus on other advertising and marketing channels that require more attention (and can yield better returns).
The greatest issues we have with the platform are the lead quality and that Yelp's Call-to-Actions (i.e. direct message via their platform) are not the end-business' desired methods of having leads contact them. All in all, you can drum up some new business with yelp with little to no work. Just set your expectations on lead issues and costs accordingly.