There are many aspects and moving parts of your law firm's website. How many moving parts depends on the various functions you wish it to serve. Because modern websites are so extensible, they can be integrated with a myriad of plugins, themes, third-party applications (like Clio, LawPay, etc.) that can automate processes and help support your firm's objectives. With all the possibilities, the question becomes:
What makes a good law firm website? A high-quality website should serve your firm's needs as a multi-faceted business tool. It can be one of your best sources of new leads and phone calls, automate appointment booking, enable clients to pay invoices online and automate the review and testimonial acquisition process.
However, your site can do any of these things, but not all law firm websites will support or help fulfill the same objectives. For some attorneys, it's their online business card or brochure. For others, it's their most powerful marketing asset. In this article, we'll go over tips and best practices that cover practically every law firm's website needs as well as set them up for success.
13 Tips & Best Practices for Law Firm Websites:
1. Mobile-first website design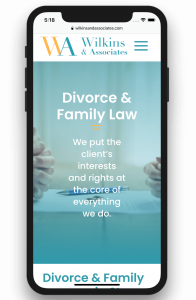 Your law firm's website should be designed for mobile devices first and foremost. Mobile and Smartphones make up over 54% of the total browser usage worldwide and over 46.6% usage in the United States – compared to 49.5% on desktop.
This doesn't mean that the way your site looks and behaves on desktop computers won't be professional or impressive. However, mobile phones are more difficult to optimize for in terms of user experience. The small screen size means that you have less room to present all of the relevant information to visitors. Websites tend to load slower on smartphones, too.
In fact, when mobile specific issues are properly addressed, it will usually enhance the experience for all users.

Your site's design should focus on providing an excellent experience that keeps visitors engaged on mobile devices and loads fast. For best practices and guidelines, optimize your site's speed and experience using Core Web Vitals.
2. Show your case results
Your law firm's hard work and results should have a place on your website. This will help establish trust and credibility with prospective clients browsing your site and make their decision to contact you easier.
Dedicate a page to listing your firm's case results and outcomes for clients. Post around one to two dozen case results for maximum impact. The more results you publish on your website, the more likely it is that potential clients will find several that are highly relevant to their individual situation and build their confidence in your legal team's capabilities.
Finally, take several of the case outcomes that best represent your most common clients' matters and find room to show these on the homepage.
3. Post testimonials and reviews
More common than showcasing your past clients' results on your website are their testimonials and reviews.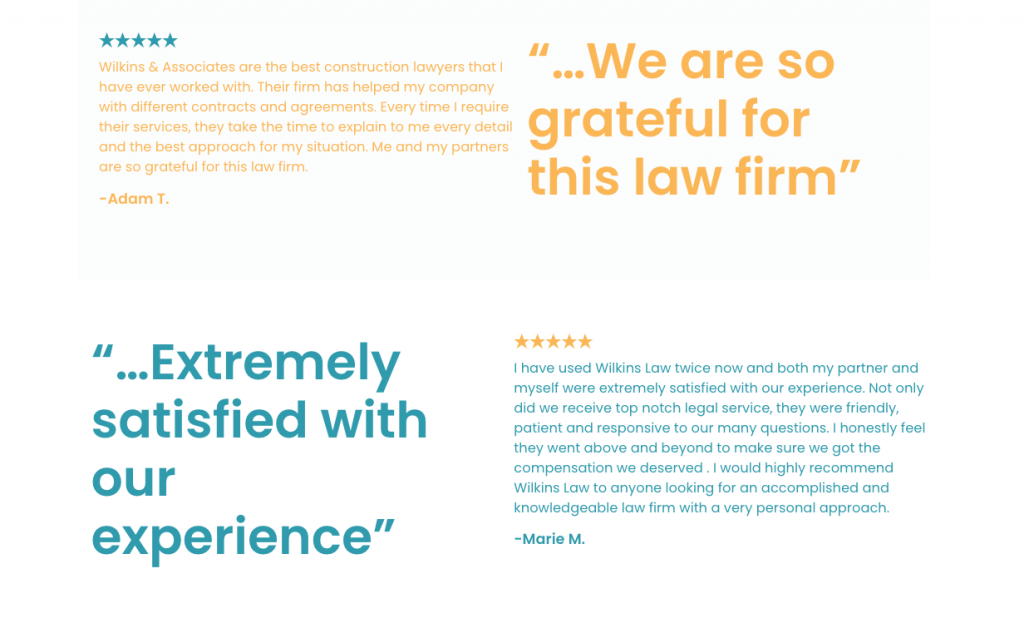 Client testimonials and online reviews have become a standard practice to have on any great law firm's website. There are many sources where clients can leave you reviews, including Google, Avvo, Facebook, the BBB and testimonials written or emailed to your firm.
Regardless of the source where you garner your reviews, re-post them onto your website. Just like case results, reviews and testimonials should have their own page on the website as well as featuring several of them on your site's homepage.
When results and testimonials are shown on the homepage together, you've developed a lot of powerful social proof which has likely built sufficient trust with visitors serious about contacting a lawyer.
4. Publish relevant and helpful content
Your site's content can serve a wide range of purposes and help support different goals. First, there are some basics to cover:
Home
About
Attorney Bio(s)
Practice Areas & Services
Contact Page
However, we've already mentioned two other types of content to post on your website. Reviews and case results.
There's more that you can add to your site, too, including news in your field of law, blog content, help docs for existing clients, a client portal, an appointment booking system, videos, FAQ content and more.
These are all forms of content, although some offer more functionality than others.
The best areas to start offering more content on your law firm's website includes:
Frequently asked questions – search in Google for some keywords related to your practice area and the state in which you practice. Google will give you great FAQ ideas in their "people also ask" section.
Videos – There's no substitute for video when it comes to building rapport and a more personal connection with your audience (i.e. your web visitors). Use a video to introduce visitors to your law firm and discuss what your practice does. If you feel ambitious about video, you can gain additional exposure and online visibility by answering the FAQ content in video format alongside your written answers.
Practice area information – Many small law firms will publish a page with a couple hundred words of content, briefly discussing the legal services they offer. Other times, they'll have a single practice page with a bulleted list of practice areas and types of cases they handle. Instead, a good practice is to dedicate one page per case type or legal matter. In the field of family law, you would have pages dedicated to each of the following topics: divorce, prenuptial & marriage contracts, child custody and alimony. This is by no means an exhaustive list of the pages that a family lawyer would create for their website.
5. Make your specialization clear
Many attorneys have learned this over time (or at least their website marketers), but it's best to make it very clear to your website visitors exactly what it is you do and who you help.
When a potential client comes to your website, they may have done so after performing an internet search or after being referred to your law firm.
So remember, there is one primary question they are thinking about when viewing your website – "can this law firm help me?".
You want to help them answer that question as quickly as possible. If not, you run the risk of them clicking the back button and hiring another lawyer because your website didn't clearly convey to them that you were the right attorney for the job.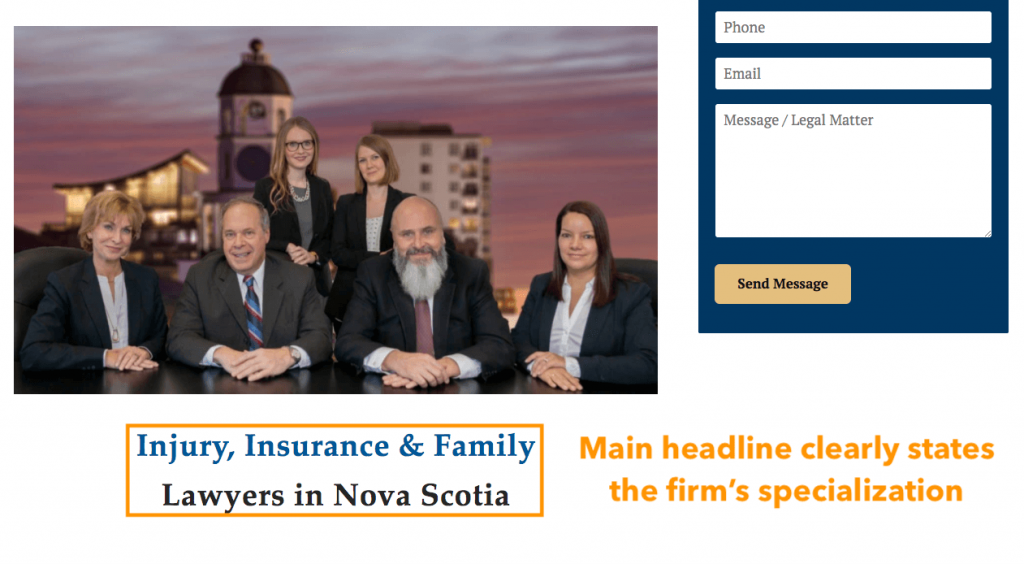 Place a large headline front and center on the homepage of your website. This headline should speak directly to your ideal clients with language that resonates with their legal matter and current challenges. You don't have to get crafty with your messaging if you're copywriting yourself. You can put your practice area and the local area you serve in this headline.
6. Improve your site's accessibility
Your site's design is going to be opinionated and follow a set of design principles and conventions. However, that probably won't work well for everyone. Not everyone who visits your website will have perfect eyesight or be able to see text over images and links.
Just as closed captions and subtitles have become a standard for TV shows and movies, accessibility features like these are being brought to the web.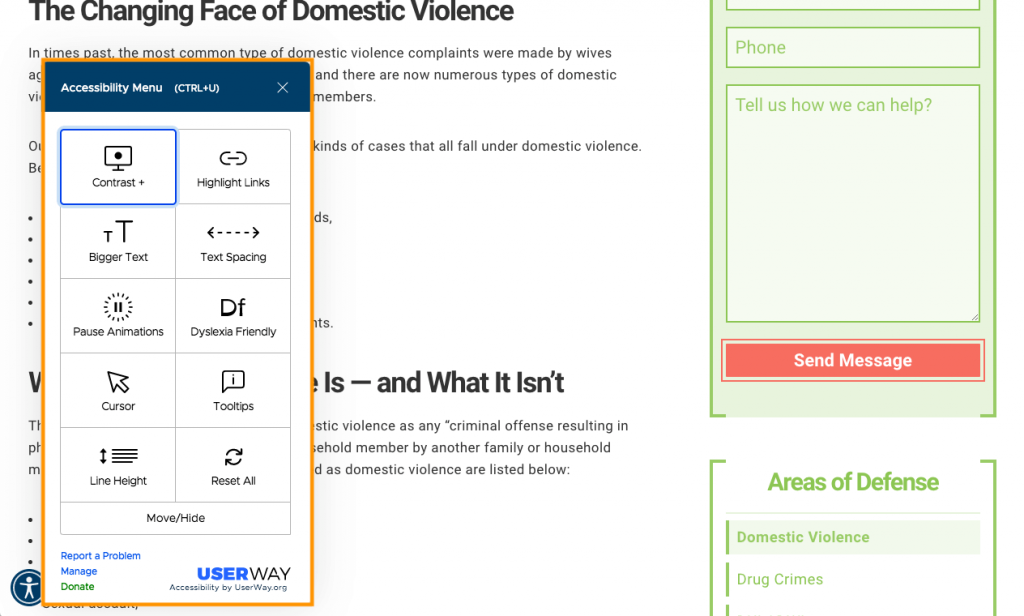 A simple solution to this is installing a plugin on your site, like userway.org's. It allows users to change the contrast, text size, change the font's line height and much more. This makes your site much more usable to those who can benefit from these accessibility features.
7. Add Calls-to-Action and contact info on all pages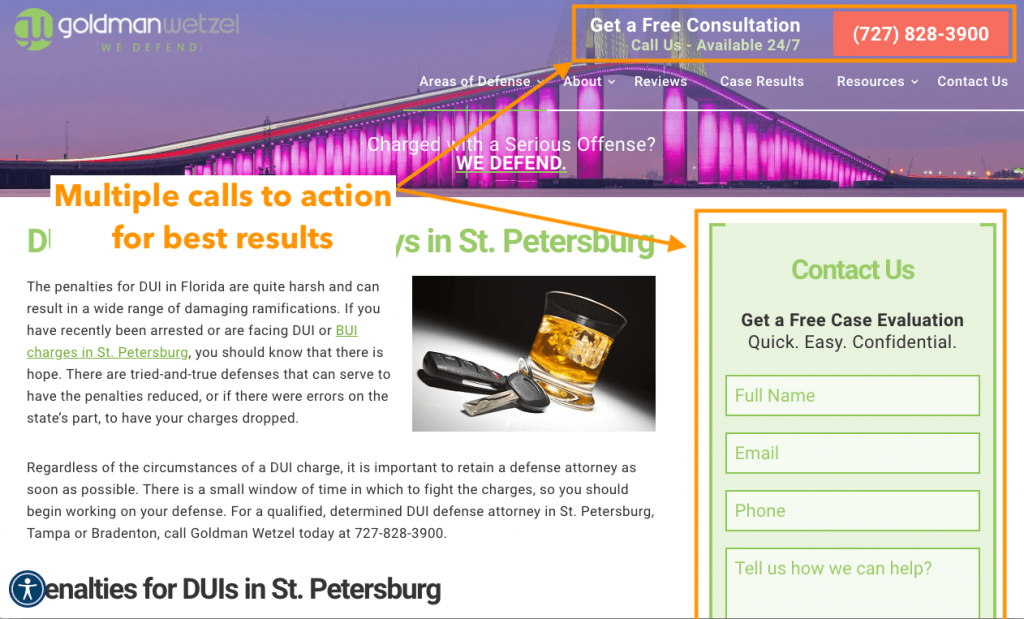 Just as people might have different accessibility needs, they also have preferences in terms of initially contacting your law firm. Some will prefer to pick up the phone and call your firm immediately while others rather write or text.
Provide multiple ways for new leads to get in touch with you. Some popular methods include:
Click-to-Call: a tappable phone number that mobile device users can use to initiate a phone call directly on your website. Desktop users should be able to see the phone number so that
Contact form: These are pretty standard on many attorney websites. They are configured to send you an email after contact info and details filled by leads on your website has been collected. Also, they can often be integrated into your CRM software.
Text message: If your law firm uses SMS/text messaging to interact with clients or new leads, then you can integrate text capabilities into a button on your website. When a user clicks the button, it will launch their default text message program on their phone or computer.
Email link: You can link to your email on your website. Similar to text and call functionality, when a potential client clicks on the email link, it will launch their default email client with your firm's email address and optionally a prepared subject line and message body.
Live chat: There are many chat solutions available on the market. Most of these will pop-up without the person having to interact with it. This prompts users to take action. Some solutions like Ngage offer a turnkey solution with customizable scripts and live agents available 24/7. You can also look into software-only solutions like Intercom and Drift which allow you to use your own staff for live chat.
8. Secure your websites (SSL/TLS)
Most law firm websites that I've seen have an SSL certificate. However, some still don't. However, if your website has live chat or uses contact forms, then you must install an SSL certificate. This encrypts information transferred between your visitors' browsers and your web hosting server while they're on your website.
Without this encryption layer, a hacker or malicious third party could intercept messages and data sent back and forth between the person's browser and your website.
In my professional opinion, it is negligent to allow people to transmit sensitive legal information via a contact form without standard encryption.
9. Use professional photos
Many lawyers' websites still use images of a courthouse, gavel and the scales of justice. However, these photos leave a neutral impression on your visitors.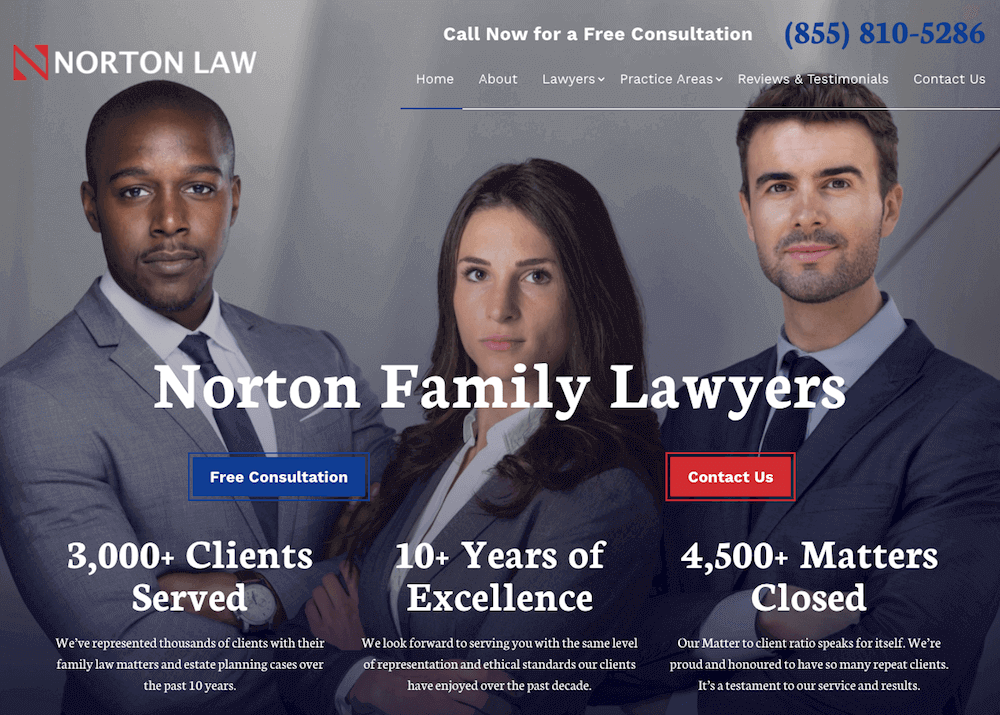 Photos of your legal team, partners or the main attorney are a much better option. When people see images of the actual lawyers and staff, it has a very different effect. These images builds trust and a personal connection with visitors, making them more likely to convert into a lead while visiting your site.
Your best photo should be one of the first images people see on the homepage.
While there's no replacement for professional images of your law office's personnel, alternatively, you could use images of the interior or exterior of your office, or the city in which your office is located. This still shows relevant context of where your firm is located and provides a better experience than generic stock imagery.
10. Add your firm's website to online profiles
A fundamental part of building your site's referral traffic and online presence is adding it to all of your online profiles. These profiles include your social media (both personal and business) accounts, online legal directories (e.g. Justia, Avvo, FindLaw, etc.), local and business directories (e.g. YellowPages, Yelp, BBB, etc.). Also reach out to any local community sites that you're involved with, including your local chamber of commerce, Lions / Rotary clubs, sports clubs and more.
These will help get you exposure in the online space and your local community. It's also fundamental for search engine optimization and online visibility.
11. Perform basic SEO tasks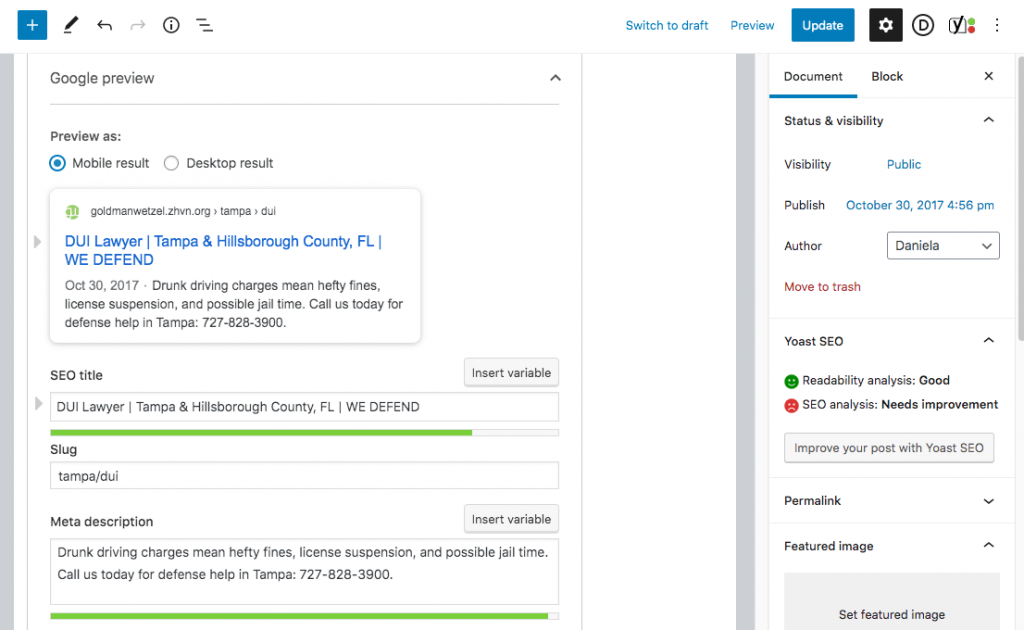 If you plan on filling your website with rich, in-depth and helpful content for your ideal clients, take several extra steps to optimize your On-Page SEO for these posts and pages.
It's a very simple process, for each page optimize:
Title tag: this is the tag that people will see in search engine results in Google or Bing. This should be written to concisely describe your page's content while enticing people to click on your listing in the search results.
H1 tag: Your H1 (Heading 1) tag is the title of the page you see when you're visiting that page. If you use WordPress, this will automatically set your title tag to match your h1. In most cases, this is fine, however, they don't have to be the same verbatim. Your H1 should still concisely describe the page's contents, but it doesn't need to stand out or be as enticing as your title tag.
Sub-headings: Subheadings help to break up your page's contents. This provides a better user experience and helps people find the information relevant to them on the page.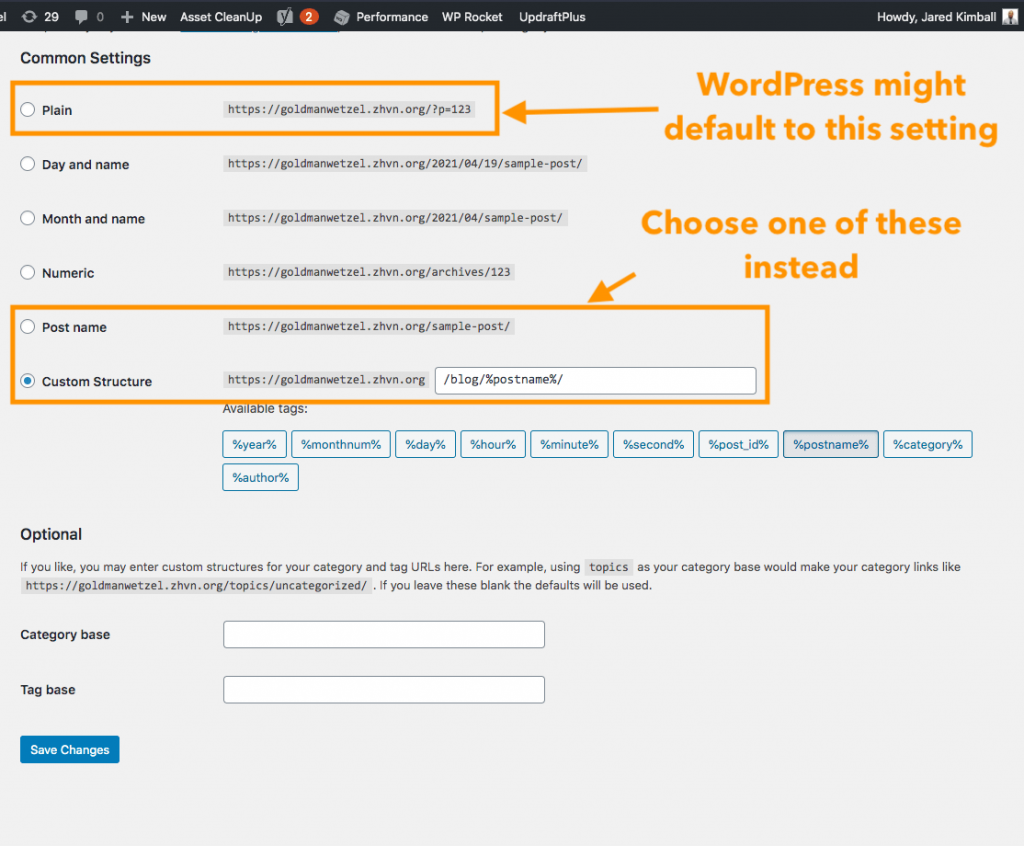 URL/Permalink: Your page's URL (aka Permalink), like the rest of the elements mentioned, should briefly describe the page. Some CMS systems upon initialization will use generic page ID numbers for URLs. Change this so that your permalinks are contextual.
Meta description: This is a description of your page which will sometimes appear in Google's search results. Google and other search engines are at liberty to overwrite your meta description. However, it's a best practice to complete this as it can highlight certain keywords in the meta description and draw more attention to your listing.
Your permalinks should be able to give both search engines and people an idea of what the page is about, without looking at the title or heading 1 of your page. They can target your page's primary keyword, but do not make URLs too long. Keep it short and contextually relevant.
12. Use a Content Management System
A content management system (CMS) will allow you to easily edit and update your website. The most popular CMS is WordPress, which is used on 39.5% of all websites, according to Search Engine Journal. The power of WordPress is multi-fold. You can change your theme which is responsible for the web design. You can add or remove plugins, which control the functionality and capabilities of your WordPress website.
Alternative content management systems include Wix, Joomla, Squarespace and Drupal.
13. Blog to get more relevant traffic
If you're looking for your website to generate more results, then you will need a substantial amount of relevant traffic. The best way to do this is through blogging.
We conducted a study in 2019 that looked at the amount of organic traffic that different law firm websites had. What we found was pretty interesting.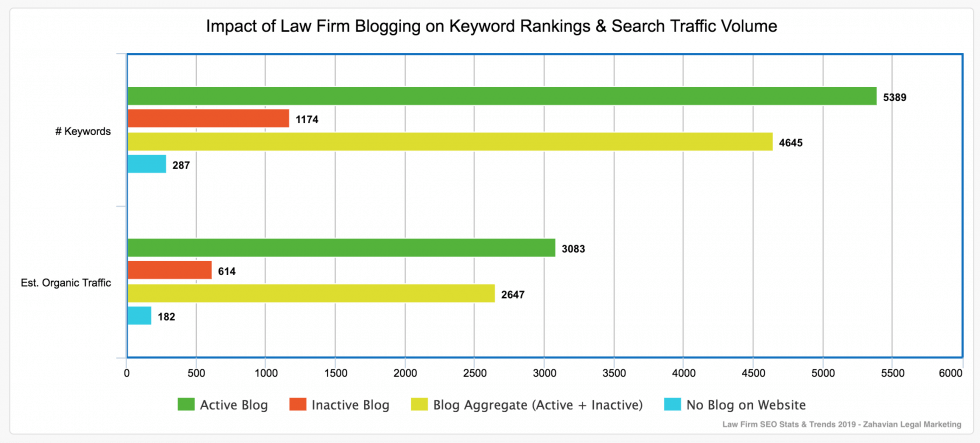 Law firms that actively blogged on their websites generated on average 1,593% more organic search traffic than law firms that didn't. Even firms with aging blogs produced much more – 217% more – traffic than websites that didn't host a blog at all.
Things like frequency of blogging, keyword research and quality of blog posts are obviously factors that contribute to more traffic. However, law firm blogs with high-quality content can expect to generate a lot of high-quality traffic and leads.