When thinking about content for their website, many people overlook the about us pages, including attorney bios and staff pages. Although your service pages and blogs should be the base of your content marketing strategy, having good attorney biographies is algo very important.
Why? Think about it this way: as a lawyer would you hire the first accountant or SEO marketing agency that you see on Google? Most likely you'd want to know more about these people before hiring them. Your potential clients feel the same.
Given that your attorney biography and your staff pages can help you build rapport with your clients, in this article, I'll give you 9 actionable (and very simple) tips that will help you write or improve these pages.
Here's a sneak peak at what we'll cover:
Let's get started!
1. Make your Bio "Human"
Most lawyer's website biographies (including their firm's about us page) are very short and formal. This is, among other reasons, because attorneys usually display their credentials and experience as they'd do on their CV or a cover letter. 
Now, don't get me wrong: you do want to list this information (we'll explore this more in-depth later). But remember we're also using your attorney bio to build trust and rapport with potential clients. To do this you can simply: 
Use more friendly language: forget about the dry structures and phrases used on CV.
Be more personable and authentic: share something about yourself such as the motivation for starting your law firm, etc.
Talk about your personal and professional values.
Again, we're not leaving aside your credentials or experience. But you definitely want to add something that helps you develop a human connection with your readers. Remember: your potential client is not a recruiter, so write something that they can relate to.
Having problems? Here is an example of a compelling attorney bio: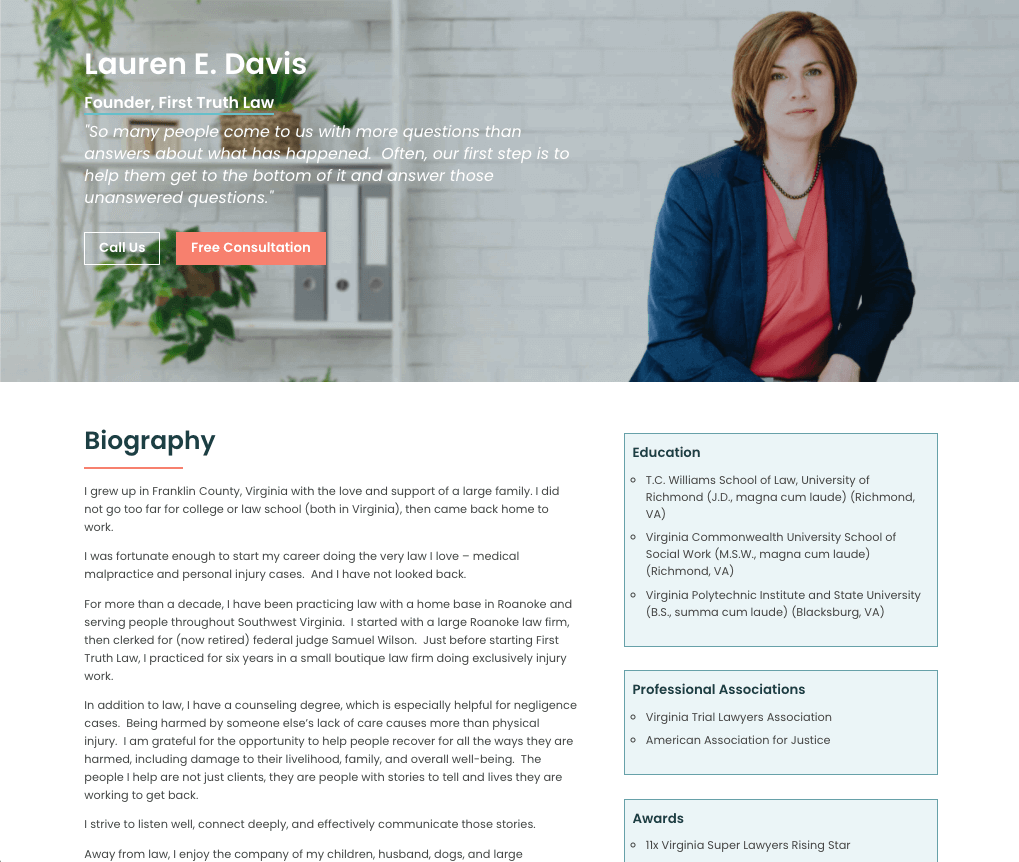 2. Include Extracurricular Activities
An easy way to let your potential clients know who you are is by including some of your extra curricular activities. In addition to providing a more in-depth description of yourself, this information can also help you create a more human and less automated biography.
Think about it this way: the way you engage and contribute to your community could give your clients a good idea about your values and the things that you care about. In this section, you can include your board memberships, associations and other activities that you might take part in.
3. Use Up-to-date, Professional Pictures
We humans are visual creatures. And I don't know about you, but many clients feel better when they can put a face to a name. If your SEO campaign is working and new people are going to your website, it's very likely that they'd like to know the person that will be handling their case. Here is where a good picture comes in handy.
In this digital world, pictures help us get familiar with other people. So, of course, your headshot is a crucial element for making your attorney bio more human and engaging. When it comes to pictures for biographies or 'about us' pages, make sure that your photos are professional and recent.
Although you may want to check with your photographer or website designer for some input, ideally, you should get some professional headshots. For instance, at Zahavian Legal Marketing, we have very specific requirements for the attorney photos we use, in terms of dimensions and types (e.g. portraits, headshots, etc).
As an advantage, the pictures that you get for your bio can also be a great asset for some of your law firm's Google Business Profile, Yelp, Facebook page and other online listings that you might have. So, if you haven't updated your lawyer's biography picture in a while, it might be a good idea to do it. Trust me, this is a two-plus bird with one stone situation.
4. Explain What You Do for Clients
In addition to building trust and rapport with potential clients, your lawyer's bio should also let your readers know what you can do to help them. In other words, you need to establish what your areas of expertise are and what type of cases you handle.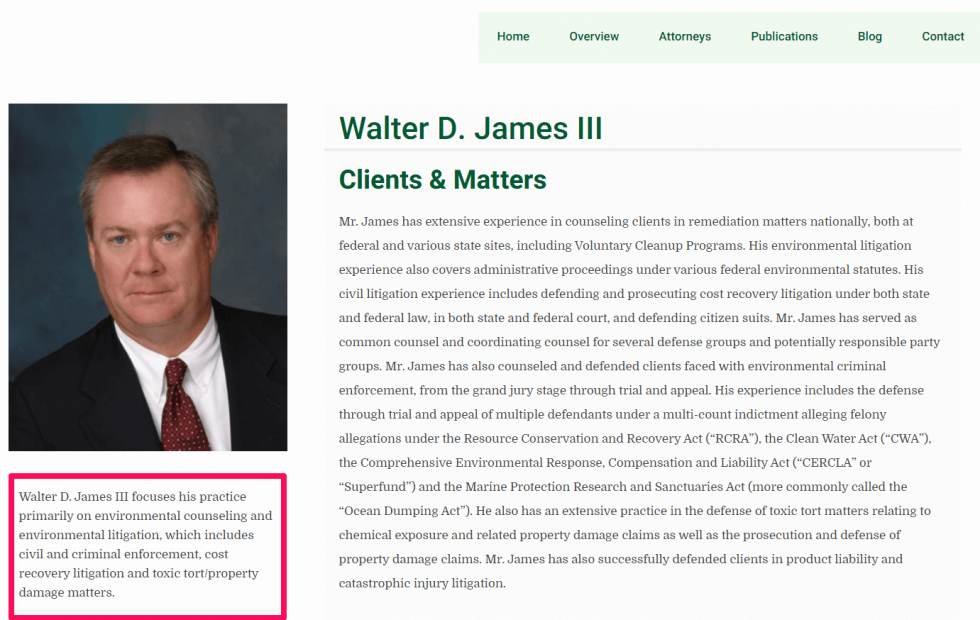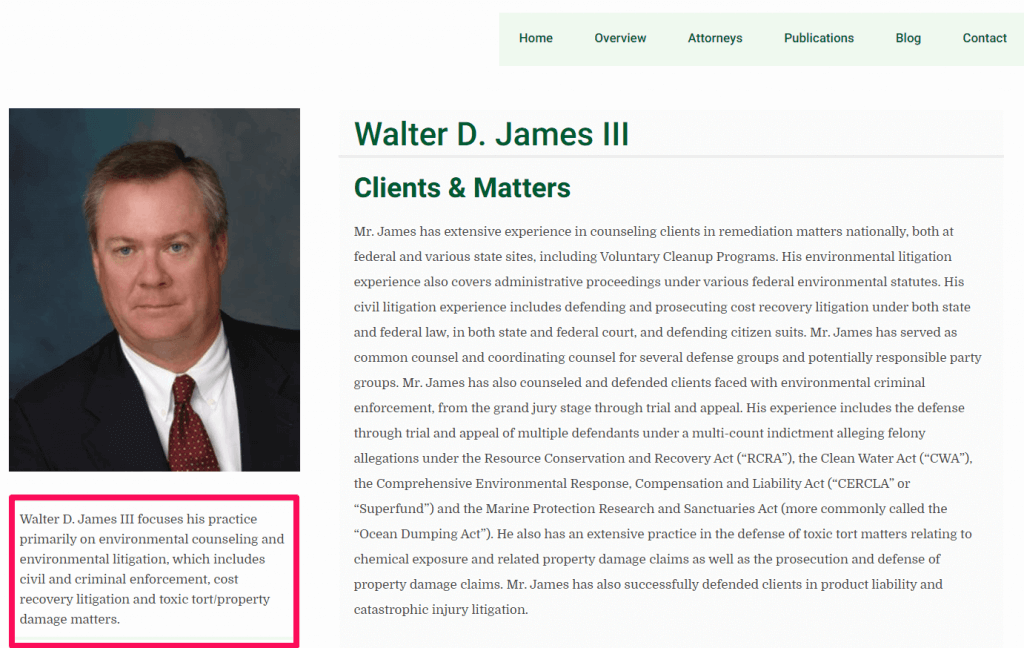 Although this type of information is especially useful in full-service law firms, you can also include this information if you work in or run a boutique law firm. From a reader's perspective this is very useful because you're letting people know what your specializations are without them having to go to other pages to find this.
Check the example above. In a quick glimpse, you can understand what this lawyer does and, if this is something that I'm looking for, I'm very likely to keep reading his page.
5. Include Relevant Credentials
As you may imagine, credentials and experience is an important part of any lawyer's biography.
After all, most people want the certainty that they're hiring an experienced professional for their legal matters. Prospective clients want to know that you are qualified to handle the matter at hand. When providing this information don't forget to keep in mind your reader's experience.
This can be simply fixed by including your credentials and experience at the end of the bio or as a separate section on your page. That way, you're giving the chance to your readers to get more familiar with you before you start bombarding them with your resumé.
Also you want to make sure to only include relevant information to your profile. Here are some components that you could use to write this section on your attorney's bio:
Work history
Areas of practice
Representative cases
Professional recognition awards
Publications
Bar associations
Board memberships
6. Talk About Professional and Community Involvement
Doubling down on the previous tip about your extracurricular activities, you could devote an entire section of your bio page to talk or list your community involvement. For example, one of our clients is a foster parent for puppies that may become dog guides.
Although it's not related to the law, this activity allows potential clients to get a rough idea of who this lawyer is and some of her values. I don't know about you, but I like to do business with people with whom I feel comfortable.
Sharing the causes that you're passionate about is a great way to make people feel comfortable because you're demonstrating that you're a kindred and caring spirit. So, don't be afraid to develop a list with the current and past activities that you've done in your community.
7. Mention Other Legal Professionals
Another piece that you can add to your attorney bio is talking about other lawyers or judges for whom you've clerked or that were a strong inspiration for you to study and practice law.
First, you'll build your professional credibility by talking about previous jobs and the skills that you gained in this position. But this can also give an interesting insight about you as a person. Knowing your story and the things that motivated you during your career can help your clients to develop a connection with you.
8. Discuss Why You're the Best for the Job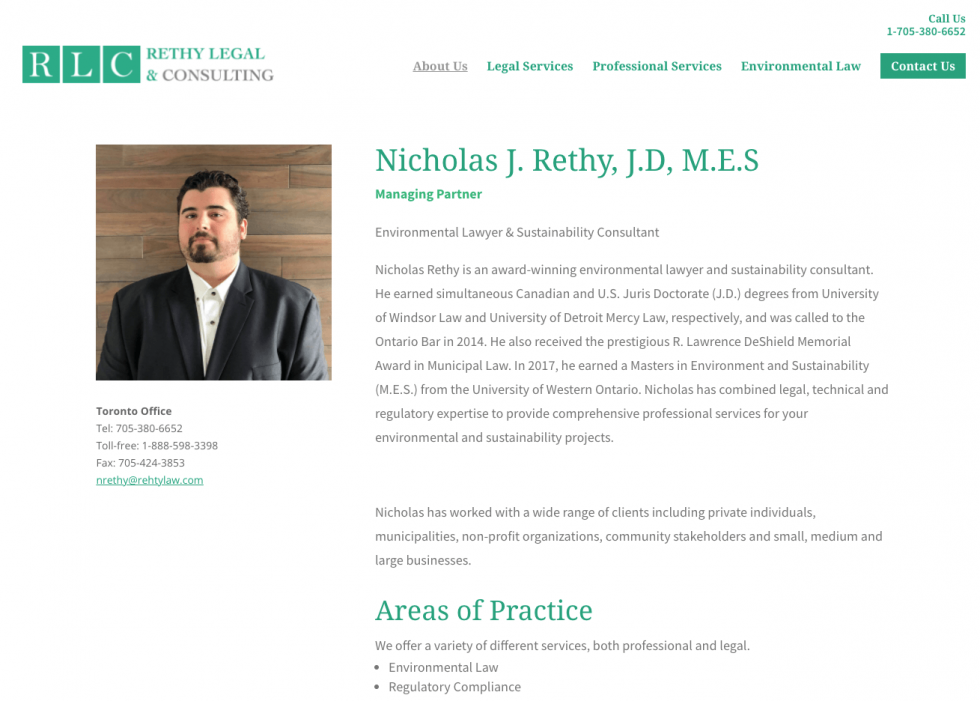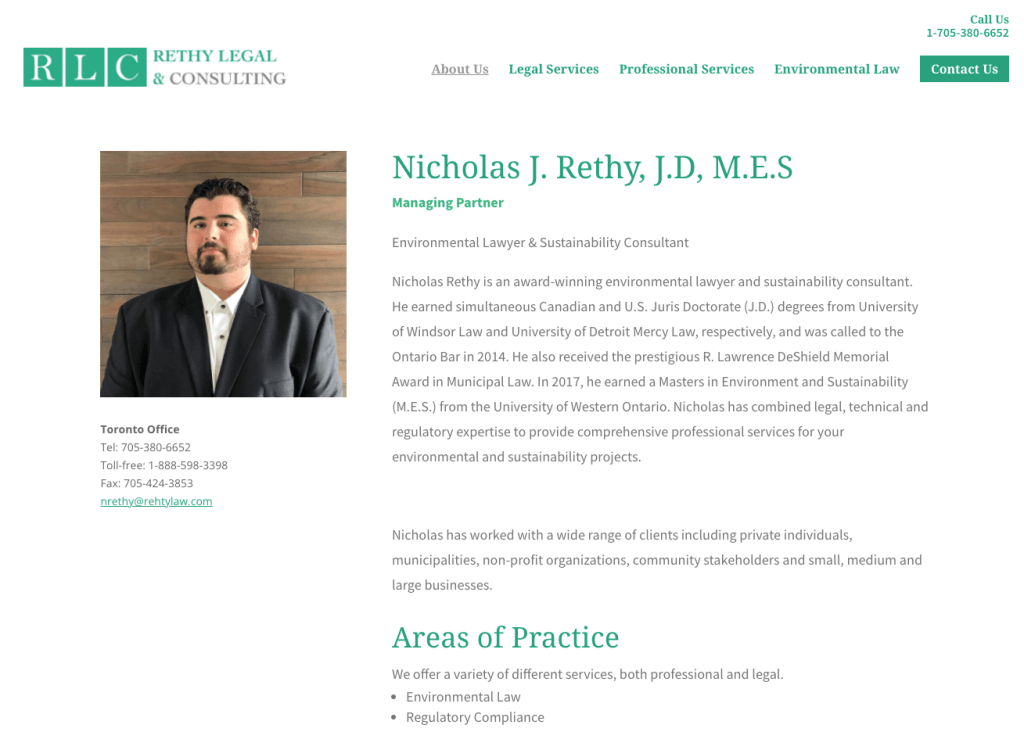 We already established that your readers are not recruiters. However, they do want to know what makes you different from other lawyers and what you can do to help them. So, in short, the attorney biography in your website should clearly state your qualifications and experience.
To do this, you could mention your past legal experiences (including career history and trajectory) and the skills that you've developed as a lawyer and that can serve your clients.
Let's take criminal law firms as an example.
Many defense attorneys are former prosecutors, law enforcement or public defenders. As a result, they're very familiar with the criminal justice system, court procedures and the strategies that the prosecution may use to approach cases. This unique background is something that can be attractive for their clients, so they should mention it on their profiles.
Although this is just an example, there are plenty of angles that you can use to present your skills. You just need to identify your unique differentiator. Who knows, you may be the personal injury lawyer that gets high settlements because the insurance companies don't want to go to trial with you.
9. Leverage Bullet and Numbered Lists
If, like me, you like the order, clarity and conciseness of a good old fashion list, you may have noticed that a lot of the elements discussed in this article can be addressed in a list format. Here are some lists that you could add to your professional biography:
Education
Legal Experience/Career
Professional Associations (Past & Present)
Professional and Community Involvement (Past & Present)
Professional Recognition & Awards
Bar Admissions
Main Practice Areas / Focus / Specialization
Political Involvement
History of Courts & Tribunals Practiced
Notable Trial Victories / Results
This is actually an effective and friendly technique to display your highlights in a CV-like format. If you choose some of the most relevant categories for you and you add an average of 5 items per list, you'd have half of your bio ready in no time. And by that point, if you review the contents those lists the other half will probably write itself.