If your law firm is doing SEO, you probably know that the goal of this strategy is to build your online presence. And to help achieve this goal, you'll need to improve and create profiles in different directories, such as Yelp for lawyers.
As you may already know, Yelp is an online platform where small businesses, including law firms and attorneys, can publish their profile and receive reviews from their clients. So, if you're still wondering if your law firm needs Yelp, the answer is yes.
Since this may be a new topic for you, in this article, I'll provide you with all the ups and downs of this platform. Additionally, I'll include some tips that you can use to improve or create your Yelp law firm profile.
Is there a Yelp for Lawyers?
Yelp for business allows lawyers to create a free profile for their law firm. As a local business directory, these profiles should include the law firm's area of practice, location, and contact information. Additionally, clients can leave reviews and messages to contact the law firm.
Yelp for lawyers is very similar to your Facebook page, Google Business Profile (formerly Google My Business), and any other business directories, in the sense that you can list your business information on their platform.
Doing this allows you to expose your law firm or your lawyer's listing to people that are looking for legal services in your area. The advantage is that this platform doesn't require daily management.
So, as long as you set up your Yelp law firm profile correctly the first time, you don't have to worry about it. However, you want to pay attention to your email account to make sure that you're not missing potential leads.
How to Use Yelp for Lawyers
To start using Yelp for your law firm, you need to add or claim your law firm's listing, depending on whether there's an existing page. Once you have access to your profile, use the following tips to optimize your listing as much as possible:
1. Make sure your business information is accurate and consistent
Creating and updating your law firm's online listing isn't all that difficult. But, here is the trick: you need to make sure that your information is not only accurate but also consistent with other listings. This is called your business's NAP, and it's something that you cannot overlook when creating or optimizing your Yelp profile.
Why is this important?
Let's say that two colleagues recommend you the same sushi restaurant. You decide to book a table. Colleague A gives you a phone number that doesn't match with the one you got from Colleague B How do you know who gave you the right information?
Google and your potential clients may experience the same confusion when seeing inconsistent and inaccurate information about your law office. Since this is a ranking factor that can hurt your SEO efforts, you need to make sure that your Yelp profile (as well as others) has the correct, up-to-date information on your business.
2. Add the right categories and services
Just like other listings, Yelp for lawyers has main categories for different areas of practice. Choosing the category that best describes your law firm helps Yelp and the user to classify your services. So, you should choose the most appropriate category for your practice.
Besides the main categories, Yelp also allows you to include your services, which are the types of legal cases that you handle. Check this example for a criminal defense lawyer Yelp listing:

By adding this information, you'll have a more thorough profile and your potential clients will understand how you can help them.
3. Upload (many) pictures to your listing
In addition to your law firm's logo, you should also upload some pictures of your practice and your legal team. This allows potential clients to put a face to the person who they're likely to do business with.
On top of building some rapport, potential clients may assume that a listing without pictures is not as active as other profiles.
Between the three options below, I'd feel more inclined to click on the top profiles first because not only do they look more appealing. Your yelp profile's photo really makes your listing shine. As a consumer, why would you click on the profile that looks incomplete?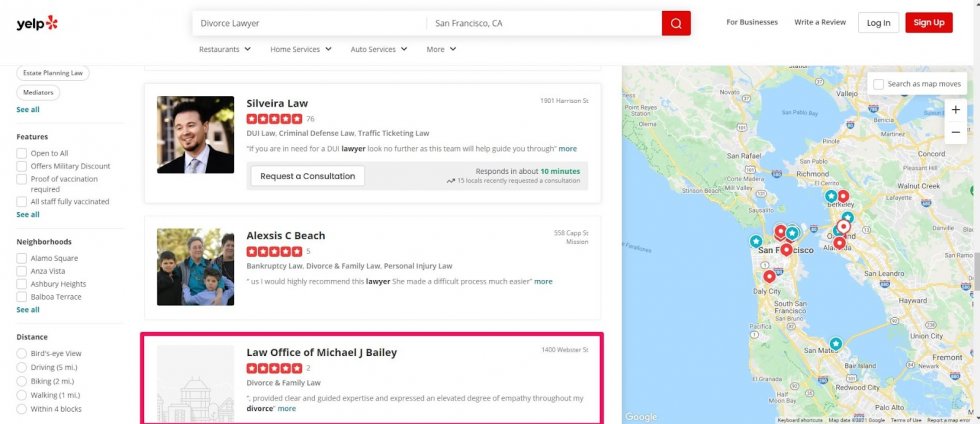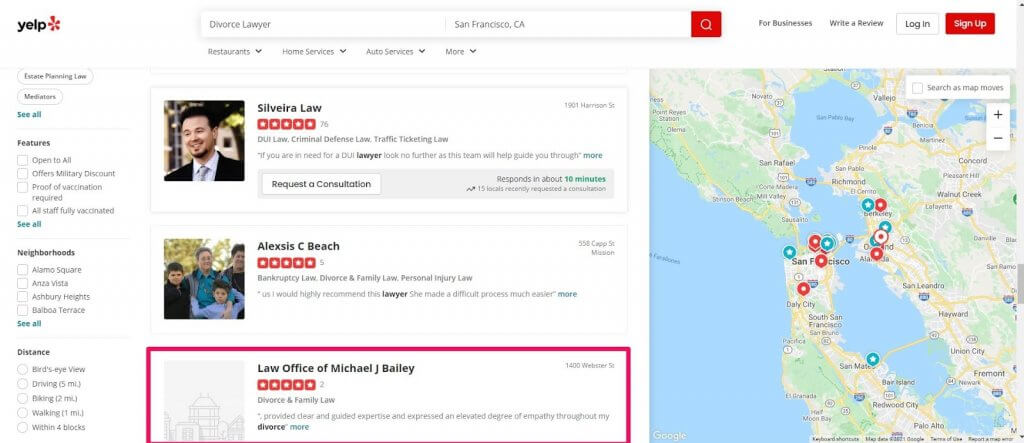 As a suggestion, the pictures that you add to your Yelp listing should be professional and high-resolution.
4. Post a unique business description
With online listings, a description helps visitors to learn more about the law firm that they're interested in. As a result, you want to make sure to complete this field on your Yelp listing.
This description is your opportunity to tell visitors about your services, what makes your law firm unique, your values and how you can help them solve their problems. In short? You should take some time to write a good description that conveys a powerful message about your practice.
5. Answer your inquiries
As mentioned before, visitors can leave a message on your Yelp law firm listing. So, if you want your profile to be optimized, aim to respond to your leads as soon as possible. This is important because Yelp tracks your response time and it displays it in your profile.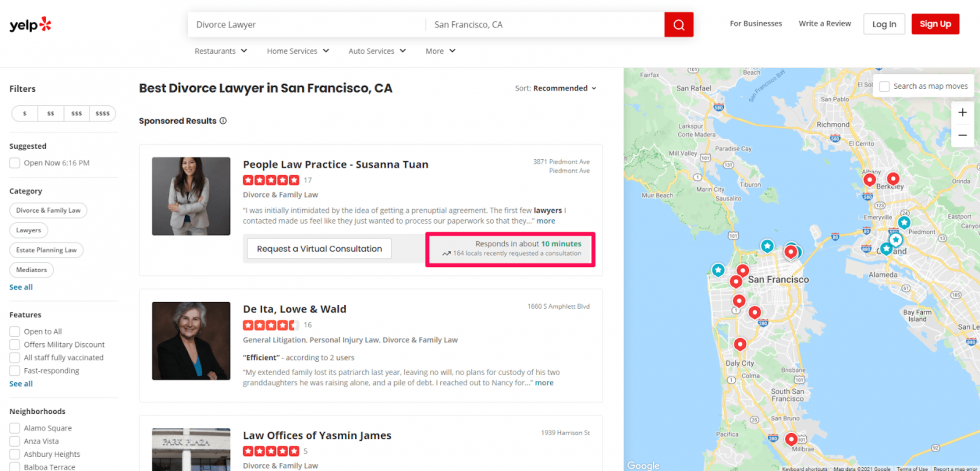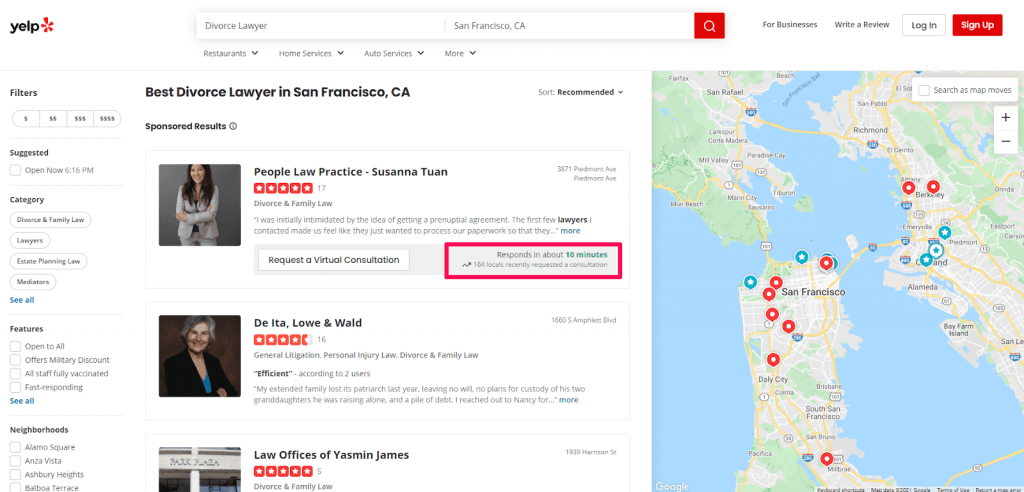 If you think about this from the user's perspective, it's a better experience and hence Yelp will rank you higher the more responsive you are compared to your competition. A law firm that responds to people's inquiries faster increases its chances of getting more messages.
Pro Tip: If you respond to a message outside of Yelp, you want to go back to the platform and mark that inquiry as 'replied'. This can help you improve your response time.
Benefits of Using Yelp for Law Firms
Since Yelp for lawyers may not be as popular as it is for other small businesses, many attorneys wonder if this platform can actually help them with their Local SEO efforts. The reality is that Yelp doesn't have the same impact as other digital marketing strategies, but it has some advantages to consider.
The benefits of using Yelp for law firms include:
Ability to create free profiles for all your locations
Help you build your online presence
Enables client reviews
Drives relevant traffic to the law firm's location
Drives leads and inquiries from potential clients
Although it may not yield the same amount of leads as a lawyer SEO strategy, you should still create your Yelp listing since it can help your marketing efforts.
Why is Yelp Bad for Business?
We already established that Yelp can have some benefits for your law firm, but this platform also has some pitfalls to consider. Some of these problems include:
The quality of leads tends to be low (more on that below).
There have been many allegations about businesses having to pay for Yelp ads in exchange for sales reps removing or suppressing negative or fake reviews.
Upgrading or running ads can be expensive.
Listings can receive reviews even if they haven't been claimed.
Not responding to inquiries can hurt your response time.
After you claim your profiles, sales reps will constantly try to reach you and sell you on Yelp ads.
If you run ads, you pay a flat fee rather than the traditional cost per click. However, the results from your advertising fluctuate.
Despite its disadvantages, Yelp is still a helpful platform for lawyers if used correctly. If you decide to try it (and you should), don't forget what Yelp's role is in your marketing strategy.
Yelp Attorney Reviews
The main purpose of Yelp is connecting people with local businesses. To do this, visitors usually look at the law firm's reviews. Reviews are important because they're the word-of-mouth in the digital age.
Potential clients will have a general idea about the attention and the quality of your services based on the reviews provided by your previous clients. So, you should aim to get a few reviews for Yelp listings.
Although reviews can help your law firm's profile to look more professional and complete, you don't want to invest too much time and effort in this platform. In fact, most of your lawyer's reviews should be directed to your Google Business Profile.
Yelp Case Study
We've conducted a case study on a small family law firm for which we helped manage their Yelp ads. Below are the results of that study, as well as a discussion of the results.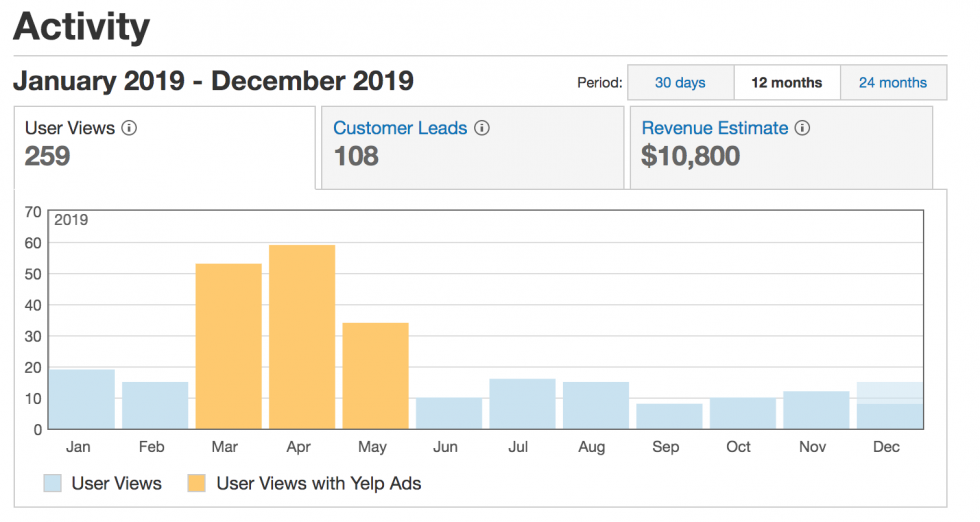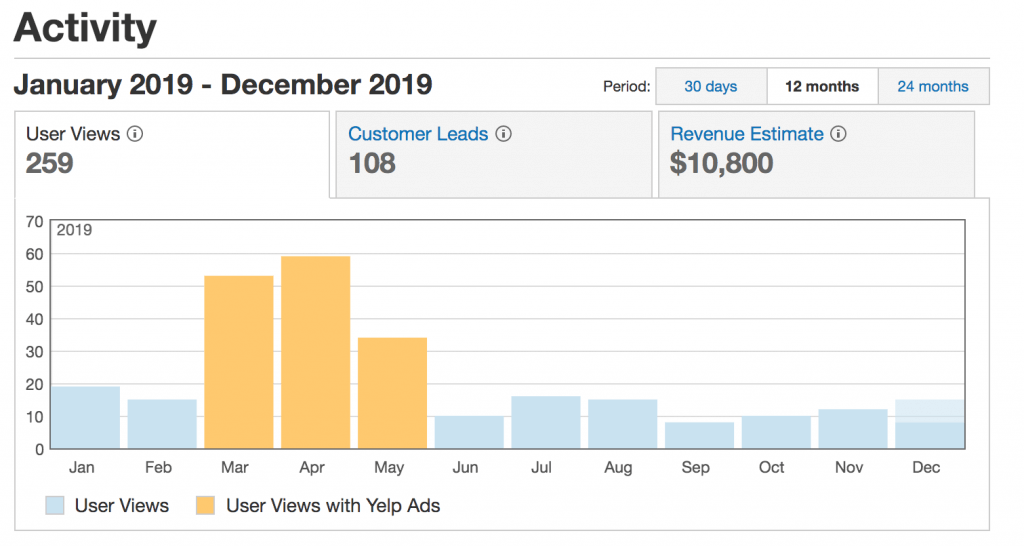 Our client advertised on Yelp for 3 months (March to May) as shown in yellow in the image above. As you can see, there was a significant increase in the number of views on our client's Yelp profile as a result. However, views don't matter unless it results in leads, which eventually convert into well-paying clients.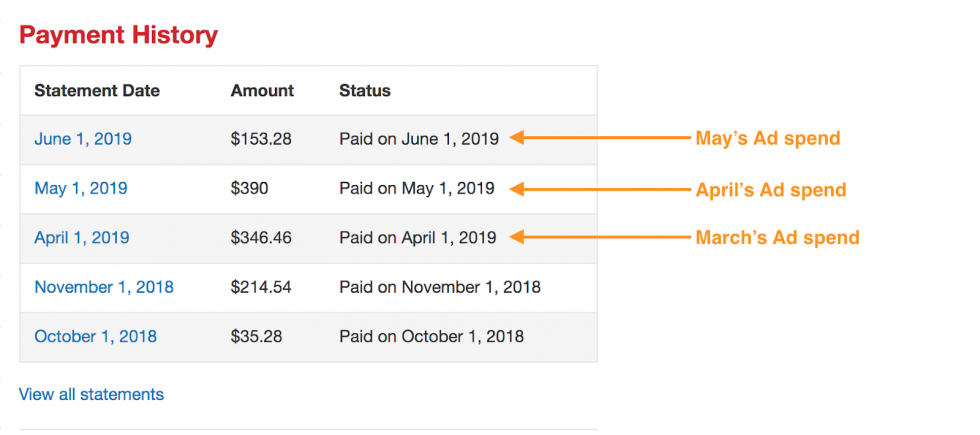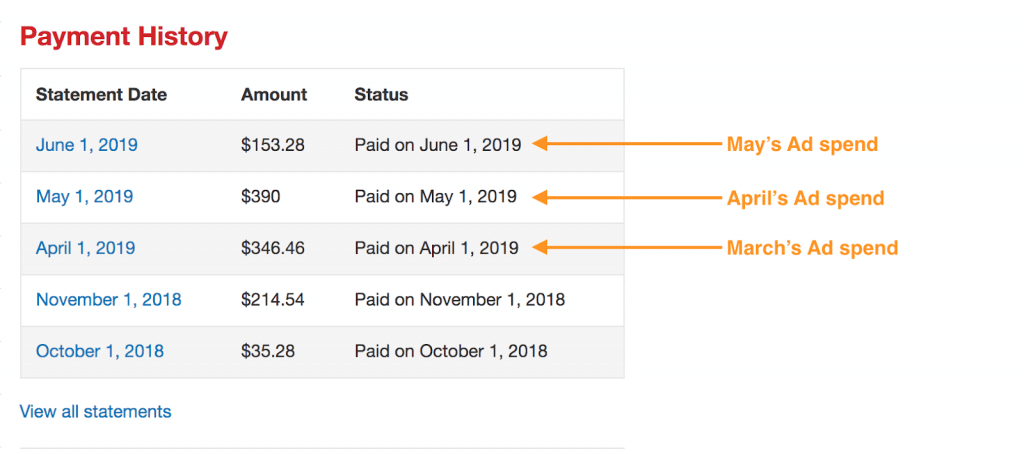 Below is a breakdown of the conversions we were able to track through Google Analytics on the law firm's website for the full calendar year of 2019.
12 Months
(Total)
3 Months
(Ads running)
9 Months
(No ads)
# Goals Completed
64
5.33/month
64/yr
30
10/month
120/yr
34
3.77/month
45/yr
Goal Value
$13,150
$1,095/month
$13,150/yr
$5,450
$1816/month
$21,800/yr (estimated)
$7,700
$856/month
$10,267/yr (estimated)
Site Traffic Value %
~ 3.7%
~ 6.4%
~ 2.2%
Return On Ad Spend
N/A
512.5%
N/A
A small ads campaign of approximately $300/month in Yelp advertising fees generated a notable uptick in leads generated.
30 leads were generated during the 3 months we ran ads for this law firm.
34 leads were generated in the remaining 9 months when ads were not run.
This means that when ads were running, the firm's Yelp profile generated 46.8% of the leads for the entire year, over the span of a single season.
The table also shows that if we annualize these results to generate a 12-month estimate of what we would come to expect from Yelp if we ran ads the entire year versus no ads at all:
Advertising all 12 months with a budget of $300 per month was estimated to generate 10 leads per month or 120 leads over the entire year.
An optimized Yelp profile without any ad spend would have generated approximately 3.77 leads per month or 45 over 12 months.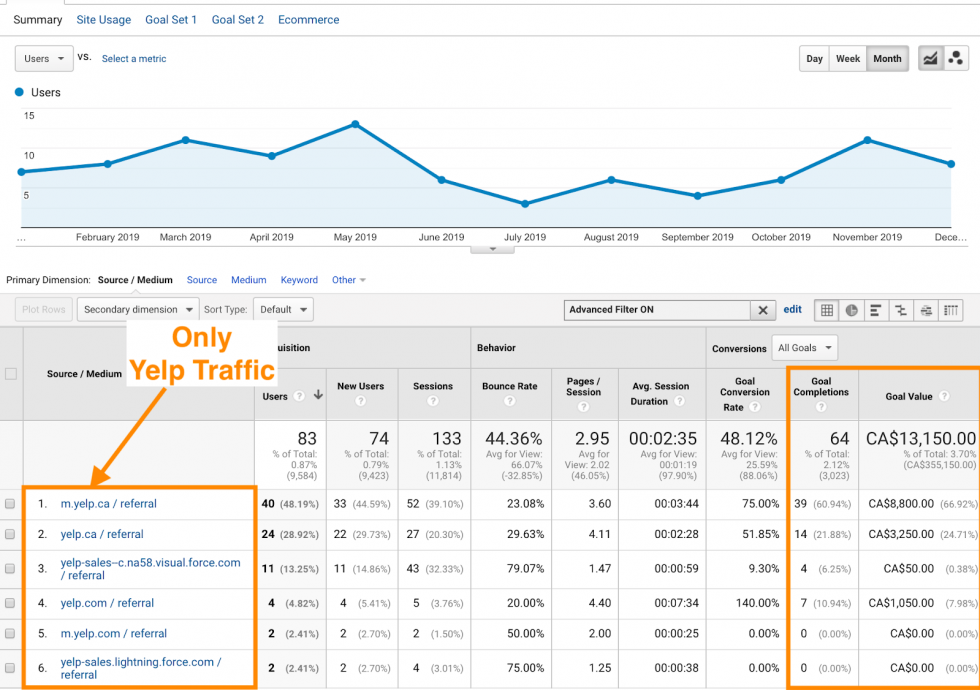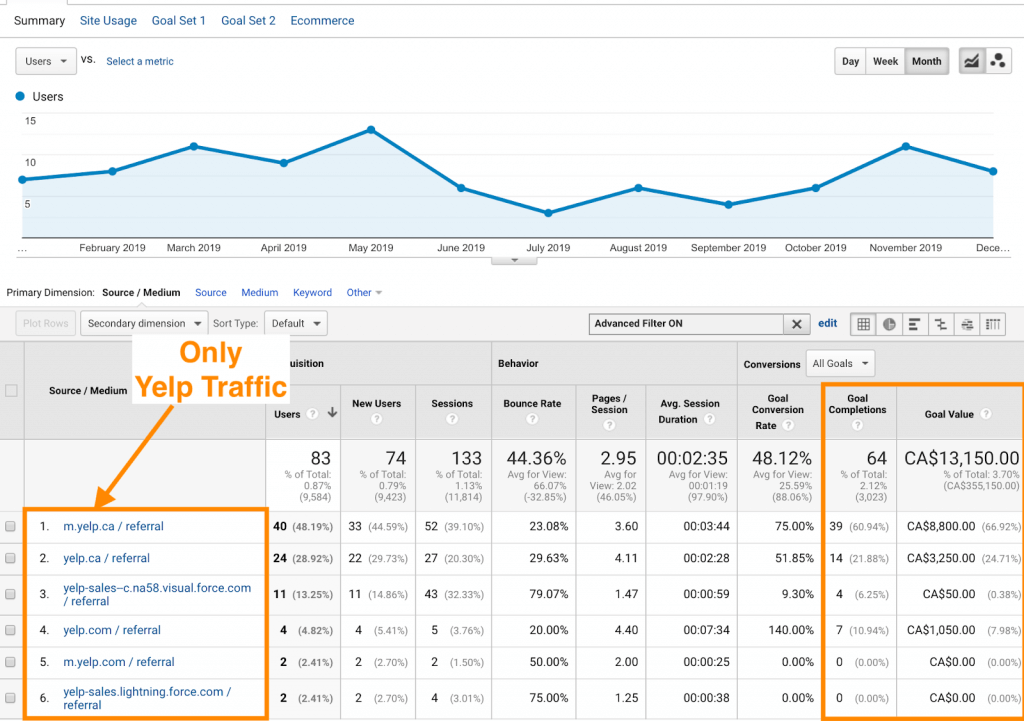 As we can see, this data is confirmed inside of this law firm's Google Analytics account.
Should Lawyers advertise on Yelp?
While it depends on your primary practice areas and local market, Yelp has a large online presence when it comes to local business directories. A small advertising budget and proper tracking can help law firms decide if Yelp ads are a smart investment.
If you do choose to run Yelp ads for your law firm, then know there are caveats to look out for:
1. Leads from Yelp come with very little data – In the case study data presented above, we only included leads that were ultimately generated and tracked through the firm's website after initially being found through Yelp.
We excluded leads that messaged the firm through Yelp's on-site/in-app messaging platform. This is for a number of reasons, but primarily because Yelp won't let businesses specify what contact information they would like to collect.
This means there was no phone number or email address to follow up with the lead. If you wanted to follow up, you had to use Yelp's built-in messaging system. Not great.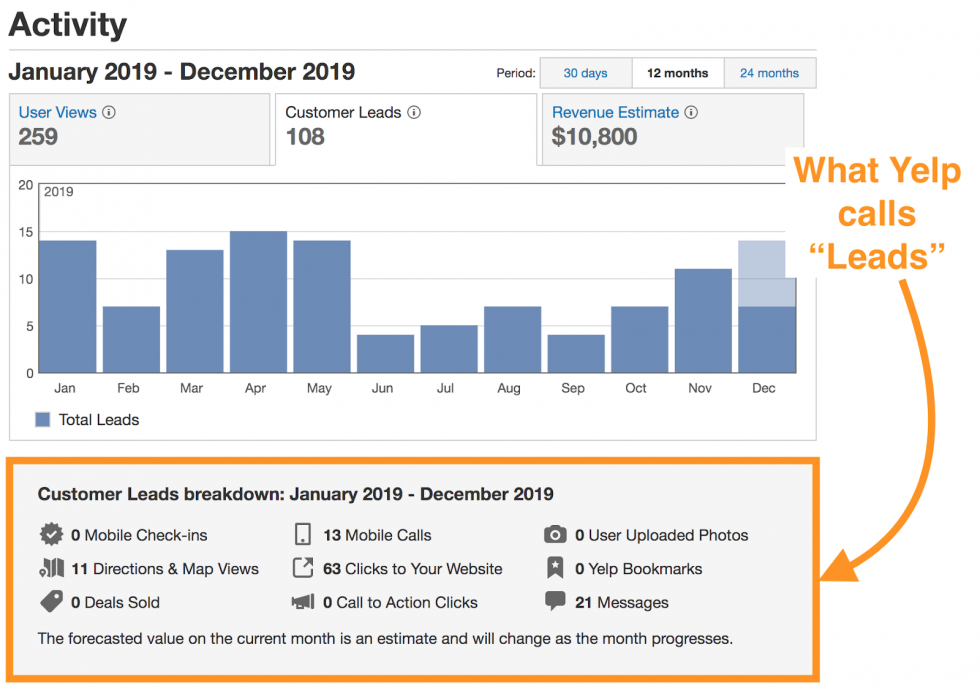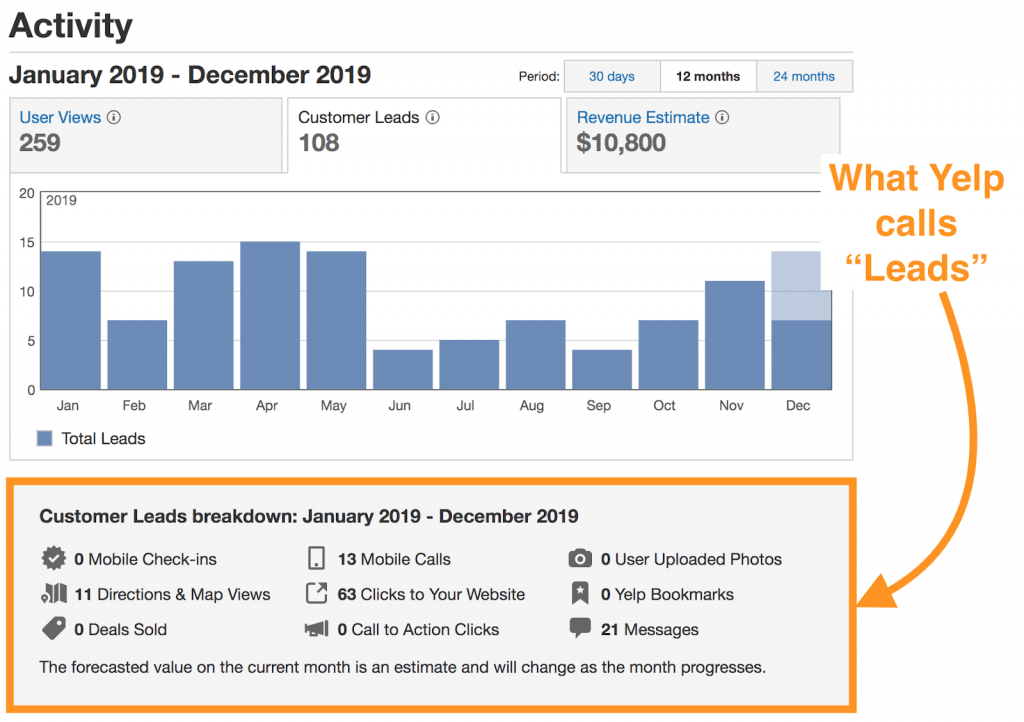 2. We don't agree with Yelp's definition of a "lead" – Yelp has a very different idea of what constitutes a lead than I and most reasonable people would. While they include phone calls and messages as leads, Yelp also considers anyone who clicks to visit your website or looks up your business on the map to be a lead as well.
If you do decide to use Yelp to advertise your legal practice, the budget to start is reasonably low. However, temper your expectations and make sure to use conversion tracking and lead reporting that you can trust, as we did with a proper Google Analytics setup.
Conclusion
Yelp for lawyers can bring benefits to both your law firm and your local SEO strategy. Remember that the primary goal of this platform shouldn't be to get you more clients, but to support your marketing efforts.
Should I use Yelp for my Law Firm? Law Firms should take advantage of Yelp's platform for businesses. Regardless of advertising on Yelp, by claiming and managing their profiles, business owners can control and monitor it for new reviews which will help them better manage their online presence and reputation.
If you want to explore the strategies that you follow to grow your local presence, don't hesitate to book an appointment.