If you are just starting up a practice, small law firm or have a firm but find it's time to modernize your practice with a new website, then you're probably considering if and why you should have a site for your firm. While many believe it's essential to have a website in today's age, you may or may not be of the same mind. If you are then great, hopefully you'll learn something new here that you'll want to consider incorporating into your current or upcoming site. If you aren't, no problem.
By the end, our goal in this article is to have you convinced (or at the least persuaded) that a website should be a mandatory component in your law firm's arsenal, for several reasons.
1) It Makes it easier for Clients to Find Your Firm
Even when people already know of your firm, they're aware of your brand whether through referral or advertising, they're likely to look you up online before calling you. This may come as a surprise to some, but it happens all the time.
In January and February 2019, one of our law firm clients ran a TV ad for personal injury cases. Although the television commercial had a call to action and phone number, the website saw a spike in form submissions from that commercial. 11 injury intakes that saw the commercial, searched for the law firm within Google or Bing search and filled out a form on the website.
This is understandable, people usually don't have time from a tv commercial to memorize a phone number or website address. Instead, if it's important enough and they're interested, they'll remember the brand name and 'Google it'.
2) It's a Communication Tool
Many times clients, business partners and other will need to visit your website just to grab some basic information. This could be an email address, phone number, mailing address or directions to your office. Having an online piece of real estate that you own and control, can update or refresh basic information like this is important for your practice.
3) It Builds Credibility & Trust
The next point is that is one of trust. While the commercial internet is only a few decades old, it has evolved fast and the way we use it in our daily lives has, too. The presence of a basic website established legitimacy at a very fundamental level.
According to the National Law Review, 74% of consumers visit a law firm's website to take action. That's nearly three quarters of people.
In the case that you law firm doesn't have a website, you're likely leaving a lot of money on the table. However, having a website is only the beginning of how you can establish credibility and trust with prospective clients. Having a well-designed, modern website with crisp, professional photos is important. A small business website, law firms and solo practitioners included, is the modern day equivalent of a CV or resume.
Having a mobile friendly, relatively modern design and current photos of the lawyers and team are essential in building trust. Simply by looking at your competition's websites, you'll find that's the case.
4) Essential for Any Online Marketing
If you plan on doing any form of online marketing, then a website is a critical component to your firm's marketing and sales funnel.
Online Advertising & PPC
Most types of online advertising fall into the category of PPC (pay-per-click). This means that you only pay for ads when people click on them. When someone clicks on an online advertisement, this will inevitably have to direct them to some website. Regardless if you're planning to advertise online or not in the future, it may be important to leave this possibility open.
Social Media
Another popular form of online marketing for businesses is through social media platforms, including Facebook, YouTube, Instagram and others. If your firm is marketing on one of these platforms or anticipates it will in the future, it's important to connect a website to your law firm's online profiles. This will ensure you can funnel visitors, fans and followers from content you share and post on social, back to you website.
Blogging & SEO
If you plan to blog or publish articles online to help attract new potential clients, then you'll need a place to host this content. There's no better place than your firm's website. Everyday, people are searching for information and answers regarding their legal matters. Getting organic traffic from search engines is a great way to attract new clients and build your firm's presence.
5) Explain What you Do (and Don't) Practice
Whether you're a full-service practice or focus on one to several areas of practice, your website can convey that to prospects. This can be critical for people, whether they heard of your firm or are searching online for a lawyer. When they land on your site, they should be able to quickly identify whether you're a lawyer or firm that can help them with their problem or not. This can increase the odds of getting an email or phone call from potential clients you're looking to attract.
6) Not Everyone Wants to Call
Most lawyers in consumer-facing areas of law (i.e. dealing with individuals rather than businesses), are usually looking for phone calls. It's the fastest way to qualify and convert leads into intakes, and subsequently into clients. It's great to have a primary objective from your marketing (e.g. phone call, email, etc.). However, not everyone will want to take the primary action you would like them to.
Having a backup such as a contact form, email address or live chat box will expand the options you offer for having them make that initial contact with your firm. Some people are shy, or due to the sensitivity of their legal matter, may want to exercise discretion. A website allows you to cater to multiple modes of contact and communication with clients and prospects. This will help your conversion rate and number of monthly leads.

Taken from one of our law firm client's accounts, we can that over the first 6 months of 2019, we tracked:
734 users visited the contact us page ("View Contact Details")
144 users submitted contact lead forms (42 Landing Page, 60 Contact Us Form, 33 Sidebar Service page forms, 8 request consultation forms, 1 ppc landing form)
If there wasn't a website and furthermore, several methods of contact, like email and contact forms, that may have translated into many missed client and lead opportunities.
7) Your 24/7/365 Salesperson
We all have a life outside of work, except for your website. It works around the clock, always there, ready to meet and greet new and returning visitors checking you out online.
This is intentionally followed by the previous reason. Having a website permits for multiple modes of communication, including email and form submissions as mentioned earlier. We did a study on when conversions and lead forms occur and found that the top performing hours were 6-8 PM, which produced 29.2% of all contact form submissions. For many law firms, that means after business hours, when no one is around to answer the phones. Over 73% of all submissions were between 2PM and midnight.
Provided your website is working properly, it's there whenever people are ready to take action. After you, your assistants and paralegals have all gone home for the day. Your website is there, helping generate more leads and value everyday, around the clock.
8) You Can Track It's Value & Worth to Your Law Firm
You can setup your website with an analytics and data tracking platform like Google Analytics. This will anonymously track behaviors and actions taken on your website, regardless of how people find your website. You can define dollar-figure metrics for how much a lead is worth or an action taken on your website. It's entirely up to you, what amounts you assign to certain goals.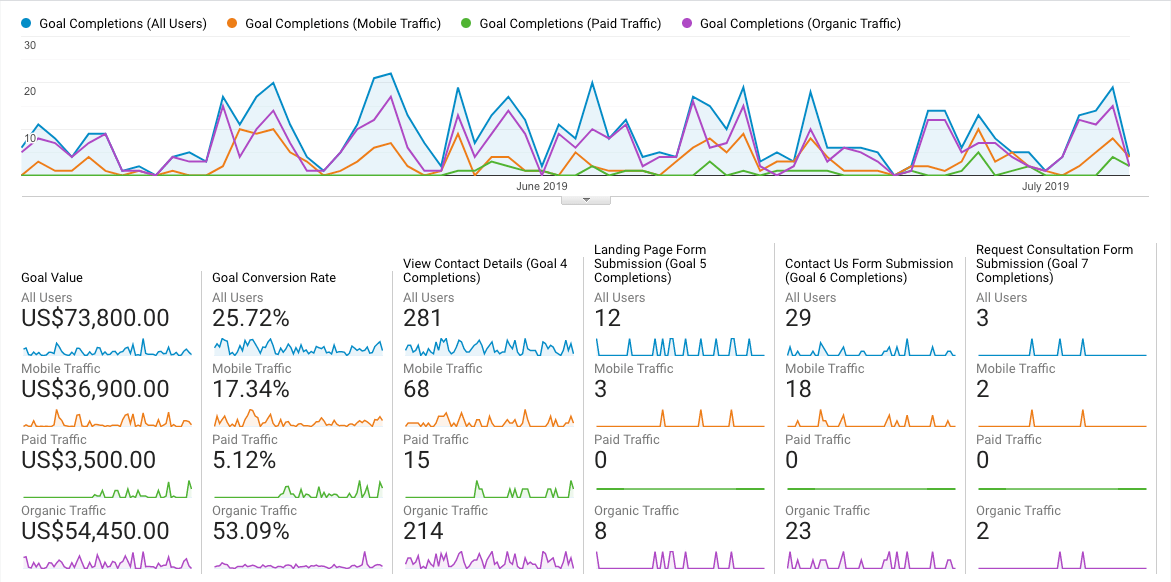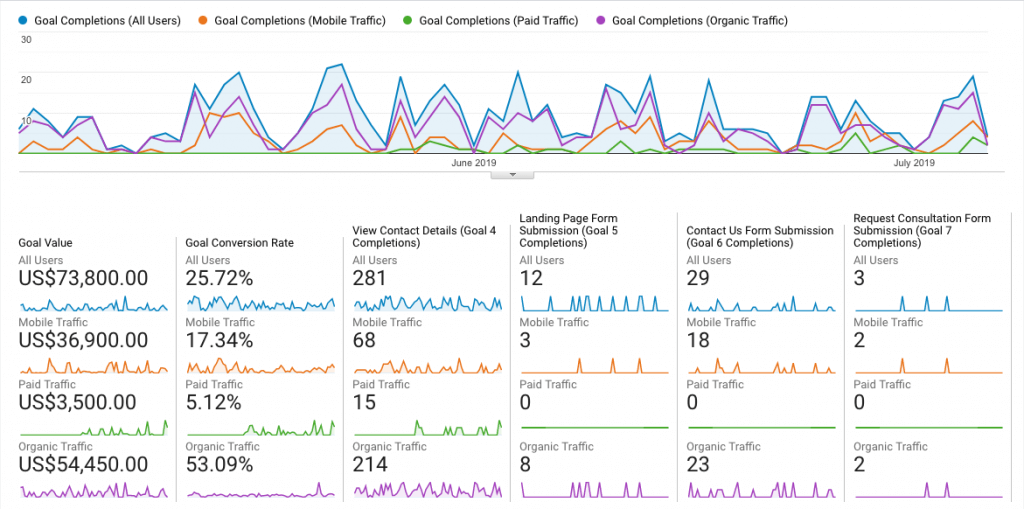 The analytics for the website shown above has different values depending on the goals. Phone calls and form submissions tracked through the analytics platform are worth the most, followed by email button clicks and people visiting the contact us page.
Track Ad Campaigns & Marketing Investments
When setup correctly, you can track the ROI for virtually any marketing campaign you can imagine, online or offline. This will allow you to see what's working and what's not when it's time for your to do your monthly or quarterly marketing review. Data is recorded and stored in the platforms, allowing you to look at historical data.
Suppose you ran advertising campaigns with YellowPages or your regional TV network. You're webmaster or analytics professional can set up special tracking codes for your campaigns and segment your traffic for these sources. While the data won't be perfect, it will give you a decent idea of how effective these investments were.
Customize Reporting
If you are hands-on with your marketing reporting, accounting and crunch numbers in other areas of your practice, then you'll feel at home with analytics tracking through your website. You can customize reports to see actionable data, helping you see what is and isn't working in your marketing investments. The above split shows how much value is generated in total for the period with breakdowns based on the traffic value by:
mobile and smartphones
Paid traffic campaigns
Organic Traffic (Brand & SEO-driven)
Aggregate Value Generated from Your Website
As of now, hopefully you see that many roads lead back to your website, in terms of marketing and advertising efforts. As a result, you can see how much value your website is generating from each source and as a whole. Once you experience this yourself, you can be reassured of how valuable your investment in your website is to your legal practice.
9) Inform, Educate & Qualify Potential Clients
We've touched on this in several other reasons mentioned above, but I think it deserves its own point with a little further explanation.
The internet is arguably the greatest technological innovation ever created (thus far) by our species. People can sit at their computer and learn about virtually any topic by entering a query into a search engine like Bing, Google and free search platforms. Many use it today before making any major purchase or investment. We learn and conduct research with it, whether buying a new phone, TV, house or shopping for a lawyer.
Having a website can be an incredible asset for your firm, when used correctly in your marketing strategy. As we mentioned earlier, there are many forms of online marketing, from PPC ads to blogging. As far as blogging goes, this can be a significant part of your client acquisition strategy. Answering legal questions and providing legal information for your target clients through your website will help you build trust, educate and qualify them before coming into your office.
That way, once your blog readers' legal issues have reached the point where they need to hire a lawyer, more of them will already 'have' a lawyer – you. You've built the credibility with them through providing free legal information on the areas of law you're focusing your marketing efforts. Now it's just a matter of them contacting you.
10) Promote & Advertise your Value Proposition
In marketing a law firm, a critical component is performing a competitive analysis and understanding what your firm has to offer, that your competition doesn't or can't. This is known as your value proposition and its what differentiates you from other law firms as well as DIY legal solutions.
Your website, your 24/7 salesperson is the perfect place to advertise this value proposition. Positioning this message front and center on your homepage can make the difference between attracting the right clients and not.
11) Helps Build Brand Awareness
Many lawyers have heard of the importance of top of mind advertising or brand awareness. Mass broadcast advertising is important for getting your message and brand out there. However, people who visit your website are a subset of those masses and much more likely to be in the market for a lawyer (now or in the near future).
Having your brand prominently displayed on your website creates impressions and touchpoints with your audience. Make sure that it's clear, well-displayed and leaves a lasting impression on your visitors.
12) It's a Business Asset
Ultimately, a website for your legal practice should be viewed as a business asset. When you look at all of the potential value that a website can produce for you law firm, in the reasons listed above and you invest in it appropriately, it really is an asset. If you own or have an interest in the firm, this can increase your stake during succession planning because your firm owns a powerful, lead generation and marketing tool.
Conclusion
There we have it. 12 reasons why your law firm, even solo practitioners and attorneys need a website. We tried to give examples that make sense both in theory and by backing it up with some data. A website alone can be valuable, even just for several reasons mentioned above, including credibility and trust. I trust that you can also see, the more marketing activities your investing time and resources into, the more valuable your website actually becomes.