Search engine optimization is one of the most effective digital marketing methods that bankruptcy attorneys can take advantage of. However, it's also very competitive and ranking on page 1 for your target bankruptcy keywords requires a solid strategy and will take substantial work to execute on it.
Check out our top bankruptcy attorney SEO tips to gain a competitive edge and enjoy the benefits of a steady stream of new chapter 7 and 13 cases.
7 SEO Tips for Bankruptcy Lawyers
1. Analyze Local SEO Competition
Law firm marketing and attorney search engine optimization is extremely competitive. No matter what target market you serve, it will require significant work and effort in order to rank.
Every market is different and requires a different level of work to optimize your site and webpages to compete for one of the top 10 organic positions in Google.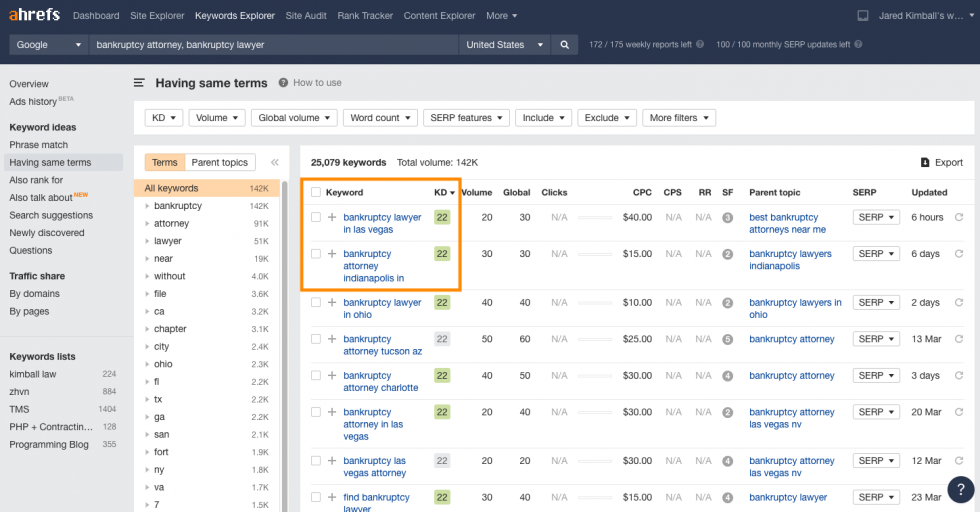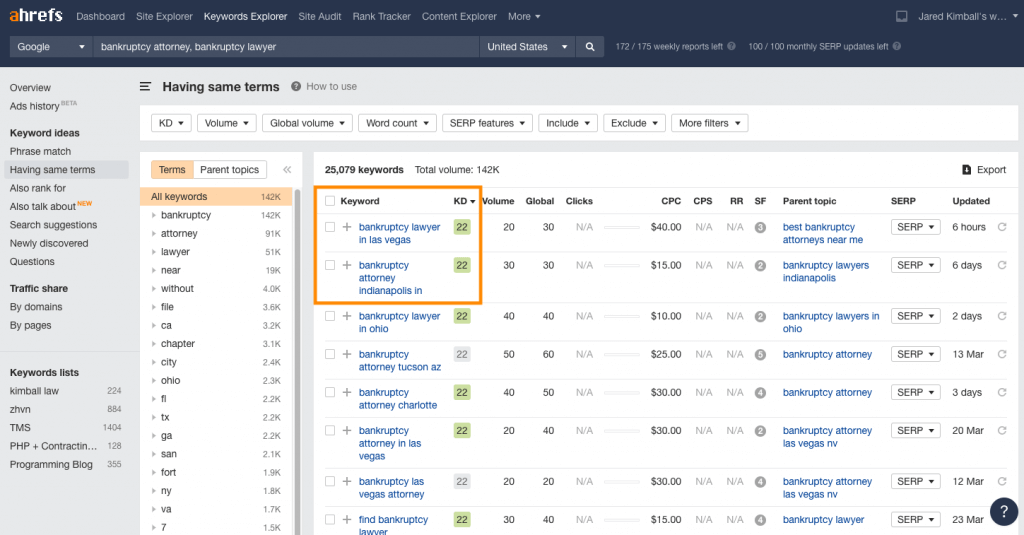 For instance, we can see that according to the SEO tool, Ahrefs, the target bankruptcy keywords for Las Vegas and Indianapolis have a keyword difficulty score (KD) of 22 out of 100.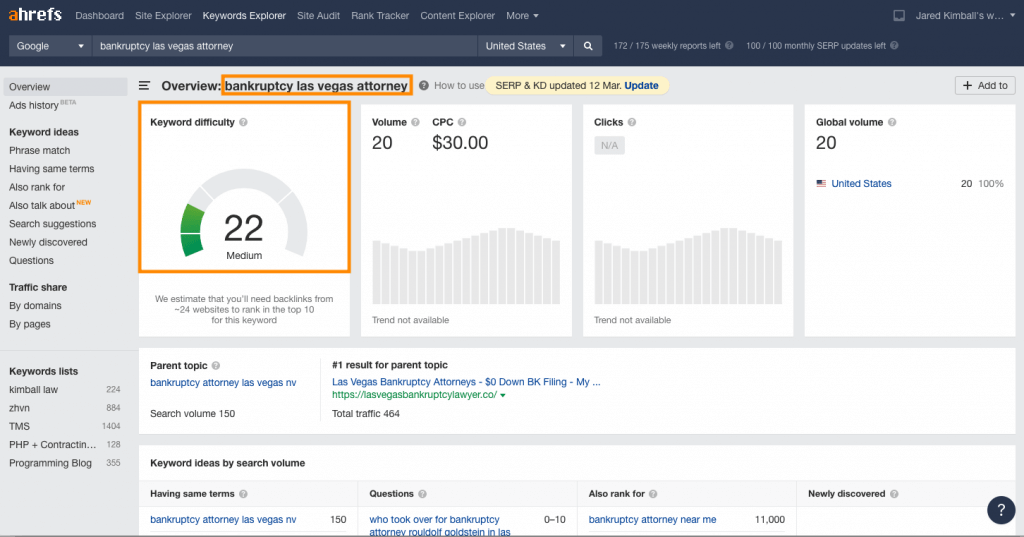 This doesn't seem all that challenging, but when we inspect this keyword further, we see that 22 actually has a rating of "Medium" in competition.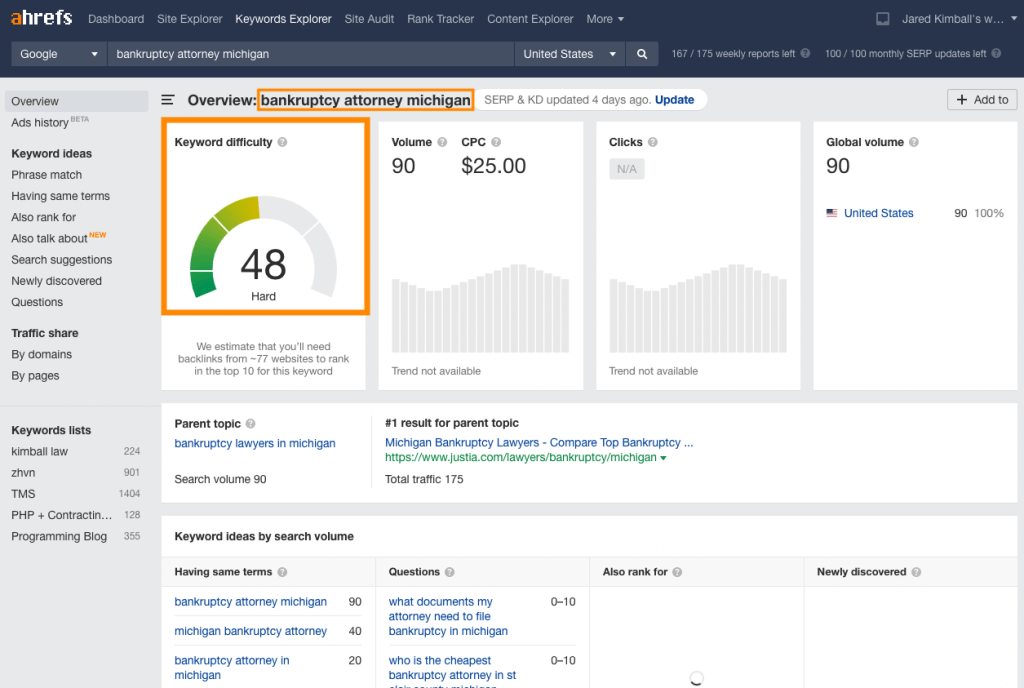 Compared to the equivalent bankruptcy search query for Michigan with a KD score of 48, this indicates that it is "Hard" to rank for this term.
This is the importance of understanding the competition in your local market and understanding what it will take to rank on page 1. After all, in order for you to rank in the top 10, somebody else needs to lose their seat.
Make a list of the keywords your law firm should rank for and conduct an analysis to understand the competition you're up against. This is critical to understanding whether or not this head-on approach to SEO is the right strategy for your law firm to begin with or whether it's better to focus on less competitive (but still lucrative) keywords initially.
2. Create Power Practice Pages
Many attorney websites have pages lined with thin or shallow content that doesn't really benefit your visitors and potential clients. In order to rank in Google and other search engines, your practice area pages need to be packed with helpful information.
In addition to creating pages for Chapter 7 and 13, respectively, consider adding pages for subtopics such as the Means Test, Qualifying for Bankruptcy and the Process.
3. Publish Helpful, Info-Rich Content
Taking the idea of sub-topic pages further, create and publish pages and content on your website that goes in-depth into your Bankruptcy practice and overall helpful information about Bankruptcy.
This is a particularly useful tactic if the primary bankruptcy keywords in your local market (see Tip #1) is too competitive to initially target.
Dozens of pages can be created on your website, including the Bankruptcy process, credit counseling, precursors and the timeline. Publish content that goes into topics including joint bankruptcy, lien stripping, pros/cons of bankruptcy, should you file or not, types of dischargeable debt, and details particular to your state, such as asset and property exemptions.
By implementing this type of strategy, you can compete for more low-hanging fruit which targets keywords with a lower conversion rate, but still profitable and sufficient for attracting and signing up more clients.
4. Optimize Your Website for Search & Users
Google search is getting smarter every day. It used to be easy to trick the algorithm with keyword stuffing and blackhat SEO tactics. Those types of opportunities are drying up as it tracks, hypothesizes, learns and better understands what users want from a given search query.
Therefore, prioritizing your site's content and user experience (UX) is of the utmost importance.
Some of the fundamentals of providing a good user experience include:
Making your website mobile-first
Use professional, custom photos
Make sure the font settings are optimized for readability
Optimizing Speed and Load times
Structure the website for easy navigation
5. Prioritize Reviews & Testimonials
Social proof is extremely important in today's age and is the next best thing to word of mouth. 56% of people said that online reviews played an important role in their decision to hire a lawyer. That statistic will likely increase over time as people increase their online purchasing and activities in researching local businesses.
Therefore, it's important to implement a system where soliciting and garnering reviews and testimonials becomes a staple in your firm's operations. Gather links for your different online profiles, such as Google, Facebook, Yelp and Avvo. Funnel existing and past clients to these properties to leave you a review and make your online presence shine with glowing ratings and reviews.
This is important as Google takes your business' reputation into consideration in their rankings.
In order to rank in the local map pack, your Google reviews are a very important ranking factor. Take an aggressive, proactive approach to acquiring reviews to protect your ratings and online reputation. Many attorneys wait too late to do this when they have a handful of negative reviews that drastically impacts their ability to rank as well as tarnish their reputation.
6. Optimize Online Listings and Profiles
When it comes to local SEO for lawyers, your online listings and profiles are an important factor in your ability to rank. This is known as your prominence and presence. The more online, local directories where Google finds your business listed, the more confident it becomes about your business's legitimacy and lends you credibility and trust in Google's eyes.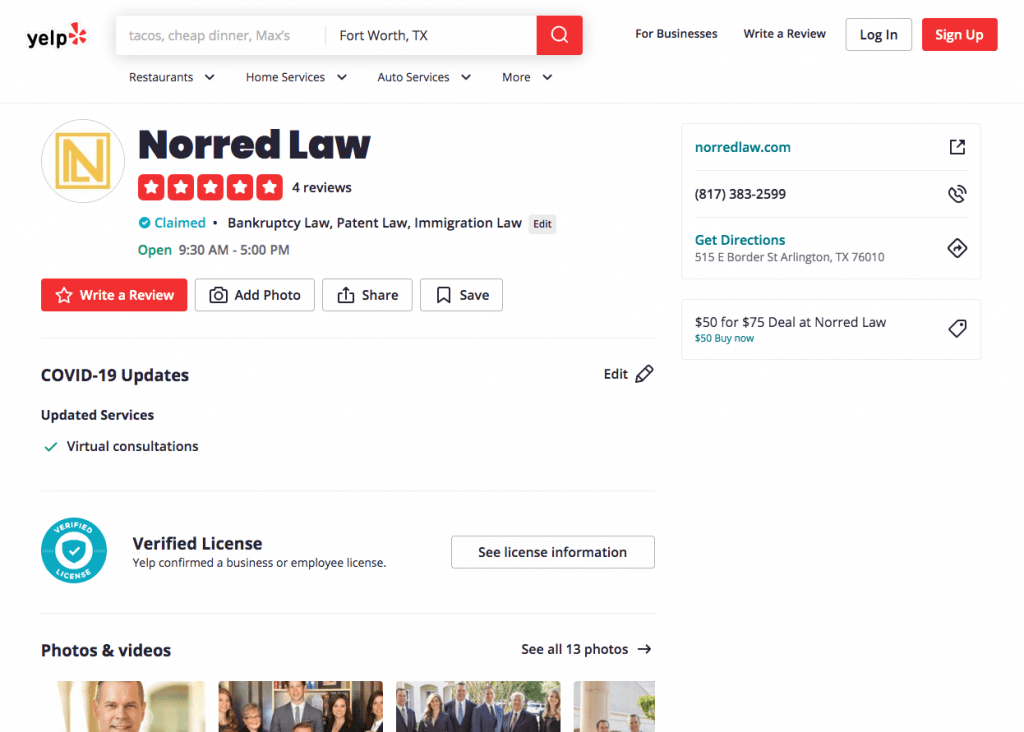 Directories such as Google My Business, Yelp, Facebook, Avvo, YellowPages, FindLaw and Justia are the essentials that you must cover.
However, these only scratch the surface. There are thousands of other online directories and you will want to show up in the most prominent and authoritative of them.
7. Build Authority with Backlinks
Backlinks are an essential part of any great SEO campaign. Link building will occur naturally from creating and optimizing the online profiles (discussed in Tip #6).
These links are considered low-hanging fruit since any and every business is capable of acquiring these. Make no mistake, these low-hanging fruit backlinks are important and fundamental to your website's backlink profile.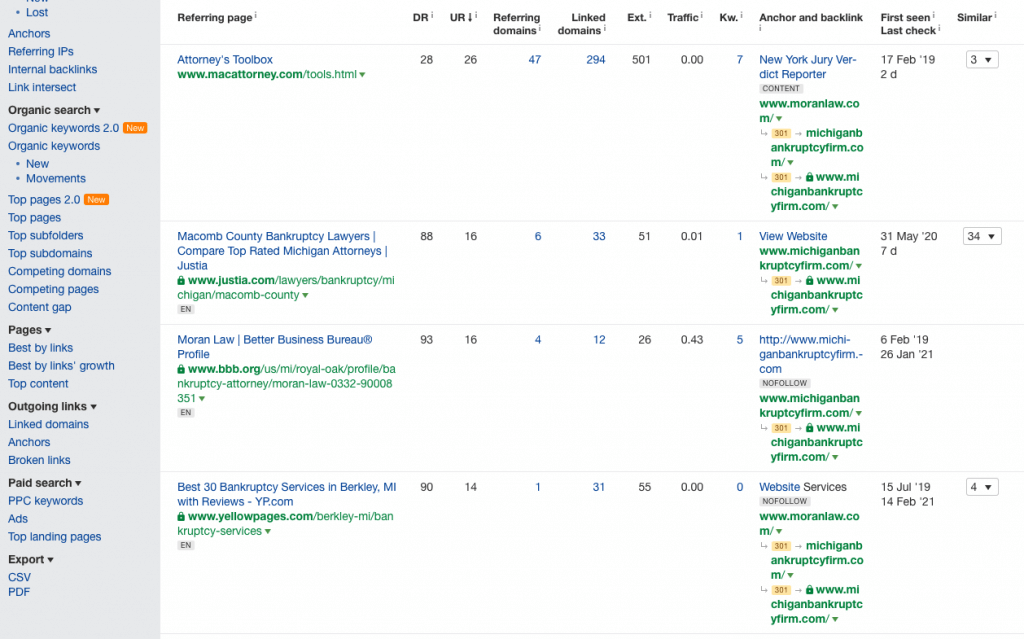 However, this simply neutralizes any advantage your competitors may have had over you. In order to rise above, your law firm website should aim to acquire powerful, coveted and difficult to come by links. These include links from local websites, like your chamber of commerce, other local businesses and organizations.
As an example, you can sponsor a local sports club, high school or college program, which might reciprocate your generous sponsorship with a link from their website back to yours. These hyper-local links will build relevance for your firm in the search engine algorithms. So, if your firm is based in Chicago and your website receives a lot of links from other websites of organizations, institutions and businesses located in Chicago, then your firm automatically skips to the head of the line in terms of local relevance.
Then, there are non-local, authoritative websites where you can acquire backlinks from long-form, editorial content. These are links that can truly boost your authority, credibility and trustworthiness in Google's eyes. Getting a link from Forbes or the ABA's website is extremely difficult, but not impossible. Because it's difficult for your competitors to acquire links from these sites, getting this type of link exposure can create a massive advantage for your firm.