Blogging can play a significant role in your firm's online marketing efforts. Lawyers that know how to use blogging effectively generate some massive results in terms of traffic from their website. A good amount of that can translate into new cases when performed correctly.
In this article, we're going to explore some blogging tips that will produce the most significant impact on acquiring more relevant, organic traffic. You can start implementing these tips immediately to improve your legal content and articles as well as their search engine optimization.
1. Use Headings & Subheadings for Legibility and Engagement
If you use a word-processor like Microsoft Word or Google Docs, then you're probably already familiar with headings. There are a number of heading sizes, the largest being a heading 1 going down to a heading 5 or 6. HTML, the language of the web, also uses this type of heading format. When we talk about headings in general, it includes all of the sizes. When we discuss headings and subheadings in terms of a webpage or your blog article, it's size-relevant.
Your article's main heading (a.k.a the title) should always be formatted with a Heading 1 and only one per article or web page. From there on out, the rest of your article can make use of headings 2 through 6. Unlike the Heading 1, you can use the rest of the sizes multiple times throughout the article. Think about it in terms of how you would use headings in a word document, nesting them and laying out a hierarchical structure of ideas and information.
You may find that your website's styling (technically known as the CSS) may make your headings too large. This may force you to opt for a smaller heading size or alternatively using bold text. Our general rule of thumb is to put the user experience first. If you can hire a web developer to fix the heading sizes, then do it. However, you should make your blog and articles as readable as possible. Therefore you may use heading sizes out of order or use bold text instead. Superseding heading structure and hierarchy is fine if it offers your readers a better experience and legibility.
Your Main Heading is your Title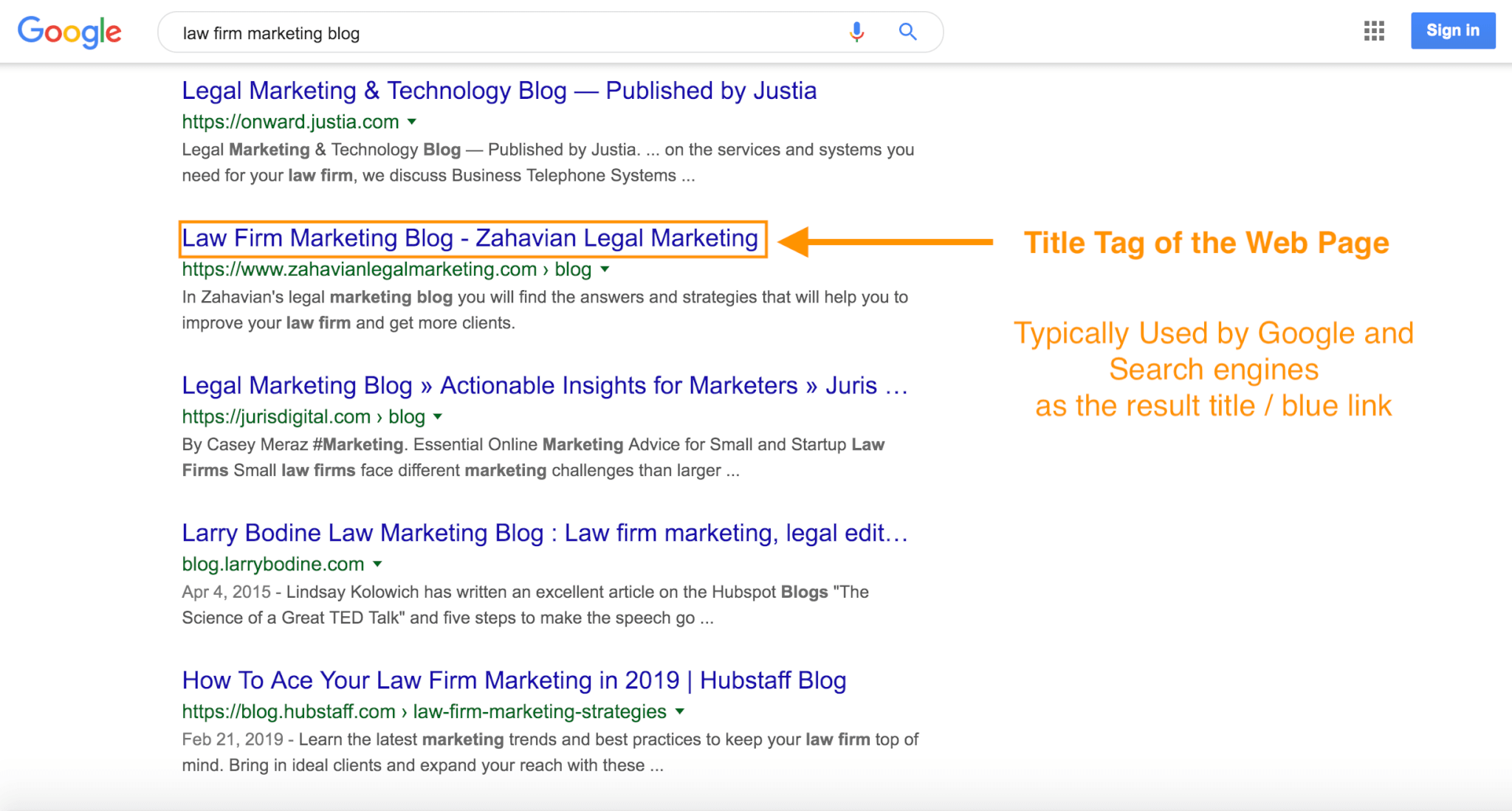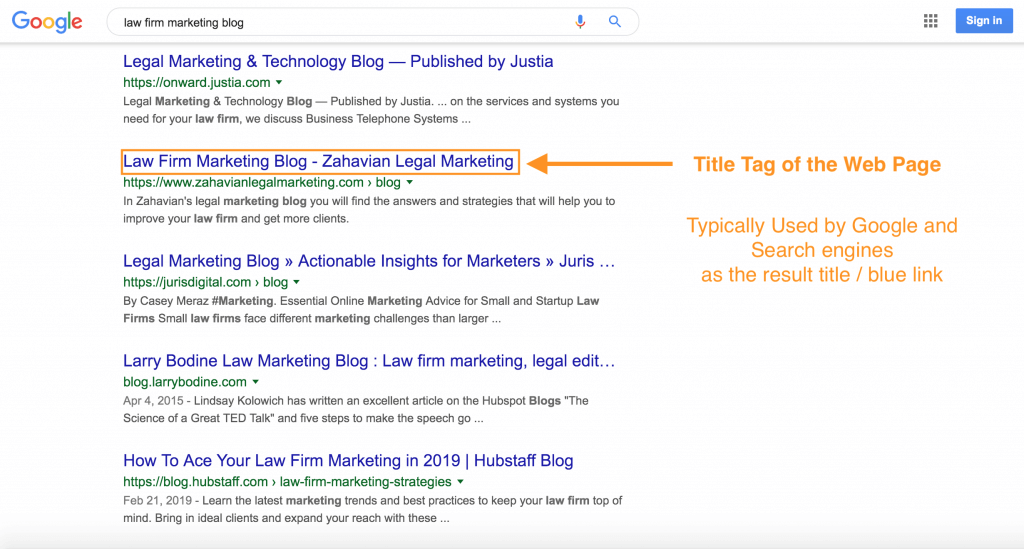 Your main heading – by default – will be the title of the article. Name this as you want it to appear on your blog, website and search engine results.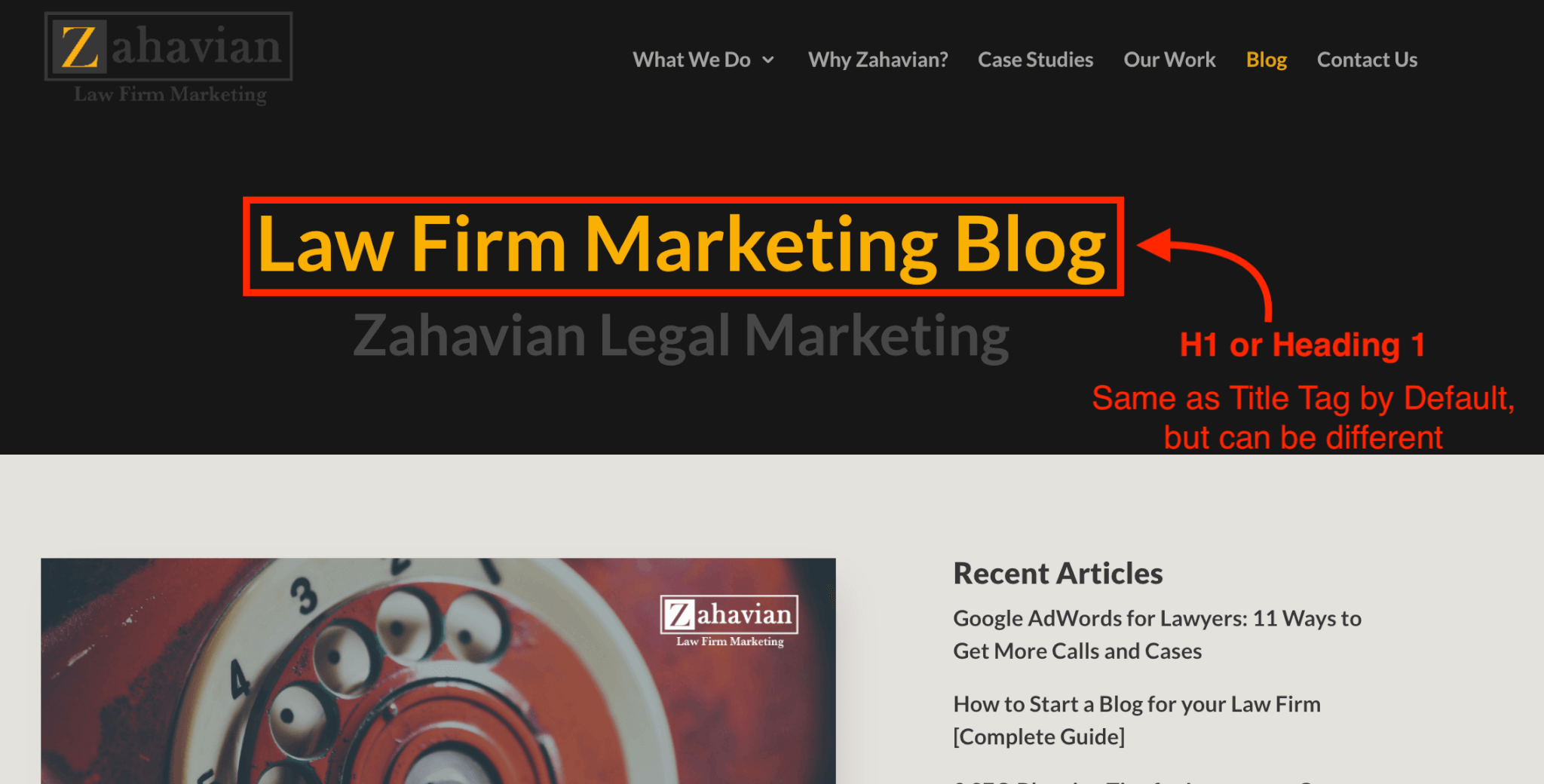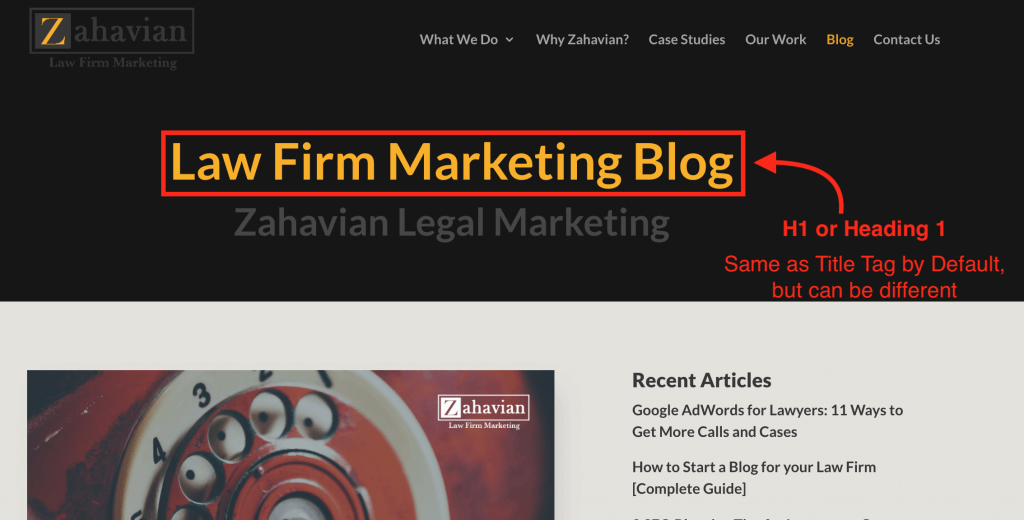 This can be customized, either using a CMS Theme with a Front-End Page Builder or an SEO plugin such as Yoast (see Tip 8 below). They don't need to be exactly the same. I'm many cases the title will have the website's name appended after the heading 1. However, this can be changed manually to optimize the page content for a specific keyword and relevant search results.
Using Subheadings and Bold Text
Nowadays, information is so freely available, in large part thanks to search engines. Therefore if a user doesn't find what they're looking for on one web page, they can easily click the back button and look for a better result in Google. Our role as search engine optimizers and marketers is to prevent this from happening. One way we can do this is by making our information as skimmable as possible. Using sufficient subheadings and bold text where we can is a good practice to support this reader behavior.
Use subheadings to talk about different scenarios and circumstances for those questions where lawyers find it best to reply with an 'it depends.' The law can be very dynamic and many different scenarios for a particular question or topic that may change the answer. Using subheadings to go into a little further detail on the impact or implications of certain scenarios, can help catch a reader's eye in regards to something more specifically related to their legal matter.
This also applies to situations where your practice's article appears in a list of related search results, that aren't a perfect match for your article or page's title and primary heading. Subtitles are also good to use when answering closely related, follow-up questions to your article's main topic. Perhaps someone was searching for information contained in that subheading rather than the article itself. If they click on your article and scan it to see if it's relevant, you'll want that sub-topic or question to stand out to them.
Bold text can be used as subheadings, for reasons mentioned above. On our blog, we prefer to skip heading 4 and lower – using bold text instead. We find it cleaner and rarely need hierarchy control beyond that heading level. Aside from serving as an alternative to headings, bold text is excellent to call out text that makes the main point or gives a direct answer. This will also help slow people down when they're scanning your articles and help them find relevant info in your content.
2. Keywords: Research + Usage
Research What Content is in Demand
You invest time and effort into your blog with the hope or expectation that enough people will find your content and this will produce leads and clients. It certainly can. However, it needs to be performed correctly. Your time is extremely valuable and needs to be used wisely. So, only write content that people are bound to read and derive value from. Unless you have a unique social media and content marketing strategy, generally, you should only write content that people are looking for and answer legal questions they're searching for in search engines like Google and Bing.
How Many Times Should You Use a Keyword?
If you've researched search engine optimization, you may have come across keyword stuffing. Our general rule of thumb is that you shouldn't worry too much about how often your keywords appear on the page. Your primary keywords or search terms can be useful to use in headings and text to grab the reader's attention but focus on making your articles natural to read. Your keywords will probably appear a decent number of times through your material.
If you'd like, you can substitute your main keywords for synonyms. Search engines are generally smart enough to know it's a synonym. Additionally, this can help you broaden the number of search queries and ultimately, increase organic traffic your articles receive.
3. Optimize for Local Searches
Many areas of law and firms are going to focus on serving one market or state. If this is the case for your practice, then you'll want to tailor your content specifically for your target market or state that you practice within. Many attorneys will prefer this anyway since they want to talk specifically about what they know best and usually, that's limited to their jurisdiction. This is a good thing and should be reflected in your blog articles; especially when your objective is attracting new clients.
You will probably attract fewer readers than a firm or blog post written by Findlaw or Nolo. However, you can focus on generating traffic from people in your state or searching for legal information specific to the state in which you practice law. There are several ways in which your blog can be optimized to give search engines like Google signals that your content is best for local search queries and searchers:
A business address in your website's header or footer
Use of state name or abbreviation in the post title, main headings and subheadings
Specifying the state within the article body
You can use all three or several of these elements. Some lawyers writing their articles will naturally insert the state name or initials into the post body. It helps specify what jurisdictions they're talking about and the scope to which their legal information applies. Whatever you end up doing, use the same principle as with keyword usage. Be natural in your writing, don't stuff keywords (including locales) and you should be fine.
4. Images, Tables, and Graphics
Different digital marketers and SEO professionals have shown that posts with at least one image tend to perform better than posts with no photos. If you have the time and resources to invest into adding at least a featured image (an image placed directly above or below the article title), then it's recommended to do so. We see many blogs and articles in the law firm industry perform quite well without images. However, we always recommend an easy way to make your content better is to make it more visual, engaging and easier to understand. 
Images and graphical aids can give your blog a competitive edge in your content marketing strategy – especially in the field of law. The law can be confusing as it is – even when trying to demystify it in your blog content. Visual elements, including images, graphics, and tables, can go a long way in aiding the reader to understand the information you present in your articles.
Visuals help your SEO on two counts:
Content that search engines (i.e. Google, Bing, etc.) read on your blog to improve rankings
User Experience for readers, going above and beyond in providing clear, understandable examples on otherwise difficult to understand legal topics
Many law firm blogs out there today don't write adequately for their audiences and to dominate search results in terms of valuable content. Even fewer put in the effort to add visual aids that drive the key points home for readers. Become one of the few that does to put yourself ahead of the competition.
5. Content-Length
The length of your blog articles will depend on 2 things:
What is the competition to rank for that topic/keyword
Delivering as much value as possible
Gauging Competition
When conducting your keyword research and topics to write about, you should look at the length of the other articles ranking on the first page of the search engine results. You should aim to add a minimum of 25% more words onto the average content length of the articles competing for that search term.
Writing to Deliver Free & Valuable Content
The other angle to approach this from is how much value you can add to your articles. Generally, the more you can contribute to a particular article and provide to readers in free legal information, the more search engines will value your article and rank it.
Furthermore, from a utilitarian perspective, think about how many people are likely to research that topic. The larger the volume of people that are likely researching that particular legal topic or question, the larger the potential search volume and traffic is for your article to attract organically. Therefore, provided you can go in-depth, writing an exceptional piece of content for a larger topic, the more relevant traffic you are likely to attract long-term.
Note: Content length can be a point of contention for many lawyers considering content marketing and blogging as a means of generating more files and cases. Many lawyers think the less they write, the more they minimize errors and odds for misinterpretation in their writing. This can work to the lawyer's advantage. Keep your content lean, but as in-depth and helpful as possible. This will help find a healthy equilibrium in content length and added value.
6. Link to Related Articles
Part of writing articles and legal blogging will entail knowing when to stop writing one article and beginning another. Understanding what is closely related and what is adjacent to the topic at hand is critical.
The process we use to determine this is simple. Imagine the client asks you the question and you have answered it (as you have in your blog post). After answering the initial question, what are the next several questions they're likely to ask about the same topic?
As there are many nuances and situational dependencies, those should be covered within the same article. Follow-up questions that are a little off-topic likely belong in another piece of content.
In the event that you have written about that second, third and fourth related articles, we want to keep our readers on the blog as long as possible. Therefore, be sure to design your blog posts and article pages in such a way that your readers are enticed to click on another article to continue conducting their research. Alternatively, they would leave your site, go back to Google and find other articles regarding their legal issues. If you have related content they're likely interested in, attempt to keep them on your site where they can find all the answers they need – before being convinced to call your office.
The two best places to link to the next article is in the sidebar or the footing, below the article they're reading. If you use a CMS like WordPress, much of this work can be automated after initial configuration. The better of the two positions for related articles is the bottom of the post since readers are most likely to see them after they finish reading the initial article.
Tip: You can also link to related articles from within the body of the main article content. Doing this can save you from writing more than you need to and getting off-topic.
7. Post Consistently & Frequently
We conducted a study on traits that the top SEO'd law firm websites share in common. We found some interesting stats and trends. Among them was the most surprising in terms of the impact on organic traffic results. It was consistency and actively investing in new blog content on their websites. The law firms that generated the most traffic and ranked for the highest number of keywords were actively blogging. Firms that were actively blogging generated approximately 5 times more keywords and traffic than law firms that had stopped blogging, but invested in adequately in blogging previously. What's more, law firms actively blogging generated over 16 times the amount of organic traffic compared to law firms that didn't blog or only produced several articles.
Plan a Blogging Schedule Ahead of Time
Some law firms publish one or several articles per week. If you can invest either the time or resources into having this accomplished, then that's great. For many firms (small and solos especially) though, that may be a tall order. We recommend you publish articles at least twice per month and you can still accomplish a lot with that. Provided these are well-researched (SEO and keyword-wise) and thoroughly written articles with high-quality legal information, you're likely to do well publishing 2 posts per month.
Whatever you're able to accomplish, aim for that. It's better to post consistently rather than set over-ambitious goals for frequent publishing and stopping at some point. In our study, the highest performing legal blogs were the ones that added new articles regularly – whether once per month or once per week.
Tip: Using a content management system can be a lifesaver in simplifying website and marketing tasks. If you use a CMS like WordPress or Drupal, then you can upload multiple articles at once and schedule them to publish automatically at a specified date in the future. Take advantage of this.
8. Use SEO Plugins like Yoast
Yoast is a very popular and helpful plugin for optimizing content for organic search results. Everyone that uses WordPress should install a plugin like Yoast or All-in-One SEO. Yoast comes in premium and free versions. The free version offers more than enough to do some pretty decent SEO on your blog content.
After you write a post in WordPress, scroll down to the bottom of the page to see the Yoast analysis. It will show you a preview for how your post will appear in the search results as well as tell you if your post title is too long or short (both on mobile and desktop). You can also customize the slug, which is your posts appended URL path on your website.
The analysis results indicate if your content has good length and analyzes paragraph length to advise you if it's too long. These are among the more basic feedback properties the plugin provides. You can learn a lot about on-page SEO just by following the built-in advice and tips it gives you in this section.
If you want to get a more in-depth look at your content's performance, you can upgrade to Yoast premium. Premium supports multiple keywords, synonyms, and related keywords. This gives you a more precise idea of how well your content is optimized to rank for a wide variance in possible search queries.
Conclusion
There's so much you can do to optimize your on-page performance for users and search engines. However, if you apply these techniques, they should help make a significant difference. Your rankings, traffic and overall results from your firm's blogging and content marketing efforts can reach new heights.