If you're looking for ways to produce more, high quality legal content to attract more clients and develop business, then you're not alone. Lawyers are always looking for new ways and opportunities to increase business and sign up more cases. Content is an excellent way to do just that.
However, knowing what to write and how to write that will generate actual results takes a little more than a fast typing speed. Rather than simply approaching it with a "spray and pray" mentality, the tips I've compiled below are simple, but highly effective in producing top-notch content, where more of your articles, posts and pages have a high chance of taking off than it does flopping.
8 Tips for Lawyers to Improve Content Writing and Drive Results
Wondering how to dramatically improve your content production skills and achieve more results? Explore this list of our top tips that have been proven to increase business for other law firms:
1. Define your primary audience
The first step to making sure that your law firm's content is as targeted as possible is to clearly define the audience for whom you're writing.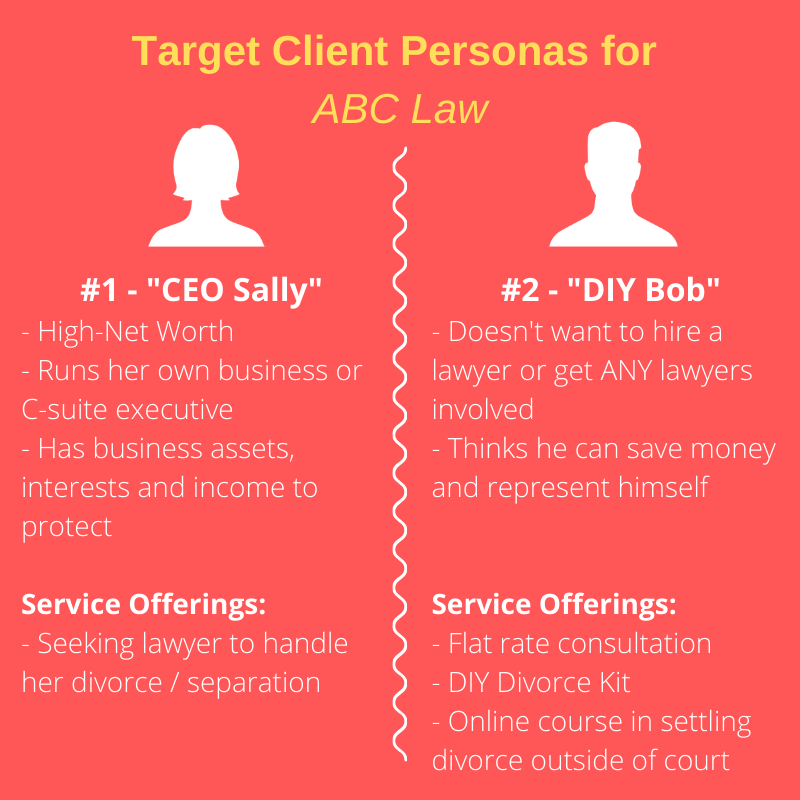 In many cases, you will be writing directly to prospective clients. Create a client persona that defines exactly who they are as well as the legal matters with which they're facing.
If your firm is seeking to generate referrals from other attorneys, then define the type of attorneys as well as the characteristics they share in common. Make it clear why they refer business to you and what separates them from lawyers and firms that don't.
2. List categories of content to create
This is an essential part of defining the scope of the legal content you publish. Many law firm websites and blogs miss the mark with their content because they create copy based on what they want to write about rather than the type of information for which their audience (potential clients and/or referral sources) is seeking.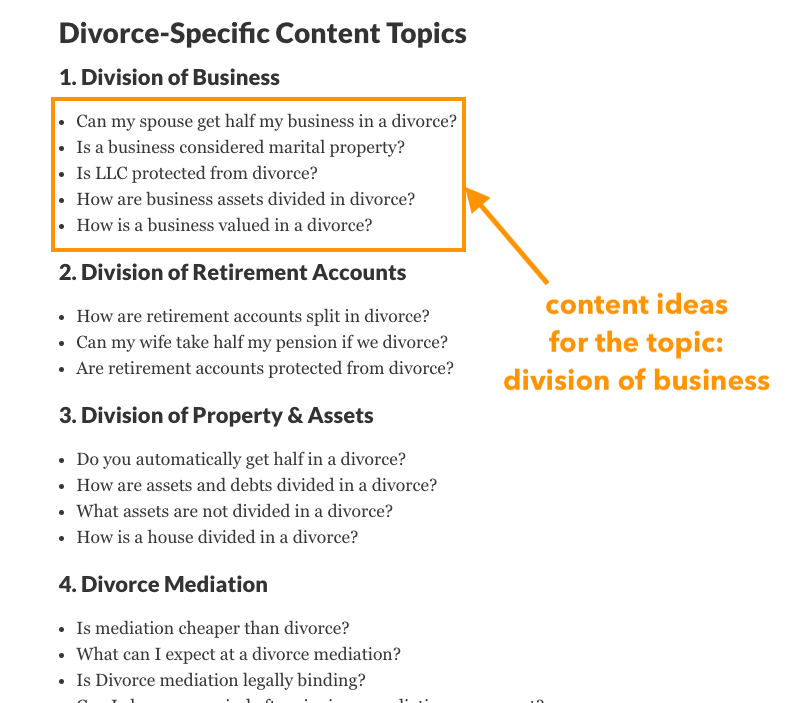 For instance, a lawyer's family law content topics might include writing about adoption, annulments, appeals, child custody, child support and father's rights to name a few. However, if that particular family lawyer is particularly interested in generating cases that deal with high-net worth divorce, they might want to focus more in-depth on topics and categories including division of retirement accounts, business, property and assets.
It might seem at first redundant to define the audience and then make a list of topic categories. However, doing this puts your legal blog and content topics through a second screening of determining the copy's "fit" for your audience. Your time and resources are valuable, so getting crystal clear on your writing strategy will ensure that more of your content receives traffic, hence becoming a fruitful and worthwhile marketing investment.
3. Write for the web, not the legal profession
Great content exists in many formats. However, an aspect of what makes great content is matching the right format with the right medium. An example of this is the way a book reads in comparison to a legal agreement. Legal documents have different formatting and use very particular language, whereas books are (on average) easier to digest. One format is designed for protection and legal purposes, while the other is designed for pleasure.
The content you publish is no different. On the web, paragraphs should be shorter (1-3 sentences), easier to read and scan. Furthermore, use a writing style that is well suited for your audience. You should refrain from using a lot of legalese, unless your primary audience consists of lawyers.
4. Publish content that will drive traffic
For most law firms, the goal of producing high quality content is to generate more clients and develop business. With that in mind, remember that in order to generate business, your content must generate leads. And in order to generate leads, the content must first attract visitors.
So ultimately, your content's primary objective is to generate high quality, relevant traffic – a portion of which will convert into leads and new legal clients.
As you're writing, make sure that every piece of content (be it a helpful resource page, blog post, video or otherwise) is information that people are searching for.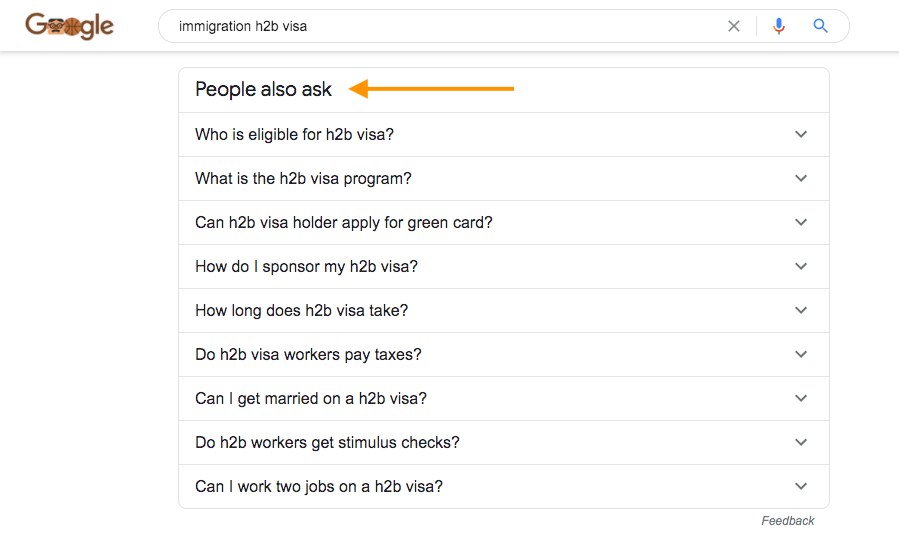 You can validate whether your content is something that your target audience is looking for with a few simple Google searches.
If the content you produce addresses a question or query that people are looking for, then there's a much higher chance of that piece of content driving valuable traffic to your law firm or its site.
5. Score potential topics on lead value
Before you begin writing for a given topic, evaluate whether or not it's worth your time drafting, proofing and publishing it. We've looked at how to evaluate whether or not your content will drive traffic. Now it's time to assess the potential value of this piece of content.
Check that the topic you're writing about is a symptom indicative of your ideal types of legal matters or clients. For instance, if you're an estate planning lawyer, your probate practice might represent your more desirable and lucrative cases. In this instance, consider focusing more of your content creation efforts towards attracting probate clients rather than publishing any and everything on estate planning.
6. Write for keywords and topics
There are constantly debates about whether it's more important to focus on keywords or the overarching topic. I say it's both.
Keywords are an excellent way to validate that your audience is looking for this type of content. Topics on the other hand, usually focus on a topical, higher level, umbrella keyword or even groups of keywords.
One of our top legal writing strategies is to start with a single keyword. Choose a primary keyword for the article or page your considering writing. Then, finding related keywords and questions that people have on that topic. We will then do one of two things. First, we might use the other keywords and questions as additional sections in the content. Alternatively, we will shift the content's original focus to a broader, overarching topic and include different sections for the primary and related keywords found.
7. Promote your content to maximize ROI
After you've published your content, it will take a while for it to organically generate traffic and results via search engine traffic. However, you can accelerate the pace at which it begins generating a positive return by promoting it.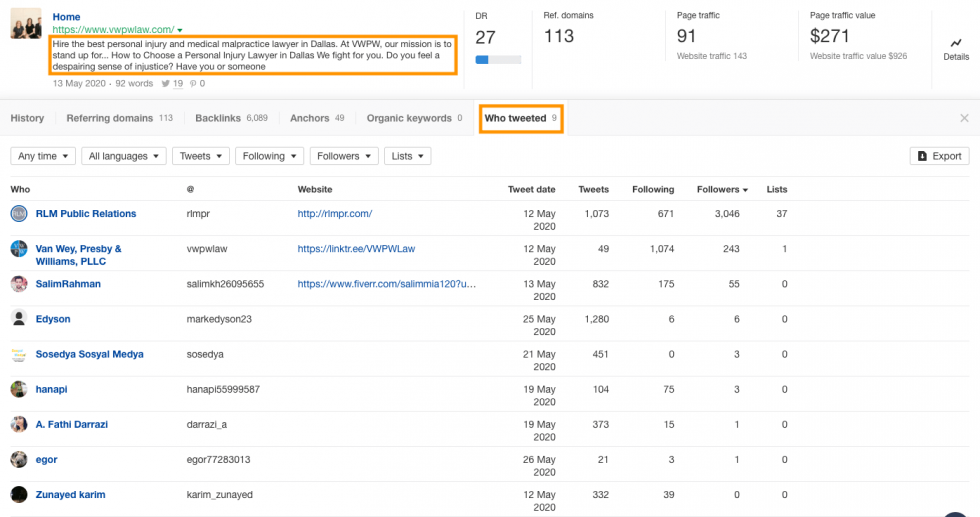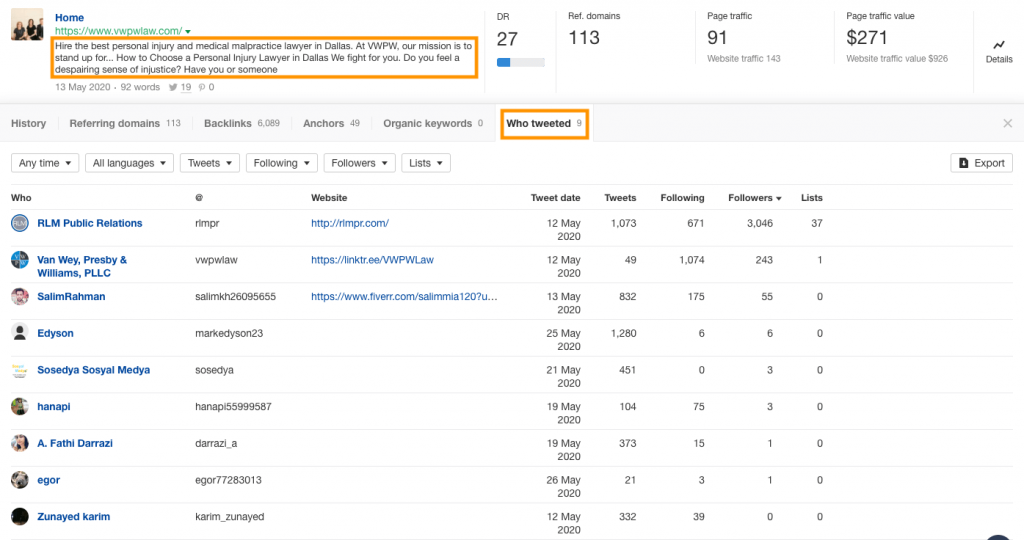 Promote it on social media, your email marketing lists and in your newsletters. Additionally, every so often your content will be helpful to media and journalists, looking for a resource to cite. Engage with them on social and via email to promote your content if you believe it's a good fit for the stories they're currently covering or have recently covered.
Media and journalism is evolving. There are countless blogs and websites, which presents a great opportunity to promote your content. Promoting your content to online media websites may or may not drive referral traffic which directly increases your firm's business. But, having these sites and blogs cite your resource will build your firm's online reputation, trust and authority signals. These are all signals that search engines like Google look for when deciding which web pages to rank.
This will further fuel your content marketing efforts as more authoritative sites as a whole, drive more organic search traffic.
8. Measure traffic and business results
Not every piece of content you develop and publish is going to be a home run. In fact, if you're doing it yourself as opposed to hiring a law firm content marketing agency, then it could take a significant number of articles before one takes off. Don't let that discourage you, it is part of the process of developing any new skill.
The important part is to know what works and improve upon it. Your articles will take 6-8 months to achieve approximately 90% of the maximum traffic it is destined to attract. Full potential can be observed 10-12 months after first publishing it.
Therefore, stay organized and create a spreadsheet to track publication dates as well as import traffic data from your website analytics (i.e. Google Analytics). You can then start to observe the trends and patterns that separate the winning content from that which were good attempts, but missed the mark in one way or another.
This allows you to exponentially improve your legal content writing and development process over time. Just like cases, you don't win them all and it takes failure to sharpen your skills and increase your future odds of success.