There are many marketing tactics that family and divorce attorneys can use to generate new cases and clients. So many in fact, that whether or not you have time to do it yourself, whether you have a marketing budget or not, there are marketing ideas that anyone can incorporate into their own cohesive plan effectively.
In this article, I'm going to share with you 8 marketing ideas that family law and divorce lawyers can use to get more calls, consultations and clients.
1. Use Search Engine Ads to Sign up Clients Quickly
One of the easiest ways to start attracting more clients in a fast and effective way is through Google ads. Many people getting divorced or facing marital issues are looking for a family lawyer online.
The primary tool people use for online search?
Google.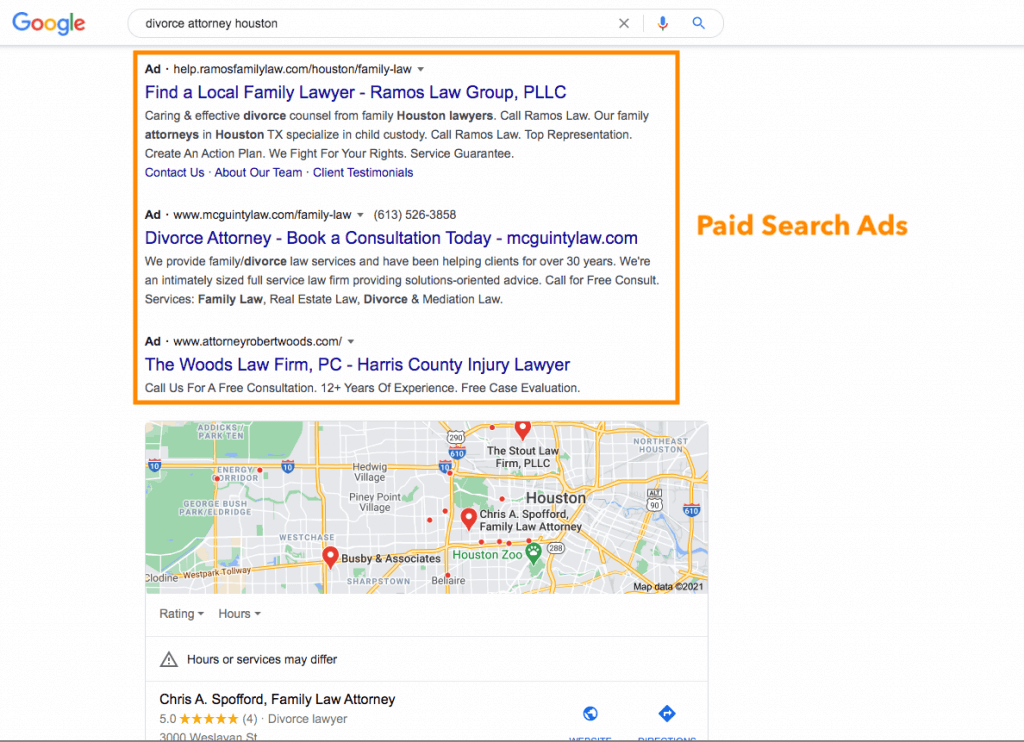 Google has a number of advertising products and options. The two that we recommend for divorce attorneys and law firms to investigate are Search Ads and Local Service Ads. You can start seeing leads and calls in the first week or two after launch.
Check out our article on Google ads for divorce and family law attorneys to learn more and see how they can help you get found quickly in searches in your local market.
2. Nurture Existing Clients with a Newsletter or Email Campaign
Your biggest fans and supporters are your past clients who you've successfully helped get through some of their toughest times in life. Many family lawyers grow their firms rapidly through the multiplying effects referrals can have.
Start either a newsletter or email list that keeps people in the loop and you top-of-mind.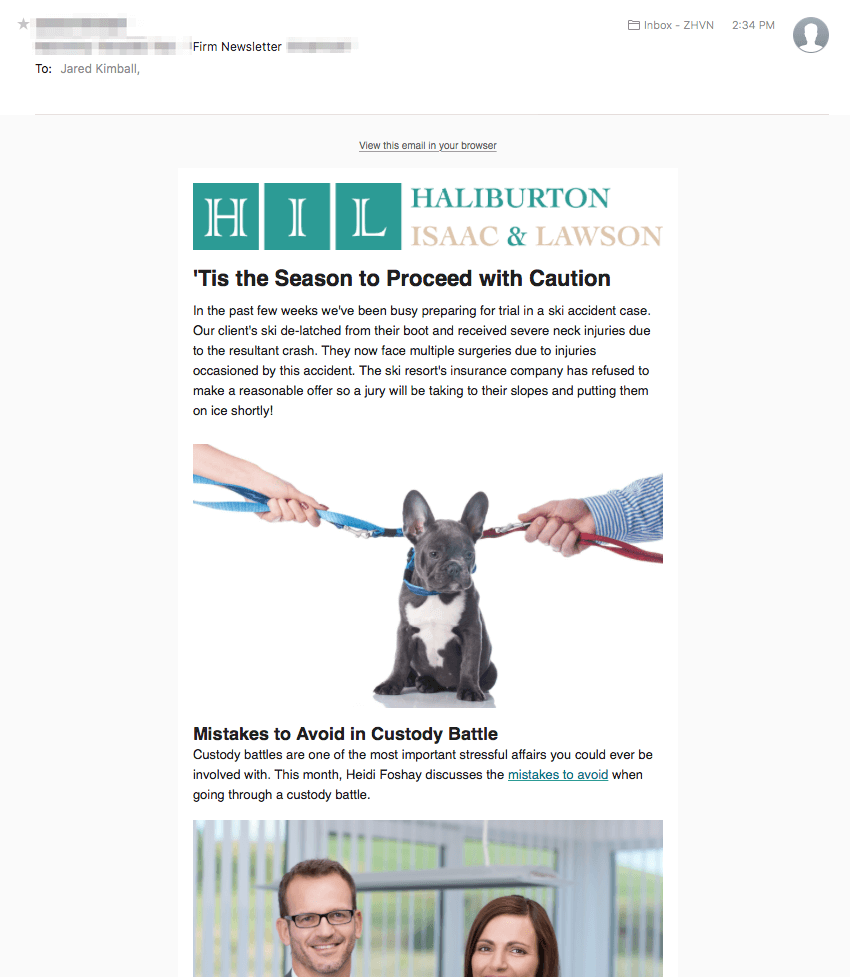 Send out your message on a consistent interval to make it part of your schedule and be able to measure results from consistent efforts. Mailers and e-mails can be sent out on a weekly, bi-weekly or monthly basis. For most firms, we recommend either bi-weekly or monthly.
Inside the newsletter or email, you can have a small blurb about firm new, holiday wishes, community events and info.
Dedicate a good chunk of your content to giving people advice and tips on different issues they may be facing before, during and after a divorce or separation. Just because it's not included in your billable work for them, doesn't mean that their family, child and marital problems are over. Give them free tips and info to help them after they've seen you. The more helpful you are to them, the more likely they'll be to remember and refer their friends and colleagues to you when they need legal advice and representation from a family law attorney.
3. Invest into SEO for "Free" Organic Traffic
Search engine optimization is one of the best and most profitable ways to generate high-value traffic to your website. It will directly get your phone lines ringing and inbox chiming with new leads and inquiries.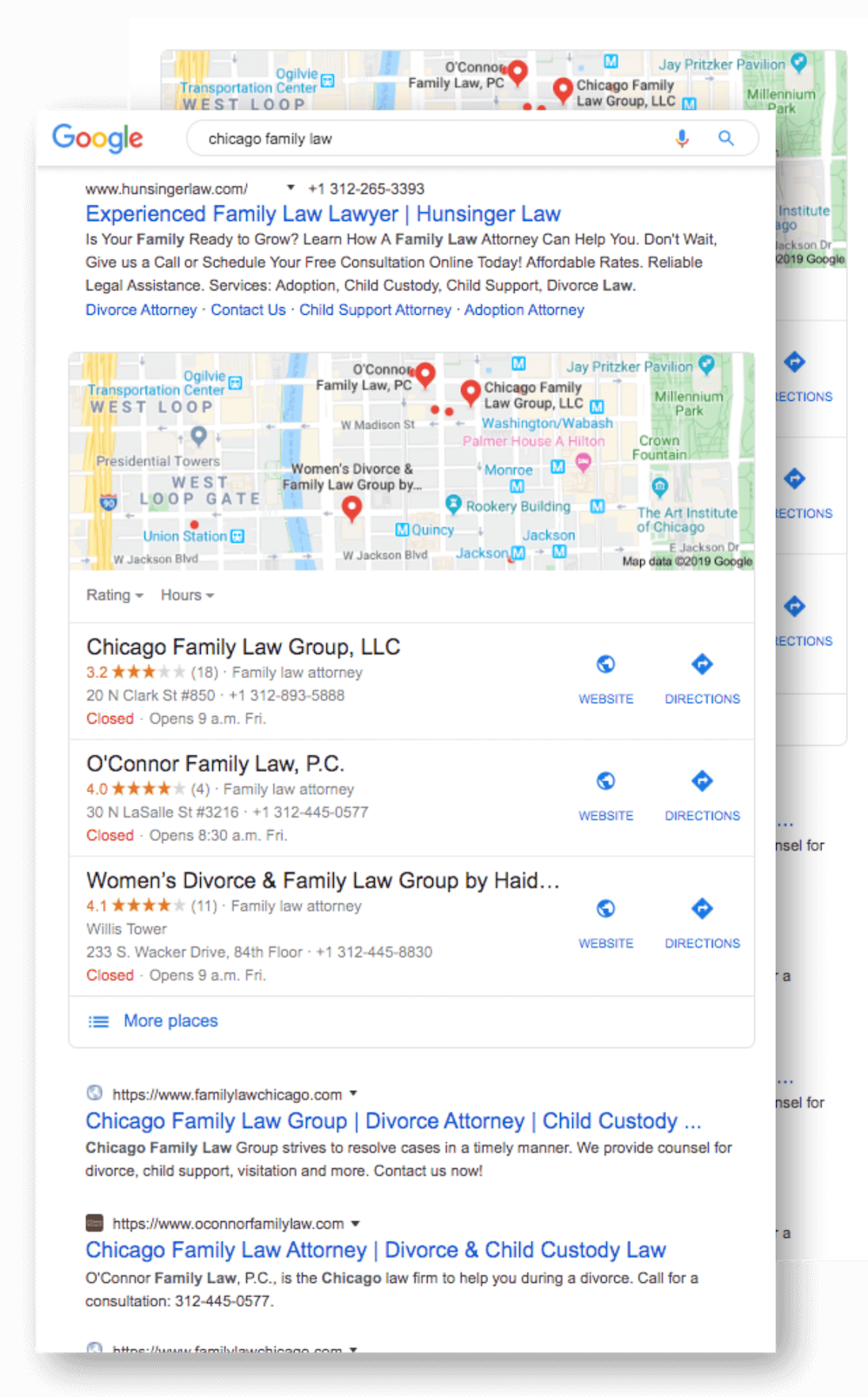 Similar to Google ads mentioned above, many people use search engines to find local businesses and services nearby. Good legal representation is no exception. With ads, you pay per click, meaning you pay for every single visitor or lead to your site.
With SEO, you will have to either learn the craft to do it yourself or hire a professional to get you ranking in competitive positions. However, once you're there, you get all the traffic that comes along with it. This is why it's classified as earned media, because you occupy that valuable visibility and now you'll gain all the benefits from earning it.
Take a look at our SEO tips for Family Law & Divorce Attorneys to learn actionable tactics that will help you rank better and understand better what it's all about.
4. Post Helpful Tips and Info on Social Media
Social media can be a powerful marketing tool in any lawyer's promotional playbook. As with the newsletter, you can share information about big case wins, stories, firms and community news as well as posting helpful information for people dealing with family legal issues.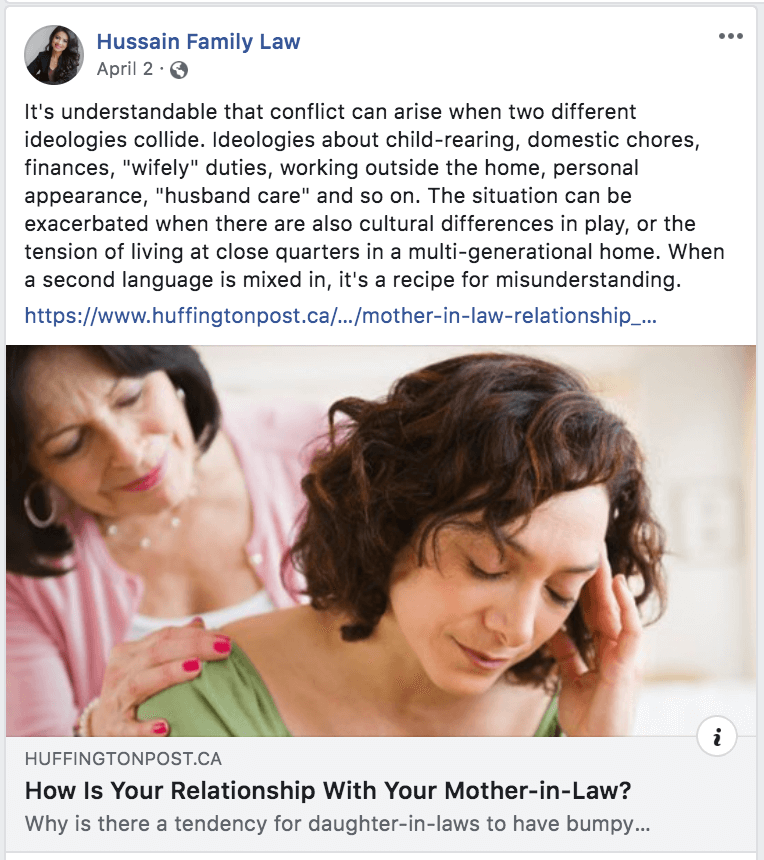 This is a great way to develop relationships with people who are looking for advice, but are in the early stages of the process.
Social networks have network effects – hence the name. This means it gives you the potential to reach beyond your own friends, connections and followers as it can be shared outside of your network and attract newcomers.
Pro Tip: The best way to post on social media is from your personal profile rather than your business' account. It will achieve better results with more organic reach since social media companies tweak their algorithms to "encourage" businesses to pay ad dollars to boost their post reach.
Related Article: 7 Types of Content Lawyers Should Post on Facebook
5. Garner and Showcase Glowing Testimonials & Reviews
Reviews and testimonials are the "Word of Mouth 2.0" with all our lives deeply connected to social media and the web. These days, people rely online reviews from Google and Yelp to evaluate the trustworthiness of a business. They ask friends and peers for recommendations on Facebook and LinkedIn.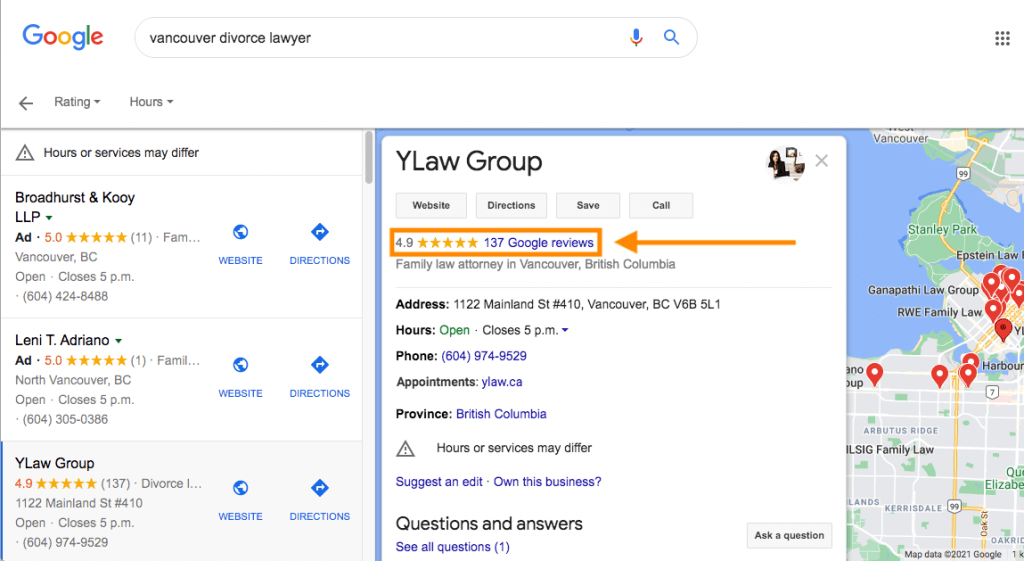 Having a proactive process for requesting clients to leave a review can make the difference between being a market-leader and being left behind. In a survey of consumers of legal services, 56% of respondents said that online reviews played an important or very important role in their decision making process before hiring a lawyer.
Reviews are built into many algorithms that control the visibility of online profiles and websites today, including Google.
They also make great content on social. Strive to share testimonials several times per month on your social media accounts. Pick a review and use it as the main body of a post. You can add your own words before and after the review body about working with that client or how many people struggle with similar issues. Let the review do the talking about how you solved the problem for them.
Re-publish reviews from Google and other platforms on your website. This helps create trust and builds social proof on your site and is one of the most critical points when a prospective client is deciding whether to call you or not.
6. Network in Multiple Circles
A great way to blow off steam and get out of the office while feeling like you're still pushing forward is through networking and meetups. You can use sites like meetup.com to find new groups and circles to develop business. A great strategy is to split your time between networking with other lawyers and networking outside of the legal community to broaden your professional and referral relationships.
7. Publish Articles and Blogs that Answer Potential Client's Questions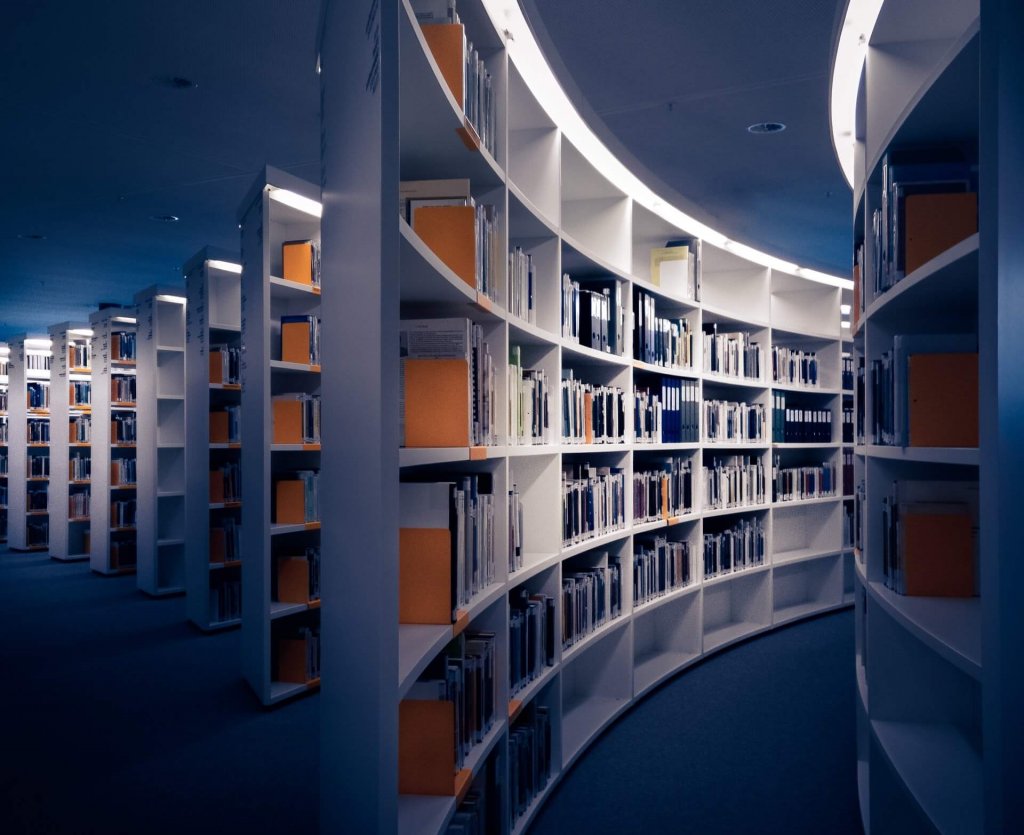 A great byproduct of the internet is that it has become the new public library. It has allowed information to be free, easily and quickly available. 
Simply by typing some words into a textbox, you can get hundreds of relevant articles and results on any topic you can think of.
So why not participate and contribute to this marvel?
If you're new to blogging or the benefits of it, then you might wonder why take part at all. It can have serious, tangible rewards when done correctly, but if you need more logic, then think about why all of these other businesses have invested so much time and money into their blogs and websites. It's because it drives a ton of new business for them.
Simply writing a blog and clicking the Publish button isn't guaranteed to work. You still need a strategy and know what to write about, so check out our guides on blog ideas for law firms and how to start a blog for your law firm.
8. Create a Lead Magnet and Promote It
Last but not least is developing a lead magnet. These are one of the best ways to get a foot in the door with potential clients weeks or months before they've made the final decision to hire a divorce attorney.
You can create a free resource, such as a 10-page guide or mini ebook that you give away for free in exchange for their email. This allows you to build an email list that you can nurture and follow up with later to develop trust as they consider family lawyers to hire. Once they're at the point of choosing an attorney, you're likely the only one showing up in their email inbox.
Use social media, your website and blog to promote your lead magnet and grow your email list. On social media, you can either do this through organic posts or by paying for ads.
Want a Powerful, Hands-Off Marketing System for Your Firm?
If there's one thing we do well, it's helping attorneys generate more clients through our strategies. In fact, that's all we do. Our goal is to be the last law firm marketing agency you'll ever hire and work together for the long haul. If you want to find out if we can help, contact us today for a free consultation.