So, you're ready to open your new law firm. This is an exciting moment. All your effort is about to pay off, and you're thrilled to take on some new challenges and responsibilities. At some point, in the middle of all of this excitement, you may face the question that all new law firms have: how am I going to get clients as a new lawyer?
Signing cases as a new attorney can be a heavy burden, especially if you don't know what to do to grab your potential clients' attention. To help you overcome this problem, in this article, I'll provide you with 10 simple tactics that you can implement to get your first clients.
Here is a quick overview of what you'll find here:
As you can see from the list, some of these activities are more systematized while others demand a much more 'roll your sleeves up' and get involved approach.
Let's do this!
Note: It's important that you follow the model rules and your jurisdiction's bar rules regarding any and all of the strategies discussed in this article and on our site.
1. Run a Promotional or Limited Offer
One of your challenges as a new lawyer is to get potential clients to know you. Something you can do to put your brand out there is to run a limited intro offer. As a consumer, people cannot resist a good offer. So, this is something that might drive their attention towards your law firm.
Some ideas of promotional or limited offers you can run include:
Free consultation
Fee discounts or $0 down
Discounts in partnership with other businesses
A free estate planning review (or as applicable for your practice area)
So, let me elaborate on how you can use your limited offer. At your "grand opening" event, the first X number of clients that sign up with you will get a bonus or a discount on your services.
A while ago, I saw an immigration lawyer taking advantage of this strategy. What he did was to offer a discount with a partner. How? He was looking for student visa clients. So every person booking a consultation with him would receive a discount from an international agency that helps students find schools in other countries.
Pro Tip: Running a limited offer is an effective way to give your brand more exposure. So before implementing this strategy, make sure you have a name and logo in place that people can identify as part of your brand.
As mentioned before, we consumers love getting discounts and value-packed offers. If people get to know you, they may become a recurring client or may spread the word about your new law firm. If you decide to give this strategy a try, don't forget to promote your offer.
To do this, you can use:
Your law firm's social media accounts
Your website
Press releases
Local news
Word of mouth
Run paid advertising
At your office
Printed and digital marketing materials
2. Ask for Referrals
As you may already know, referrals are a major source to get legal clients both as a new and experienced attorney. In addition to this, referrals come with a huge advantage. These types of leads are easier to close because it's likely that the attorney (or other) who sent you the referral already screened the potential client. Additionally, the prospective client has been informed that you are (likely) the right lawyer for the matter.
If you're just starting your law firm, you may not get referrals from your former clients. But you could ask your friends and family to help you. To gain experience, some lawyers do free work for their friends or acquaintances.
The advantage? Not only do you have more work experience, but if you also provided a valuable service, this person would be more likely to help you. And since you actually worked for them, they will be able to share their experience with you.
Of course, you could also reach out to a big law firm to see if they're willing to give you some referrals. Although it may seem scary, sometimes, these big law firms don't have the time to work on "minor cases." So, they may refer them to you.
Now, keep in mind that most of the time, getting referrals from a fellow lawyer comes with a cost, whether it's a referral fee (if that's permissible in your state) or nurturing that relationship. This is a minor investment that can help you get more legal clients.
3. Help Other Lawyers First
One of my life mottos, which applies directly to this context, is 'give before you take and answer before you ask'. Not a bad quote to live by, but what does this really mean for you?
Well, instead of asking other lawyers for referrals, you could provide value first. This is particularly useful if you don't feel comfortable asking for clients. Okay, let's say that your specialty is business formation and commercial law.
Find other lawyers, especially if they're new like you, who need help in these areas. Once you find them, give them your services for free in the spirit of a new friendship and ally in the industry. New lawyers are constantly looking to hang their own shingle and therefore might need help with business formation, right?
A more universally applicable example is to offer to take them to lunch or coffee with an open-ended invitation to pick your brain whenever needed about legal advice in your practice area. Some of their clients are likely to have more than 1 legal issue. Become the go-to specialized legal expert for other lawyers in your area.
If you surprise them with your work or advice, why wouldn't they send new clients your way in the future? Most business owners want to be careful about referring clients to others. So trust often needs to be repeatedly earned with the same person or tight-knit community to demonstrate consistency.
4. Build an Online Presence
Referrals are a big source of clients. However, this source has decreased by 12% in the past 2 years. This is not a surprise since 96% of people seeking legal advice use the internet to find information.
As a new lawyer that wants to get clients, you shouldn't ignore the potential of having a digital presence. The internet is no longer only for entertainment, it's also an ideal place to promote your law firm and find potential clients.
These are some things that you can do to build your digital presence:
Create a website: a law firm website is an excellent tool to list your areas of expertise and the locations you serve. Additionally, you can provide legal information that potential clients may be looking for. With the right tools and online marketing strategies, your website can also help you book more appointments.
Build local and lawyer citations: when developing your online presence, you will need to create profiles in local or legal directories so people can find your firm. Some directories that you cannot ignore include Google Business Profile (formerly Google My Business), Avvo, Facebook page, Yelp, Yellow Pages, Justia and LinkedIn.
Create relevant content: as mentioned above, people are using the internet to find legal information. For new attorneys, blogging relevant content for their audience can be a huge opportunity to generate new leads. At Zahavian Legal Marketing, we discovered through our study that law firms with blogs drive 15.9 times more traffic than law firms without a blog. So, this is something you really need to consider.
Work on your social media presence: although social media may not drive a ton of leads (except for some practice areas and strategies), it's still an excellent tool to increase your brand awareness and interact with your potential clients. So make sure you share and post relevant content for them.
If applied correctly, having a digital presence is cost-effective, and it's an ongoing source of leads. However, SEO for lawyers is not an overnight solution. It'll take a few months before you see results.
5. Run Advertising Campaigns
Many new lawyers are attracted to paid advertising campaigns. There are many forms of advertising, from print to radio, TV and online. Since we're a digital marketing agency for law firms, we'll focus on internet advertising here.
The advantage of going this path is that you can get new leads and clients within your target location(s) quickly. Let me explain to you how it works.
Let's say that a person is googling "criminal lawyer new york." If done correctly, your ads can show up at the top of the page. This increases the chances of having that person clicking on your link and booking an appointment.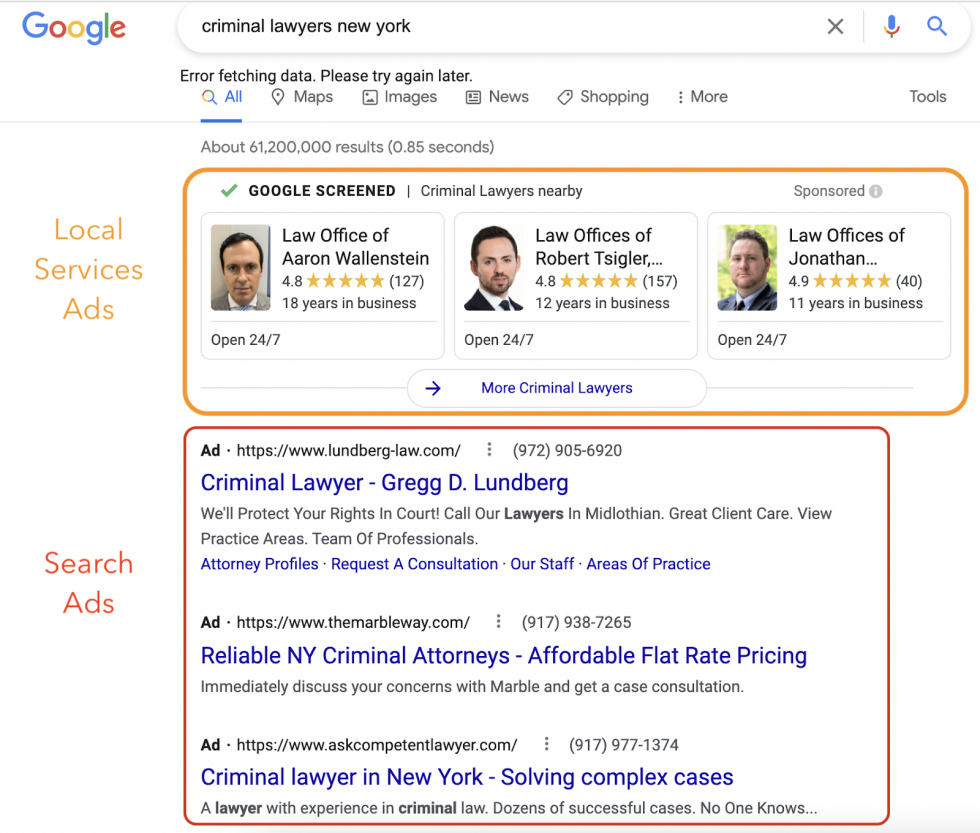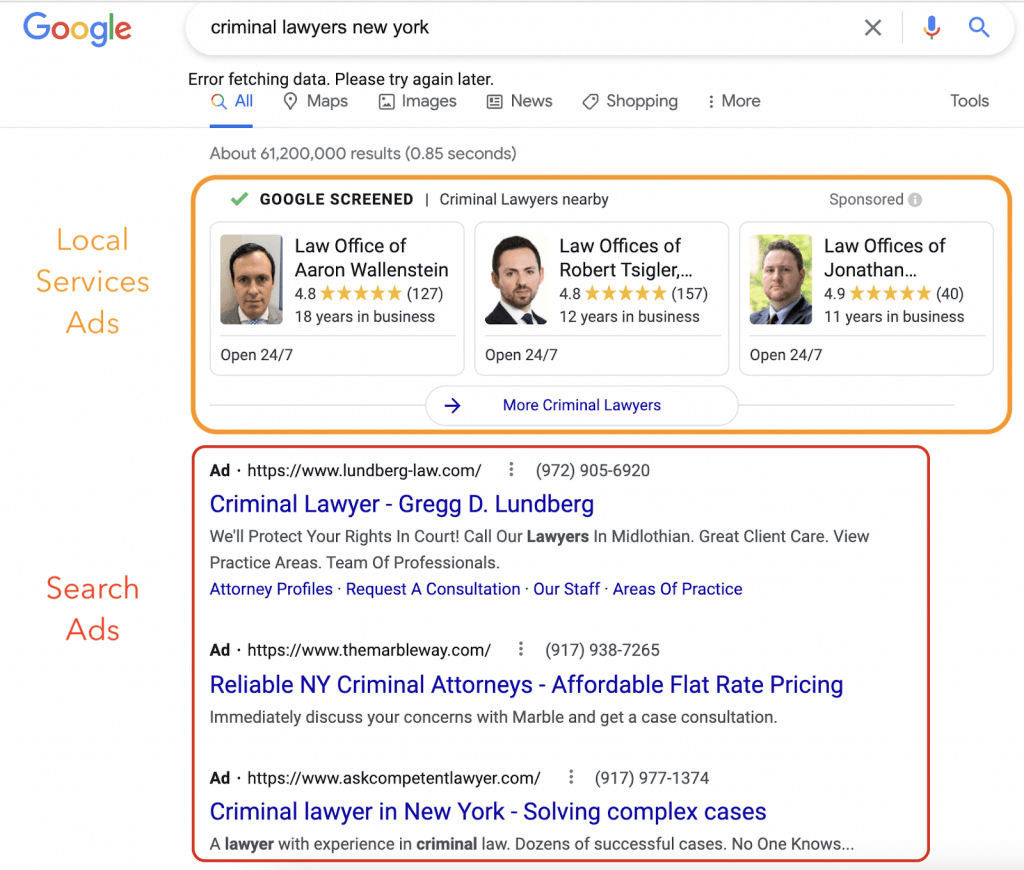 Sounds good, doesn't it?
Well, advertising campaigns are a quick way to get clients. The problem is that they require some technical skills and ongoing management. Additionally, the costs that you'll pay for getting leads can be very high as Google Ads are in-demand to the point of saturation in the legal industry, which bids up the price.
Law firms with the best ad campaign strategies and perfectly tuned funnels win in the paid search ads game. So, before you take the risk, make sure you understand how to run and manage your campaign properly.
6. Create Free Lead Generation Opt-ins
In order to get legal clients, attorneys need to be able to earn the trust of their target audience. An easy way to do this is to offer value through free lead generation opt-ins. In broad terms, lead generation opt-ins are high-value, content-rich resources that people can get in exchange for their email.
Sound familiar? You've probably done this before when looking for a product or service.
As a new lawyer, you can create a PDF, a checklist or a free guide providing valuable information related to a legal matter (for example, how to file for divorce). I know what you're thinking: if I give them free information on how to do this, why would they sign up as a client? Won't they just do it themselves?
It's true that some people that opt in for your free resources may not retain your services. But the people who don't weren't going to hire you or any other lawyer in the first place. There will be others that see your expertise and realize how complex their legal matter is. Because you offer them value without asking for much in return (other than their email), a portion of them will come to book an appointment with you as you nurture them with a series of emails.
Additionally, you can keep in touch with them via your law firm's email marketing strategy.
Some common lead generation opt-ins that lawyers use include, but are not limited to:
PDFs
eBooks
Webinars
Checklists
Forms
If you want, you can combine this strategy with ads to drive more leads to your lead generation page.
7. Get Featured in Your Local Newspaper
Another way to get clients as a new lawyer is to get noticed in your local newspaper. Many smaller newspapers are very community-driven and are constantly looking to shine the spotlight on new businesses, like your brand-new law firm. This activity is very helpful because it allows you to gain local exposure and target people you're most likely to work with.
Many local newspapers cover stories about new businesses opening in the area and that can have a meaningful impact on the community. Here is an example of how this looks: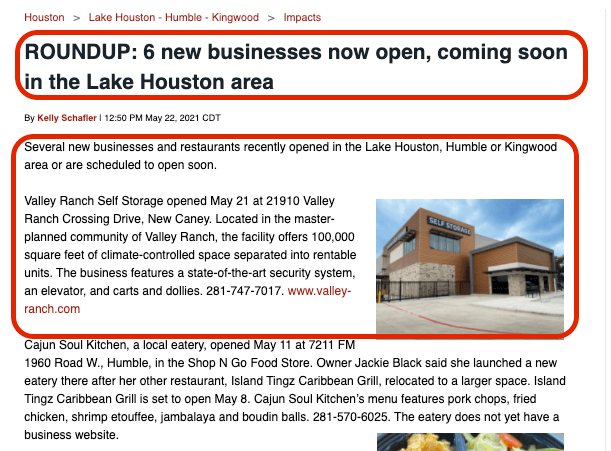 Now, depending on the newspaper, having your firm featured might come at a small cost. However, it could be a sound investment to get spreading the word about your new law firm in your community. As an advantage, you might be able to include a link to your website, which will help feed your online presence.
If you can't find a local newspaper that offers this service, you can opt for a membership in the local chamber of commerce and get featured on their blog or press releases. Finally, you can reach local bloggers that write about your city.
You can do a couple of searches in Google to find ideas and prospects, including:
Location newspapers classifieds
Location blogs
Location business roundups
Location local business roundup
If you're in charge of writing this piece of content, make sure it's compelling, easy to read and provides a clear idea of what you do. If the local paper or journal permits it, it's strongly recommended that you include your promotion or compelling reason someone should hire your new practice for their legal matter.
8. Differentiate & Innovate Your Legal Services
While the number is debatable and varies depending on the source you find, according to IBISWorld, there are over 446,000 law firms in the United States as of 2022. That's a lot. With this number in mind, the question is how can you differentiate yourself from your competition and focus on why that difference is important for clients.
Have you ever heard the saying "competition is for losers"? Harsh, but true in some senses. Think about all the great companies and brands that dominate their industries today. They became behemoths because they offer something different from the competition and they know how to effectively market and promote those differentiators.
So different in fact, that their customers buy their service or product over and over.
As a new lawyer, you're in the unique position of being able to differentiate yourself from the get-go. By this, I mean you could offer something of unique value to clients that your competition doesn't, won't or can't. Developing a strong differentiator and innovating how you offer or deliver your legal services will help you position yourself clearly in the market.
Confused? Think about it this way.
Right now, all personal injury lawyers offer contingency-based fees which they promote with slogans such as "no win, no fees" or "we don't get paid until you get paid".
Before this became common practice among all personal injury lawyer marketing, one or a handful of law firms had to come up with the idea to leverage contingency fees into a creative new offer, wrapped up in a simple and catchy slogan.
Obviously, this unique new offer worked, and virtually all personal injury lawyers started implementing it and operating their law firm around this idea. Ironically, because they all use it nowadays, most injury attorneys suffer from the original problem again… lack of differentiation! But before that happened, a few firms greatly benefited in the early days with such slogans that easily conveyed such an attractive offer to their target market.
If you're a new lawyer starting up your firm and you want to get clients, this is a perfect opportunity to invent your practice and offer something that your competition doesn't. There are many possibilities that you could explore.
9. Work 'Of Counsel' for Other Law Firms
Although all the previous ideas are good strategies for lawyers to get clients, they require time and effort. If marketing yourself is too much of a chore or you want a more stable stream of income faster, this option may be for you.
Working "Of Counsel" for another firm can be a smart way to start your own practice (and working to get your own clients) while having a consistent and stable flow of income.
Other advantages are that you can start growing your referral sources, market yourself as a good attorney, and keep your legal skills sharp. But most importantly, you can learn business strategies to operate your own law firm by using your experience and perspective as an 'employee'.
If you're not ready to focus on your practice, this path can be a good temporary option.
10. Get involved in your community
Having spoken to many lawyers (and researched countless more), we've learned that there are numerous ways to network in your area.
Here's a list of some community initiatives and associations that we've heard are excellent networking and business development opportunities for attorneys, while developing deeper community roots and relationships:
Get involved in your local Lions Club
Join local organization councils or boards
Become an active participant in either a local, state, or federal level bar society or legal association
Join or donate to a goodwill non-profit legal organizations
Get involved in local politics
Take notable, newsworthy or easily publicized pro-bono clients
Join a specialized help group with relevance to your practice area
Teach a college or university course related to your practice area
Actively participate in your local church, temple or other religious events and community
As you can tell, these are all focused on giving back first (and foremost) before asking for something in return. However, I've heard firsthand about each of these leading to clients and referrals. Best of all, these are evergreen, long term and sustainable activities that not only help with business development, but personal development and becoming an exemplary member of your community.