Before the internet (and even during the early days), word of mouth was one of the most powerful endorsements that a business could receive from which to enjoy new revenue. Referral sources are still an excellent source for generating new business. But in the digital era, online reviews for lawyers have become a crucial part of their law firm SEO and online marketing strategy. It's also important as a standalone tool for generating new clients.
In this article, we'll cover all the main topics of online reviews for lawyers, leaving no stone unturned. Here's a breakdown of what you'll discover:
If you follow the tips and strategies we discuss, you'll get more 5-star reviews praising your firm, attorneys and staff. And if applied correctly and constantly cultivated, monitored and maintained, more prospective clients will find you on the web and contact your firm.
What are Online Reviews?
There is an abundance of online reviews almost everywhere we browse and shop on the web these days. When you're looking to hire a local service-based business, such as a plumber, landscaper or dentist, you're likely to find one that has a glowing reputation online. 
The same applies to prospective clients looking to hire an attorney. Before picking up the phone to call you, people are going to be browsing a law firm's online reviews. More on that in a moment. First, let's make sure we're on the same page with the definition of online reviews for lawyers.
Online reviews are ratings, testimonials, or a combination of a written response with a performance rating of a client or third-party's experience with an attorney or a law firm. Reviews for lawyers and firms can be posted on numerous websites and directories online.
Due to how prolific online reviews are, and the fact that websites are increasingly promoting the overall review ratings of products and services, they are becoming not just an important, but essential part of every business's online marketing efforts. Attorneys and law firms are no exception.
What are the benefits of Online Reviews for Lawyers?
In a survey, 56% of legal consumers said that online reviews played an 'important' or 'very important' role in their decision to hire a lawyer. If your firm generates a glowing collection of 5-star reviews, then you can be among the top firms in your market that are shortlisted by prospective clients.
Reviews also play a significant role in the algorithms of many search engines and online directories. As discussed in our guide to Google Reviews for Lawyers, review "signals" play a vital role in both local (Map Pack) and localized organic search results, coming in as ranking factor #3 in Moz's Local Search Factors report. In short, the more high-quality reviews you obtain, the more visibility your law firm's online web profiles, accounts and websites will enjoy.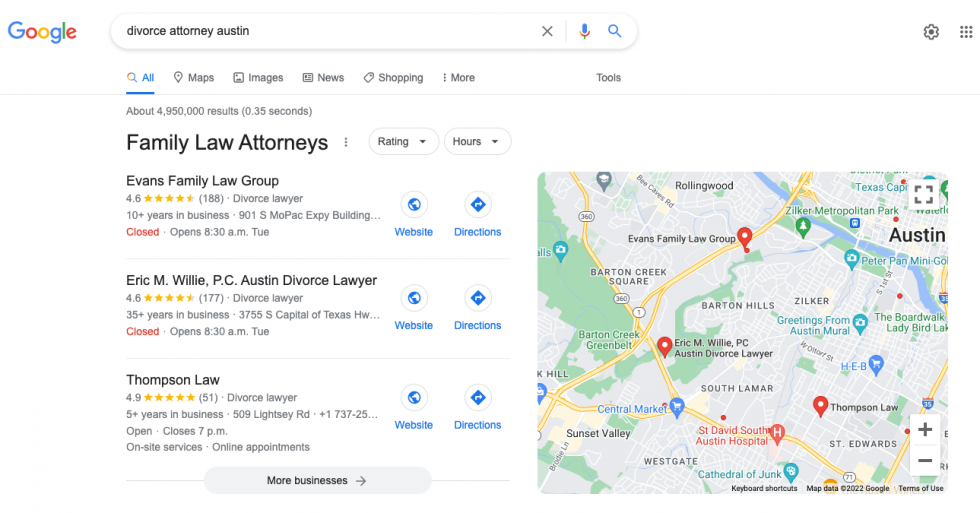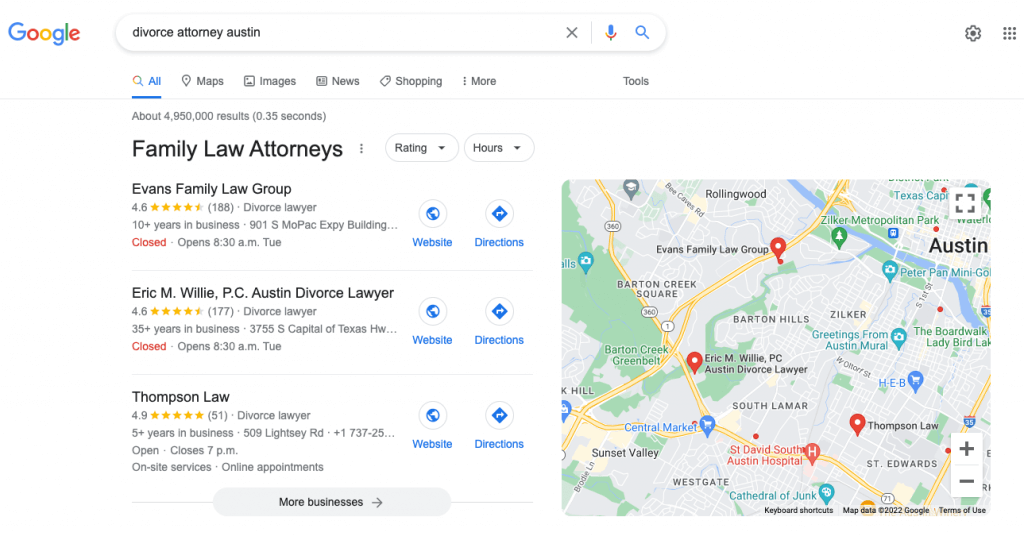 Additionally, 92% of those surveyed said that they would still consider hiring a lawyer or firm if they had overall positive reviews with some negative reviews. We can't maintain a perfect batting average when it comes to delivering ideal case results, outcomes and delivering the best client experience on every matter. And that's ok. As the study shows, most people are reasonable and don't expect your firm to have a perfect 5/5 average rating. The key is to maintain a high overall rating with enough reviews.
Best Websites to Get Online Reviews for your Law Firm
There are numerous websites and online profiles where you can have clients and others post reviews about your firm or your attorney profile. I'll go over the most important ones to focus on.
Google Reviews
Google Reviews are by far the most important source for your law firm's reviews. They have the greatest visibility and web presence, and therefore can have the greatest impact on your firm when it comes to generating new business.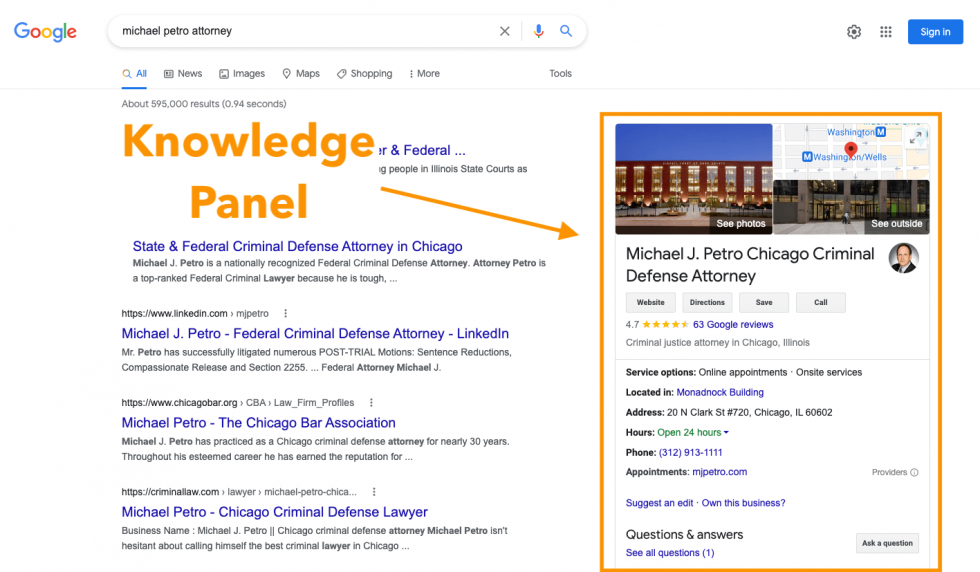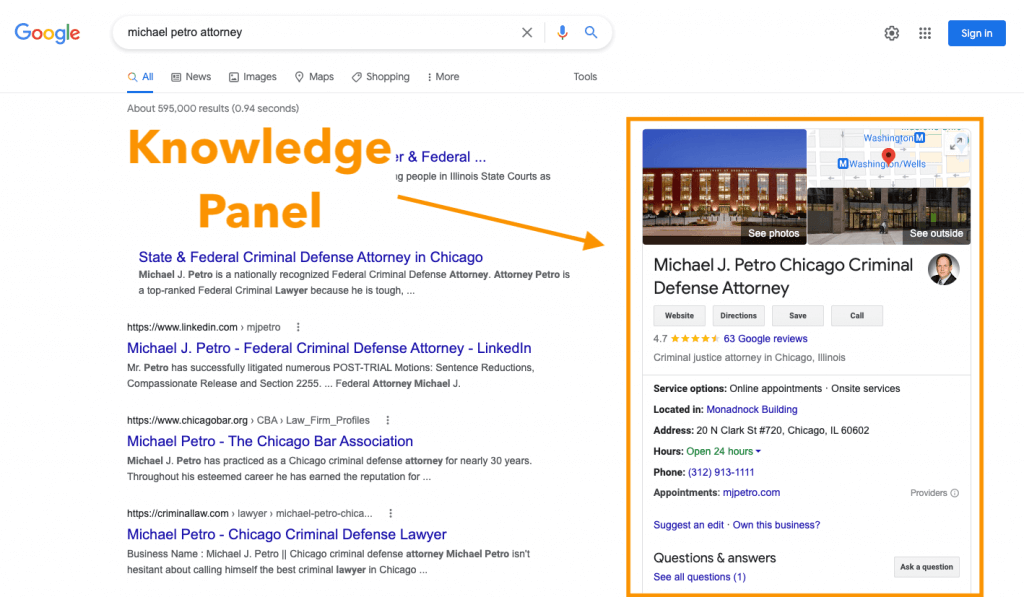 When someone searches for your law firm by name, a knowledge panel will show up highlighting your firm's information along with your overall review rating. When it comes to ranking your firm in Google's search results, Google takes reviews from many reputable websites into account, but its own reviews have the most significant weighting in its ranking algorithm.
Rule of Thumb: For every review you have on each site (listed below), you should have 10 Google Reviews.
You can read our full guide to Google Reviews for Lawyers to learn everything you need to know about getting and managing Google reviews for your law firm.
Avvo
Avvo allows you to get client reviews as well as endorsements from fellow attorneys. Avvo allows reviewers to leave feedback anonymously. On the surface, this might seem like an easy way to attract bad reviews, but it can actually be to the advantage of many lawyers.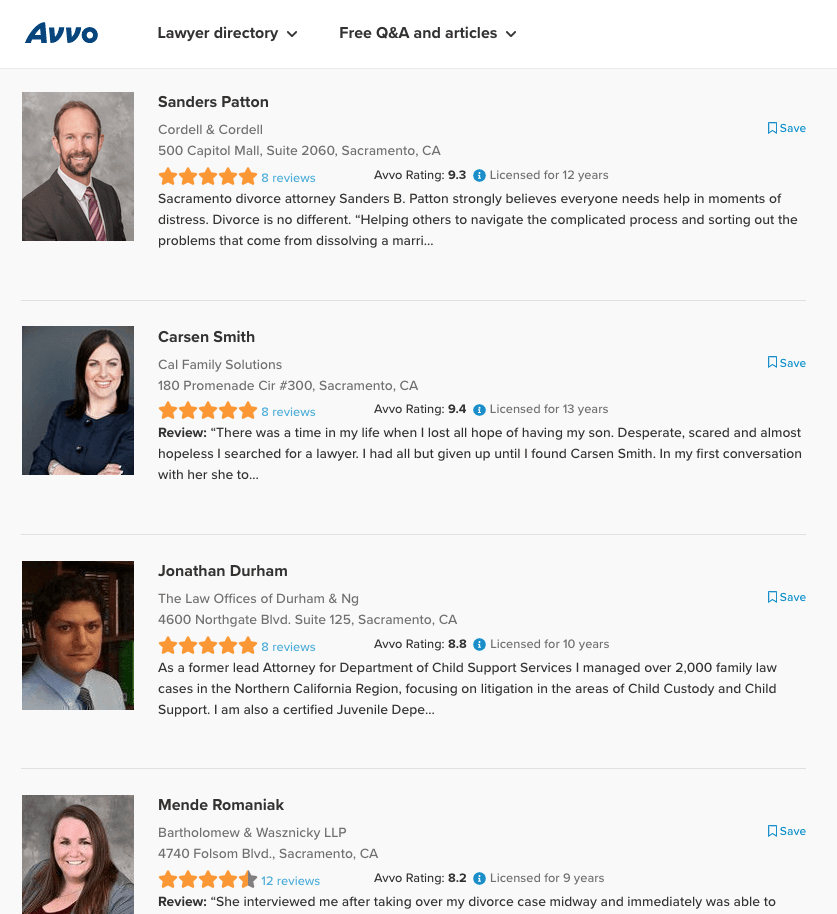 There are several practice areas where clients would be more than happy to leave a review, but because of the sensitive nature of their legal matter (family law, criminal defense, etc.) rather not have their name and case associated with that type of legal matter. Avvo allows lawyers to get online reviews from clients anonymously, so you can still boost your practice's reputation without your clients having to worry about theirs.
Facebook
Facebook's version of reviews are called recommendations. Instead of giving a rating out of 5-stars, a reviewer will either "recommend" or "not recommend" a business. You can collect recommendations the same way that you generate reviews (more on that later), provided you have a Facebook Business Page.
Yelp
Yelp is a very prominent local business directory website. You'll often see Yelp's website ranking for one of your law firm's primary keywords in the search results. So, it can be a decent place to generate a few extra leads and calls per month from. As such, getting your law firm's Yelp profile optimized and generating a few positive reviews will help to build out your overall web presence and galvanize your firm's reviews across the web.
FindLaw
FindLaw is a prominent online directory that receives a lot of search traffic and attention from Google. There aren't many lawyers getting reviews on their FindLaw profiles, which makes it an excellent opportunity for you to make your profile stand out and develop your firm's web presence and reputation. Having a handful of client reviews on your attorney profile is more than enough.
Justia
Like FindLaw, Justia gets a lot of attention and keyword rankings from Google. Many legal consumers find lawyers through Justia's blogs and directories. So, having a well-optimized profile with several reviews can make your profile stand out and keep your reputation shining if prospective clients view your profile on Justia before booking a consultation.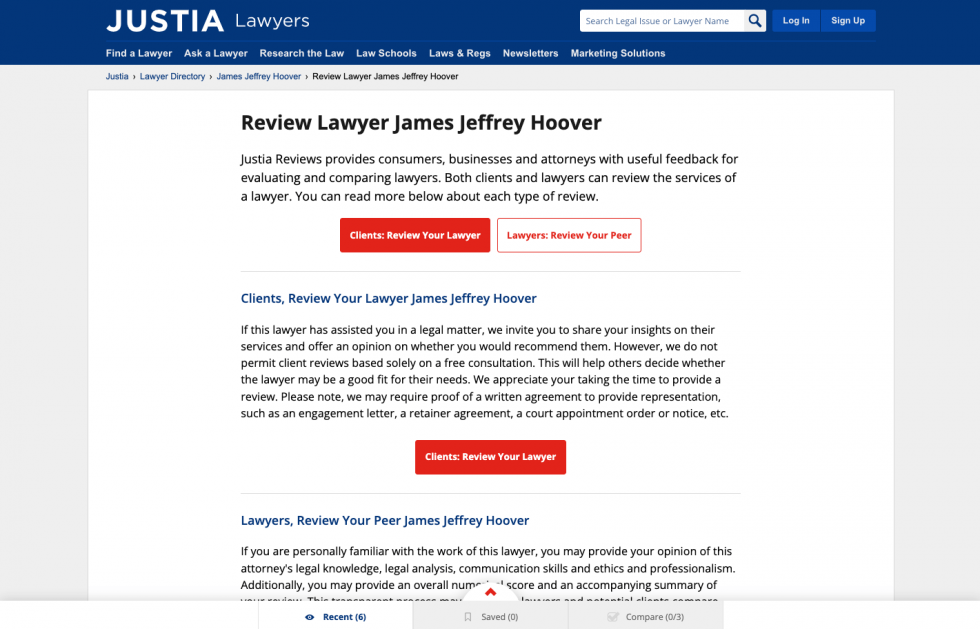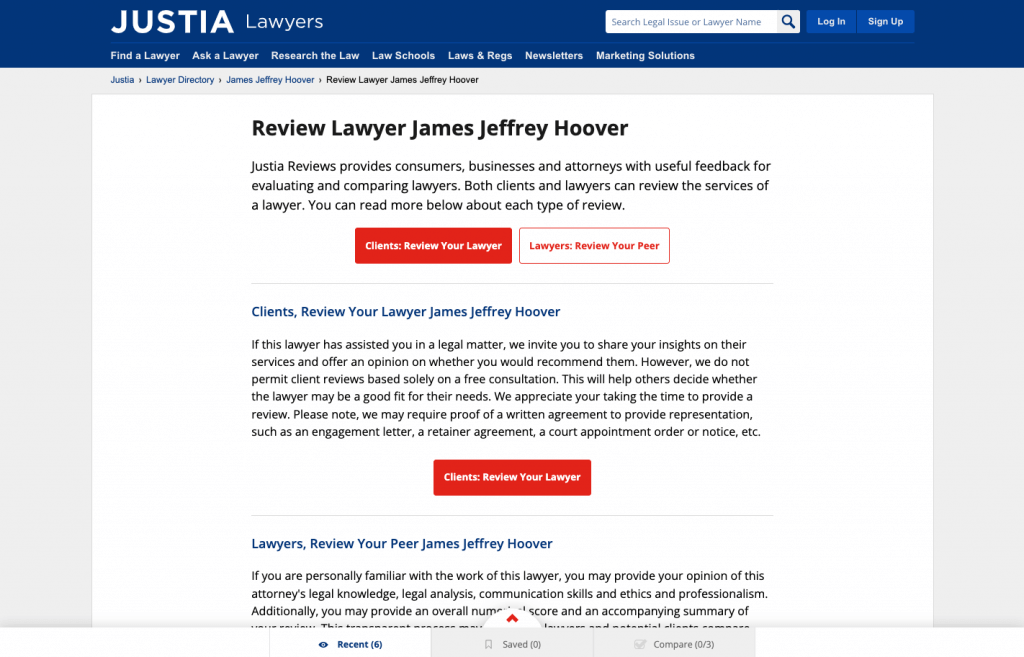 Justia also allows peer reviews from other lawyers as well as from clients. So, you can ask other lawyers in the same or different practice areas to leave you a review as well as new and existing clients.
Your website
Having client reviews on your website has several key benefits:
When people see testimonials & social proof on your website, they're more likely to be comfortable in calling your firm and booking a consultation.
You can improve your firm's web presence reputation in the search results.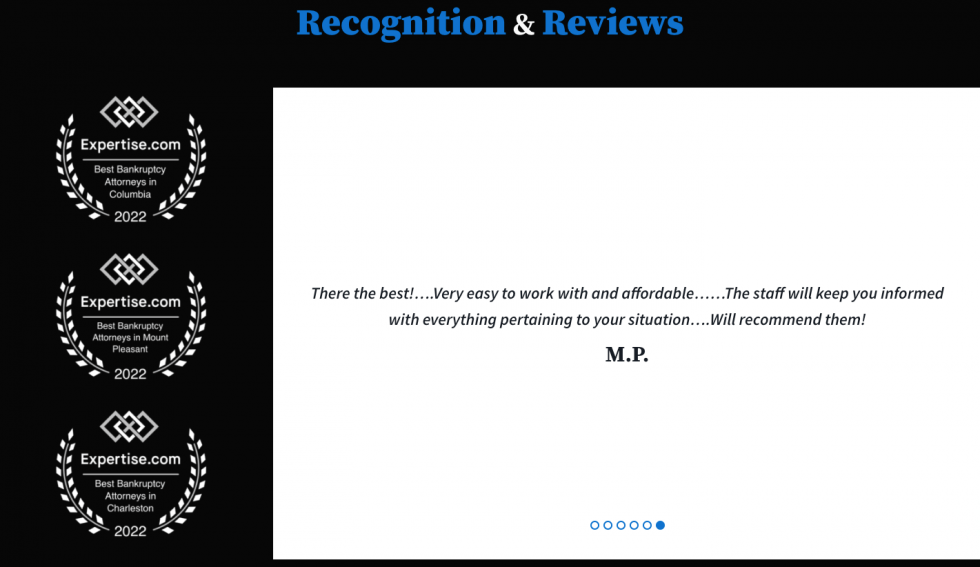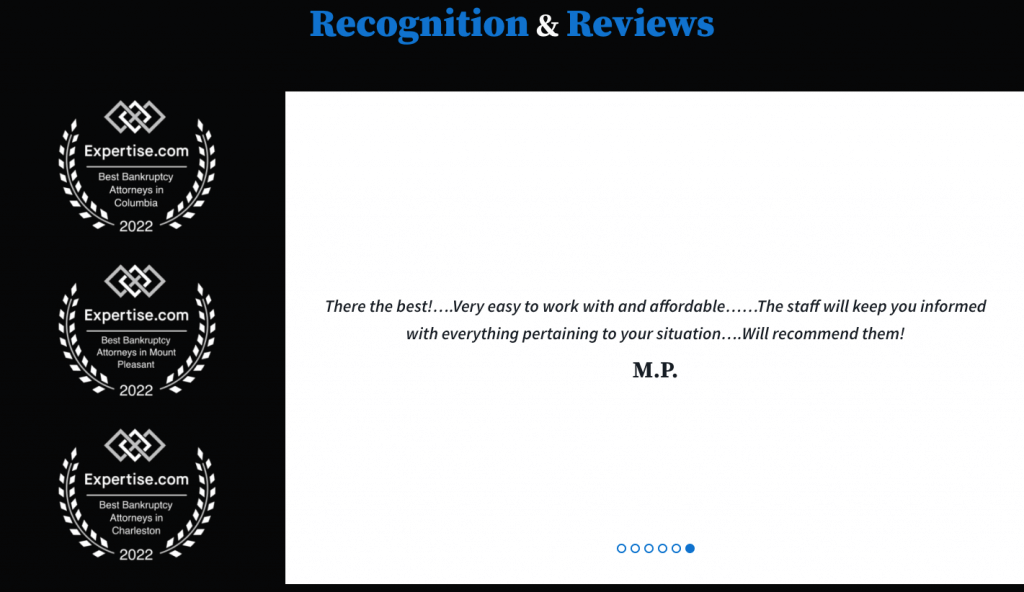 When prospective clients are on your website, they're in a prime position to take action. You can increase the likelihood of them taking a desired action by adding social proof in the form of client testimonials. These can be unique testimonials that they won't find elsewhere on the web. But you can also collect reviews from other sites and profiles like Google, Facebook and Avvo and re-publish them on your site.
However, as we've already mentioned, it's quite common that prospective clients will do some research on your firm during some point of the hiring process. So, they might Google your firm with a search query like "your firm's name" + "reviews".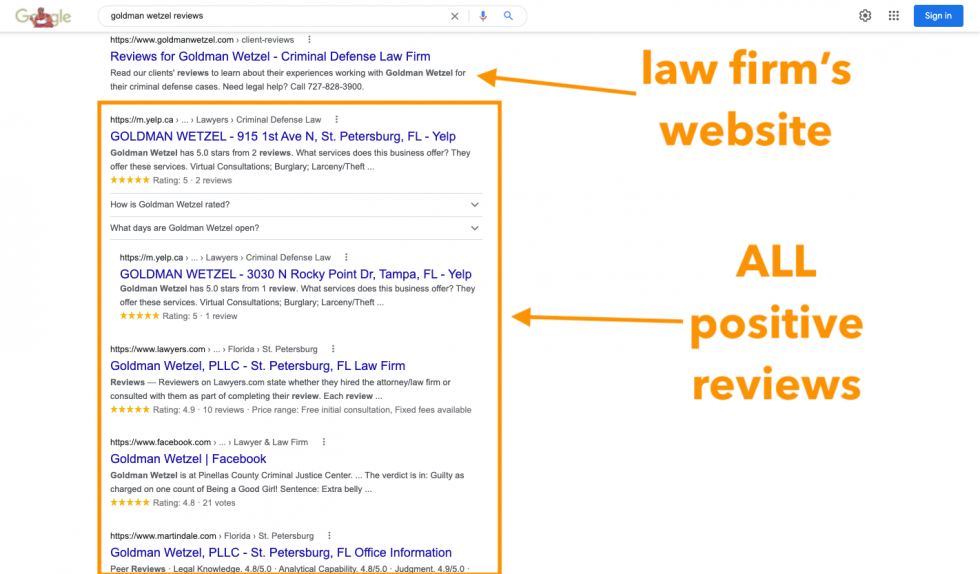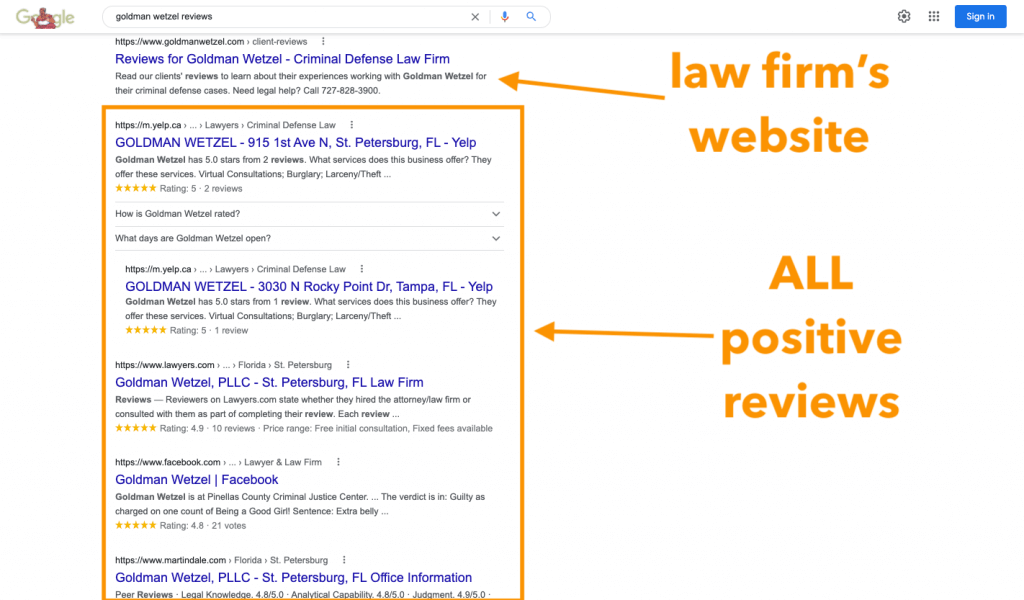 So, when they perform this search, you can make your search results shine by having a webpage on your site dedicated to client reviews. As you can see in the image above, this criminal defense law firm has a page on their site with reviews and Google is displaying their number of reviews and average rating, with the help of a bit of technical review schema. Now, that occupies an additional spot on the search results page for their online reviews, which helps their reputation in the eyes of new potential clients.
How to get Online Reviews for Lawyers
Getting online reviews for your law firm is a necessary part of your business in the internet age. Attorneys who actively focus on generating more reviews will benefit from it, win more business, and have a better online reputation. Those that do not, are leaving their online reputation subject to luck depending on how many satisfied and dissatisfied clients decide to naturally leave them a review.
There are numerous ways to go about getting more online reviews and testimonials for your law firm. Below I'll share the 2 main ways you can ask for reviews.
How to ask for reviews manually
Decide where to add the process within the case or intake process. There are a few obvious places where you can ask your clients to leave a review. Some do it after the initial consultation. I recommend waiting until near the point of closing their case.
Use your firm or practice's custom review links. Most of the sites and platforms that allow you to generate reviews have a special link you can use for your business's profile. When a client clicks on the link, they'll be taken directly to a webpage where they can begin writing the review.
Delegate the person in main contact with the client to request the review. We've found that law firms receive the most and highest quality reviews from clients when the staff member in primary contact with the client makes the request. This could be the attorney, a case manager or paralegal.
Include instructions on how to leave a review. Help your clients and make it as easy as possible for them to write and post their rating and feedback by including some simple, templated instructions on how they can do this for you.
Track the number of reviews and associated KPIs. Remember that this is a marketing campaign and it takes consistent effort over the long term. Your KPIs (key performance indicators) will act as your "Polaris Star" and tell you how things are performing. You should track the following: # of requests, # of emails or texts that were opened, # of page visits (if you have reviewers visit a landing page on your site as one of the steps), # of positive reviews, # of negative reviews, # requests per staff member, # of reviews per staff member.
Run tests to optimize. There are many tests you can run to optimize your efforts. For a manual review process, I would begin with some simple experiments such as different requesters (attorney vs paralegal), changing the step in the process when requests are sent, and the contents of the request message.
How to get reviews on autopilot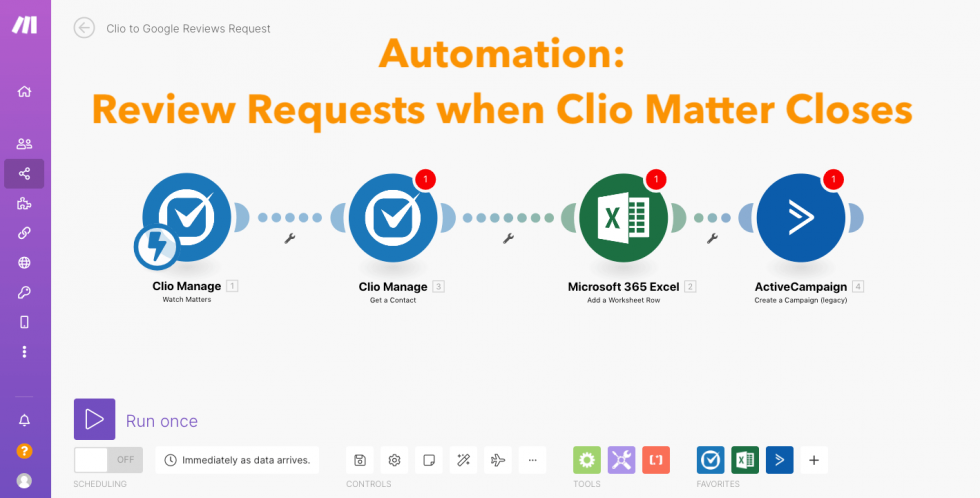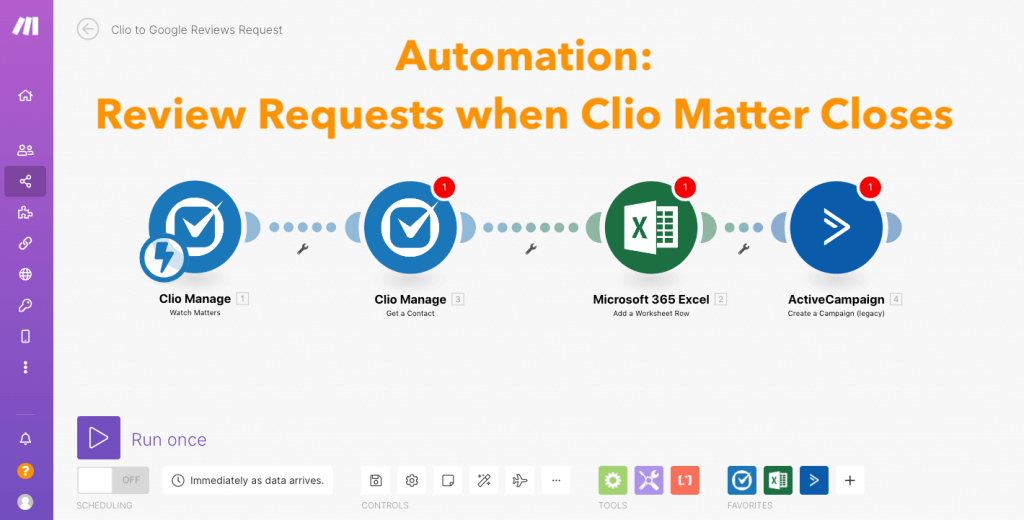 Create a template for the review request. An automatic review request system will send clients the request based on a certain trigger. When that event triggers a request, the system will need a templated message to either send via text message or email. Write a short message thanking them for choosing your firm and asking them to leave a review with their feedback and experience working with the firm.
Use automatic review generation (reputation management) software. There's a plethora of review generation and reputation management software services on the market. They range in sophistication, features and integrations. Choose one that integrates best with your practice management system and suits your needs.
Choose where and when in the case or intake process to request the review. The review management software you use should have some predetermined triggers built into it. You'll need to identify the one that works best with your firm and workflow so that it knows when to send out the reviews.
Add a filtering system to online solicit reviews from your best clients. Before clients are asked to leave a review on a public business page, like Google Business Profile, Facebook, or Yelp, they can be asked to leave an initial rating out of 5 stars. If they submit 5 stars, they're directed to a page where they can post the public review. Less than 5 stars and they'll be asked to leave their review on an internal, private page, so you can at least collect feedback and see what went wrong with that case. Your reputation management system might include this feature or not. Enable it if you have the option.
Monitor the system's activity and performance. During the first few weeks that your new system is up and running, you'll want to monitor it daily to make sure that it's functioning properly. After the first month, you'll still want to monitor its activity on a weekly basis.
Track your reviews and KPIs. Track the same KPIs as if you sent the reviews manually. Your system will likely track most of these KPIs for you. Track the service you're using too. Many businesses will switch from one reputation management system to another at some point. So, you'll want to keep track of how each performs.
Run tests to optimize. Since you're using a paid solution to handle your reputation management, there will be more templated parts and fixed variables in the request process. Test the remaining variables you have control over.
How to Maximize your Firm's Success with Online Reviews
Get as many positive reviews as you can.
Overall, the more reviews, the better. Make sure to familiarize yourself with each review platform's rules. They indicate who you can request reviews from and whether you're allowed to solicit reviews. Most of the major platforms do allow you to request reviews but double-check anyway.
Lawyers know each other's reputations from an insider's perspective, but the market only knows what the public sees… online reviews.
Firms and attorneys that neglect reviews often are the ones that suffer from negative reviews and lack control over their reputation. The firms that focus on generating as many positive reviews as possible and minimize the number of negative reviews have glowing online reputations, regardless of the true quality of their firm's work or how qualified they are as attorneys.
Everyone at the firm must be invested in reviews.
Firms that invest in systems, processes, accountability, and incentives around collecting more reviews win.
Invest in the proper software systems to generate reviews on autopilot. This is how the firms with hundreds of reviews on their Google Business Profiles are doing it – 95% of the time.
Determine when the best point is in your client's process or journey with your firm to request the review. I've seen attorneys try to ask for the review after the initial consultation, but I believe that's premature for most firms. I've found that the ones that have the best reviews (balancing quantity and quality of the reviews themselves) are around the time the case is closing or when a significant milestone has been reached.
The fastest horse sees the carrot and the stick. Create an internal initiative at your office to incentivize staff to generate reviews. Also, make sure to hold employees accountable for a lack of performance generating reviews, as well as bad reviews and comments. Anytime there's a negative review, determine which attorney and staff members were responsible for the case and make sure to address the review with them.
Show that you care and take ownership over all reviews.
Good or bad reviews, if the platform gives you the ability to leave a reply, then do it. Responding to all reviews has a few key benefits.
Anyone looking to do business with you and browsing your firm's reviews will see that this firm engages and responds to their clients' feedback. That's a sign that your firm listens to and cares about the client and their experience. 
It gives you a chance to save face with negative reviews. Respond to these in a professional manner, but respond nonetheless.
Clients you ask to submit a review can see that you have responded to others, encouraging them to leave their comments and feedback about their experience and have it read by the firm.