There's a lot of noise out in the ether about advertising and marketing strategies for solo attorneys and small law firms. If your practice is trying to grow, explore new channels or discover new marketing channels to develop stable sources of leads and cases, then this article is for you. Additionally, we're going to look at marketing your law firm as a whole. This means looking at marketing and client acquisition as an end-to-end process.
In this guide, we're going to discuss:
By the end of this guide, you'll have a clearer idea of how to develop a marketing plan for your law firm, your positioning in the market, channels, strategies and how it all works together to generate more cases.
Law Firm Brand Positioning
The first major marketing consideration you should make is regarding the image your firm projects to the market. The principal concepts come down to what type of clients you're trying to attract and the services your firm offers. This encompasses the concept of positioning in a market. When prospective clients are shopping around for lawyers, they're going to take these things into account.

There are three primary questions an attorney has to answer about their practice:
What areas of law do/will you practice?
What differentiates your firm in the market?
What message do you want to promote to your market?
These will help define some fundamental pillars in your firm, which will be used to make better decisions in the types of marketing and ad campaigns your law firm will run, the contents of your ads, marketing material as well as the audiences you desire to reach and how you speak to them that will attract your ideal clients and cases.
Define Your Key Areas of Practice
Attorneys and law firm marketing specialists are fully aware that lawyers can't claim to be experts or specialists. However, it is within the full discretion of a lawyer to define what types of law they practice and focus on. This has many advantages, among the more substantial, including the ability for lawyers to:
Focus and refine their knowledge in one or several particular areas of law
Profit more through streamlining operations and achieve better results
Establish themselves as an authority on that area of law in the marketplace
These individual benefits also produce some very powerful synergies and should be taken into consideration when developing a long term marketing and operations plan for your law firm. Furthermore, in a study we conducted, it was found that the majority (between 80-94%) of law firms ranking in the first-page search results on Google positioned themselves as specialists in one or several areas of law. In the eyes of consumers and your target market, this has appeal. Consumers may think they're getting a better value by hiring a lawyer that focuses on the specific type of cases that they require help with.
Tip: It's common in our markets and culture to defer judgment to specialists and experts. A cardiologist may be able to tell generally how healthy you are, but they are the people to see for heart-related information. There are mechanics, but many of them can't work on a German or Italian sports cars. There are different levels of specialization.

Any lawyer can represent someone in a legal matter, but if you need the best legal representation for a divorce, then you are going to seek a divorce lawyer, specifically. So choose between being a general practice, full-service law firm and a boutique or specialized firm.
Differentiation: Find your Law Firm's Edge
This can be very difficult to determine at first, but once you figure it out, it can make all the difference in the remainder of defining your marketing objectives and executing your plans. Once you've determined what services your firm will offer and whether to focus, you can begin determining your competitive edge in your area of practice.
To illustrate the power of differentiation, let's look at how this could apply to a family law practice.
Client Personas: Who Specifically Are You Offering Services to?
A family law firm will typically offer a number of services, like any other firm handling family law matters. This would include divorce, separation, alimony and child custody services among others. However, many firms will have different client personas or ideal clients that they represent. A divorce attorney could choose to serve anyone, male or female and, any income level. However, there are markets that exist within the divorce space.
DIY kits, for example, are becoming more popular for people who can't afford a lawyer or going to trial. Some divorce and family lawyers are beginning to offer online legal opinions, where they perform child support, spousal support, pension and business income analyses – along with unlimited Q&A. These are typically offered at a flat rate and provide people access to a lawyer to pick their brain.
On the other extreme of the spectrum are high net-worth individuals, where another set of client persona similarities become apparent. This market tends to want to protect their assets and businesses. There are law firms that just deal with this segment of the family law market and have more than a large enough market to sustain themselves.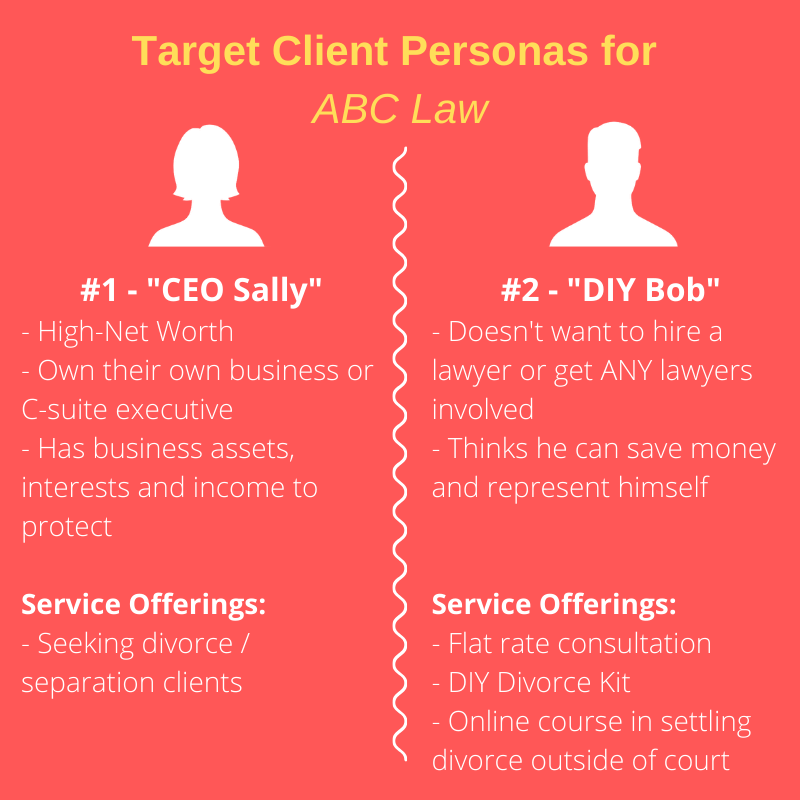 These are only a few examples and many firms will opt to stay somewhere in the middle, handling a variety of different cases and types of clients within the realm of family law. There's nothing inherently wrong with that. At the very least, your firm is narrowing down its focus on a particular area of law.
Check out our guide on branding your law firm for more in-depth information on this topic.
Law Firm Marketing Plan: Objectives, Budget & Activities
With well-defined positioning for your law firm, its image, and brand, it's time to look at developing a marketing plan to acquire clients.
Define Your Law Firm's Marketing Objectives & Goals
This may seem obvious to some, but it's crucial to the success of your marketing efforts and investments. Most law firms are interested in generating more cases. So, the questions become:
How many new cases per month or total open files?
What type of cases or area of law?
Over what period of time?
Examples:
Constantly have 200 files open for civil litigation
Sign up 20 new cases for disability insurance claims per month
Get 3 phone calls per day for wills & estates
Let's suppose that your small law practice desired to have 300 personal injury files open at any given time and your firm desires to achieve this over the next 12 months. Currently, you're handling 180 files open and this number is fairly steady with throughput as cases are closed and new ones are opened. Therefore, clearly, the current marketing activities are sustaining the 180 open files and will continue to (optimistic, I know…).
This means that we need to initiate new or enhance existing marketing activities that increase our caseload by 120 files over the next 12 months, or in other words, sign up 10 more clients per month than we already do.
Now we have our objective defined. We'll use this example later to understand how this is accomplished and the implications of deciding what marketing to perform.
Budgeting & Cost Planning for Objectives
With a clearly defined objective; a target number of cases to achieve by year-end, we can start thinking about the cost of acquiring these additional clients. Usually, before making a purchase, a consumer would start with a budget and consider options that fit said budget. However, we need to be careful with this approach. It's idealistic and it's usually a good way to fall short of your objective. Instead, we need to determine a reasonable and realistic cost per client acquisition.
Start by determining how much the average case is worth, in dollar value, to your law firm. From here, we can determine how much we're willing to spend to acquire a case. Typically, this will be less than 10% of the case value, but firms that are aggressive to reach their objectives should be prepared to spend up to 10%. This especially applies to smaller practices marketing in more competitive areas of law, such as personal injury, criminal defense and DUI.
Related Article: How Much Do Law Firms Spend on Marketing? (and How it's Budgeted)
Law Firm Budgeting with Cost per Client Acquisition
Instead of guessing, an empirical approach would be to look at data your firm has on past marketing campaigns that it has run and how many new cases it has received as a result of this. Suppose that previously, this personal injury law firm spent $15,000 on a TV campaign that lasted several weeks. This directly resulted in signing up 17 new cases, yielding a cost per client acquisition of $882.35.
Note: It's crucial to only count cases that we can link to discrete marketing activities, excluding referrals and secondary or indirect sources. However, referrals are an important part of measuring lifetime value (LTV) of the average client.
With this number, it becomes easy to estimate how much is required to spend on marketing – using a TV campaign – over the next 12 months to acquire an additional 120 clients. Ultimately, this would cost the firm $105,882. This may seem like a lot, but that's the way the math works out, in this instance.
There are several caveats to this.
It assumes that our cost per client will remain steady over the lifetime of such a long TV campaign. There are several problems with this, including neglecting ad fatigue, ad saturation, seasonality, programming variance and other factors. The main point, however, is that we are able to establish a baseline.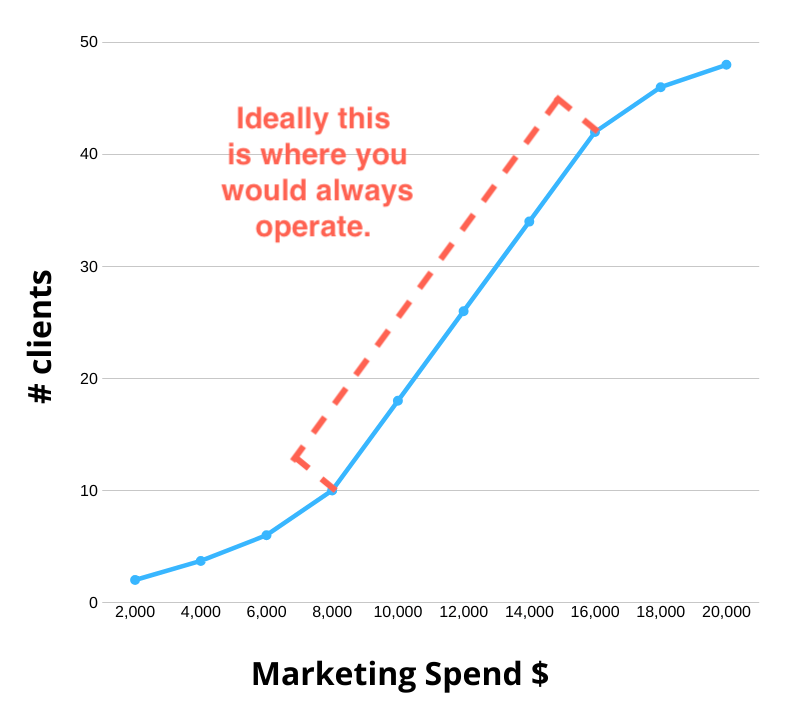 The best way to get a sense of this cost per client number is to take an average across multiple campaigns, good and bad. Since not all marketing expenditures work out, it's always best to plan for the unexpected and build in some margin for error. Let's suppose that this law firm determines that it costs between $700 and $1000 to yield a new case. With this known, it's time to revisit that number of 120 increase in files and determine if this is feasible in 12 months. After all, you may be restricted by a maximum budget and have to tweak this number.
By performing this analysis, it will help reach realistic expectations and conclusions on what can be accomplished with the budget at hand, or what needs to be budgeted if funding this expansion is achievable.
Create a Marketing Strategy
Once you have realistic goals and the corresponding budget determined, we can start considering how we will put this to work . It's time to plan your practice's marketing strategy.
Understand Long & Short Term Marketing Activities
A good law firm marketing plan should include both short and long term strategies.
In the short term, this means what can we do to generate clients immediately. Activities that produce marketing results in the short run are analogous to a faucet that can be turned on or off at a moment's notice.
Long term marketing strategies should be is more like a snowballing, where it takes effort and investment over a longer period of time, but will produce a long-lasting impact, producing many leads at its peak and generate significant brand, making new cases cheaper to sign up, the longer that the effects from the long term efforts last.
One framework to think about a marketing activity and classify it on the spectrum of short to long term marketing and its effects. For instance, running a TV ad campaign would be classified as a short term marketing activity.
A campaign running ads for several weeks may generate a spike in new case sign-ups in the short term. It would also promote your brand name and top of mind advertising to a limited degree. This could also be shifted towards a longer-term activity since the effects of this campaign on your firm's name recognition would require a long term campaign commitment.
Diversify your Marketing Strategy Portfolio
With a better understanding of the budgeting, cost per case acquisition as well as long and short term marketing activities, it's time to combine these into a cohesive marketing strategy. Let's look at an approximation of an online marketing strategy that this injury law firm may decide to implement.
This diagram illustrates a portfolio of marketing activities that this firm is considering implementing as well as the estimated impact, in terms of the number of clients that each channel is proposed to generate. This figure also lends perspective to the amount of time it takes to prepare a marketing activity and see its activities in full-swing in order to see its results.
Even with the latency effects from each marketing channel, respectively, at the end of 12 months, this firm is very close to its overall goal of 120 new clients. However, this also indicates that it will produce an average of 16.5 clients per month.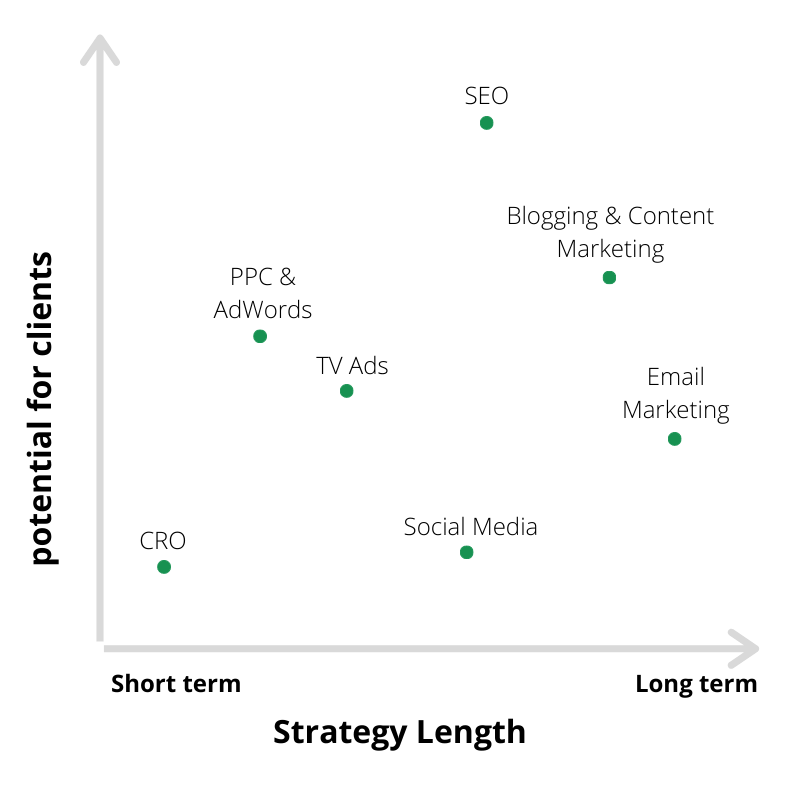 Therefore, after the initial period, certain activities could be paused (or scaled back), such as PPC ads, AdWords, email marketing and social media.
These all tend to have direct, short term results and can be classified as short term activities, in contrast to engagements such as SEO, one-off website optimizations and blogging that will produce long-lasting effects in generating clients month after month.
If the law firm is ready to grow again, it may decide to reach a new benchmark, another increase of 5 to 10 additional cases per month, bringing them up to around 400 per year in total. In this situation, both short and long term activities can be scaled up or resumed based on projections required to meet the new objectives.
Getting Involved in the Marketing Activities
There are likely going to be some activities that you don't have to get involved in; such as the PPC and AdWords, SEO, website design and CRO. However, you may want to have a more active role in activities such as blogging, social media or email marketing. Essentially, all of these can be handled by a law firm marketing agency, like Zahavian, but at the end of the day, at least one of the firm's attorneys active participation in the marketing activities, writing blogs, reviewing the social media and some SEO tasks can make a huge difference in the results.
Client Acquisition Value of Marketing Activities
Building off of the previous example, we can look at the potential value of each channel. This figure illustrates the monthly value, generated by each channel in terms of the average cost this law firm incurs to acquire a new client (i.e. $882.35). Since these activities are projected to generate new 16.5 cases per month, the total, monthly estimated spend:
16.5 x $882.35 = $14,564
This is important, as a monthly cap, as each channel may have different marketing and operating costs, then the values.
For instance, Website CRO (conversion rate optimization) probably won't be a monthly expense. So, you may end up paying several thousand dollars per year or even once every couple of years, rather than $882 per month.
Email marketing in this example will probably cost one third to half as much (at most) as the projected value it produces.
Social media, on the other hand, may cost more money – potentially $500 per month to have this managed for your practice. However, this also offers a channel to promote your website's legal information and blog articles, therefore some of it can be accounted for from the content marketing budget.
Speaking of content marketing, it likely won't cost $3,500 per month to have excellent content researched, written and promoted that will generate significant leads from organic and search traffic.
On the other hand, PPC and AdWords may end up costing more than some other channels to generate leads and cases. However, it's a short-term strategy that can generate cases and leads quickly when there is a shortage from other channels. Thus, it's not necessarily bad paying a premium for this.
So, we can see some areas where we spend less than the average of $882 per client and areas where we spend more. There are also some synergies that exist between activities, that blur the lines somewhat, but are certainly very constructive.
Combine Online Marketing Components to Build your Strategy
Now that we've established a clearer understanding, at least regarding of our methodology of budgeting and valuing marketing activities, we'll look at the specific components and activities from above, a little more in-depth individually.
Your Law Firm's Website
The website in many ways is the heart of your online marketing strategy. Even when people see a TV or billboard ad for a law firm, their highly likely to visit your website before calling your firm.
When considering the above example of the online marketing strategy outlined, all roads are bound to lead back to your firm's website. In addition to the impact of a legal practice's site with traditional and online marketing, a law firm website SEO study that Zahavian conducted found that over 55% of attorney websites ranking in the top 10 results on Google were redesigned in the past 2 years and 75% were redesigned less than 3 years ago.
A Note on Conversion Rate Optimization
In scenarios illustrated earlier in this article, CRO was discussed as one of the marketing activities to be invested in. The above example was somewhat simplified and should be expanded upon. The website CRO marketing activity has compounding effects, rather than just contributing. It effectively increases the number of website visitors that call or contact you.
Blogging & Content Marketing
Blog articles and content that your firm publishes, is likely going to be hosted on your practice's website. This will help your firm be found by people searching for answers to their legal questions on Bing, Google and other search engines. This content is also great to distribute through email marketing and social media. When performed correctly, this can become one of your top-performing marketing activities that generate more cases.
Law Firm Blogging Resources
Social Media Marketing
Social media marketing is an excellent way to accomplish engaging with your local community and staying top of mind advertising through sharing content.
If you're actively on it, this can produce long term effects for branding and name recognition. There are multiple types of content suitable for law firms to post on platforms such as Facebook. Social media typically doesn't generate a ton of clients directly. When it does, it's typically through a well-tuned content strategy. It will generate some leads, many hits and misses, but those on it can acquire clients from it. It will vary depending on your region, what audiences you target and your area of practice.
Areas of law, such as family, property and wills and estates, perform better than others. However, when we track our lead generation results, the value it produces in our clients' analytics sets still produces a positive ROI.
Social Media for Law Firms Resources
Search Engine Optimization
One of the principal online marketing strategies that most law firms will want to invest in is SEO. Law firms are just one of those industries where many people don't know of local, professional service providers such as lawyers. It makes it a prime industry for SEM (search engine marketing). The source of traffic that can be achieved organically – a.k.a for 'free' – is through Search Engine Optimization.
Attorney and law firm SEO is one of the most competitive spaces within search optimization and SEM. Therefore rankings can take upwards of 6 months depending on the specific market and area of law you're seeking to rank for.
SEO for Lawyers Resources
PPC Ads & Google AdWords
PPC ads (pay-per-click) is a popular form of online advertising and comes in many forms. The largest PPC platform globally is Google Ads, followed by Facebook.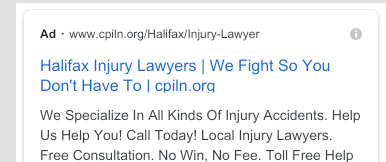 One PPC product specifically, AdWords (now called Search Ads) allows businesses, including law firms to appear above the search results as a text ad. Out of all the forms of PPC advertising, AdWords is by far the most effective for many law firms to market with – since they can appear on search results targeted by keywords that individuals type into the search box.
If SEO works well with your areas of practice, then AdWords is a great way to appear in those search results immediately. It can be costly and it's recommended to know what you're doing before getting involved in an AdWords campaign.
Facebook PPC ads can be a great way to geo-target people and has excellent demographic data, such as age, gender, relationship / marital status as well as where they live and education level. It also has an extremely robust retargeting platform, which can prove useful for many law firms and coordinating specific marketing campaigns.
Law Firm PPC & AdWords Resources
Email Marketing
Many law firms still don't take advantage of email marketing, although it can be one of the most cost-effective and high ROI marketing strategies a legal practice can implement. Email marketing can be used for a number of purposes, including lead magnets, drip campaigns, and newsletters. Law firms practicing or specializing in almost any area of law can benefit from email marketing in one form or another. Check out our guides linked just below to learn more about the benefits and implementing email marketing into your law firm's client acquisition and marketing objectives.
Email Marketing Resources for Lawyers
Measuring Results from Online Marketing Activities
Tracking your online performance is really easy. There are tons of free and paid tools available on the market. One of the most popular analytics platforms is Google Analytics (GA for short).
It plugs in relatively easily with your website, just by adding a snippet of code. From there on out, it will track virtually all visits, where they came from and all the rest of the information you could ever want to track and measure (when properly configured).
You can set up goals and conversion in GA, customized to exactly what actions prospective leads take on your website, such as click-to-call buttons on smartphones and mobile devices, form submissions, views of key pages and more.
Analytics tools and reporting features are extremely helpful. The platform collects so much data, it's a trivial task to track and segment your audiences, their conversions, and lead value by audiences such as geographic location, whether they found you as a result of organic search, PPC, from Facebook, YouTube or otherwise.
If Yelp or YellowPages claim that they sent 20 leads from their website to your firm's site last month, you'll not only know whether that's accurate but if that actually converted into a lead or not. When used correctly, in coordination with some other marketing techniques, this can even be used to track the performance of offline ads, such as print and television.
Referral & Business Development
Business development and referral relationships play a crucial part for many law firms. Some attorneys generate 80 or 90% of their business through business development and referral marketing alone. Among the largest and most significant referral channels that business development can produce include referrals from clients, other lawyers as well as people and professionals that you network with.
While it's recommended that all lawyers serious about marketing and growing their practice participate in business development and networking, it can be particularly fruitful for new startup law firms and solo practitioners that have more constrained marketing budgets – especially while they're small outfits and have more time on their hands.
It costs little to nothing to do (except for your time) and can build business relationships that your legal practice will benefit from for years. Check out our guide on generating client and lawyer referrals to get some tips on how to get started.
Dial-in Your Firm's Sales Process
As your practice's marketing starts producing more phone calls and lead form submissions, ultimately the firms that see the most success are those with a well-oiled sales process.
In general, a small law firm will have its sales process look like this:
First Call / Contact
Following up
Intake
Initial Appointment / Consultations
Discussing Fees
Closing the Deal: Retainer Agreement and/or Engagement
The critical parts here involve making the window of time required to complete steps 1 through 3 as short as possible.
Many lead conversions such as contact form submissions and phone calls occur during regular business hours, but many will come in before or afterward. Law firms with a better-tuned sales process will have after-hours answering services or pre-recorded voice messages that encourage the person to leave a message and let them know that they'll follow up ASAP.
Whatever you decide to do, improving the follow-up speed will help you qualify more leads for the intake and initial consultation.
Conclusion
There you have it – all the major components that make a small law firm's or solo practice's marketing strategy.
We've gone from presenting your practice to the market with branding and positioning your firm, looking at its differentiation and then moved on to the elements of creating a marketing plan. We did focus on some particular examples and looked primarily at online marketing methods, however, the concepts discussed here apply to most marketing tactics and campaigns small firms and solo practitioners are likely to embark upon. For small practices and solos with smaller budgets, consider focusing more time on business development and building up some referral sources.
Once you get the phone ringing, it's time to turn as many qualified leads into clients as possible. Make sure to tighten up your internal sales and follow-up processes to get the most signups possible.
If you're interested in learning about how Zahavian Legal Marketing can help, book a strategy call with us to see how we can grow your firm together and build a solid practice for many years to come.