Experienced lawyers and seasoned litigators can offer excellent services, but if no one knows about your firm or can't find you – like a needle in a haystack – then attracting and signing clients can seem immensely challenging. There are many ways to get clients, paid and organic, but in this article, I'm going to review 13 free law firm marketing options and ideas you can use to sign more cases and grow your practice.
Having experience and offering exceptional legal services is important. But in order to continue to practice, you must have cases to practice. So, we'll cover all of the different tactics, tips and strategies you can use to get more clients that are either free or nearly free.
1. Optimize your Google Business Profile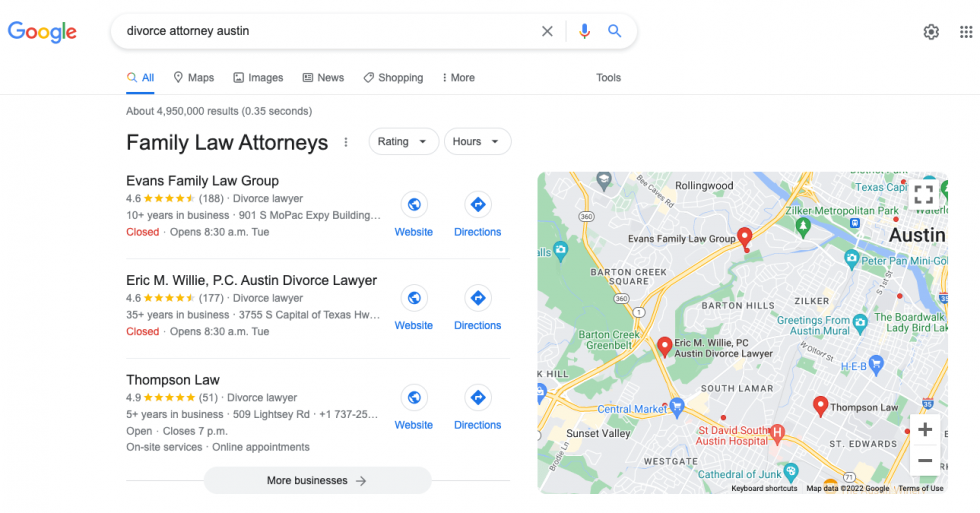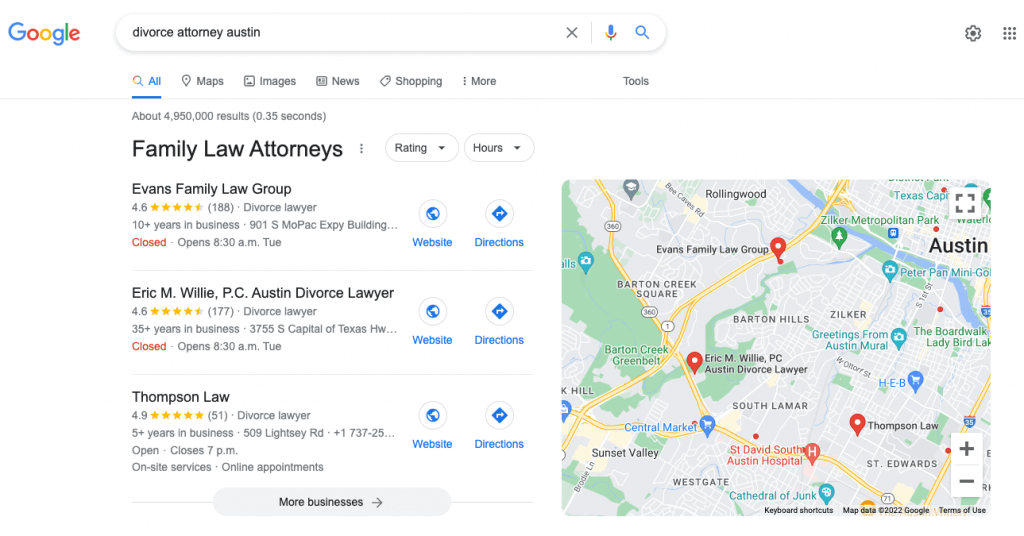 Your Google Business Profile (formerly known as Google My Business) is a critical part of your law firm's web presence and digital marketing strategy. It's also free to use and promote. Google Business Profiles are focused on local businesses that offer services to customers or clients near their business's location.
Optimizing your practice's Google Business Profile isn't difficult or time-consuming. So, setting it up to shine is a great use of an hour or two, especially if you plan on attracting more online reviews (see tip #5 below). You can check out our guide to Google Business Profiles for Law Firms to understand the exact parts of it that matter most when optimizing it. When you log in, you may see Google ask you to run ads for your profile. Don't worry, you can skip the ads. The profile and its organic exposure are entirely free and many attorneys get a lot of clients and cases from the free version of this profile when it's properly set up to maximize their online visibility.
2. Use Barnacle SEO (high-visibility directories)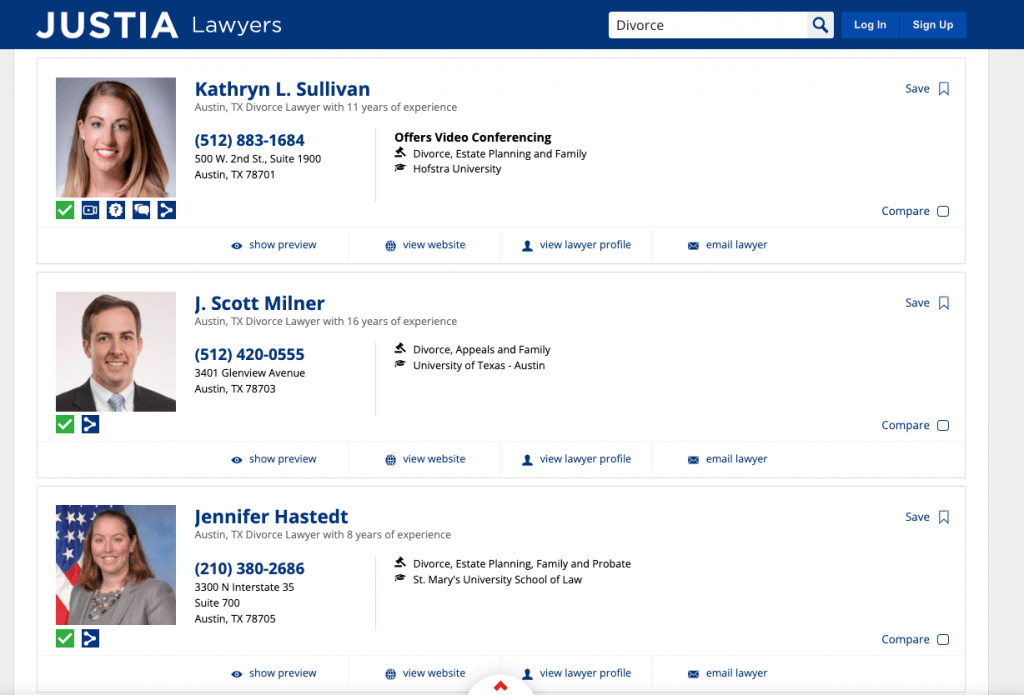 Barnacle SEO is when you optimize your web page or profile on another website with the purpose of ranking higher in that site's directory. The site directories I'm referring to include Avvo, Justia, FindLaw, Yelp, Thumbtack, Expertise.com and similar websites.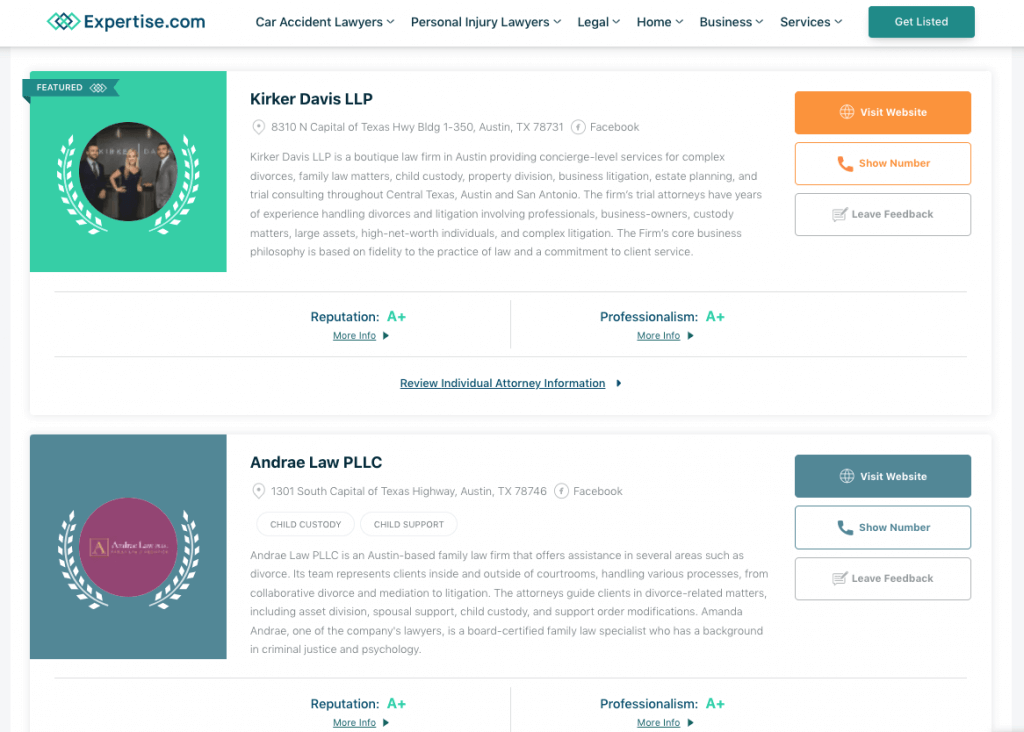 Just like optimizing your Google Business Profile, if you apply those same principles to making your profiles shine on these other websites that already attract a lot of online searches and eyeballs, you'll rank higher in their directories and receive more of their free traffic.
3. Start a legal blog
Starting a legal blog is one of the best free marketing options for your law firm. There's no shortage of topics in nearly any practice area to write about. We did a study several years back which showed that law firms and lawyers that actively blog drive 15.9 times more traffic to their websites than lawyers that don't blog at all. We knew it was a significant difference, but even we were amazed when we saw just how big the gap was.
When it comes to blogging for lawyers, there are a few simple rules I recommend to follow:
Write for what people are looking or searching for, not what you want to write about.
The exception to rule #1 is if you have a network or following of other lawyers that you know enjoys what you have to say. In this case, your blog will keep you top of mind with your referral network.
Stay on point. We've all seen the movies and shows where the blogger is writing casually and about whatever interests them. Keep your blog posts focused on the topic. It shouldn't be a creative writing piece.
Expand the facts and details. There's no room for a 200 word blog post with "it depends" as the key takeaway. If it depends, then explain the dependencies, conditions and situations that are likely to occur. A good starting length for a blog post is 800 words. Most of the legal content writing we produce for law firms we help is at least 1,000 words.
4. Develop your firm's brand, message & unique selling proposition
Did you know there are over 1.3 million actively licensed attorneys in the U.S. and more than 400,000 law firms? Incredible is putting it modestly. With so much competition, legal consumers have no shortage of selection. Not to mention that every day there are innovative legal products and services coming on to the market that are more cost-effective and take the discomfort out of having to deal with a lawyer at all.
Your law firm's brand, message and unique selling proposition are the answer. Many small law firms are indistinguishable due to their bland or lack of messaging and the reasons why clients should hire them.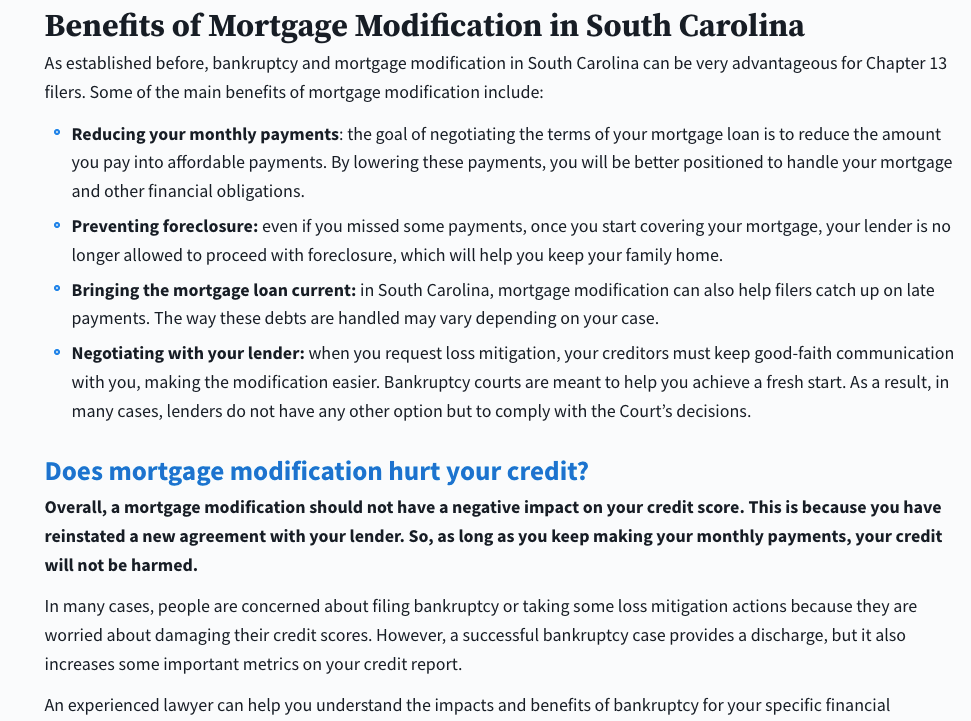 Check out this bankruptcy law firm's benefits and USPs (unique selling propositions). When a prospective client sees these, they aren't just likely to call that law firm, but why would they shop around when it's the only firm in its market clearly positioning itself with so many valuable benefits to the client?
Work on your firm's messaging, develop your USPs and then wrap these into your brand. Once you have these three crucial marketing components integrated and unified, look for every opportunity you can to incorporate them into your marketing materials.
5. Gain online reviews to grow your web presence & reputation
56% of survey respondents who had recently hired a lawyer said that the lawyer or firm's online reviews played a very important role in their decision to hire their lawyer. So, your firm's online reputation has to shine if it's going to win over the trust of more than half of your prospective clients in this day and age.
Many law firms and attorneys struggle to get more reviews. The good news is that you don't have to. With the right system in place, you can easily generate more glowing 5-star reviews from past clients and even simply people who have had an interaction with your business! Our recommendation is to focus on your Google Reviews first and foremost. They are by far the most visible and sought out form of online reviews and likely the ones potential clients will see first.
Check out our guide to Google Reviews for law firms to see our best tips and strategies for attracting more reviews. There are multiple systems and tactics that work for firms of any size and comfort level.
6. Develop your E-A-T and engage in online forums
E-A-T stands for expertise, authoritativeness and trustworthiness. It's very important for search engine optimization as algorithms and quality raters like Google's are constantly trying to figure out how to make the internet more authoritative and trustworthy. If internet marketing is something you plan to make a significant part of your law firm's marketing strategy, then you should work on building up your E-A-T.
You can do this by writing articles for other blogs and websites in the legal industry. This is known as guest posting. Make sure to add a short bio description (50 to 100 words) at the end of your article and a link back to your firm's website.
You can also build up your authority by answering questions in legal forums and participating on social media.
7. Participate in networking events
If you like to socialize and are short on clients, then it only makes sense to become more active in local and legal networking events. I have friends and family that are attorneys who have built networking activities into their weekly and monthly routines for years.
The end result?
They all thrive from a strong flow of referrals. They continue to raise their hourly rates every few years to add friction and curb demand, especially as they've been able to build up highly respectable law practices and reputations over the years. You don't have to wait years to begin seeing the returns from this, but you should see results compound over time with consistent networking.
8. Host a free legal seminar in your community or a webinar
People attend free seminars all the time and for a variety of reasons from health and fitness, investing to a specific legal issue. For some types of cases and areas of law, it's compulsory for some to attend a seminar, counseling course or program. Setting those aside, an easy and free marketing option for your law firm is to host a seminar on virtually any type of legal matter for which you'd like to attract more cases. This could be for family law, such as child support and alimony Q&A or a crash course on the types of estate planning tools at people's disposal and the benefits of each.
Promoting the event doesn't have to be difficult either. You can create an event on Facebook and other social media networks and share it there, where people can RSVP. You can republish that on other sites like Meetup, too.
If your practice area is less location-based, such as immigration law, or you're interested in probate cases which are less planned and happen when they happen, then you can take advantage of Facebook Live or launch a pre-recorded, evergreen webinar to get your information out there.
9. Develop a client referral program
Most people in the U.S. know a lawyer, but do they know the right lawyer for their specific matter? Enter referrals.
If you're looking for free marketing ideas for your firm, you should consider creating a referral program that incentivizes other lawyers to refer whenever they find a potentially good client for you. While this changes by practice area and based on your local bar ethics and rules, many states allow for referral fees. Even so, there are other ways to incentivize attorney referrals in states and areas with more strict bar rules.
11. Publish value-packed legal informational videos
Technology and the web are evolving rapidly everyday. We are increasingly transitioning to more video-first content. Ride the trend before it becomes saturated and get your video content out as soon as possible.
If you have blog posts, you can add a video on the same topics and embed them with the blogs. Take your evergreen webinar videos and split them into 5-10 minute video clips when you discuss certain subjects or address a particular question in them.
12. Build a professional and highly functional website
At our attorney marketing agency, we're big believers that when it comes to online and offline marketing, your website is your most valuable and core asset. Because, whether someone sees a TV ad, radio commercial or otherwise, many interested prospects are going to visit your website to take action. In the world of online marketing for lawyers, your website is imperative to earning and owning your online presence.
A law firm website can serve a few key functions and purposes:
Your firm's professional image and hub for its messaging and branding
Collect leads and book consultations from web traffic
Serve existing and new clients, from taking online payments to hosting your client portal
But I'll focus on the free marketing ideas and options for your law firm! So, if you want to do this DIY and on the budget of a modest lunch, you can use something like Squarespace or use one of the thousands of themes available with WordPress, many of which are free. Once you have that, write a 500-1000 word page on each type of case you handle. Include your practice's all-important messaging, benefits and unique selling propositions.
13. Work on your law firm's social media presence
When it comes to social media for lawyers, sites like Facebook, Instagram and LinkedIn receive mixed advice and support when it comes to marketing a law firm. At ZLM, we only use social media as a secondary channel which fits into a larger marketing strategy (and for good reason).
But it can work and I'll cut to the chase and tell you how to do it properly.
Social media is about being social. When people go onto Facebook or Instagram, they want to see what other people are doing, not what a company is doing! Now, there are exceptions and some companies know how to make exceptional content. But for the most part, law firms are not the exception. It's about people connecting with other people. So, post from your personal profile or customize your firm's social account to look like a person rather than a firm.
When you do post, know who you're posting it to! If you're going the free DIY social media route, then you should share and network with other attorneys on social. Since they practice law, they're going to be an audience that's likely to be interested in your content for many years. If you stay top of mind with your peers, you're more likely to build up some good referral sources from that over time.
Don't Have Time to Implement the Marketing Yourself?
At Zahavian Legal Marketing, we don't offer free services, but we do offer effective law firm marketing services that generate exceptional results. If you're looking for a proven method to generate more of your best cases every month on a predictable and consistent basis, book a call.
The best part?
We believe that you get what you pay for and when you're promised results, you should get what's promised. If you're interested in learning how we can help your firm and keep our promise, book a FREE consultation with ZLM today.